Filed: Wednesday, 3rd November 2021
Not only did he predict us beating Manchester City in the League Cup, he got Sunday's Villa score right as well. Can Preview Percy make it a hat-trick against Genk? God we hope not...
Next it's off to the Kingdom Of Belgium for the return match against Genk. As with all of our Thursday Night League away group matches, kick-off is at 5:45pm, coverage courtesy of Eyes Up Mother Brown. And some channel called BT Sport if you like.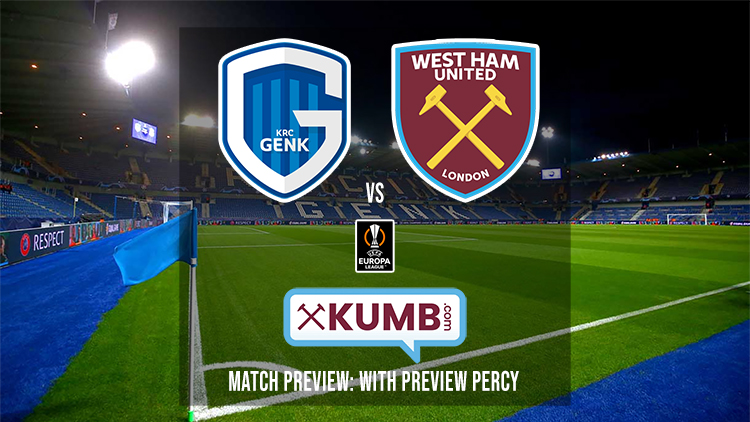 Now it's only a few days since Daisy, the personal assistant with the beautiful smile from whom I no longer have to remain socially distanced, did research into their players etc. so I won't bore you with the details again.
At the weekend they put an end to a wretched spell of form where they had lost their last three in the league, not to mention their pointless trip to Stratford. They managed a 6-2 away win at Zulte Waregem, Waregem being more famous for being the place where the barge goes to in the Half Man Half Biscuit song, "Ordinary To Enschede". The goalscorers at the weekend were Ito, Thorstvedt (son of the old Spurs player), Onuachu, Heynen (2) and Lucmi.
As far as Daisy could ascertain, the only injury issue they have appears to be the Colombian defender Carlos Cuesta – no relation to the chap on the coaching staff at Arsenal – who is out until mid-November with an unspecified knock of some sort. So expect to see a similar line-up to the one we saw at the Olympic the other week.
With not much extra to say about our opponents we make an early trip to the Wild And Wacky World Of Association Football™. And there was a surprise decision as Tottenham sacked manager Nuno Espirito Santo despite the former Wolves boss having gotten them up to 9th position.
Former Inter manager Conte has now taken over, with the club having previously turned him down in the summer when he asked for a salary of £15 trillion plus the same again in transfer funds. Or, as Conte put it, "I was too emotionally involved with Inter". Yeah right. The new contract has yet to be disclosed but the transfer kitty is said to be now reduced to whatever they can get for Harry Kane in January. Championship clubs have placed their bank managers on alert.
Despite Nuno somehow keeping them in the top ten it seems that chairman Levy took the nickname given to their weekend match against Man Utd of "El Sackio" literally, with a 3-0 defeat to their fellow basket cases being deemed to be a touch too much. Still if Conte doesn't work out the usual suspects of Bruce, Pulis and McCarthy are all on the dole at the moment I hear.
Elsewhere it was a bumper weekend of vintage PGMOL incompetence up and down the leagues, as Riley's depressingly useless crew found more and unusual ways of showing just how dreadful they have become. More on Kavanagh & Atwell's gob-smackingly dreadful performance at Villa Park later but you have to hand it to Alan Young who, apart from somehow not issuing a second yellow to an O's player when deserved, also somehow forgot to play 4 minutes of added time at the end of the first half. So the players came out for the second half and played four minutes before changing ends. That gnashing of teeth you can hear is Mike Dean wondering why he didn't think of that one,
And so to us. Well the consensus seems to be that we weren't at our best against a Villa side whose sole tactic seemed to be to kick for the corners and try to win a throw in. It only worked once and Fabianski's fingertip save was enough to rescue us on that occasion.
Both on field and video officials had poor games, displaying an ignorance of the laws of the game that VAR served only to highlight rather than correct. The fact that the shirt pull on Zouma was reviewed and ignored, would have been disturbing enough had that been the only foul-up by Kavanagh and Atwell. However, it was the first of many. Quite how Hause stayed on the pitch is a mystery. They did come out with a standard PGMOL "lie to protect the match official" explanation that Hause's arm was "already there". Yes it was already there just before he smashed it into Fornals' face.
Any thoughts that there might be some deserved sanction for the officials went out of the window less than 24 hours later when, in a two-fingered salute to the game from PGMOL, Kavanagh did VAR duty in the Wolves v Everton match.
Predictably, Villa boss Smith was in full deflection mode. The ball was going away from goal for the sending off – well yes Dean but not until your player had fouled Bowen. On the case of Hause his reaction was "Well the officials didn't believe it to be a red" – an interesting display of 180 degree hypocrisy.
The best one was the blaming of the officials for the third goal because Nakamba had been sent to the side for treatment after the Fornals challenge. I mean, he rolled over so many times that he was probably more at danger from motion sickness than anything else. Seriously Smith, wouldn't you be better off coaching your players to, well, play football, rather than how to try and get opponents sent off? Have a look at our fourth goal for starters.
Post-match the interview involving Johnson and Rice was a joy to watch. Cheesy grins all around and it was so good to see players enjoying the game. Not that watching Spurs players mumbling about letting everyone down wasn't in its own way funny to watch, but that's a completely different type of amusement.
The state of the group is largely favourable to us. We are currently top of the tree whilst Genk, Rapid and Dinamo all fight over the crumbs behind us – look out for a scramble to finish fourth rather than third, with third place gaining entry into the embarrassing Europa Isthmian League alongside Tottenham and other teams so small they don't even get a passing mention in the lyrics of Half Man Half Biscuit songs.
Given that we have a tough one on Sunday I'd expect the usual Europa changes to be rung. Areola in goal perhaps. Dawson And Diop in the middle of defence. And here's something – such has been Johnson's progress maybe we will see Coufal start at RB. Antonio will probably be looking at another rest along with Dec with some stretching of the legs for Noble to fill the gap. Kral ought to be available post-Covid so there may be a runout for him.
Whatever team we put out we should still have too much for them – the squad is buzzing at present and the few "moments" they had at the Olympic the other week were largely self-inflicted. So for my prediction I will go for an away win. Please Mr Winstone could you take the £2.50 I was going to send to the Marvellous Nakamba recovery fund and put it on us to win 2-0.
Enjoy the game!
When last we met in Belgium
This is our first meeting on Belgian soil.
Referee: Aleksandar Stavrev (Northern Macedonia)
Not been the most busy of officials. My usual source of euro-ref data suggests that he missed October, suggesting that this might be a return from injury or illness. One Thursday Night League match, four yellows, no reds. So it wasn't writer's cramp.
Danger Man: Paul Onuachu
Not quite sure how tall he is but he towered over Diop the other week – and Diop is 6ft 4!
Percy's Poser
Last week we nicked the following from the Birmingham Evening Mail:
This week the Birmingham Evening Mail gives us this excruciatingly awful headline to play with:
Corporation Street tram line is XXXX XX XXXXX
Well done to Mrs Julia Complicated-Streetmap of Baarle-Hertog who spotted that the subeditor had the nerve to use the phrase "Back On Track" for that headline.
And now it's time for our popular
it isn't – Ed
feature "What's that helpful European Phrase?"
Again we will use Dutch rather than Flemish for ease of translation as we provide you with this useful European phrase:
Ik volg Spurs - kun je me naar het kampioenschap verwijzen?
Best of luck!
* Like to share your thoughts on this article? Please visit the KUMB Forum to leave a comment.
* Disclaimer: The views and opinions expressed in this article are those of the highlighted author/s and do not necessarily represent or reflect the official policy or position of KUMB.com.
More Opinion
Tuesday, 7th December 2021
Monday, 6th December 2021
Monday, 6th December 2021
Tuesday, 30th November 2021
Saturday, 27th November 2021
Friday, 26th November 2021