Filed: Wednesday, 24th November 2021
Having received the news recently that Angelo Ogbonna is likely be out for the remainder of the season, now is the perfect time for us to bring in his long-term successor.
So this article features my preferred LCB candidates to come in and form a partnership with Kurt Zouma.
The first thing to mention is that I did all of my scouting/research last week, so player metrics are not inclusive of the past weekend's fixtures. Secondly, I won't go into depth here about the model I've built to identify players but if you're interested then
drop me a DM
.
Before introducing the players, these are the metrics that I decided upon when building the player profile for my ideal Ogbonna replacement. As ever, if you want the metrics explaining then just fire me a DM and I'll be more than happy to chat.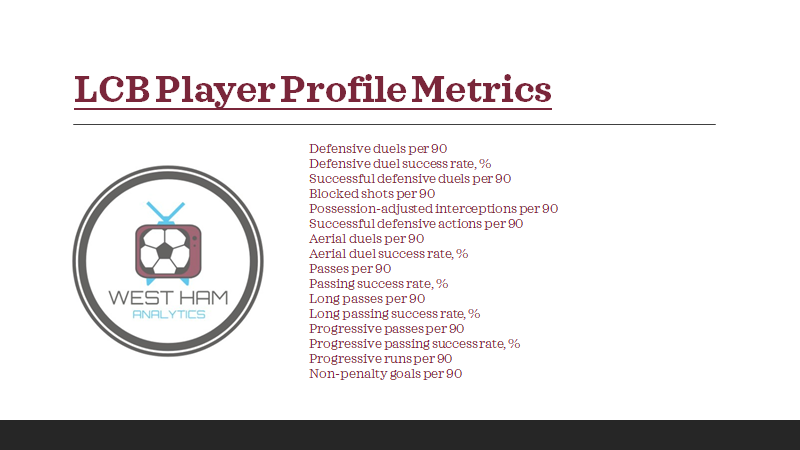 All charts reflect the past calendar year, and the perimeter represents peak performance in each metric across Europe's top five Leagues. Ogbonna is aerially sound and good in the tackle, but he's not the most progressive or front-footed CB; room for improvement.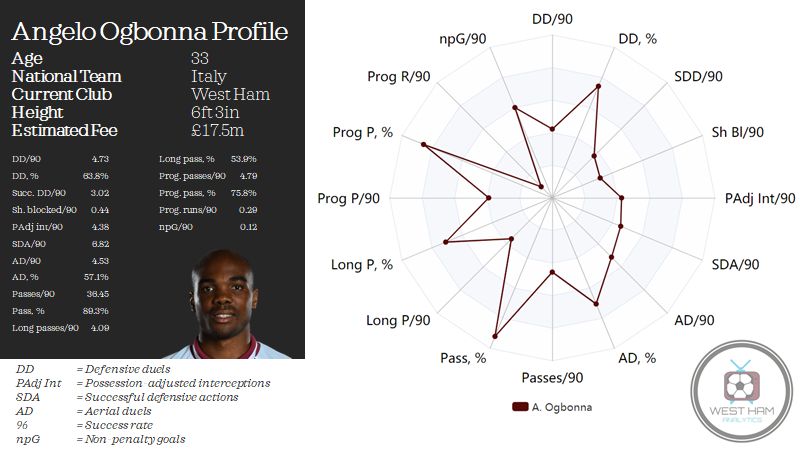 One brief caveat is that data isn't very reliable when identifying defenders. Why? Because data does not track such intangibles as communication, concentration and experience, all of which are invaluable in a CB. That said, it can still flag up interesting players, like...
Marcos Senesi
Top of my shopping list would be this monster, and his absence from the national team despite his form would likely make him open to a move. His progressive passing would improve our ability to play out from the back, and he would also provide a defensive upgrade.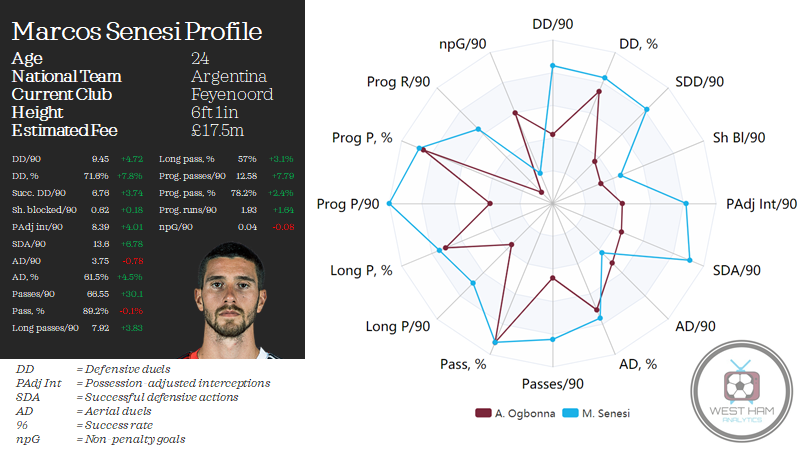 Armando Obispo
Obispo has worked his way into PSV's first team following a loan to Vitesse in 19/20, but Boscagli is still the first choice LCB. The promise of more minutes could tempt him, but his relative lack of senior experience makes it a riskier signing than others.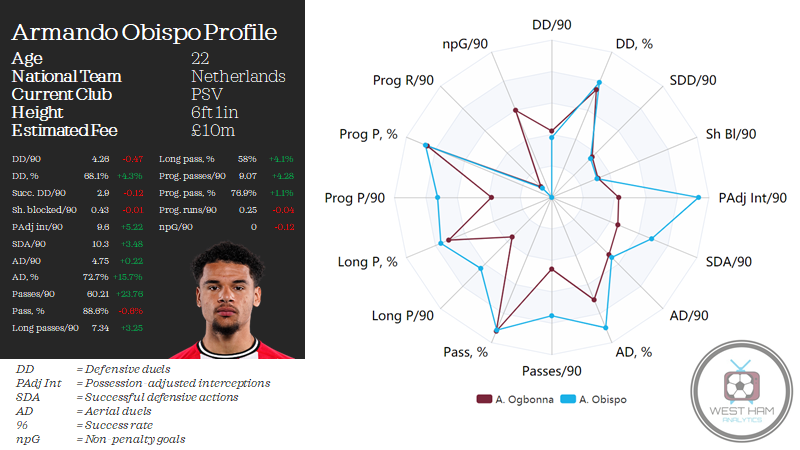 Lisandro Martinez
Our final Eredivisie option is also the most expensive, but that's for good reason as he's bossing it for Ajax. He's a good defender, a progressive passer, and is surprisingly good in the air for someone who's 5'10" - he's probably too small for Moyes though.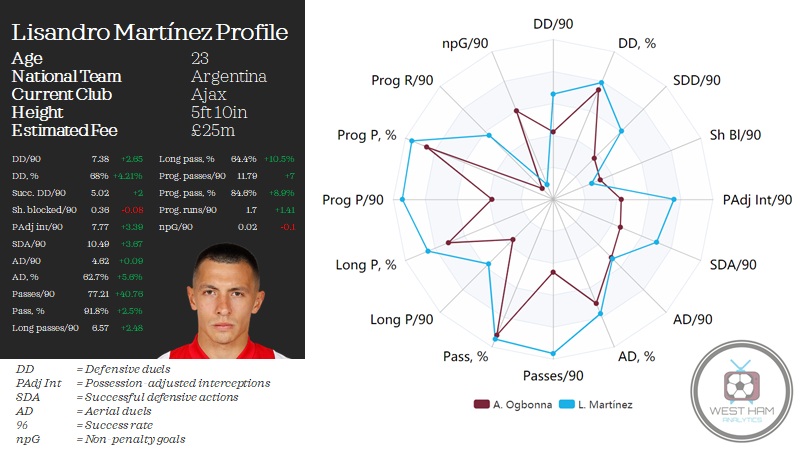 Marc-Oliver Kempf
Another LCB who's been on my list for some time, I was pleased to see his performances haven't dipped since I last looked. Just look at that radar - an improvement in almost every area, and with over 100 Bundesliga appearances he's not lacking in experience.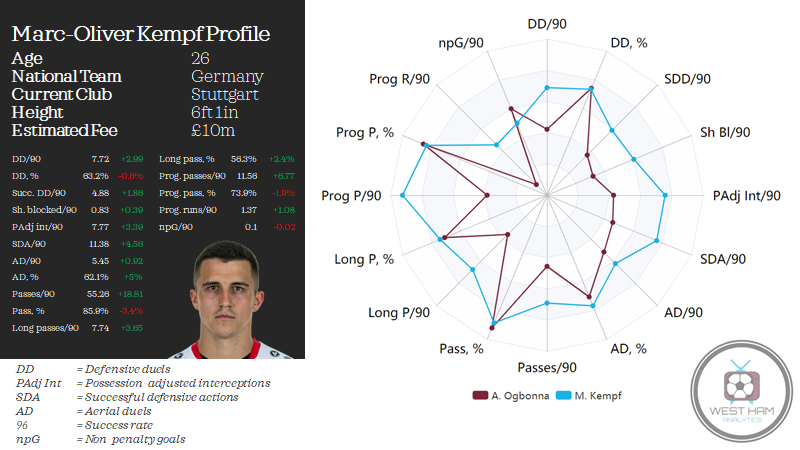 Mykola Matviyenko
With Yarmo's contract expiring this summer, we could bring in a new Ukrainian at the other end of the pitch. We were linked with him in the summer and, given his passing and defensive capabilities, I wouldn't be surprised if we were to reignite our interest.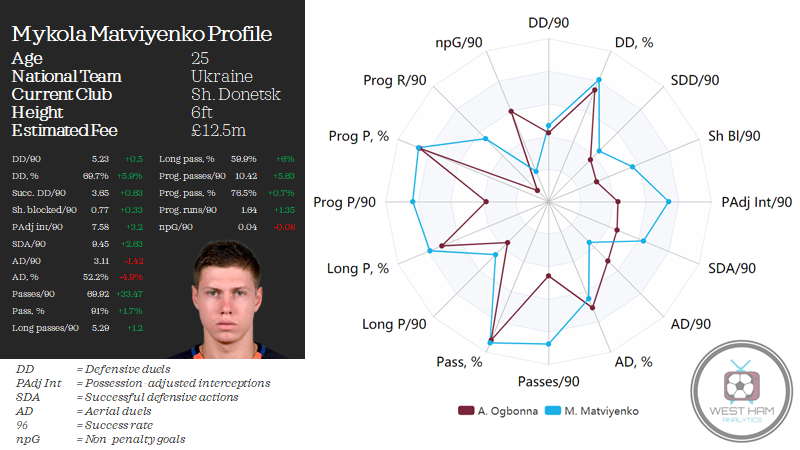 Jhon Lucumi
Someone we've all seen play at least twice this season, the young Colombian CB is an intriguing prospect. Aside from his defensive and passing ability, perhaps the most valuable facet of his game is his recovery pace, something our back line is desperately lacking.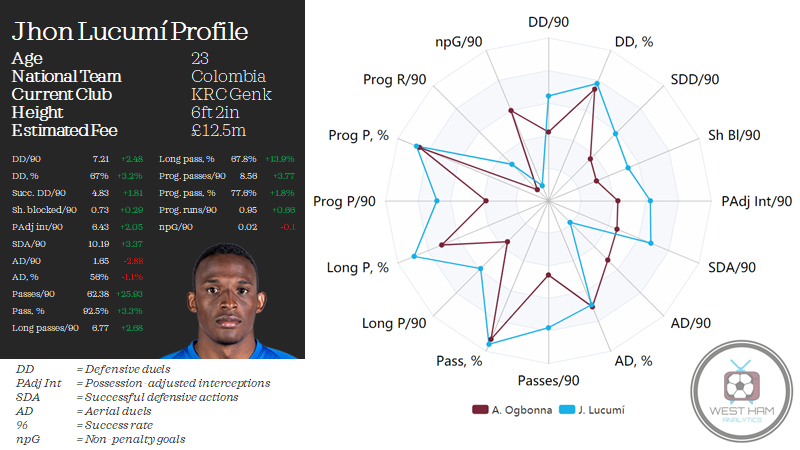 Ricardo Graca
Having made more than 50 appearances for West Ham, Fabian Balbuena is proof that there is value to be found in Brazil's leagues. That said, Graca is playing in Brazil's Serie B, so there's no guarantee that he could replicate such performances at a higher level.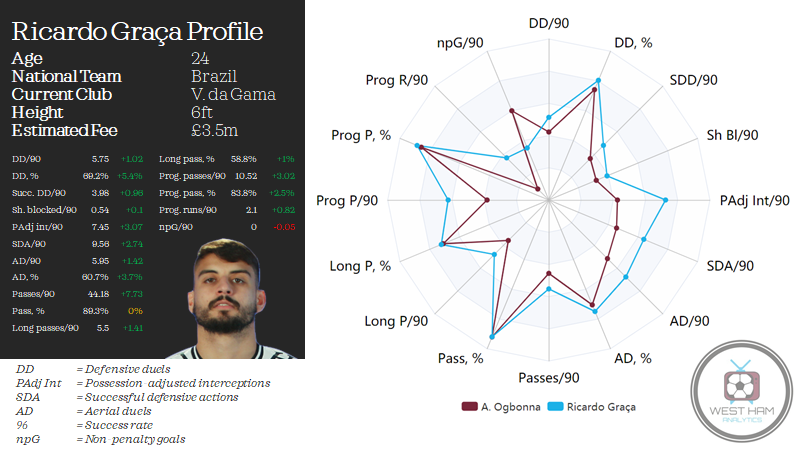 Morato
A dominant, well-rounded CB who has already gained valuable UCL experience, including in a 3-0 dismantling of Barcelona. He's another youngster with a seriously high upside, but there are obvious question marks as to whether he'd be ready to start in the EPL right away.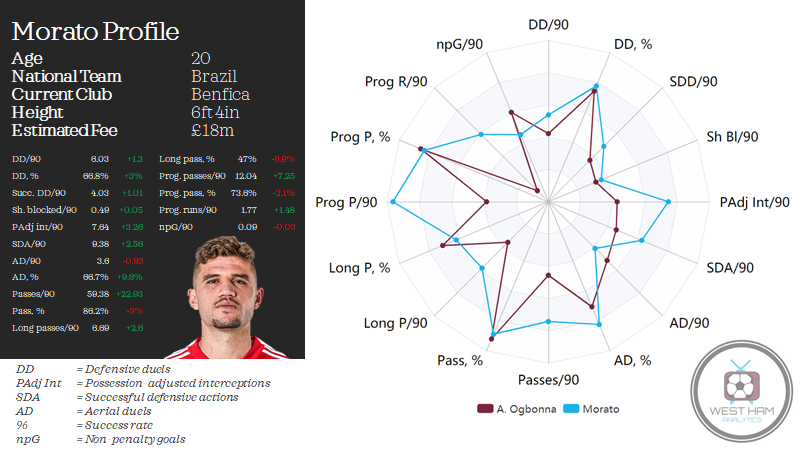 Sven Botman
Likely the best player in this thread and almost certainly the most expensive, Botman has already established himself as one of Europe's top LCBs. He's 6'4", dominant in the air, comfortable in possession, strong in the tackle, and a very good passer - elite talent.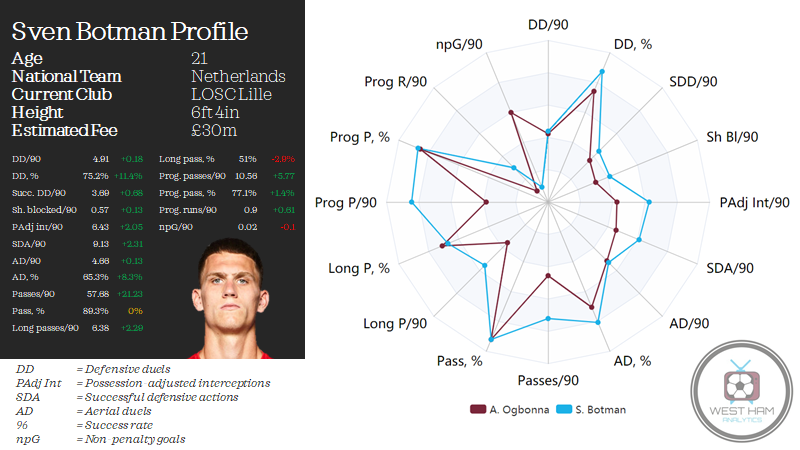 John Brooks
Ogbonna's injury means our defence has lost its veteran, a gap that Brooks could fill, with more than 200 Bundesliga appearances and 45 USMNT caps. At 28, he's the oldest player on the list, but perhaps his experience and leadership can bring the best out of Zouma.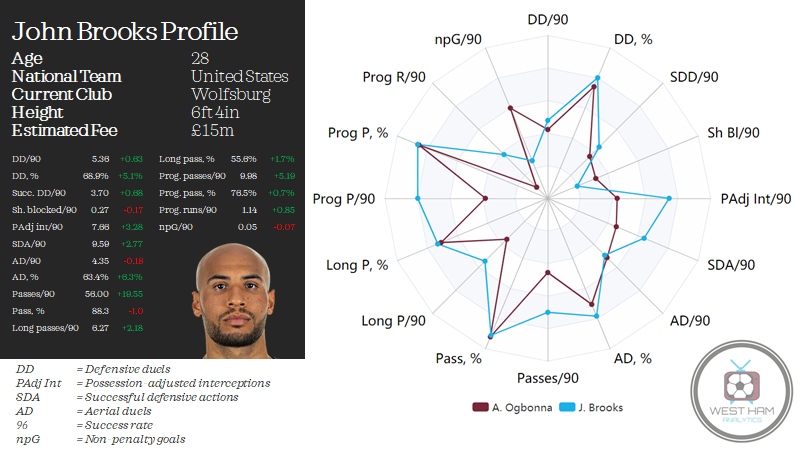 Mohamed Salisu
Salisu is @jackelderton's first choice for the "vacant" LCB spot, an active defender who has already proven that he can kick it in the EPL. His passing is marginally worse than Ogbonna's, albeit more frequent, but defensively he's an improvement in every metric.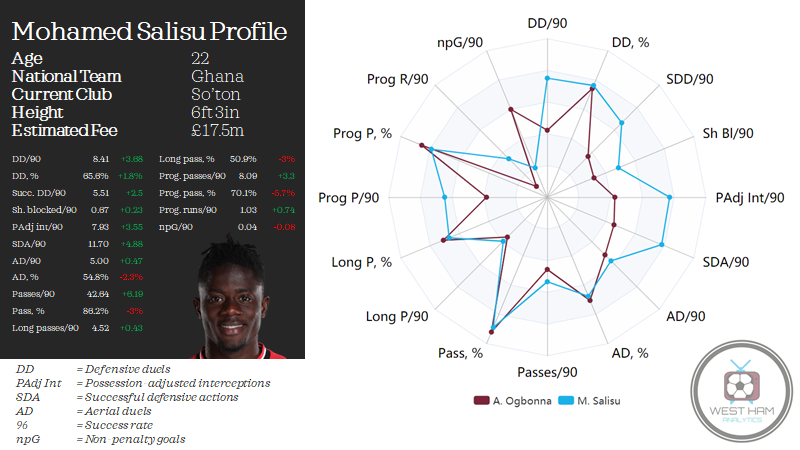 Duje Caleta-Car
Another CB we've been linked to for a few windows, and who will surely be on our radar again following the arrival of ex-Marseille scout Georges Santos. An aerial beast with impressive passing metrics, he'd be a solid addition and an added threat from corners.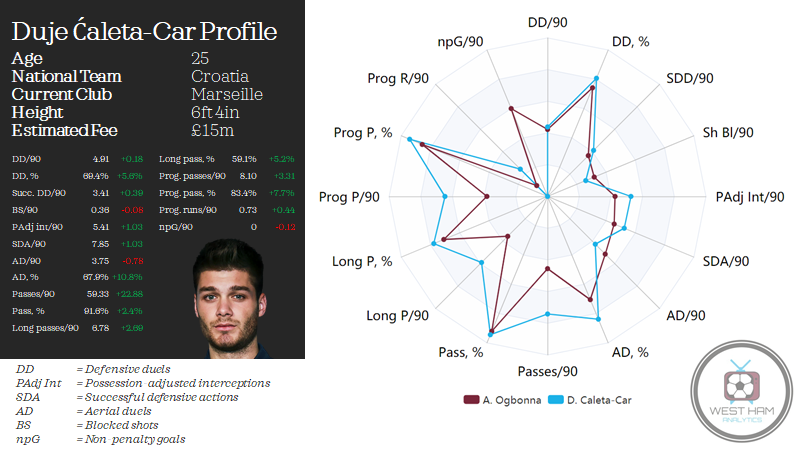 Ravil Tagir
The youngest CB on this list probably isn't ready for our starting XI yet, but I'm confident he's a player headed for the top. He's played 750 mins of topflight football for Basaksehir, though he isn't their starting LCB so could be prized away for the right fee.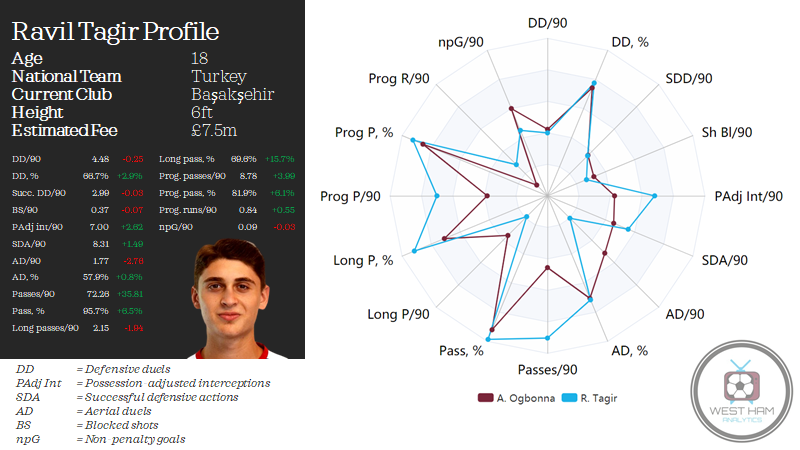 * You can read more from Callum - aka WHU_Analytics -
via Twitter
or via
the new KUMB Podcast
, where he is one third of the team along with Jack Elderton and Chris Wilkerson.
* Like to share your thoughts on this article? Please visit the KUMB Forum to leave a comment.
* Disclaimer: The views and opinions expressed in this article are those of the highlighted author/s and do not necessarily represent or reflect the official policy or position of KUMB.com.
More Opinion
Tuesday, 7th December 2021
Monday, 6th December 2021
Monday, 6th December 2021
Tuesday, 30th November 2021
Saturday, 27th November 2021
Friday, 26th November 2021