Filed: Monday, 20th July 2015
By: Maltese Hammer
So itís on to the second leg in Malta! For those who have little idea of Malta and its football-crazy population I thought Iíd give you all some background.
Malta is small, really small! 26x18 miles with a sister island called Gozo which is a fifth of the size. Population is 400,000 so weíre a bit overpopulated with people and cars!

Weíve been ruled by nearly everyone under the sun...Romans, Phoenicians, Byzantine, the Normans, the Knights of Malta, the French (alas), albeit for two years and then finally the British from circa 1800 until 1964 when we gained independence, and Iím sure Iíve left a country or two out!

We are the only country to be awarded the George Cross, and the country suffered more bombs than London did during the Blitz. We joined the EU in 1994 and our currency is the Euro which means the rate of exchange is seriously in your favour. We have our own language which unsurprisingly is called Maltese, but nearly everyone speaks English to a lesser or greater degree.

Since we entered the EU, loads of non-Maltese have begun working here especially in catering, and also the gaming industry, which is huge. For those who want to visit the island, Valletta and Mdina are a must. And if you turn up early for the game, thereís an aviation museum right next to the ground which has historic war planes and all, for those interested.

But on to more important matters! Maltese love their football, with a local passion and an equally if not greater love for teams in England and Italy in the main, with some fans supporting the obvious German or Spanish sides (Bayern, Real and Barcelona).

English clubs are the usual suspects...Man United, Arsenal, Liverpool, Chelsea (yawn, yawn), but youíll find fans of all clubs here. West Ham even have their own fan club and thereís one mate I know who has a season ticket and flies to London for each and every home game! Thatís a feat in itself and even greater when you realise that all, yes, thatís all Premier League games are shown live on TV over here!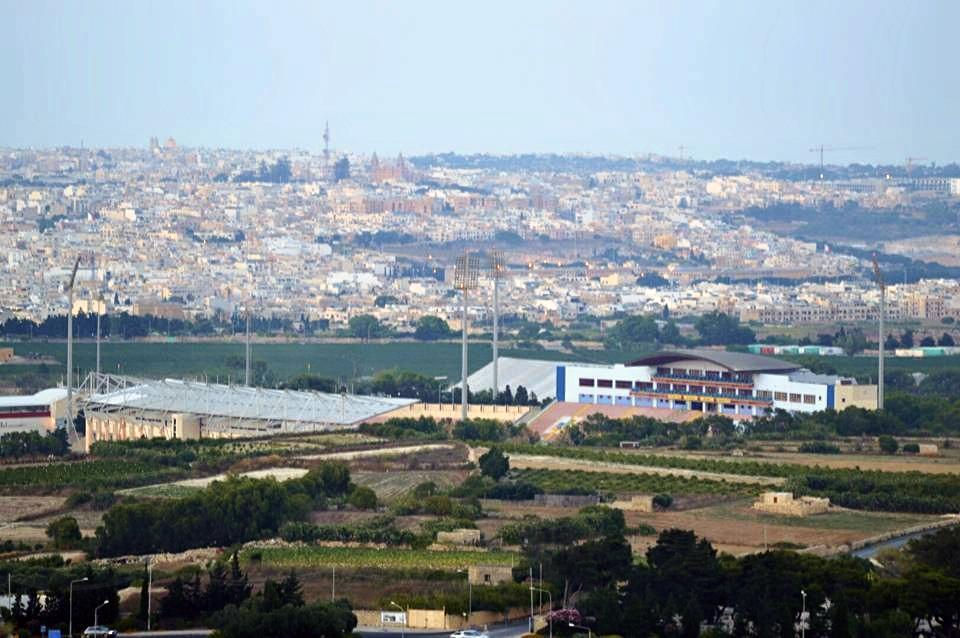 The venue for this Thursday's tie
Birkirkara are a relatively new club. The older clubs in Malta are Hibernians, Floriana, Sliema and Valetta. Bíkara are well supported locally and are always among the frontrunners. Iím embarrassed to say that Iíve been to the Boleyn more often that I have to see my local side (Valetta) and youíll find that I am not alone in that respect. That said, the level of football has improved significantly in the last few years and I can see the gap between local clubs and the smaller foreign ones closing a bit more.
The atmosphere in the National stadium should be good, even though the ground has a track around it, which as far as I know serves no purpose whatsoever! There is safety netting so anyone in lower seats has their view impaired. That said, although tickets are numbered, no one will stick to their seat and I am certain that other than the VIP section, you can sit wherever you like within the section youíre in.
West Ham fans are being placed in the Millennium Stand which, believe it or not, was opened in 2000! Itís the newest stand, with good views and by the time we play the sun will have gone down so no problem seeing the game well!
Maltese fans will be welcoming and lots will come along to see the Irons even though they support neither Bíkara or West Ham! For those who want a drink or six, thereís nothing near the ground. Bugibba, St Pauls Bay, St Julians are all seaside places with loads of bars and pubs and a 15 to 30 minute drive to the match. Local transport is good but in summer can be busy, so allow plenty of time if you intend using it.
As for the game? I think West Ham will win 1-0, possibly 2-0, especially with a week more to prepare and hopefully some more regulars featuring!
I hope you all enjoy your brief stay in Malta... but please bring sunblock as itís obscenely hot right now! Then again, it is July.

Please note that the opinions expressed in this article are those of the author and do not necessarily represent the views of, nor should be attributed to, KUMB.com.
---
Your Comments
by
Mick
12:14PM 28th Jul 2009
''Nice to read a bit of positivity instead of all the doom and gloom merchants, well done!
''
comments powered by

Disqus