the sun
West Ham 0 Bristol City 0

SAM ALLARDYCE blasted West Ham fans for booing them off.

The Hammers failed to find the net after carving out more than a dozen chances as the promotion push faltered against stubborn City.

Boss Allardyce admitted his frustration but hit out at the jeers.

He rapped: "They can be disappointed with the result but not the performance.

"It was 100 per cent harsh to boo. But it's what fans do when they think we haven't won a game we should've done. Sadly, it was frustrating. But I couldn't have asked any more from the lads.

"If displays continue like that we'll win far more than draw or lose."

Allardyce must scour the loan market after losing key defender Winston Reid to a dislocated shoulder in the first minute. The Kiwi could be out for two months.

Former West Ham keeper David James impressed with a great save in each half - stopping a Kevin Nolan effort between his legs on 64 minutes.

James, 41, was beaten by a Freddie Sears shot after a quarter of an hour but the curling drive hit the post.

Sub Yannick Bolasie cleared off the line from Carlton Cole's header.

Mark Noble headed into the side netting in the last minute and striker Freddie Piquionne missed a couple of good chances to break the deadlock.

Bristol City boss Derek McInnes said: "You can see the confidence in the team now."
the mirror
West Ham 0-0 Bristol City

Freddie sears was hit by a familiar curse as West Ham were booed off after another stumbling ­performance at home.

Two years ago, Sears was ­outrageously denied a goal against Bristol City when he was on loan at Crystal Palace, hitting the target at Ashton Gate – only for the ball to hit the metal stanchion at the base of the net and rebound into play.

Referee Rob Shoebridge missed it, rival managers Gary Johnson and Palace's Neil Warnock had a frank exchange of views on the touchline and Sears was cheated.

The Hammers striker's luck was no better last night as his curling 20-yarder beat former England keeper David James all ends up but ricocheted to safety off the post.
Click here to find out more!

That near miss, in the 13th minute, was as close as Sam Allardyce's promotion hopefuls came to breaking City's obdurate resistance.

And new Robins manager Derek McInnes nearly saw his side snatch a late winner when substitute Yannick Bolasie fired narrowly wide.

the star
WEST HAM 0 BRISTOL CITY 0: SAM ZEROES TRUE HEROES


WEST HAM boss Sam Allardyce hit back at the fans who booed his "outstanding" players in last night's goalless draw.

A section of the Upton Park faithful greeted the final whistle with catcalls as the struggling Robins escaped with a point.


But Sam Allardyce insisted that was unfair on the players who kept the pre-season promotion favourites in second spot in the Championship.


He said: "Was it harsh? Absolutely, 100 per cent yes. It didn't hurt because that's what fans can do if they feel we haven't won a game we should have done.


"It was an outstanding performance but not the right result.


"When you have 19 attempts at goal and 10 are on target, you expect to win the game."


The Hammers, who lost New Zealand defender Winston Reid in just the seventh minute with a dislocated shoulder, had enough chances to have won comfortably.


Freddie Sears hit a post early on and Frederic Piquionne should have had a hat-trick while Joey O'Brien failed with a shot from distance.


Julien Faubert and sub England international Carlton Cole – making his comeback after a month out with a knee injury – blasted good opportunities over.


Man of the match Mark Noble also headed wide at the death.


The Robins moved off the bottom of the table thanks to the point as Derek McInnes continued his excellent start

after taking over from Keith Millen.


The former St Johnstone boss steered City to a 2-1 win in his first game in charge away to Barnsley on Saturday.


The Robins were second best for most of the game but also hit a post before the break through Neil Kilkenny.


Their best chance fell to Martyn Woolford late in the first half but Robert Green parried his shot and sub Abdoulaye Faye cleared before Nicky Maynard could pounce.


McInnes was delighted with the way his players had dug in.


The Scot said: "It's a great point for us.


"David James was well protected and everyone worked hard.


"We knew West Ham would create opportunities with the talent they have but over the piece we kept their better players quiet.


"We created a few chances of our own and that gives the team a lift."
the mail
Wide boy: Kevin Nolan misses a chance
Hold up: Sam Baldock received treatment after being cut
Leading the way: but Hammers boss Sam Allardyce saw his side lose ground to leaders Southampton
West Ham 0 Bristol City 0: Wasteful Hammers miss out as Sears curse strikes again



West Ham boss Sam Allardyce hit back last night at the fans whose storms of booing greeted another unsatisfactory Tuesday night result.

When asked if the reaction from the stands was harsh, even though his team had frittered away a number of chances against the division's bottom club, Allardyce said: 'Absolutely, 100 per cent yes.

'Was I hurt? Probably not because that's what fans can do if they feel we didn't get the right result.
Wide boy: Kevin Nolan misses a chance

Wide boy: Kevin Nolan misses a chance

MATCH FACTS

West Ham: Green, O'Brien, Tomkins, Reid (Faye 7), McCartney, Faubert, Nolan, Noble, Sears (Diop 76), Baldock (Cole 68), Piquionne. Subs not used: Kurucz, Hall.

Bristol City: James, Skuse, Fontaine, Cisse (Wilson 81), McGivern, Adomah, Elliott, Kilkenny, Nyatanga, Woolford (Bolasie 67), Maynard (Clarkson 87). Subs not used: Gerken, Pitman.

Attendance: 27,980.

Referee: Mark Haywood.

'But they can't have a go about our performance, which was outstanding.'

This was West Ham's third successive poor result on a Tuesday night after a home defeat by Ipswich and a setback at Southampton, who now lead the second-placed Londoners by five points.

But Allardyce was defiant, saying: 'We will go to Hull on Saturday and though it's difficult we will win. Certainly if we create the same number of chances as we did tonight.'

Brave City lifted themselves off the bottom of the table, making it four points in two games for new manager Derek McInnes

He said: 'We defended extremely well and kept their dangerous men quiet in the first half. Then we forced West Ham to go more direct in the second half and you could see the confidence from our Saturday result tonight.'


Allardyce must get frustrated by some of the fans not being on the same wavelength as him. There was an outbreak of booing when Sam Baldock, after four goals in four games, was hauled off for Carlton Cole with 22 minutes left. Allardyce said: 'The boy just wasn't on his game tonight.'

Freddie Sears miss the first opportunity of the night when he rapped the right post on 14 minutes, and West Ham also had to cope with a dislocated shoulder injury to central defender Winston Reid as early as the fifth minute.

Mark Noble worked himself into the floor to try and spark the team but Frederic Piquionne contrived to miss a hat-trick either side of the interval.

Overall, West Ham produced enough chances to have won three games. But they are dropping too many points at home with 10 already out of the window at the start of November.
the mail
Saints talks: Steve Lomas is set for the job
Ex-City and West Ham midfielder Lomas set to be named St Johnstone boss

St Johnstone are poised to confirm former West Ham captain and Manchester City midfielder Steve Lomas as their new manager.

The ex-Northern Ireland international held contract talks with the Perth board on Tuesday and is set to be confirmed in his first senior post in management within the next 48 hours.

Lomas has been favourite to replace Derek McInnes since Sligo Rovers coach Paul Cook failed to agree terms last week.

Caretaker coach Alec Cleland had also come under consideration and chairman Geoff Brown insisted at the weekend that there was no rush to appoint a successor to McInnes, who quit for Bristol City.

But Sportsmail now understands that ex-West Ham reserve coach Lomas is close to being confirmed as manager and will be in the dugout for Monday's SPL clash with Aberdeen.
hope it goes well for shaggy
the express
WEST HAM 0 BRISTOL CITY 0: HAMMERS KEPT QUIET BY DAVID JAMES

WEST HAM's hopes of putting distance between themselves and the chasing pack were dented by a stubborn Bristol City.

The result left Sam Allardyce's side in second spot as well as giving City, under new manager Derek McInnes, a welcome point in their struggle to climb out of the bottom three.

Allardyce had reintroduced James Tomkins to the heart of defence but was forced to reshuffle after seven minutes when Winston Reid fell awkwardly and injured his shoulder.

Sam Baldock saw a shot on the turn blocked by Marvin Elliott but City were fortunate that a long-range effort by Freddie Sears that had goalkeeper David James beaten bounced back off a post.

Marvin Elliott forced a save from Robert Green with an effort that was straight at the England international, who nevertheless did not take it cleanly.

There was nothing wrong with James's reflexes when Baldock flicked a knockdown from Frederic Piquionne towards goal and a more straightforward save to deny Kevin Nolan soon followed.



Green was almost left red-faced at the other end when a Neil Kilkenny pass meant for Nicky Maynard was allowed to bounce off a post.

Again James looked the part when he saved from Piquionne's header after Julien Faubert's fine cross.

Piquionne spurned two good chances early in the second half, with the former Portsmouth forward blasting one wide and heading the other past a post.

Martyn Woolford almost made him pay at the other end with a shot that Green could only parry and it needed Abdoulaye Faye to clear to prevent Maynard from scoring.

James denied Nolan with a save with his legs before Faubert failed to hit the target with all the goal to aim at.



Allardyce brought on striker Carlton Cole as the home fans' frustration grew but it made little difference as City inched their way towards a point.

Piquionne had the final chance but his header was cleared off the line by substitute Yannick Bolasie.

WEST HAM: Green, O'Brien, Reid (Faye 7), Tomkins, McCartney, Faubert, Noble, Nolan, Sears (Diop 76), Piquionne, Baldock (Cole 68).

BRISTOL CITY: James, Skuse, Fontaine, Nyatanga, McGivern, Cisse (Wilson 81), Elliott, Kilkenny, Woolford (Bolasie 67), Adomah, Maynard (Clarkson 87).

Referee: M Haywood (West Yorkshire).
the guardian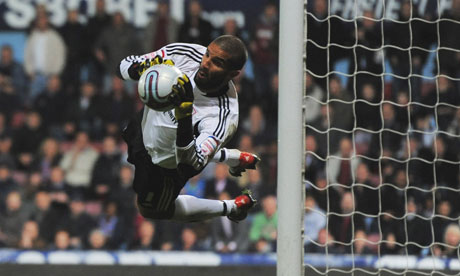 Bristol City's goalkeeper David James makes another save as West Ham pile on the pressure.
West Ham waste their chances in stalemate against Bristol City
West Ham United 0
Bristol City 0

Bristol City's goalkeeper David James makes another save as West Ham pile on the pressure. Photograph: Tony O'Brien/Action Images

What Sam Allardyce asked for he did not receive: a third successive win for the first time as West Ham United's manager. A tale of too many missed opportunities was to blame, Mark Noble's late spurned header indicative of a failure to maintain pressure on Southampton, the leaders, who won to stretch their advantage to five points.

"It a concern yes, we're all frustrated to have lost two [more] points on Southampton," Allardyce said, though he was careful to state his contentment at the performance.

Allardyce had chosen the XI that finished the 3-2 win over Leicester City on Saturday, in which Sam Baldock scored twice and he was the first to threaten for West Ham here. After 12 minutes the 22-year-old, who began the evening on an impressive 10 goals from 13 appearances, swivelled and shot at David James's goal to force a corner.

Baldock was replaced by Carlton Cole in the second half with Allardyce explaining: "He just wasn't at it." Yet after Freddie Sears's 25-yard bullet had rebounded off James's left post it was this pair who menaced the former West Ham goalkeeper's goal until the break.

Around the half‑hour the two combined, Baldock dinking the ball to Sears but he fell over as he shot. Before this, Baldock had zipped beyond the City defence and appeared to be yanked back by Neil Kilkenny. The assistant referee decided, to the home crowd's derision, to rule no penalty.

Kilkenny later hit Robert Green's left post with a pass-cum-shot that appeared to bewitch the Hammers goalkeeper. But it was the home side who trooped off at half-time ruing an inability to convert their countless chances. First, Sears should have picked out a colleague from a position down the right, then Frédéric Piquionne wasted a chance to at least test James. Allardyce, surely, will have ordered his team to be more ruthless during his half‑time chat.

Piquionne had an almost instant chance to prove he had heard, but from close range he sprayed a shot wide, then failed to convert a header. Allardyce now had to watch as City broke and Martyn Woolford moved into the home area to unload an effort that had Green parrying and Abdoulaye Faye – on for the injured Winston Reid after seven minutes – hoofing the ball away.

On Saturday, West Ham visit Hull City before Allardyce spends the international break coaxing back injured personnel – Reid suffered a suspected dislocated shoulder early on here – and attempting to add to his squad by bringing in "a quality loan player".
the telegraph
West Ham fire blanks against lowly Bristol


West Ham missed a chance to keep in touch with Championship leaders Southampton after a frustrating 0-0 draw against Bristol City.


Despite early signs of promise Sam Allardyce's side failed to really test former West Ham goalkeeper David James. "It was a very frustrating night for us. But I couldn't have asked any more from the lads," Allardyce said afterwards. "We couldn't find the finishing quality to put the ball in the back of the net so we're very frustrated. Perhaps had we got one, we'd have gone on to get more."

Allardyce paid tribute to his side for a run of seven points out of nine despite injuries among his small squad. He insisted the performance, though not the result, was "outstanding". West Ham's injury woes were extended early on when Winston Reid was forced off with a dislocated shoulder after just five minutes.

Freddie Sears came close for the home side with an effort coming off the post, and Freddie Piquionne looked set to send a header past James but the former England No 1 made the save. In the second half, West Ham's poor fortune in front of goal continued with Kevin Nolan's weak shot easily trapped between James's legs. The draw lifted Bristol City off the bottom after their first win under manager Derek McInnes on Saturday. "You can see in the performance tonight, the confidence we got from Saturday's result," he said.

Arsenal midfielder Abou Diaby has suffered a setback in his bid for fitness - prompting Arsene Wenger to order a move for Real Madrid's Esteban Granero.
Metro

Liverpool are keeping tabs on Inter Milan full-back Cristian Chivu - but face competition from Manchester City, according to Italian reports.
talkSPORT

After acknowledging that Rio Ferdinand is no longer an automatic choice, Sir Alex Ferguson is lining up a move for Borussia Dortmund defender Neven Subotic.
Metro

Meanwhile, Manchester United target Mehdi Benatia has revealed that he expects to leave Udinese at the end of the season. "I have signed a deal with Udinese but I think I will leave at the end of the season," said the midfielder.
talkSPORT

Newcastle have joined the race for 20-year-old Argentine forward Facundo Ferreyra, who currently plays for Banfield.
nside Futbol



Midfielder Nigel Coker has criticised his Bolton team mates after their defeat to Swansea.
Daily Mail

Tottenham's Rafael van der Vaart has warned Arsenal not to get carried away with their win over Chelsea, insisting Spurs are still the best team in north London.
Metro

Lille star Eden Hazard says Lionel Messi lacks the elegance of players like French legends Zinedine Zidane and Michel Platini.
Inside Futbol


Arsenal's Jack Wilshire called on his Twitter followers to decide whether to let in his electrician - after the workman revealed a large Spurs tattoo.
Metro

Sheffield Wednesday chief Mandaric has laughed off claims he could sell the club to a Playboy model, after Sybil Danning was linked with a take-over bid for the Owls.
Daily Mail