the sun
Big Sam's big week

The manager takes his team to Burnley today and catches up on the game in hand against Peterborough on Tuesday.

He then faces promotion rivals Reading next Saturday.

Boss Allardyce has seen the ' bid to return to the Premier League at the first attempt falter over the past month.

And he insisted: "This could be the defining week, we've got to try to get three wins on the trot. We've got to beat Reading.

"The hard bit is if we win the two, it's having enough energy to play Reading. Let's hope I'm coping with the hard bit by beating Reading."

have stumbled as their strikers have dried up in front of goal and in the last 14 games, they've scored 19 goals — only five of which have been claimed by strikers.

Carlton Cole has netted just once in 14, Nicky Maynard one in seven, John Carew none in 12 and Sam Baldock none in 11.

Allardyce added: "It's not that the lads are not trying are or not good enough it's just a spell that we've got to conquer and overcome as quickly as possible.

"We obviously need to score a few more goals from the chances we create, particularly our front line, but we obviously need a bit of a rub of the green.

"Carlton's dealt with for a number of years, so he knows better than me what it's all about, so he's well aware of the situation."
the sun
Karren Brady's diary
THAT Fabrice Muamba, such a wonderful example to all young footballers, should collapse on the pitch at White Hart Lane hit me like a hammer blow.

I knew Fabrice at Birmingham well enough to appreciate his outstanding qualities as a well-mannered, considerate and cheerful young man, the son of a Congolese refugee.

He was as full of grace to the dressing-room cleaners as he was to his managers. And it was typical of him — but of no other player I have ever met — that he gave me his first England Under-21 shirt as a thank you to everyone behind the scenes.

When Bolton chairman Phil Gartside came on the phone to complete Fabrice's transfer to the Reebok Stadium, I expressed similar opinions.

"I can see you fluttering your eyes from here," Phil laughed.

So I stressed that what I was saying was true.

It will always be true. Fabrice is one of the best.

Sunday, March 18

HOW do you console a manager who has lost his first Football League job? My husband Paul Peschisolido was sacked by Burton Albion yesterday after a bad run and he is embarrassed as well as bereft.

It's little consolation that he left the League Two club in a better state than he found it, taking them further in the FA Cup than ever. But he's a genuinely decent human being, my husband, and I know how upset the players are.

The truth is, though, at one time or another every manager gets the bullet or just dodges it.

Monday, March 19

DIMITAR BERBATOV'S agent says the player is embarrassed about being paid high wages when he plays so rarely. I doubt if Man United's fans even know what hairstyle he now sports.

Samson-like, when he cut his locks, the striker mislaid his potency. I'm sorry for him but if the cash is burning a hole in his pocket, he could hand a bundle to Sports Relief.

Tuesday, March 20

EXPECTATIONS among players and staff at are at least as high as those of the fans.

So a fifth straight draw is frustrating to us all.

Not that anyone in the management thought Championship promotion was going to be a romp.

Long experience told us that the battle was going to be fluctuating and fraught. My consolation is that I've never seen a team work harder.

Wednesday, March 21

ROBERTO MANCINI puts an arm around Carlos Tevez's shoulder after he helps Man City to beat Chelsea. But what about the man who has been missing even longer than him, Fernando Torres?

I guess neither hugs nor comfort have worked for Torres, once the silkiest in the Prem — now about as dangerous as a scarecrow. It's as big a mystery as his weird arm tattoos.

Thursday, March 22

A SCENE to be shown soon on EastEnders features a Peggy Mitchell-like woman shouting 'Get out of my stadium' to one of the actors inside Upton Park.

The director's idea for the actress was... ME.

Whether friends think I'm a bit of an actress, I don't know. I'm not. I once appeared as a fairy and tripped over my wand. So I say 'no' and offer the idea of Russell Brand in drag.

Friday, March 23

AT , our ambition to transform the Olympic Stadium into a world-class and athletics venue remains as keen as ever.

Today, I've committed the club to bid to become anchor concessionaire for a 60,000-capacity stadium in two years' time.

We have a thrilling conception, fulfilling the legacy pledges.

It will break my heart if we don't win it for the East End.

We are, I like to think, a giant club in the making. Perhaps with the stadium, one of the few capable of breaking into the Prem's top five or six. They are the stakes.
the mirror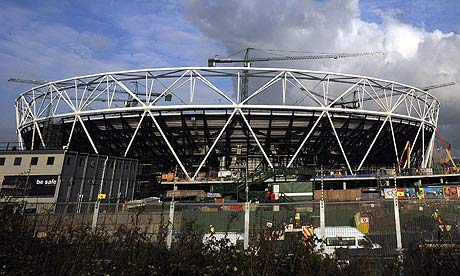 West Ham submit new Olympic Stadium bid

West Ham have confirmed that they have submitted a bid to become tenants of the Olympic Stadium in London after the 2012 Games.

The won the original contest to move to the stadium in Stratford last year, but that deal collapsed following complaints from Tottenham, Leyton Orient, and another anonymous party.

The Olympic Park Legacy Company (OPLC) decided to start the process over again but instead offer the stadium on a lease basis, rather than a permanent one.

The deadline for submissions was noon today and the npower Championship club confirmed their intentions to bid to move to the flagship stadium of the 2012 Olympics this afternoon.

A statement on the club's website read: "West Ham United vice-chairman Karren Brady has today confirmed the club's intention to submit a bid by lunchtime (Friday 23 March) to be the anchor user of the Olympic Stadium post-Games in line with the OPLC deadline."

West Ham have applied for a 99-year lease of the stadium, which is reported to have cost £486million to build.

Brady said: "Having spent the last two years dedicated to this project I am privileged to once more be submitting West Ham United's bid to become the anchor concessionaire of the Olympic Stadium post the 2012 Games.

"From the outset it has been my firm, unwavering belief that the stadium can truly become a multi-use destination of which east London and the nation as a whole can be proud. I have never lost sight of our vision to play our part, along with the stadium's major stakeholders, in ensuring it grows into a global asset, the 'jewel in the crown' of the (Olympic) Park that will be watched by the world.

"Our vision for the stadium has always been about standing up for the promises made for London back in Singapore in 2005 and what they meant for our future generations. We are honoured to have once more received the support and backing of our friends at UK Athletics.

"I would like to thank the many West Ham supporters who have given their time to share their opinions on our proposed move ahead of this decision and despite the considerable constraints and confidentiality agreements we were required to enter into, I can assure them their feedback has been instrumental in informing the board's approach to our bid."

West Ham, along with partners Newham Council, beat Tottenham and Leyton Orient in the original contest for the arena as they were fully committed to keeping a running track at the stadium.

When Britain beat Paris in the race to host the Olympics, one of its main selling points was its commitment to providing London with an athletics legacy and the OPLC are keen to honour that commitment by keeping the track, particularly as it forms a big part of London's bid to host the 2017 World Athletics championships.

The OPLC have always said that the new tenants of the stadium would have to keep the running track after the Olympics.

West Ham have always made clear they want to move to Stratford, but Brady sounded a warning that the London club will not follow up its interest in becoming tenants if the stadium is not up to their requirements.

She said: "We have not taken this decision lightly and I should be clear that any move to the stadium is conditional on the fact that it must provide an arena that is fit for world-class and feels like home to our deserving fans."

Despite being third in the npower Championship, West Ham are by no means assured of promotion after their poor recent form and there is no guarantee that the Londoners will be able to fill the 60,000 capacity ground if they win the tenancy battle.

David Gold and David Sullivan made clear from the day that they bought the club two years ago that they wanted to take advantage of the opportunity in front of them, however, and they remain fully committed to the idea of leaving Upton Park.

In a joint statement they said: "As we have always said, we remain committed to this magnificent stadium and provided we are able to offer a world-class stadium for for our prolific, loyal and passionate supporters we believe there is nobody better placed to help deliver the legacy for the East End community than us.

"This area - the one from which we both originate - deserves a true and lasting legacy to follow the 2012 Games. It will be a tremendous event that the whole world will be watching and will therefore present a real opportunity to showcase the UK at its best. However, the showcase must not stop there.

"We know that using the stadium as our home will bring with it huge responsibility, but we are fully committed to making it our home for at least the next 99 years. We will take on with pride the mantle of what that means in terms of giving something back to the community."
the star
WEST HAM BACK IN RACE FOR OLYMPIC STADIUM

WEST HAM are one of four bidders hoping to move into the Olympic Stadium after the 2012 Games.

The actually got the nod to move into the stadium in Stratford when it was first up for grabs.


But the move was hit by a series of legal challenges from other clubs, including Spurs and Leyton Orient.


The Olympic Park Legacy Company confirmed yesterday: "We have received four bids from parties interested in using the stadium after the Games.


"The Legacy Company will shortly start its evaluation process, with the aim of announcing which concessionaires will occupy the stadium – alongside athletics – before the Games.


"The stadium will become the new national centre for athletics and host of the 2017 World Athletics Championships – and we are on course to re-open the stadium as a multi-purpose venue in 2014."


West Ham vice-chairman Karren Brady said: "Having spent the last two years dedicated to this project, I am privileged to once more be submitting West Ham United's bid to become the anchor concessionaire of the Olympic Stadium.


"From the outset it has been my belief that the stadium can become a multi-use destination of which east London – and the nation – can be proud."
the mail
Possibilities: Will West Ham kick off the new football season in this stadium?
West Ham favourites for Olympic Stadium after rugby rivals drop out of fresh bid process


West Ham remain overwhelming favourites to move into the Olympic Stadium post-Games after London's major rugby union clubs snubbed the idea of making the £500million arena their new home.

Bidding for the Stadium closed on Friday with four names having entered but Saracens, Wasps and London Irish all confirmed they are not among them.

It leaves the way clear for West Ham, who were granted the tenancy initially before it was abandoned amid legal dispute, virtually to name their own terms.

It is understood the Olympic Park Legacy Company had hoped to accommodate both football and rugby at the stadium, only for West Ham to resist the idea.


The American entertainment company Live Nation are thought likely to have entered a bid.

AEG, who run the O2 Arena, have not, though may be involved in operating the stadium once a bidder has been picked.

Saracens have chosen to redevelop Barnet Copthall and play their big games at Wembley. A decision on the stadium is promised before the Games start on July 27.

the independent
The hidden side of Sam Allardyce
He can be perceived as arrogant but West Ham's manager has worked hard to get from his days knocking down walls and mowing lawns to the top of the game – and he's proud of his achievements
Martin Hardy



Day 18 A momentous thing happened at lunchtime yesterday – we crossed the international date line, ...
Lionel Messi – More than just a player

Messi's treble against Granada, every goal a special one (when are they not?), saw him pass Cesar Ro...
A glimpse inside the Olympic Park

As the tour bus wheeled its way around the site, the grandeur in terms of size and ambition of the v...


"I started my coaching badges when I was 26 or 27," recalls Sam Allardyce. "But the odds are against you, there's a pretty good chance you won't make it."

Then, perhaps typically some would argue, come the statistics, about how few managers and first-team coaches and reserve managers in league football can actually have a job at the same time (for the record, it is just 276).

But then comes the admission that as a result he started a building company up in Tonge Fold in Bolton, while he was still playing. During the season he would buy up old terraced houses, sorting out mortgage advisers and solicitors and getting his team of builders together. In the summer, free from the constraints of his playing career at Burnden Park, he would turn up on site in his overalls and get covered in the dirt and grime that house refurbishment entails.

"Yeah, I would go in and knock down walls and help out," he adds. "But you see, in my life, right as a very young kid from when I went to Bolton, I would always work in the summer anyway.

"I went cutting the grass in the parks, I went working in laboratories making aspirins, because you'd get paid more than you were earning as a footballer. Being brought up from a Scottish background, I was a bit of a tight b*stard, which is what I'm not now.

"In the holidays I thought I might as well earn some money. I met my wife Lynn and I thought I'm not going to wait years, I'm going to get married and have kids and I'll have to have my own house. I'll have to graft for it. If I don't make it as a footballer, I've had these experiences in between that might help me."

But he made it as a footballer – a big, strapping centre-half. It was as a coach that the door was more difficult to open.

"I'm serious," he adds. "When I started doing my coaching badges, I thought this might not happen. There are probably a hundred people going for a job every time they become available and if you have no track record, how are you going to break in on the ladder?

"I think by doing your badges early and showing a willingness to learn how to go over to the other side of football, to the FA, and the coaching courses and the management courses, that even though you don't know it at the time, people see you. That gives you an opportunity. It might stay in their mind that they want to give you a job.

"Then I got the daft phone call from Father Joe [Young, the then chairman]. He said 'Come and manage Limerick.' He called me because he needed a player-manager. He didn't know me. He said 'I've picked you off the PFA list.' He knew about me playing."

It was an alphabetical list? "Yeah."

So if you were Sam Thompson you wouldn't have got it?

"Yeah, probably.

"When he first called I thought it was someone taking the piss. I put the phone down. But he called me back."

It is a side to Allardyce that seems important to bring up in light of a difficult week at West Ham, where his side drew for a fifth successive time at Upton Park, and his post-match television interview was fractious, so much so that he defended himself in his column in yesterday's Evening Standard.

"Telling the truth can be detrimental to your career," he wrote. "We didn't lump the ball against Middlesbrough. It annoys me, it constantly comes up, but it can't get me down. I don't live in the world of perception, I live in the world of reality. We made more passes than Middlesbrough. My job is to see everything and when I'm asked my opinion, I give it from a position of knowledge and therefore strength."

Knocking down the perception of Allardyce is something that seems to have become more difficult with time. He reminds people of his success for a reason.

"It rankles with me at times that I have to remind people what I have done," he adds. "You have to accept it for what it is. If you start talking about it too much, you just get labelled big- headed, people go 'He's blowing his own trumpet again, what's he on about this time?' But if no one else is going to talk about it, you have to talk about it. You have to fight your own corner.

"The lingering long-ball ****, the old style, all that rubbish that's never been me and never been a part of what I am. I'm a purist in football terms. I love football. I hate the politics that are involved in football because it's destructive and not for the good of football. I believe in what I do because it works. People work with me, not for me, they enjoy being in this environment."

Allardyce is a genuine football man, good company, thoughtful (he lists every squad member that took West Ham down last season and is still stunned they did) and with the scientific forethought that has left many of his contemporaries behind.

Behind the apparent arrogance is a real street fighter, a manager who has dragged himself by his fingertips to the top of English football.

Back in his former life as a Bolton builder, when the property market crashed, he had to dig his family out of a financial black hole. "There was no money or very little money," he adds. "I went into the world of darkness and it was disturbing. My wife caught me staring into fresh air.

"I still had a business with my playing partner, Roy Greaves. We had a couple of businesses between us, licensed pubs and a social and snooker club. I could go and work there for some money. I had a small pension that could keep me going but this was going to be a period of time that, having got on the ladder, I got kicked off it very quickly.

"West Brom was my first job as reserve-team manager. The second season, Brian Talbot made me his assistant. By January I was sacked with Brian, and you go 'Right, what am I going to do now?' Those businesses couldn't afford to keep me. I had a wife and two kids. So Walshy [Mike Walsh] lost Sam Ellis who joined Reidy [Peter Reid] at Man City and was in charge of Bury. I just rang up and said 'I'll come in.' He said 'We've got no money.' I said 'It's all right, I'll just come in anyway. I might as well come in and try and help'."

A big former northern footballer, in charge of a pub – it was the ultimate cliché. Yet Allardyce turned to science to a spectacular degree. He built a managerial career at Blackpool and Notts County and when he took over at Bolton he was mocked for the size of his back- room staff and its modern approach – a backroom staff currently employed at Manchester City, Chelsea, Fulham, Sunderland and in America.

Allardyce had met Billy Beane years before anyone in England had even heard of Moneyball, the book about sport's "metrics" which last year was released as a film starring Brad Pitt. His methods took Bolton to regular top-seven finishes in the Premier League. They reached a cup final, they qualified for Europe. They beat Arsenal on a consistent basis, driving Arsène Wenger to distraction in the process, and would flirt with Champions League qualification. No team of such stature has got anywhere near doing anything like that since. Now people bemoan the predictability of the top six or seven.

"I loved Bolton, where I was allowed to build a football club, it was where I had started my career and then you get the opportunity to manage that football club. We achieved things we were never supposed to do. Then you want to see if you can take it a step further.

"How did I feel going for the England interview? I felt proud and privileged and honoured to be considered at the time. I was looking forward to getting the job if I got it. I thought, however much pressure there is on you, which there is in that particular job, the group of players who were very, very good would hopefully be suited to my style of management, that it would get the best out of them. It wasn't to be, but it was nice to be close. I hit the crossbar.

"Are England, Newcastle and Blackburn [the two clubs where he lost his job to new owners] my three 'if onlys'? I think you're right there."

Now he has another real fight on his hands. At the start of the season, he said he expected to be sacked if West Ham were not promoted inside two years. Despite recent events, they sit only two points behind second-placed Reading with a game in hand. They have not lost for nine games but there is an admission of how hard it was taking over a relegated club with a massive wage bill.

"The initial stages were difficult," he says. "You have to sift through the negativity and the depression and the job cuts and job losses that relegation brings, and it's in every area. People have to lose their jobs and players have to go, whether we want to or not if they have high earnings. Then you have to address the situation and produce a team that is worthy of playing for West Ham.

"Once that period of time has [gone] and you've obviously got staff in and you're implementing your own philosophy, you can then see the light at the end of the tunnel. To bounce back is a hard ask, based on what a club has to go through when it falls out of the Premier League. The hardest part was when I first came in and people are losing their jobs. There is so much discontent. It is a real challenge, but challenges are what you like as a manager.

"[Before we played Leeds] our lads were listening to [Captain Martin Hewitt, one of the former servicemen featured on the BBC's Walking with the Wounded documentary] who was deployed with the troops in Afghanistan. He told us, 'If you don't get the basics right [there], you don't lose a football match, you're dead.'

"The players reacted brilliantly, there was a massive round of applause at the end. He was a super human being, he has no use of his right arm and yet he's been to the North Pole. He was great, inspirational. Without drive, you can't achieve anything."

No one can question Allardyce on that score.

My other life

"I went to watch Dancing On Ice the other day. All that the city of London gives you makes life enjoyable away from West Ham, more so than anywhere else I've been. There's so much available to go to.

"At Bolton and Blackburn I had a great amount of friends and you could go out for a meal, but here you can go and watch Rihanna or go and watch a show or go and watch Dancing On Ice, like I did with the missus the other day. You can sit down and enjoy life a bit more.

"The best thing is the environment I'm living in. Living in Canary Wharf has been a great experience.

"Am I a bit more anonymous here? Yeah, it's great. I've been on the Tube a couple of times, and no problem there."
sky sports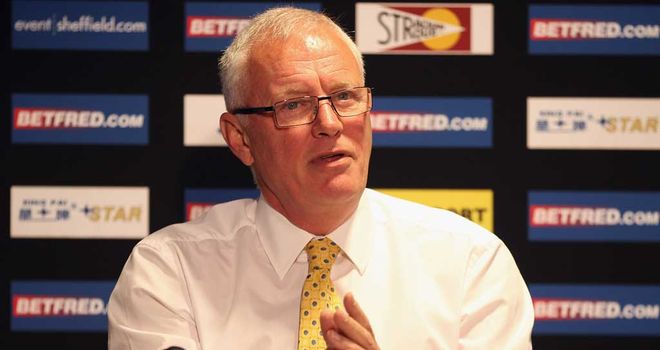 Hammers hit back at Hearn



West Ham have responded to Leyton Orient chairman Barry Hearn's comments that a move to the Olympic Stadium could signal their demise.

The Hammers, along with three other unnamed rivals, submitted applications to lease the stadium in Stratford earlier on Friday.

Leyton Orient officially withdrew from the campaign but chairman Hearn has offered a word of warning about what the future could hold for West Ham.

West Ham won the original contest to move to the stadium last year, but that deal collapsed following a number of complaints and the Olympic Park Legacy Company (OPLC) decided to start the process again, instead offering candidates a temporary lease, rather than permanent residency.

The Championship club have applied for a 99-year lease - the maximum on offer - but insist they will only move there if the stadium is converted to a 'world-class' 60,000-seater football ground after the 2012 Games.

One gripe West Ham fans have is the running track will remain at the stadium as part of the OPLC's commitment to ensuring an athletics legacy in the capital.

The Hammers are confident they will be able to fill the stadium regularly and create a vibrant atmosphere to match the one they currently have at Upton Park.

But Hearn said: "This represents a quantum change in the experience of a football punter and frankly it could be the demise of West Ham if they move there.

"It's a huge slap in the face to their fans and their history.

"This represents a quantum change in the experience of a football punter and frankly it could be the demise of West Ham if they move there. It's a huge slap in the face to their fans and their history. "
Barry Hearn on West Ham's Olympic Stadium bid Quotes of the week
Pink flamingo

"The stadium is a magnificent athletics stadium, a magnificent building. It's just not built for football.

"The pitch is 40 to 50 yards away from the front row of seats. I personally find that abhorrent.

"It is designed for athletics. Football grounds have steep stands but this one doesn't. The view from the lower tier is dreadful.

"It's not a white elephant. It's a white elephant that they're trying to make into a pink flamingo.

"If you're talking about atmosphere, then forget it.

"You would have to rebuild the entire stadium to create any atmosphere in that place."

West Ham believe that leaving Upton Park - their home for the last 108 years - to move to Stratford is 'an opportunity too good to miss'.
Vision

And a statement from the Hammers on Friday night read: "While others spend their time speculating on our plans we are focusing only on the long-term prosperity of our great club and how we can take it to the next level for the benefit of our loyal and deserving fans.

"We will ensure that we make our vision a reality should we get the opportunity to do so.

"Our aim is to sell out a 60,000 stadium and we have a plan to do it.

"Other people's five favourite words might be 'What's in it for me', while West Ham's are 'What's in it for us'.

"We want a world-class stadium fit for football, not the stadium that is there today, but one that will be first-class for football in 2014.

"To have no vision is to have no dream. We have the vision and we'll realise the dream."




Real Madrid have made Arsenal striker Robin van Persie their number one summer target and are prepared to pay £25m to snap up the Dutchman.

Daily Express

Manchester City striker Sergio Aguero has rubbished rumours he is set for a summer switch to Real Madrid and says he wants to stay with his current club for a "long time".

: the Sun

Tottenham Hotspur have emerged as strong favourites to clinch the signature of Villarreal striker Giuseppe Rossi at the end of the season.
Nathaniel Clyne has made 116 league appearances since making his Crystal Palace debut in 2008

Talksport

Aston Villa boss Alex McLeish wants £5million-rated Heerenveen and Holland Under-21 star Bas Dost, who is the top scorer in the Dutch League with 22 goals so far this season. But they face competition from Valencia, who see him as a probable replacement for £20m-rated Roberto Soldado.

Daily Mirror

Manchester City have joined rivals Manchester United in the race to snap up Crystal Palace right-back Nathaniel Clyne.

Daily Mail

Montpellier defender Mapou Yanga-Mbiwa, a target for Arsenal and Newcastle, has refused to sign a new contract at the Stade de la Mosson and admitted he could leave in the summer.

insidefutbol


Liverpool will open contract talks with their star striker Luis Suarez in the summer, according to managing director Iain Ayre.

Metro

Manchester United's summer transfer plans could be hampered by the decision by the club's owners, the Glazer family, to delay a partial stock market flotation until the autumn.

: Daily Telegraph
Rivaldo has played for clubs in Brazil, Spain, Italy, Greece, Uzbekistan and Angola


Arsenal manager Arsene Wenger has revealed Jack Wilshere could make his first-team return in five weeks, meaning the midfielder should be available for England duty at Euro 2012.

Daily Mirror

Fulham boss Martin Jol admits he is relieved he turned down the chance to become Sir Alex Ferguson's number two at Manchester United eight years ago.

the Sun

Former France World Cup winner and Real Madrid sporting director Zinedine Zidane says it is only a matter of time before he becomes a coach.

insidefutbol


League One leaders Charlton Athletic have turned down the chance to sign 39-year-old ex-Barcelona and AC Milan midfielder Rivaldo on a free transfer. The Brazil 2002 World Cup winner is currently playing for Angolan side Kabuscorp