in our thoughts get well soon
the star
STILIYAN PETROV: I'LL FIGHT THIS, BOSS


STUNNED Aston Villa star Stiliyan Petrov last night vowed to win his fight for life after being diagnosed with leukaemia.

The 32-year-old Villa captain is in a London hospital undergoing further tests after being diagnosed with an acute
strain of the condition.

The shock diagnosis was only delivered yesterday afternoon after he underwent tests on what he thought was a virus. Specialists are nowexploring how best to treat the stricken

Bulgarian, with chemotherapy and a bone-marrow transplant possible options. Villa boss Alex McLeish revealed that his skipper, who is married with two sons, yesterday pledged to fight the deadly cancer in a phone call on his way to hospital McLeish said: "I've spoken to him. He's shocked, but in the background I could hear a captain speaking, with his defiance coming out. He said, 'I'll fight this, gaffer'.

You can quote him on that.

"It's a serious illness. It puts every- thing into perspective, but obviously we all wish Stiliyan a full recovery. Everybody here is rooting for him."

Petrov played the whole game at Arsenal last Saturday but went for tests after complaining of feeling tired.

McLeish said: "Stiliyan saw the doc and said, 'I'm not feeling great'. The doc phoned me on Saturday night and said he had a temperature.

"During the week he still had the virus and went to see a specialist who sent him for further tests.

"So, he went for those which comprised of a bone marrow scan, which confirmed it was acute leukaemia."

McLeish admits everyone at the club is in shock, ahead of today's visit from Chelsea. "He's a lovely guy, an honest guy," he said. "We're confident he will fight this battle. This is the first day of his battle to recover."

Petrov was a rising star with CSKA Sofia when he was snapped up by Celtic in 1999. He joined Villa for £6.5m in 2006 and went on to gain 100 caps for his country.

McLeish added: "It is always a massive shock when something like this happens to a footballer.

"It just underlines that illnesses like this don't distinguish."

Professor Chris Bunce, research director at Leukaemia & Lymphoma Research, said: "There is every possibility Stiliyan could return to be very fit and healthy. He's certainly young enough to make a full recovery."
the sun
Karren Brady's football diary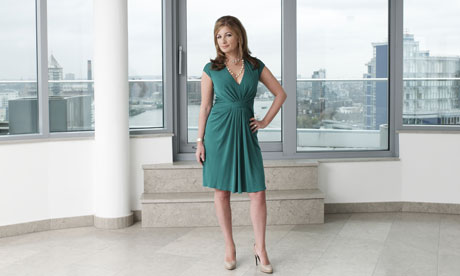 SATURDAY



I PULL into Victoria Station car park early hours in the morning to pick up my car after a long day.

I spot a Premier League director's car with distinctive number plate and see someone inside, just one head, but the windows are steamed up.

When I get in my car I text him: "You sure it's safe to park there?" A minute later I get a reply: "Away on business. My wife has the car."

SUNDAY

LUNATIC stories today about Cristiano Ronaldo and Gonzalo Higuain leaving Real Madrid for Chelsea.

Money talks in football but it isn't capable of ambushing two stars of the world's richest club, choking them with euros and then persuading them to turn out in the Europa League.

No, Roman Abramovich has to get used to Chelsea being just another rich club. The glamour has moved elsewhere.

MONDAY

FOOTBALL'S very own heartwarmer, Fabrice Muamba, continues on the road to recovery, reports his manager Owen Coyle.

Great news, Fabrice, and quite soon we hope you'll be wondering what you'll do when you are fit again.

Bolton chairman Phil Gartside has done exactly what I would expect of a decent chairman and offered the England Under-21 international a job at the club for life.

My feeling is that Fabrice's thoughts will already be drifting to whether he will ever play again.

I have not a clue whether it would be medically possible or advisable but that is what he will want to do because playing is in his blood.

Then again, I also know from my knowledge of him at Birmingham that if he cannot play he will build himself a successful career, maybe outside the game.

Do not forget, as the son of a Congolese refugee, he did not start learning English until he was 11 and then passed three A-levels. An achiever, no less.

TUESDAY

DARREN FERGUSON indulges in a bit of Dad-speak after our win at Peterborough.

The boss claims the ref chose not to give his side a first-half penalty that he would have if it had not been West Ham.

And he adds Posh would then have gone on to win. Is he living in an alternative universe?

We have now got our run of draws off our mind.

WEDNESDAY

MEMORIES of the Anglo Italian Cup tie between Birmingham and Ancona in 1995 come flooding back — after the Bradford v Crawley brawl.

The blood flowed and bones were broken as our boys and theirs fought in the tunnel.

There were extradition orders out for Liam Daish, Michael Johnson and coach David Howell but all three remained home.

THURSDAY

LOOKING over Real Madrid's plans to build a £630million seaside holiday sports complex, helpfully funded by the United Arab Emirates.

I have to admit I'm envious. Beside a football stadium and marina in Ras al-Khaimah, there'll be a 450-apartment beach resort, bungalows, villas and an amusement park where, no doubt, Real will always beat Barca.

FRIDAY

I'M bulldogging away at payments Brescia still owe West Ham over the £1.8m transfer of Alessandro Diamanti nearly two years ago. He has since moved to Bologna.

Brescia have now appealed a FIFA verdict that they should pay up at once.

I promise I won't let it drop. Why should wheedlers and welshers from Brescia treat us as though we're their private charity?

WEST HAM vice-chairman Karren Brady's autobiography Strong Woman is on sale now from all good book shops.
the sun
Strictly come Dyceing


Midfielder Jack Collison reckons the Hammers' gruff boss is an expert man manager, a believer in passing football, a passionate coach and even a mean dancer.

West Ham host Reading today in a third-versus- second game billed as 'Showdown Saturday'.

A point separates the two teams and Upton Park will be a full house for the match which will have huge consequences on the race for the Premier League.

Collison, 23, said: "Already the game feels more like a cup final. Whoever wins will have massive momentum going into the last six games of the season. It'll be one of the biggest games in the country this weekend without doubt.

"I know things have been frustrating for the fans this season. At times we've not delivered for them or played as well as we should.

"But the gaffer is trying to get us to mix our game up. After each match we have video reviews and dissect everything to see what we have done well and what we need to improve on. It's extremely detailed.

"We're under huge pressure to get straight back up and we accept that.


"The fans want us to play well and win. We all want that but now the important thing is to get results. Whether that's with a long ball and a flick on or 10 to 15 passes isn't important. Sam is worried about winning games. And all the players are behind him.

"He is a great man-manager and we all feel we've made big strides under him.

"Sam can dish out rollickings and tells it like it is, we respect that. But we've also seen him in action on the dancefloor at the Christmas party on a boat on the Thames.

"He might be getting on a bit but the gaffer can still shake those snake hips.

"All the lads warmed to him after that and I'd not be embarrassed to copy some of his moves myself."

Collison says Hammers owe Reading one after losing 3-0 there in December.

He said: "We are desperate for revenge."
the telegraph
West Ham v Reading: Mark Noble keeps the ball rolling in the quest for automatic promotion


So what does Sam Allardyce, that 'hoof-ball' disciple of anti-football, as some would have it, tell Mark Noble when he goes out to play for West Ham United?




What nefarious messages does Big Sam convey to the midfielder whose style would be described in the game's parlance as "cultured"?

"The manager just says to me, 'Mark get on the ball as much as you can'," Noble explains. "He doesn't ask me to do anything that is strange to me. He wants me to get the ball, play and make the right decisions."

But surely he is a betrayer of the so-called 'West Ham way', isn't he? "There is a West Ham way," confirms the Championship club's longest-serving player, at just 24, and a product of the famed youth academy.

"And we play football on the floor But we've got really good footballers in our team now, we've brought in good footballers and it's about doing it at the right time.

"If we had come away with two or three more wins from the homes games [four successive draws] then it would be a completely different story. We would be top and I don't think any of this would have been said."


"This" refers to the criticism by supporters — which has spilled into frustrated chants of "we play on the floor" and "Paolo Di Canio" — that Allardyce's team are not playing good enough football; that it is a long-ball game; that he is betraying the traditions of the club.

"I think there was a statistic last year that Manchester United played the highest number of long balls in the Premier League," is Noble's reply.

"He's the manager and he plays exactly how he wants to play. He's experienced so he's not going to change simply because some people disagree with it. There have been times this season when we have played fantastic football."

Noble insists that in the 2-0 win at Peterborough "we kept the ball for 45 minutes and made them chase and run and burn out. The manager has his way and his statistics that he follows and it's why he's been so sought after and been successful".

Success this season is simply defined. Promotion. It is the only stat that matters. It consumes Noble 24 hours a day. "I can't think about anything else," he says. "Whether that is good or bad. Sometimes you do need to get anyway from it because everyone you see asks you what is going on and sometimes it just drives you mad."

West Ham are at home to Reading on Saturday. Win and they leapfrog their opponents into the second automatic promotion place; lose and the dreaded play-offs beckon. It is, Noble says, a contest that will define West Ham's season. Despite the stakes, it is not sold out. Tickets are available at the turnstiles and a full house is needed. The encounter will, Noble adds, "sort out the men from the boys".

"We are only thinking about automatic promotion, it's what all our meetings are about, it's what the lads are talking about and you need to have that vibe.

"You need to believe it. Some people react differently to that pressure. Some thrive on it, some go into their shells."

Noble is pumped up. He understands the fans' irritation. But he wants it shelved.

"Obviously the West Ham fans chant and sing what they want and they always have done.

"They are passionate fans, they pay their money and they have a right to, but this is the point in the season when they need to rally and really get behind us," he says.

"You sense their anxiety and it affects players in different ways. But with the crowd behind us it helps massively — and vice-versa. It can have a negative effect."

No one at West Ham is more ingrained in the club than Noble.

He was born in Canning Town, he grew up a supporter, he joined the club's academy, he is West Ham and, to such an extent, that he has become the 'go-to' man for new players asking advice on such things on where they should live.

"I know the club inside out," he says. "People see me as a leader and I like to feel that. I like that responsibility."

It is why, when chairman David Sullivan came to him last summer after the trauma of Premier League relegation and asked him to stay, he stayed. "There was a strong possibility I would leave," Noble says.

"Everyone was talking about it and there were players on big wages who had to go first to keep the club afloat but the chairman said 'you're an important part of our plans and I want you to stay'.

"After that, and with the players being brought in and the money spent, it was a big thing to stay. And automatic promotion has been our aim the moment we got relegated. We want to play in the Premier League, I do.

"I was at that level for five years of my career and I want to get back there as quickly as possible. I'm desperate to get back there.

"No one likes failure and when you do get relegated, no matter what anyone says, it's a failure. It was a horrible time and with the players we had here it was unbelievable.

"It should have never been the case. One hundred per cent we had a good enough team with Scottie Parker, Demba Ba, Thomas Hitzlsperger, Matty Upson, James Tomkins, but we didn't do it.

"I personally swore to myself that if I stayed at the club I would take us straight back up."

Despite being in the Championship, West Ham feels, to Noble, like a more "stable" club under the ownership of Sullivan and David Gold.

He winces when reminded of the doomed Icelandic regime of Eggert Magnusson. "I have seen them all," he says. "Managers, chairmen, directors of football - some crazy stuff at times. It was never stable and that's why what happened, happened."

It is another reason why, with the club on a sounder footing, promotion matters so much. Noble says: "This club, the way it is run, the size of the fan-base, it shouldn't be in this league it should be in the Premier League."
bbc sport
TEAM NEWS


West Ham Defender Danny Collins is likely to deputise again for Senegalese centre-back Abdoulaye Faye who suffered a head injury against Peterborough.

Otherwise manager Sam Allardyce is set to name an unchanged side for the visit of Reading at the Boleyn Ground.

Reading manager Brian McDermott will wait on the fitness of striker Jason Roberts before naming his side.

The Royals have recalled Alex McCarthy from Ipswich (loan) to provide cover for regular number one Adam Federici.
MATCH FACTS

Head-to-head

• Reading boast a 50% winning record over West Ham, having come off best in five of their 10 competitive matches. West Ham have won three, and finished level in two.

• The Royals beat 10-man West Ham 3-0 in the reverse fixture, when Joey O'Brien was sent off. Now the Berkshire club are hoping to do the double over the Hammers for a second time.

• West Ham's only maximum in six league meetings was 3-0 at the Madejski in September 2007. Their most recent home triumph over them was 1-0 in August 2004.

West Ham United

• Three points from this crunch match would see West Ham leapfrog Reading and climb back into a top two automatic promotion spot.

• The Hammers are unbeaten in 11, having won four and drawn seven since their only league defeat in 15 games in 2012, against Ipswich on 31 January.

• Sam Allardyce's side will break a club record, if this match finishes all square. It would be their sixth consecutive home league draw.

Reading
Use accessible player and disable flyout menus

• Reading have won 11 Championship matches in 2012, two more than any other club, and sit five points behind leaders Southampton, and one spot and one point ahead of third placed West Ham.

• Brian McDermott's side, who have the joint tightest defence in the Championship, are looking to equal West Ham's 11 away wins.

• They are also chasing a 10th win against a top-half club, and are hoping to complete their fifth of a possible eight league doubles.


Real Madrid manager Jose Mourinho may raid former club Chelsea for promising keeper Thibaut Courtois, 19, who is on loan at Atletico Madrid.

Daily Mirror

Rio Ferdinand is considering a lucrative offer to join Nicolas Anelka in China when his Manchester United contract expires in 2013.

the Guardian

Salomon Kalou has told Chelsea he will only sign a new contract if he can play in a central role. AC Milan plan to snap up the Ivory Coast international on a free transfer if the Blues cannot persuade him to extend his current deal that expires this summer.

Daily Mail

Manchester United, Liverpool and Chelsea are all interested in a cut-price £6m move for Athletic Bilbao winger Markel Susaeta.
The Sun
Gaston Ramirez has eight senior caps for Uruguay


The agent of Bologna midfielder Gaston Ramirez, who has been linked with Chelsea, Liverpool and Manchester United, has admitted there is a concrete offer from an English Premier League team for his client.

Inside Futbol

Middlesbrough are poised to sign Ipswich captain Grant Leadbitter when his contract expires at the end of the season.

: Daily Mirror

Bayern Munich have joined the race to sign Benfica midfielder Nico Gaitan, who is also a Manchester United target.

talkSport


Michael Owen believes he can score the goals on his return from injury to fire Manchester United to the Premier League title.

The Sun

QPR ran up debts of £56.1m and lost an average of almost £500,000-a-week before Tony Fernandes's takeover last summer.

Daily Telegraph

Tottenham manager Harry Redknapp admits he is powerless to stop playmaker Luka Modric leaving.

Daily Mirror

Arsenal manager Arsene Wenger says he is "confident" of signing up key players Robin van Persie and Theo Walcott to new contracts beyond next season.
Metro

Pavel Pogrebnyak is set to snub interest from several other Premier League clubs in favour of joining Fulham permanently, after manager Martin Jol revealed talks have begun.
Metro

Arsenal's Mikel Arteta has said that it is unfair to compare him to fellow Spanish midfielder Cesc Fabregas who left north London for Barcelona in the summer.

: London Evening Standard
Ricardo Fuller has scored 43 goals in 177 league appearances for Stoke


Stoke striker Ricardo Fuller has opened talks on a new contract at the Britannia Stadium as he enters the final eight games of his current deal.

Stoke Sentinel

Wolves midfielder Karl Henry acknowledges the club is "running out of time" to secure their Premier League survival ahead of Saturday's game against Bolton Wanderers.

Daily Express

The Metropolitan Police want all London teams to play away from the capital during the Paralympics from 29 August-9 September because they plan to concentrate the vast majority of their resources on the games.

Daily Mail


Manchester City striker Sergio Aguero injured his foot on his son's mini-motocross bike.

Daily Mirror

However, the Guardian says the Argentine had an allergic reaction to a foot spray.

the Guardian

Keeper Iker Casillas has been chastised after being caught on video picking his nose and wiping his hand on the face of a young mascot before Real Madrid's Champions League game against Apoel Nicosia.
Metro

babe of the day
http://pbbb.playboygirls.com/pic0006/pics/10113JP_9.jpg