the guardian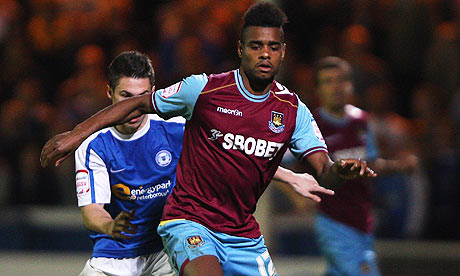 West Ham's labour of love with long passes is holding forwards back

The crudeness of the team's build-ups under Sam Allardyce reduces the chances of finishing with finesse



"It's not about results, it's about entertainment," says Sam Allarydce. Pause a moment to take that in. The man often portrayed as the ultimate no-frills manager announcing that, actually, he quite fancies frills and thrills. Except that's not exactly what he's saying. Because it is clear that, for Allardyce, entertainment means getting good results and getting good results means entertainment. All else is whimsy and piffle.

Results are certainly all Allardyce's employers wanted when they hired him last summer to replace Avram Grant following West Ham's relegation from the Premier League. Of the 36 teams to have been relegated from the top-flight since the turn of the century, only seven have gone straight back up. "Bouncing straight back is one of the most difficult tasks in football because the catastrophic fall-out of relegation devastates clubs," says Allardyce. "Normally it can't happen in just one season because of the difficulty of having to adjust."

The last time West Ham went down, in 2003, it took them two campaigns to return but the club's co-owners, David Sullivan and David Gold, can ill-afford to wait that long this time so have taken an expensive gamble on getting back at the first attempt. West Ham may have shed 14 players since relegation, with the likes of Demba Ba, Matthew Upson and Scott Parker leaving, but they have recruited almost as many and Sullivan puts their trading loss this season at £17m – and, given the scale of the debts that he and his business partner inherited when they took over the club in 2010, failure to secure promotion would severely endanger West Ham's future.

Over the next few weeks the owners will find out whether their gamble has paid off. Indeed, Saturday will give a strong pointer. If West Ham beat Reading at Upton Park they will leapfrog Brian McDermott's team into the automatic promotion spots. If they lose, well, boos are sure to resound around Upton Park. Again.

Allardyce cannot understand the boos. Yes, West Ham have disappointed by drawing their last five matches at home to slip from in front of Reading to chasing them but, reasons the manager, they still have their destiny in their own hands thanks mainly to outstanding away form – their 11 league victories on the road this season has equalled a club record that has stood since 1958. "We have created a winning environment at this club for the first time in donkey's years," says Allardyce. "Last time West Ham got up [in 2005] they had to do it by scraping into sixth spot and then going through the play-offs. So I don't know why people listen to the small minority who are discontent with this season."

The Middlesbrough manager, Tony Mowbray, suggested two weeks ago, after his side's draw at Upton Park triggered another outburst of booing from the locals, that the discontent was down to the West Ham fans having ideas above their station and "thinking it is an insult to be in the Championship". Another factor, however, is West Ham fans' traditional fondness for the sort of slick and exciting football with which Allardyce is not commonly associated. The 57-year-old does not believe West Ham are associated with it either. "When did they play like that?" he asks. "I don't remember it. Is outpassing teams and losing matches entertaining?"

He has a point. But so do his detractors. At times this season West Ham have been gruelling to watch. They defend well, as Rob Green has enjoyed a fine season, Allardyce has resolved the long-standing full-back problems and the centre-back Abdoulaye Faye has proved a canny signing. He will be sorely missed against Reading if he does not recover from the concussion from which he suffered during the mid-week win at Peterborough, although the blossoming James Tomkins could revert to defence from the holding midfield berth that he has filled with distinction in recent weeks.

It is going forward where West Ham have laboured. The much-vaunted Ravel Morrison has been entrusted with just nine minutes of action since his January arrival from Manchester United, Ricardo Vaz Tê has, in fairness, injected a dash of trickery but the team's preferred method of attack remains long diagonal passes into the fabled Position of Maximum Opportunity. In a sense, this campaign has been about automatic Pomo-tion.

It is not an approach that appears to suit the side's forwards. Carlton Cole is big and strong yet has looked nowhere near the force that he had threatened to become under Gianfranco Zola. John Carew has been a flop. Sam Baldock and Nicky Maynard look lost. Midfielder Kevin Nolan, though on the wane, can still read knock-downs and is the club's top scorer in the league with 10 goals. There is a feeling that the crudeness of the team's build-ups reduces the chances of finishing with finesse. West Ham have hit more shots off target (233) in the Championship this season than anyone bar Burnley (243). Allardyce suggests the blame does not lie with the build-up, but with the strikers.

"The simple facts are we have created the chances and delivered what we've needed to deliver but the one thing we haven't done often enough is put the ball in the back of the net," he says. "The achilles heel is the goalscorers and that's why we've drawn so many because you can't always ask your defenders to keep clean sheets." Allardyce would love one of his forwards to come up with a cutting reply to that criticism on Saturday today.