the mirror

Home comfort: West Ham and Leyton Orient could share this
Arise, Sir Barry: Leyton Orient chief Hearn is passionate about providing value for the British taxpayer...

Split decision: West Ham and Leyton Orient could SHARE Olympic Stadium

Barry Hearn's Orient understood to have tabled the carve-up... and it's not even the most bizarre idea among four reportedly on the table
Home comfort: West Ham and Leyton Orient could share this Home comfort: West Ham and Leyton Orient could share this
Getty

A ground share between West Ham and Leyton Orient is one of four proposals now being considered for the Olympic Stadium.

There are bids from West Ham, Leyton Orient, the UCFB College of Football Business, and a plan to turn the Olympic Stadium into part of a Formula 1 track, tabled by Intelligent Transport Services, in conjunction with F1.

Last year West Ham were in pole position with a solo deal to lease the £486m stadium, but that was scrapped amid legal wrangling.

It is understood that it is Leyton Orient's proposal which offers a ground share with West Ham, although the Premier League club have previously rejected any such share.

Orient chairman Barry Hearn refused to comment on whether his proposal contained a possible ground share with West Ham, but told BBC Sport he was hopeful of success.

Arise, Sir Barry: Leyton Orient chief Hearn is passionate about providing value for the British taxpayer... Arise, Sir Barry: Leyton Orient chief Hearn is passionate about providing value for the British taxpayer...


"There is no point dwelling on the design of the stadium and the faults of the stadium," he said. "We have to get on with it, we have to make a fist of it and we have to make sure the Government and the people of this country get maximum value for the investment that has gone into the Olympic Stadium.

"Our idea does that and I think it forms part of a legacy that people in this country can be proud of. Bearing in mind this is the only time in our lifetime that we are ever going to hold the Olympic Games, we need to get something out of it.

"A mixture of usages and a mixture of opportunity within the Olympic Stadium will give us the feeling that we have spent our money wisely and that is really what we are trying to achieve. All sides have to exercise common sense and move forward. I think we have created a very interesting scheme that can do just that."

It has already been announced that the 80,000-capacity Stadium will be reduced after the Games to 60,000.
the final insult ground share
the mail

THE INSIDER: Berbatov cool on Hammers move

West Ham admire Berbatov but they are hopeful of concluding a deal for Sochaux striker Modibo Maiga over the next 48 hours. Much will depend on the medical after the Mali international suffered a knee injury last year which he struggled to fully recover from. Manager Sam Allardyce still wants to bring in a centre-back also. United would be extremely reluctant to loan out Berbatov but will sell him for around £5million. The 31-year-old Bulgarian has made it clear he is ready to leave and his agent Emil Danchev is trying to fix up a deal in Italy. He is sounding out AC Milan but talk of a move to Malaga has gone quiet as Spanish authorities continue to investigate the club over alleged non-payment of wages, fees and taxes
goal.com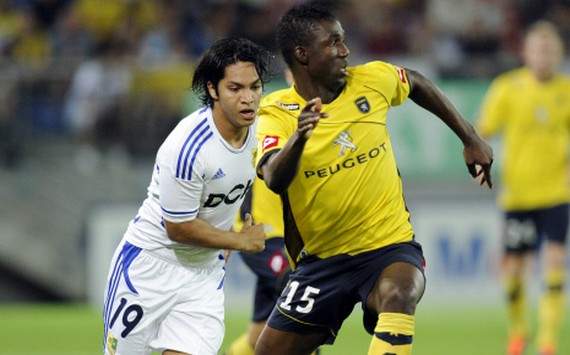 West Ham in talks with Sochaux striker Maiga, confirms Allardyce
After a reported transfer to Newcastle fell through in January, the 24-year-old Mali international centre forward is closing in on a £4.5m move to the Premier League


West Ham boss Sam Allardyce has confirmed that the club are in negotiations with Ligue 1 side Sochaux over a possible move for striker Modibo Maiga.

PaddyPower Sign up to Paddy Power for £250 in free bets

The manager has made no secret of his desire to strengthen his forward line over the summer, with moves for Andy Carroll and Dimitar Berbatov touted but doubted, and now the 24-year-old appears to be edging closer to the Premier League.

The Mali international has notched a respectable 24 goals in 59 Ligue 1 matches for his current side since joining the club from Lens two years ago and it is believed that he would cost West Ham around £4.5 million, although Allardyce admits that the deal is not complete yet.

"At the moment that is progressing," he told Sky Sports. "That is going forward as we speak but is a little way off being clinched."

Maiga almost signed for Newcastle in January, with a fee of £7m reportedly agreed with Sochaux, but the move is thought to have broken down when the forward failed his medical, with the Magpies eventually signing Papiss Cisse from Freiburg instead.
the guardian

West Ham United suffered a 1-0 friendly defeat at Oxford United

The Hammers named a strong team including Carlton Cole who made his first appearance in England this pre-season.

But the League Two side grabbed the decisive goal before half-time when Deane Smalley half-volleyed past Stephen Henderson.

Sam Allardyce's side continue their preparation for the new season at Colchester United on Saturday.

Anyway, keep the faith! If ever I needed to adhere to my favourite Gramscian dictum 'Pessimism of intellect, optimism of the will' it is probably now. And, of course, It is easy to forget that things could be a lot worse. If those three early Blackpool sitters in the play-off Final had gone in, we would now be faced with another tough season in the championship, having to cope with dire consequences of 'financial fair play.' There, that's cheered you up hasn't it. COYI!
west ham till i die

And Another Two Bite the Dust, But the Maiga Deal Seems Somewhat More Promising!


Well, so two more bits of transfer speculation bite the dust. Apparently Sam Allardyce has confirmed that the Andy Carroll deal is not going to happen. While he has also poured some very cold water on the rumour that we were ever interested in Berbetov. Neither development is much of a surprise in all honesty. Therefore, barring a dramatic changed state of affairs, the improbablity is not a possibility, and the 10% 'long shot' is not going to come off. While, the Berbetov speculation appears to a case of the media doing their standard trick of making 2 (west Ham need a striker) + 2 (Berbetov is available) = 5 (West Ham want Berbetov).

Elsewhere, things look somewhat more promising on the Maiga deal. Negotiations appear to be at a fairly advanced stage, but Allardyce has stressed that there are stiill some issues to be ironed out before the deal can be completed. Hopefully, those 'issues' relate to personal terms, rather than medical complications. We will just have to wait and see? Maybe Maiga will prove to be an absolute gem, emerging out of 'left field' to barnstorm his way in to the Hammers Hall of Fame! Goodness, how we could do with a McAvennie or Devonshire scenerio of a 'low expection' signing turning out to be absolute gold. Unfortunately those kind of deals are all too rare, especially these days. Although the Vaz Te deal had a touch of that about it last season. Similarly, Vaz Te bursting on to the PL scene, with a glut of goals, would also be most welcome event. At a push, I might even settle for him being a one season sensation, with 20 plus PL goals leading to a £10m summer move to Porto!

Yesterday, amidst the inertia of the current transfer window, my mind wanderered back to the pre-season of 1985-86. Now, everyone celebrates the exploits of the Boys of 86, but the general apprehension that preceeded that season is seldom recalled . West Ham had bumped around the bottom half of the old First Division table in 1984-85, but we managed to pull clear of relegation trouble with a bit to spare. But it was a decidedly underwhelming season. The prevalent view was that we needed to 'buy big' to avoid a repeat in the following campaign. Yet, instead of households names, our 'trophy' signings were a winger from Oldham and an attacking midfielder from St Mirren. Few had heard of them and many fans were left fearing the worst. Yet, McAvennie and Ward slotted in beautifully and the rest of the team gelled around them. And the rest as they say is history! I am not saying that it will happen again, but it is still a comforting recollection. Oh, yeah and they did not win a game in the 1985-86 pre-season, to boot! (Tallking of which, we apparently lost 1-0 to Oxford Utd yesterday evening in our latest pre-season friendly).

Finally, forget about Carroll and Berbetov. West Ham are said to be interested in Southend Utd utility man, Bilel Mohsni. Mohsni appears to be a Derek Johnstone type of player (hands up those who remembers him?) who can operate as both a defender and a striker. Is it just another baseless rumour, who can possibly say at present?

vital west ham

Mohsni set for Southend exit to West Ham?

Having made it clear to Paul Sturrock that he doesn't want to return to Southend Bilel Mohsni's Shrimpers career finally seems over.

Although it will only be over if the club receive an offer for the 24-year-old utility man that they deem worthy!

Championship and league one interest has been shown but it is with Premier League outfit West Ham that Mohsni might end up as he is to undergo a trial with them.

He's a talented footballer who could play at a higher level but if this is the Premier League remains to be seen, whatever though if he wants out then it's best the fiery defender/striker gets out!

Read more: http://www.southend.vitalfootball.co.uk ... z20wzlbL40
Manchester United have failed with a £29.8m bid for Sao Paulo midfielder Lucas Moura, 19, according to the Brazilian club.

Daily Mirror

Midfielder Oscar, 20, has arrived in London with the Brazil Olympic squad and will have a medical ahead of his £25m move from Internacional to Chelsea.

Daily Mail
Lucas Moura

Moura has also been tracked by Inter Milan

Dimitar Berbatov could join AC Milan or Juventus, according to the Manchester United striker's agent.

talkSPORT

New Watford manager Gianfranco Zola wants Italian legends Filippo Inzaghi, 38, and Alessandro Del Piero, 37, who are both free agents.

Daily Mirror

Barcelona could move for Liverpool defender Daniel Agger after being priced out of a move for Athletic Bilbao midfielder Javi Martinez, 23.

Daily Mail

France striker Bafetimbi Gomis, 26, will reject a move to Tottenham in order to stay with Lyon.

talkSPORT

Robin van Persie is set for formal talks with Arsenal manager Arsene Wenger as he considers his options away from the Gunners. The Netherlands striker, 28, is interested in joining Juventus or Manchester United.

Daily Telegraph
Filippo Inzaghi and Alessandro Del Piero

Inzaghi and Del Piero shared 148 Italy caps

Fulham have opened talks to sign Chelsea striker Romelu Lukaku, 19, on loan.

Daily Mirror

Manchester City defender Kolo Toure could price himself out of a move to Saudi club Al Hilal with a request for £50,000 a week after tax and a rent-free home, two cars, paid-for flights and the captaincy.

Daily Mirror

Sunderland manager Martin O'Neill wants to return to former club Aston Villa to sign James Collins. Villa are prepared to sell the Welshman, 28, as they close in on a deal for Feyenoord's Netherlands international Ron Vlaar, 27.

Daily Mirror

Everton and West Brom are interested in FC Copenhagen's Costa Rican defender Bryan Oviedo, 22, who has been tracked by Manchester United.

Daily Mail

Defender Scott Dann could join Ajax on loan following Blackburn's relegation to the Championship. Reading and Southampton have been put off by the centre-back's £6m price tag.

: Daily Mail

Tottenham midfielder Danny Rose, 22, is resigned to Luka Modric's departure from White Hart Lane and admits he does not know where his own future lies after the appointment of Andre Villas-Boas.

London Evening Standard

Chelsea are close to signing Eden Hazard's younger brother Thorgan, 19, according to Lens sporting director Antoine Sibierski.

La Voix du Nord newspaper (French)


Liverpool striker Luis Suarez, who was banned for eight matches for racially abusing Patrice Evra, has reopened his row with Manchester United's French defender by using a Uruguayan television interview to claim: "In England, Man United has this political power, and you have to respect that and shut your mouth."
Daily Mirror

Striker Peter Odemwingie could be on his way out of West Brom after a training ground bust-up with new manager Steve Clarke.

: talkSPORT

Arsenal have still not opened contract talks with Theo Walcott despite the prospect of the England winger leaving as a free agent next summer.


Veteran defender David Weir, 42, is ready to play for Everton again if needed.

Liverpool Echo
..

Yaya Toure's stint on an exercise bike during Manchester City's pre-season trip to Austria was livened up by the dancing of sports scientist Tom Parry.
wench of the day
http://hostedgalleries.adult.com/galler ... to/004.jpg