leaflet being given out at today's game
the sun
Karren Brady's football diary


THE Rao brothers, bosses at the Vesty chicken empire which somehow encompasses Blackburn Rovers, catch their chauffeured car early from Ewood Park.

They have taken a first half of abuse from fans who want manager Steve Kean out.

Chicken, indeed. I learned early on at St Andrew's to treat trash talk as just that.

My 80-year-old grandma was at a derby game with Aston Villa when the away fans started to sing 'Karren Brady is a whore'.

She asked: "What are they singing, Karren?"

I replied: "Karren Brady is 24." And she smiled at her darling granddaughter.

Sunday, November 20

ARTIFICIAL pitches have a bad name but refuse to go away.

I'm currently thinking about this because they could have a huge role to play, particularly at multi-purpose venues such as Wembley and the Olympic Stadium.

Generations ago, when they were introduced as the future of football, balls ping-ponged across the surface and skidding players took burns on their behinds as long as ski-trails.

Football decided it would remain stick-in-the-mud, though, in fairness, today's pitches allow the finest football.

The comeback artificial versions do, too, I understand, and several Football League clubs are considering applications for their use.

The bounce is pretty well true to the turf kind and players' backsides should remain as unblemished as a baby's.

Monday, November 21

AT Tottenham, Barry Bannan comes on as a sub for Aston Villa for the first time since his suspension for alleged drinking and driving offences.

I wonder if he expects Villa to make travelling arrangements for him if he's banned. I hope they don't.

My rule for players in such trouble — a few over the past 17 years — is rock solid. He makes his own arrangements and if he has to walk to training (unlikely) then that's his problem.

I had one who asked me to fix up a driver and silently I passed him the card of a taxi company.

I'd suggest Villa order Bannan to watch the recent Paul Gascoigne interview in which he explains why he betrayed his promise to Manchester United and joined Tottenham, who gave his mum and dad a house.

And, as word was passed among the Gascoigne family, a sun-bed for his sister. Football kept giving, Gazza kept taking. And taking.

Tuesday, November 22

CURRENTLY lording it over the Premier League, Manchester City discover further evidence that being English is not the automatic entry to the Champions League final stages it was.

United's passage is also bumpy and Sir Alex Ferguson acknowledges this when he ups and departs a press conference merely because he is asked why the two teams are struggling in Europe.

I'd rather face an angry croc than a manager in that mood. City manager Roberto Mancini is more chatty after seeing Naples and dying 1-2. I am beginning to like his style.

Wednesday, November 23

WEST HAM didn't win much (anything) last season until the PFA came along and rated us highest of all the 92 senior clubs for players doing anti-racism and disabilities work.

I am proud of this — immensely. Proud of all of the other people at the club, who helped the players make this so.

When you remember that East London was once a hotbed of racism, and a rain of bananas used to greet Bermudan Clyde Best when he first played at Upton Park in the 60s, you understand exactly why the club is so committed and will remain so committed.

Thursday, November 24

TRUE supporters of Pompey will shortly have qualifications in international financing — or, possibly, its failings.

Rather like Tintin, one crisis over, a pause for breath and they're bang into another.

It'll take more than one boy and his dog to get to the bottom of the latest drama.

This one involves co-owner Vladimir Antonov, for whom there is an international arrest warrant over fraud allegations.

The other co-owners plainly had no idea of the irony implicit in their statement: "Very much business as usual."

I doubt there are any chimes of laughter in Portsmouth. They might just smile though at one newspaper (not The Sun) which reported Antonov 'could not be reached for comment'. They should try ringing Timbuktu 1234.

Friday, November 25

I get together with a few chairmen who don't have a vote at the Football League table this season, but might well be in it next season, to discuss UEFA's proposed new financial fair play penalties over a few drinks at one of the chairmen's swanky London clubs.

No ambitious club likes these rules and none of us think a promoted club will be able to make a real contribution to the Premier League for fear of being penalised if you get relegated back to the Football League.

As one chairman put it: 'It's just an excuse for the weak chairmen in this league to say no to the players, because they don't have the balls to'. Could not have put it better myself.

the mail
Interest: Sam Allardyce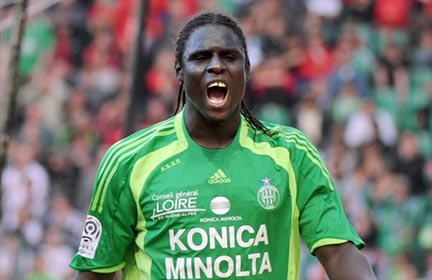 West Ham move for Senegal international defender Sall



West Ham are to rival Doncaster for St Etienne defender Moustapha Bayal Sall, 25, who is out of contract in the summer.

He was set for the Keepmoat but Sam Allardyce is also keen on the Senegal international.
the sporting life
ALLARDYCE TARGETS IMPROVED HOME FORM
West Ham manager Sam Allardyce has urged his side to reward their fans' loyalty by continuing to improve their home form.

Allardyce's team sit second in the npower Championship as they look to secure immediate promotion back to the Premier League. That strong position has been achieved despite their patchy form at Upton Park.

Tonight they host Derby with another crowd of around 30,000 expected and Allardyce is keen to repay their loyalty.

"The support is superb," he told whufc.com. "It goes without saying that West Ham's supporters are one of the big attractions of the football club.

"Throughout the year, it has a hardcore support, irrespective of what division they are in. They love the club so much they want to turn up and support it.

"The most important thing is to deliver what they want. They want winning football, they want to go home happy at the weekend, see the team win a game of football and try and win the right way as always.

"We are doing that at the moment. If I can label any criticism at the players regarding the fans is that at home we haven't quite delivered for them as well as we have away from home.

"At home we have had good performances lately and we want to continue that against Derby on Saturday and give the supporters what they want. That is to go home at the weekend and wake up the next day delighted to have watched their team win."

Matt Taylor returns to the Hammers squad after a calf problem. Joey O'Brien (hamstring) could also return at right-back while fellow defender Guy Demel (hamstring) is fit and pushing to be included in the squad.

Winston Reid (shoulder), Gary O'Neil (ankle), Henri Lansbury and David Bentley (both knee) are still out.

Derby could have James Bailey back after a long-term ankle problem.

Theo Robinson has joined fellow forwards Nathan Tyson (groin) and Steven Davies (fractured skull) on the casualty list with a hamstring injury.

"The good news for Theo is that it isn't a fully-blown 6-8 week injury, but it is one that'll keep him out for a fortnight or so," Rams boss Nigel Clough told dcfc.co.uk.

"We've been delighted with his progress this season and he will be missed.

"The biggest compliment people are paying Theo at the moment is saying how much he has improved this season.

"He's dealt with the competition for a place in the side, performed well and scored a few goals too."



Manchester United boss Sir Alex Ferguson could attempt to sign Inter Milan midfielder Wesley Sneijder in January after Anderson was ruled out until February with a knee injury.
Metro

Tottenham centre-back Younes Kaboul is on Juventus's shortlist of January targets to bolster their defence.
Daily Mail

Chelsea, Inter Milan and Liverpool are all hot on the heels of £20m-rated Brazilian teenager Lucas. The 19-year-old attacking midfielder is learning English in preparation of a move from Sao Paulo to the Premier League.
the Sun

German side Wolfsburg will target Arsenal's Tomas Rosicky as they look to revitalise their struggling Bundesliga campaign.
Metro

Fulham are monitoring Andre-Pierre Gignac's situation as the France striker's frustration grows at Marseille after falling out with boss Didier Deschamps.
Daily Mail

Anzhi Makhachkala are keen to take Fabio Capello to Russia when the Italian's contract as England manager finishes after Euro 2012.

However, Italian Capello said he was only in Moscow "to visit the Bolshoi Theatre" where he watched the ballet Sleeping Beauty.
Daily Mail

Media in the US are reporting that former England full-back Terry Fenwick has applied for the job as Colorado Rapids head coach.
MLS-Rumors.net

Ronaldinho is losing patience with Flamengo after not being paid for four months, but will not abandon the club in favour of a move to the Greek Super League.
Goal.com


Manchester United striker Wayne Rooney says Chelsea would be wrong to sack under-pressure manager Andre Villas-Boas.
the Sun

Premier League chief executive Richard Scudamore admits he has given up on the idea of playing a 39th game abroad.
talkSPORT

Stoke manager Tony Pulis wants to ­revolutionise football by allowing managers to challenge refereeing decisions during the game.
Daily Mirror



Preston owner Trevor Hemmings says he is ploughing £750,000 a month into the League One club just to keep it afloat.
the Sun

THE SUN:

Wayne Rooney has slammed calls for the sacking of Chelsea boss Andre Villas-Boas.

Andre Villas-Boas would rather quit Chelsea than work with Guus Hiddink.

Fabio Capello insists he is not talking to Russian club Anzhi Makhachkala.

Arsene Wenger wants goal-line technology - and the sooner the better.

Chelsea, Inter Milan and Liverpool are all hot on the heels of teenage Brazilian ace Lucas.

DAILY MAIL:

Chelsea manager Andre Villas-Boas last night admitted for the first time that he is fighting to save his job.

Fabio Capello was in Moscow last night, fuelling speculation in Russia that he may join super rich-club Anzhi.

Wolfsburg are reviving interest in Arsenal's Tomas Rosicky.

Brendan Rodgers says he wants to bring up to six players to Swansea in January.

Fulham are monitoring Andre-Pierre Gignac's situation.

Tottenham centre back Younes Kaboul is on Juventus' shortlist.

David Moyes is determined to tie down Sylvain Distin to a new Everton contract.

DAILY MIRROR:

Andre Villas-Boas last night conceded he is fighting to keep his job after Chelsea's nightmare slump.

Steve Kean wants Blackburn's money men to thrash out a new deal with Junior Hoilett.

Inter Milan have moved swiftly to sign Guilherme Celestino, 15, after he was snubbed by Aston Villa.

DAILY EXPRESS:

Andre Villas-Boas has admitted he is fighting for his job as manager of Chelsea.

DAILY STAR:

David Beckham is considering an offer to star in Dancing On Ice.

Andre Villas-Boas last night admitted he WILL face the sack if Chelsea's slump continues.

Luis Suarez has been granted more time by the FA to prepare his defence against allegations of racism.

Sir Alex Ferguson reckons Chelsea can still win the title.

Roberto Mancini feels Man City have no chance of winning the Champions League this season.

THE GUARDIAN:

A defiant Andre Villas-Boas has claimed he does not need Guus Hiddink's help to transform Chelsea's season and that Roman Abramovich is still fully supportive despite a dire run of form that will become three consecutive defeats if Wolverhampton Wanderers win at Stamford Bridge this afternoon.

THE INDEPENDENT:

Roberto Mancini yesterday insisted that he would not buy another striker in January, despite Manchester City's Spanish scout having met Napoli's Edinson Cavani this week and Milan contacting the manager directly to discuss Carlos Tevez.

THE DAILY TELEGRAPH:

Chelsea players have been told by the board that Andre Villas-Boas enjoys the total backing of the club's owner, Roman Abramovich.

THE TIMES:

Andre Villas-Boas believes that he has the full backing of Roman Abramovich and his Chelsea players after meetings this week to discuss an alarming slump.

DAILY RECORD:

Neil Lennon wants to beef up Celtic's title bid by capturing two more players in January.


babe of the day
http://www.nuts.co.uk/images/gallery/20 ... _19__0.jpg