the sunday sun
LAST THROW OF THE 'DYCE ... it's the play-off lottery for Big Sam
West Ham 2 Hull 1

But the boss is referring only to his chances of leading Hammers back to the Premier League through the play-offs after missing out on the top two.

Two goals by Carlton Cole gave West Ham a handy psychological boost with a final-day victory at Upton Park.

But Big Sam's men now they face a three-game season, starting with the first leg of their semi-final at Cardiff on Thursday night.

Hammers finished 11 points clear of the Welsh side but boss Allardyce said: "What has happened so far this season counts for nothing, not in my experience. We are all even again now.

"We let ourselves down by not achieving our ultimate objective of automatic promotion.

"But we are in good form and still have three games left to do it. We will be the favourites and the trick is how we handle the physical and mental pressure.

"We've played some great football despite what some people say but it will be a dreadful season if we don't go up."

Only a football miracle would have allowed West Ham to leapfrog Southampton into second place.

Home form has been a major headache for Allardyce in his first season as manager.

West Ham dropped a massive 28 points at Upton Park and a string of draws saw their promotion bid stumble after they were top of the division just a few weeks ago.

But striker Cole did enough for a second successive home victory with goals after 36 and 48 minutes against a Hull team playing a minor role as the support act.

Tigers finished eighth but seven points outside the play-off places.

And boss Nicky Barmby confessed: "We did not score enough goals this season and let ourselves down.

"There's a bit of frustration because I genuinely believed we could make the play-offs but we fell short.

"But the players are growing and getting better. I'm pleased with the lads overall and we'll be better for it next season.

"Will West Ham go up? It's hard to say, there are some good teams in the play-offs so it will be interesting."

Big Sam must now lift the air of disappointment clouding the East End in time for Thursday's trip to Wales before a Bank Holiday Monday showdown back on his own manor.

He may have to do it without wideman Gary O'Neil who is doubtful after picking up an ankle injury on the receiving end of a tackle by Hull scorer Corry Evans.

Allardyce rapped: "Gary has been done by a very poor tackle which the referee did nothing about and he is a big doubt now. He has been in good form for us since coming back from a very serious injury."

Home advantage does not quite work that way for West Ham and having taken off key players as a precaution, their old frailties were quickly exposed.

Never more so than when right-back Guy Demel had a meltdown under no pressure and wildly miscued a header back towards goalkeeper Robert Green.

That allowed Evans to nip in and nod home Hull's goal and leave the home side with a nervy final nine minutes.

Allardyce's first game in charge of West Ham was a 1-0 home defeat by Cardiff back on the opening weekend of the season.

But having signed 13 players — including four strikers — and pushing the club's wage bill to £33 million, the pressure is on to show the club has changed.

He is convinced the club's wobbles at home are a thing of the past and there can be no more slip ups now.

Allardyce added: "I said at the start of the season that automatic promotion was the objective in my first year.

"I've still got a year on my contract to get us up.

"I've succeeded in the play-offs before and failed.

"At Blackpool we beat Bradford 2-0 away then lost 3-0 at home. And at Bolton we were 2-0 down to West Brom and had a critical half-an-hour in which we dug deep to fight our way back.

"The next two games are the hardest of the lot."

the star
WEST HAM 2 - HULL 1: BIG SAM ALLARDYCE EYES LOTTERY WIN
WEST HAM spent big this season hoping to hit the jackpot – but all it has bought them is a lottery ticket.

Carlton Cole scored twice before Corry Evans pulled one back for Hull but the result was academic after Southampton's victory over Coventry.


So the Hammers will have to go through the lottery of the play-offs.


They should be used to that. They've been doing it the hard way all season.


Sam Allardyce had the full backing of the club's co-owners, David Gold and David Sullivan, who signed 13 players for him and spent £33million on wages.


But the Hammers came up short after drawing too many games at home and now face Cardiff City over two legs for a place in the final at Wembley.


Allardyce said: "It would be disastrous if we don't go up. We have to get our minds ready for the next two games.


"I stuck my neck on the line last summer and said I wanted promotion in the first season. We've still got three games to do it.


"We've done it in the play-offs before but we've missed out as well. Expectations shift now. We will be the favourites. We have to handle that."


It never looked like being West Ham's day after Ricardo Vaz Te and Henri Lansbury missed sitters early on.


Kevin Nolan then hit the bar before Cole finally broke the deadlock in the 36th minute, heading home Matt Taylor's corner off Paul McKenna.


Cole doubled the lead in the 49th minute, chesting down a cross from Lansbury in acres of space to volley home past Vito Mannone.


But by then the whole stadium knew the game was up because of the news from Southampton and Allardyce began taking players off to rest them for the play-offs.


And Hull took advanatge when Guy Demel made a mess of a header back to Rob Green and Evans headed in.


Hammers midfielder Mark Noble said: "We're disappointed. We haven't won as many games as we should have. We need to make amends and get to Wembley now."


Hull boss Nicky Barmby said: "I'm frustrated. We could have been in the play-offs but we fell short.


"But I fully believe in the ability of the players we have."
daily mail
In the goals: Carlton Cole scored twice
Doing their bit West Ham manager Sam Allardyce sees his side go ahead as coach Wally Downes celebrates

A few more games to go: Ricardo Vaz Te knows the season will go on for at least two more games
At the double: Carlton Cole netted twice for the Hammers
Going close: The West Ham players do a lap of honour at the end of the game
West Ham 2 Hull 1: Cole's goals not enough to prevent Hammers going into play-offs


Some danced the conga and others sang of Wembley but the bubble had burst at the Boleyn Ground and everyone knew it.

The old stadium finally fell into silent disappointment at Southampton's triumph over Coventry and West Ham's players went away to lick their wounds.

Manager Sam Allardyce admitted: 'It'll be a dreadful season if we don't go up through the play-offs.'

Match facts
West Ham: Green, Demel, Reid, Tomkins, Taylor, O'Neil, Noble, Nolan (McCartney 74), Lansbury, Cole (Baldock 52), Vaz Te (Maynard 60).

Subs Not Used: Collison, Faubert.

Booked: Nolan.

Goals: Cole 36, 49.
Hull: Mannone, Rosenior, Chester, Cooper, Dawson, Cairney (Brady 73), McKenna,Evans,Garcia,Fryatt,King (Stewart 46).

Subs Not Used: Oxley, Bradley, Cullen.

Goal: Evans 81.
Attendance: 35,000
Referee: Nigel Miller


He looked depressed. And that weathered Allardyce face does depression well.

There are still a few days to recapture the right spirit. But as rain-filled clouds swept across a chilly East End, it was hard for Hammers fans to escape the feeling that they had just witnessed the most miserable victory of the season.

When the final whistle blew, reality set in. To reach Wembley and win promotion through the play-offs, Cardiff must first be beaten over two legs, starting in Wales on Thursday.

'In my experience the two-legged matches are the most difficult part of the play-offs, not the third game,' warned Allardyce, relieved at least to be able to look forward.

There seemed little point in dwelling too long on yesterday's game, which offered early frustration when Ricardo Vaz Te missed a simple-looking header from two yards. Once the Saints began to march all over Coventry on the south coast, what happened here did not matter.

So Carlton Cole's two classy goals were not enough to lift the gloom: the first a header and the second quite superb as he chested the ball down casually and stroked his volley beyond Vito Mannone.

A farcical reply from Corry Evans, which owed much to a daft header by West Ham defender Guy Demel and a flat-footed response from goalkeeper Robert Green, merely served to remind West Ham fans how too many home points had gone astray this year.

Allardyce tried to lift the mood: 'We go with the confidence that we beat Cardiff 2-0 at their place earlier in the season, and we are the third best team in the league.



'There is no atmosphere like these play-off games, with their twists and turns, nothing like it in leagues or cups.'

But they may have to play in Cardiff without Gary O'Neil after a questionable tackle by Evans.
Allardyce said: 'It was a very poor tackle right on the ankle he injured before, a tackle the referee chose to do nothing about.
sunday express
WEST HAM 2 - HULL CITY 1: SAM ALLARDYCE RENEWS VOW TO LEAD HAMMERS INTO PROMISED LAND

SAM ALLARDYCE last night vowed to deliver the promotion he promised when he took the West Ham job, pledging: "We will do it!"

After Southampton clinched the second automatic pass to the Premier League to leave West Ham in the play-offs, the manager insisted his Hammers will be back in the top flight next season.

Allardyce said: "I put my neck on the line when I said we'd get back up in my first year, even though I was given a three-year contract to do it.

"Now we have three games to do it in – and we will do it."

Allardyce made the prediction after admitting that his team had simply left themselves too much to do on yesterday's final day.

He added: "We have been so close for so long and it was only a miracle run by Reading that has taken it away from us.

"Now we have to lick our wounds and get on with it. Everyone goes into these play-offs as equals, but we go in with the confidence that we are the third-best team in the Championship and that should be enough."

ì
I put my neck on the line when I said we'd get back up in my first year, even though I was given a three-year contract to do it
î

West Ham boss Sam Allardyce

But Allardyce will face the first of those potential three nailbiting ties at Cardiff without Gary O'Neil.

The influential midfielder's dodgy ankle was damaged again after what Big Sam described as "a very poor tackle" by Corry Evans.

All of which compounded a desperately disappointing day for Allardyce and co, despite the result. News of Southampton's early 2-0 lead had already filtered through to the Upton Park faithful when Carlton Cole headed the home side in front.

There were cheers all right, but not as loud as they might have been. And you could understand why.

Cole made it two soon after the interval and briefly, perhaps, hope sprung eternal.




But when the scorer was replaced by little Sam Baldock a couple of minutes later, you knew Allardyce had accepted the inevitable and was saving England international Cole for Thursday's first leg.

By the time news came through that Southampton were four up, the fans were already singing: "Que sera sera ... we're going to Wemberlee".

And let's be brutally frank here, they will expect nothing less.

They will certainly expect a lot more than Guy Demel provided when his hapless back-header set up Evans for Hull's consolation goal.

It could have been a lot worse if Richard Garcia's 'equaliser' hadn't been ruled offside at the death.

And you had to wonder what might have happened if Hull hadn't left it so late to find their self-belief.

Mr Allardyce, you have been warned.
the guardian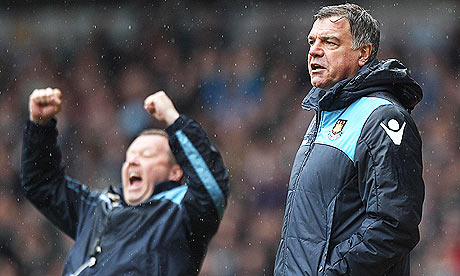 West Ham United first-team coach Wally Downes celebrates Carlton Cole's opening goal against Hull City but Sam Allardyce is unmoved, with Southampton on course for the second promotion place.
West Ham United have to settle for play-offs despite win against Hull
West Ham United 2
Carlton Cole 36,
Carlton Cole 49
Hull City 1
Evans 81



West Ham's immediate fate was all but certain before kick-off. At least now it is back in their own hands. Cardiff await Sam Allardyce's men in Wales in the play-offs on Thursday night, though it is a perilous prospect for a side whose automatic promotion bid was often unflattering.

"It'll be disastrous if we don't go up," admitted Allardyce following this ultimately meaningless victory. The majority of fans have long felt that. But such a frank conclusion was a remarkable volte-face for Allardyce after his assessment last week that his side had enjoyed a "fantastic season" regardless of their inability to seize one of the top two berths. It was not long before he was back clawing positives from negatives and distancing potential criticism.

"I stuck my neck on the line at the start of the season and said we wanted to get promotion in the first year, but I've got a two-year contract …

"We've been so close and been there so long — it's only a miraculous set of results from Reading that has taken it away from us ...

"Four out of five years 86 points would be enough so we've been unlucky this time." And so on.

Having started the day third, two points adrift of Southampton, the Hammers needed the Saints to suffer an almighty slip up to give their own tribulations any relevance. Optimism began to dissipate as early as the 16th minute when news arrived from St Mary's that Southampton had taken the lead against relegated Coventry. Three minutes later, Upton Park was hushed; Southampton had scored again.

West Ham could have struck first in the battle for automatic promotion had Ricardo Vaz Tê not spurned a far-post header from five yards in the third minute. The Portuguese striker climbed well and headed down into the turf, but, agonisingly for those deceived by its trajectory, the ball leapt inches wide of the upright.

As the half progressed the home side exercised concerted pressure over a side who were merely rubbernecking at the promotion battle. First, Mark Noble's looping left-wing cross hit the face of the crossbar. Then Carlton Cole, maligned this season for his ability to miss even the most presentable of chances, headed West Ham 1-0 up from the resulting corner.

The ball should not have found the net as Paul McKenna, the Hull midfielder, was on the line and directly in its path, but he botched his clearing duties.

Eight minutes from the break, Vaz Tê squandered his second chance of the match when one-on-one with the Hull keeper. Cole compensated after the interval with a delightful second goal, chesting down a hanging pass from Henri Lansbury before stroking the ball home.

Having been derided for playing football in the clouds for much of the season, it was ironic that a floated ball into the heart of the penalty area such produce a goal of such outstanding quality.

Hull's Corry Evans found the net nine minutes from time thanks to a hideous header from Guy Demel which dropped inside his own six-yard box. With the play-offs in mind West Ham substituted critical players in the closing stages and looked surprisingly shaky — Hull's Richard Garcia had a diving header disallowed for offside – as the game drew to a meaningless conclusion.

If their season ends in similar fashion, Allardyce's tenure in east London will be unsustainable.

"There's no cup or league game that has got the same atmosphere as the play-offs," he said. "Getting through the first two legs is the hardest thing, so we can't afford to look to Wembley yet."
the telegraph

Lost cause: West Ham battle to victory over Hull but it counts for nothing as Southampton promoted
West Ham United 2 Hull City 1:



Carlton Cole struck twice to secure victory for West Ham against Hull City, but Southampton's win over Coventry means the play-offs now beckon for Sam Allardyce's side.

The West Ham manager could do little more than shrug when news of Southampton's 17th-minute opener was delivered to him. He knew his side had given themselves far too much to do to secure automatic promotion on the season's final day.

Standing alone in his sodden technical area, the Hammers' manager's worst fears came true with barely 20 minutes on the clock at Upton Park, as the south coast club effectively sealed second place against relegated Coventry, leaving West Ham to fight it out in the play-offs.

Given the slate-grey sky and incessant drizzle, this felt nothing like a usually sun-kissed season finale. And the conditions rather summed up the mood once news of the Saints' opener filtered through, swiftly followed by their second.

Indeed this was no finale for West Ham, who now face sixth-placed Cardiff over two legs for a place in the Wembley play-off final on May 19.


But they should be encouraged by this performance, as well as the 6-0 victory over Brighton in the previous game at Upton Park, which suggest that West Ham might have drawn a line under the mixed home form which has ultimately cost them automatic promotion.

It is also worth nothing that, in four of the past six seasons, the team who finished third in the Championship has ended up winning the play-offs.

Allardyce started preparing for Thursday's clash in south Wales after 51 minutes here, withdrawing two-goal Cole with their fate sealed.

The striker's first came after 36 minutes when he headed Matt Taylor's excellent corner.

His second came three minutes after half-time when he latched on to a searching through-ball by Henri Lansbury before prodding a cool finish beyond Vito Mannone.

There were still two moments of concern for West Ham before the final whistle. First captain Kevin Nolan received prolonged treatment on the pitch after he tangled with his own goalkeeper Robert Green.

Nolan eventually recovered but was swiftly replaced by George McCartney, with Thursday's first leg in mind.

Then Guy Demel and Robert Green both failed to deal with a high ball, allowing Corry Evans to head Hull back into the game.

And it could have been worse for the hosts but Richard Garcia's diving header, five minute from time, was ruled out for offside.
the independent
Allardyce talks up Hammers' chances
It has been more of a maze thana road, but Sam Allardyce still believes it will end in the Premier League. "We have three more games to win," the West Ham manager said after confirmation that his team would contest the play-offs, initially at Cardiff on Thursday, "and we'll do it".

Victory over Hull, though narrow, can have done his confidence no harm. Since trailing Birmingham 3-1 three weeks ago, they have scored 10 goals in two-and-a-bit home matches, conceding just one, which suggests that a tendency to be held at Upton Park may have been overcome in time to salvage the promotion campaign. Away performances, as Allardyce stressed, have been "the backbone of a very good season" so far. But Hull, whose manager, Nicky Barmby, was disappointed not to be in the play-offs, were forced back for the best part of an hour, sorely tested by the power of Carlton Cole, guile of Kevin Nolan and touches of Henri Lansbury.

West Ham had hoped for anearly goal to pressure Southampton and should have had one when Lansbury crossed only for Ricardo Vaz Te, his view obscured by Cole, to head wide from three yards. Lansbury was off target before Cole put West Ham ahead with a header from Matt Taylor's corner.

A slanting cross from Lansbury that bisected the visiting central defenders let Cole chest and volley his second before being taken off to rest, along with Vaz Te, for the City of Cardiff Stadium. Corry Evans put the result briefly in doubt, but Allardyce's men survived.
West Ham (4-3-1-2): Green; Demel, Tomkins, Reid, Taylor; Lansbury, Noble, O'Neil; Nolan (McCartney, 73); Cole (Baldock, 51), Vaz Te (Maynard, 60).
Hull (4-5-1): Mannone; Rosenior, Chester, Cooper, Dawson; King (Stewart, h-t), McKenna, Cairney (Brady, 73), Evans, Garcia; Fryatt
.
Referee Nigel Miller.
Man of the match Lansbury (West Ham).
Match rating 5/10.
official site
Players show their appreciation
http://www.whufc.com/articles/20120429/ ... 84_2753588
wales online
Meet the play-off opponents: Big Sam under big pressure at West Ham

So it's Big Sam and West Ham for Cardiff City in the play-offs. PHIL BLANCHE looks at what awaits the Bluebirds in the two-legged semi-final

So what's their story?

The Academy, Bobby Moore, Geoff Hurst, Martin Peters. They won the World Cup, didn't they? Not really...but it's a good tale. Certainly a better one than Sam Allardyce's constant style-clash with Hammers fans. Favourites at the start of the season, they soared but then fell short and finished third.

Will they be happy to be in play-offs then? No. Hammers' fans felt they had a divine right to win automatic promotion, owners David Sullivan (Penarth boy made rich) and David Gold thought they should have finished in the top two and Allardyce knows he under-achieved by failing to do so.

Good time to play them? Possibly. Expectation on West Ham squad (certainly the strongest on paper in the division) to go straight back up is almost unbearable. But one or two signs, notably beating Brighton 6-0 and winning 2-1 at Leicester on Monday, shows they might be handling it at last.

Didn't we beat them earlier in the season? Seems a long time ago now but Kenny Miller nailed the Hammers at Upton Park on the opening weekend. We'll draw a veil over timid 2-0 home defeat in March.

Who's crossing swords with Malky? Big Sam. The fastest gum-chewer in England, well, south of Old Trafford.

Isn't he big-time and better than the Championship? The England manager-in-waiting. Well, he thinks he is. Newcastle and West Ham fans don't agree.

Ranter and raver? Remember that documentary when they wired him up to test his heartbeat and it went through the roof. It's safe to say Big Sam hasn't mellowed with age.

Will he make a difference? Probably. Depends if he's got Hammers fans on his back. "We're West Ham United and we play on the floor" more likely to be heard at Upton Park these days than 'We're forever blowing bubbles".

So all's not well then? Not really, you get the feeling that Big Sam's one Amdy Faye punt away from causing a riot in the East End.

Wait a minute, football's all about players – they got anyone useful? Where to start...Carlton Cole, John Carew, Ricardo Vaz Te, Nicky Maynard, Sam Baldock.

They're not exactly short of strikers then – anyone else? Wales ace Jack Collison is fit again and providing the drive in midfield which once impressed the educated eye of Arsene Wenger.

It's starting to sound tricky – what's their weakness? Goalkeeper Robert Green played for England but has been known to throw the odd one in. Remember Clint Dempsey's goal for USA at the 2010 World Cup. OK you do, stop sniggering at the back.

Like the sound of that, anything else?@ Scott Parker hasn't really been replaced in midfield and the squad's so big (with bulging pay packets to match) that you've got to think there's some tension there.

Oh yes, we can win this win one – can we celebrate somewhere? @ The Blind Beggar in Whitechapel is only a few miles away but don't diss the Krays. They were nice boys really.



Chelsea want Everton's midfield duo Marouane Fellaini and Ross Barkley. The Blues are prepared to pay £22m for 24-year-old Fellaini and £10m for Barkley, 18, who they would loan straight back to Everton.

Daily Star Sunday

Brazilian side Sao Paulo have set a £40m asking price for Manchester United and Chelsea transfer target Lucas Moura. The 19-year-old attacking midfielder, who is also wanted by Real Madrid, has a £65m buyout clause in his contract.

Metro

Manchester United are planning a £10m deal to sign Swansea's on-loan midfield star Gylfi Sigurdsson, 22, of Hoffenheim.

Sunday Mirror

Chelsea's hopes of signing Gonzalo Higuain look to have improved after the 24-year-old's agent asked for discussions with Real Madrid about the striker's future.
Metro

Polish striker Robert Lewandowski, 23, is being tracked by Arsenal, Manchester City and Chelsea. Lewandowski has scored 20 goals and helped Borussia Dortmund to retain their Bundesliga title.

Sunday Mirror


Inter's Andrea Ranocchia is being targeted to help strengthen Manchester City's defence

QPR will make an attempt to sign Blackburn winger Junior Hoilett, 21, if they avoid relegation from the Premier League. Hoilett has refused to sign a new contract at Rovers, who will demand £5m compensation.

Sunday Mirror

Paris Saint-Germain have made Liverpool's 25-year-old forward Luis Suarez - plus Real Madrid pair Kaka, 30, and Gonzalo Higuain, 24 - their primary summer transfer targets.

Footy Latest

Aston Villa are setting up the £7m recruitment of giant Brazilian centre-back Douglas from Dutch side FC Twente. Newcastle have had a £5m bid for the 24-year-old, who has an EU passport, turned down.

Sunday Mirror

Inter Milan's Andrea Ranocchia, 24, is the man Manchester City manager Roberto Mancini wants to strengthen his defence, according to reports in Italy.

Metro

Celtic manager Neil Lennon is plotting a summer move for Burnley striker Jay Rodriguez.

Sunday Mail


The FA's head of elite development, Gareth Southgate, says Manchester United forward Danny Welbeck could be the key man for England at Euro 2012

Daily Star Sunday

Wigan manager Roberto Martinez tops Tottenham's list of replacements if Harry Redknapp is appointed England manager at the end of the season.

Sun on Sunday

Chelsea midfielder Frank Lampard, who has one year left on his current deal, wants to stay at the club and will open talks at the end of the season.

Sunday Mirror

Everton manager David Moyes believes his side have been the top team in the Premier League since January, with the Toffees losing only four of their last 18 league matches.



Liverpool captain Steven Gerrard says he has Incredible Hulk-like qualities that mean he plays better when he is in a bad mood.

Metro

After scoring a late equaliser for Roma against Napoli, Fabio Simplicio celebrated by running to his son and wife in the crowd before planting kisses on both of them. On his return the Brazilian midfielder was duly booked.



Rangers' administrators Duff & Phelps have told the Blue Knights to up their offer for the club or risk losing out to rival bidder Bill Miller. (Various)

But senior Scottish football figures believe American Miller could be left with a stadium, a training ground but no players if his takover is complete, due to the 12-month transfer embargo placed on Rangers.

Full story: Herald

Manager Ally McCoist admits he is embarrassed Rangers owe money to a host of fellow clubs. (Daily Mail)

Meanwhile, club ambassador Sandy Jardine insists Rangers fans are ready to take more action against "injustice" after Saturday's march in protest against Scottish FA sanctions.

Full story: Sunday Mail

Rapid Vienna have hired a team of London lawyers in a bid to recoup the £1m owed to them by Rangers from the Nikica Jelavic transfer in 2010. (Sunday Mail)

Celtic manager Neil Lennon is plotting a summer move for Burnley striker Jay Rodriguez.

Full story: Sunday Mail

Meanwhile, Celtic striker Georgios Samaras insists today's match against Rangers will not be the final ever Old Firm derby.

Full story: Sun

St Mirren midfielder Steven Thomson, 34, will retire from professional football this summer to become a financial advisor in London.

Full story: Sunday Mail

Southend manager Paul Sturrock, whose side are pushing for promotion from League Two, says he was overlooked for vacancies at bigger clubs because he suffers from Parkinson's disease. (Sunday Mail)
OTHER GOSSIP

Edinburgh coach Michael Bradley feels his side blew their chance of glory in their Heineken Cup semi-final defeat. (Sun)

But Bradley insists Edinburgh are heading in the right direction with some "stunning talent". (Sunday Mail)
9


THE SUN (SUNDAY)

Roberto Mancini has opened the door for Carlos Tevez to stay at Manchester City next season.

Gareth Bale has stunned Tottenham by saying he could quit if they fail to get into the Champions League.

Chelsea have swooped to sign Germany midfielder Marko Marin.

Nani ended all speculation about his future by insisting: "Manchester United is my home."

Roberto Martinez is a shock candidate for the Tottenham job if Harry Redknapp is appointed England manager.

Fulham and Everton will lead the chase for Watford whizz-kid Sean Murray.

THE PEOPLE:

Harry Redknapp fears he is not going to be England boss - as Roy Hodgson's stock rises within the FA hierachy.

Chelsea have signed German international midfielder Marko Marin from Werder Bremen.

Celtic are secretly amassing support for their revolutionary attempt to join League One.

Maxi Rodriguez has delivered Liverpool a bombshell in the build-up to the FA Cup Final - by threatening to quit Anfield.

Venky's are looking for a buyer to take over Blackburn Rovers - but they want £30million for the struggling club.

Chelsea are ready to push through a £10million bid for Everton wonderkid Ross Barkley to kick-start a summer of spending at Stamford Bridge.

Sunderland boss Martin O'Neill is ready to make a £6million bid for Stoke's German defender Robert Huth.

Arsenal and Chelsea are keeping tabs on Peterborough striker Jaanai Gordon-Hutton.

Crystal Palace are plotting a surprise swoop for Preston striker Jamie Proctor.

Owen Coyle is ready to swoop for top Spanish prospect Jese Rodriguez - if Bolton beat the drop.

Man Utd have rejected an approach from Leicester for defender Ezekiel Fryers.

Southampton boss Nigel Adkins is ready to snap up giant centre-half Zat Knight on a free transfer from Bolton.

West Brom are looking to add Leon Best to their summer shopping list.

SUNDAY MIRROR:

Frank Lampard wants to stay at Chelsea.

Manchester United are considering a £10million swoop for Swansea's on-loan Gylfi Sigurdsson.

Player power has prompted Man City manager Roberto Mancini to warn Mario Balotelli that he must mend his ways or face being booted out of the Etihad.

Rasmus Elm is the man Liverpool believe can deliver the goal power to boost their title chances next season.

Robert Lewandowski is being tracked by Arsenal, Man City and Chelsea.

Aston Villa are setting up the £7million recruitment of giant Brazilian centre half Douglas from FC Twente.

Mark Hughes has been given the go-ahead to make a summer swoop for Blackburn's Junior Hoilett - providing QPR beat the drop.

Wigan right back Ronnie Stam is heading to PSV this summer.

Newcastle are ready to offer Man Utd starlet Ezekiel Fryers a deal after Old Trafford contract talks broke down.

MAIL ON SUNDAY:

Gareth Bale is preparing to leave Tottenham in the summer if they fail to qualify for the Champions League.

Big spenders Man City and Chelsea have been warned by Europe's football bosses that if they splash out on players this summer they may be forced to cut back their Champions League squads - and even be barred from taking part in European competition.

Chelsea began their rebuilding process by signing 23-year-old Werder Bremen winger Marko Marin for £7million yesterday.

SUNDAY EXPRESS:

Manchester rivals United and City are locked in a £25million battle to sign Lille's Belgian international Eden Hazard.

Harry Redknapp fears Spurs will lose Luka Modric, even if they clinch a Champions League place.

SUNDAY MAIL (SCOTLAND):

The Blue Knights have been warned Bill Miller will be handed the keys to Ibrox unless they boost their £5million cash offer for Rangers.

Celtic have placed Burnley striker Jay Rodriguez on their list of summer signing targets.



TEVEZ PART OF MANCINI'S PLANS
Roberto Mancini has suggested Carlos Tevez will be at Manchester City next season.

NANI EYES NEW DEAL
Manchester United winger Nani has confirmed that he is in talks over a new long-term deal.

WHELAN: MARTINEZ CAN LEAVE
Wigan chairman Dave Whelan will not stand in Roberto Martinez's way this summer.

REDKNAPP NOT SURE MODRIC WILL STAY
Harry Redknapp admits Luka Modric may quit Tottenham this summer.

MARKO MARIN JOINING CHELSEA
Chelsea have agreed a deal to sign Werder Bremen midfielder Marko Marin.

BALE UNCERTAIN OVER SPURS FUTURE
Gareth Bale will "see what's best for myself" if Tottenham don't reach the Champions League.

FULHAM TIPPED TO LAND CHADLI
Nacer Chadli is set to join Fulham, according to the in-demand FC Twente winger's agent.

SPURS MADE TEVEZ ENQUIRIES - REDKNAPP
Tottenham failed in a bid to sign Carlos Tevez in January, according to Harry Redknapp.

HUGHES: DI MATTEO DESERVES BLUES JOB
QPR boss Mark Hughes believes Roberto Di Matteo deserves the Chelsea job.

DI MATTEO FOCUSES ON TOP FOUR SPOT
Roberto Di Matteo has refused to rule out his next job being as an assistant manager.

FARFAN EXTENDS SCHALKE STAY
Schalke have confirmed Jefferson Farfan has signed a contract extension until 2016.

CANARIES SHOULD BACK LAMBERT - DALGLISH
Kenny Dalglish has urged Norwich to back Paul Lambert in the summer transfer market.

GUARDIOLA: NO TALKS WITH BLUES
Outgoing Barcelona coach Pep Guardiola has denied having any contact with Chelsea.

TITO VILANOVA IS NEW BARCELONA BOSS
Tito Vilanova, previously Pep Guardiola's No 2, will be Barcelona's new first-team coach.

RANGERS RECEIVE TWO FORMAL BIDS
Administrators Duff and Phelps have received two formal bids for Rangers.

LAMBERT UNHAPPY WITH VILLA LINK
Norwich boss Paul Lambert has labelled speculation linking him with Aston Villa as "extremely unfair".

MANCINI: MAN CITY 'PERFECT' FOR HAZARD
Roberto Mancini believes Man City would be the "perfect" club for Eden Hazard to join.

McLEISH TAKES CRITICISM ON THE CHIN
Alex McLeish manager insists he can still win over the Aston Villa supporters.

JOE ALLEN AFFIRMS SWANS FUTURE
Joe Allen is adamant Swansea is the "ideal" place for him to continue his football development.

PAULO SERGIO KEEN TO STAY
Hearts boss Paulo Sergio has confirmed he wants to stay and is holding talks over a new deal.

BUTCHER: HAYES UNDECIDED ON CALEY
Inverness manager Terry Butcher insists Jonny Hayes has not decided whether to leave the club.

BOCANEGRA WANTS RANGERS STAY
Carlos Bocanegra wants to remain at Rangers despite a turbulent first season at Ibrox.

TOSHNEY WOULD RETURN
Lewis Toshney would welcome a return to Kilmarnock - but only if he cannot force his way in at Celtic.

LOMAS: GERS SITUATION IS UNSETTLING
St Johnstone boss Steve Lomas says the uncertainty surrounding Rangers is impacting his planning.

DALGLISH OPEN TO AQUILANI RETURN
Kenny Dalglish is happy for Alberto Aquilani to return to Liverpool if AC Milan don't want him.

SETBACK FOR CANALES
Valencia playmaker Sergio Canales is set to be sidelined for six months.

SHENHUA CONFIRM TIGANA DEPARTURE
Chinese side Shanghai Shenhua have terminated the contract of coach Jean Tigana.

McSHEFFREY PLANS COVENTRY STAY
Gary McSheffrey has no plans to leave Coventry and wants to help them win promotion.

CHELSEA TO WAIT ON DI MATTEO
Roberto Di Matteo will have to wait until the summer to discover if he'll stay as Chelsea boss.

SONG AGENT COOLS INTER TALK
Alex Song's agent has moved to play down talk linking the Arsenal man with Inter Milan.

SACKING McLEISH 'FOOLISH' - DOUG ELLIS
Doug Ellis believes it would be "foolish" for Aston Villa sack manager Alex McLeish.

MARTINEZ FOCUSED ONLY ON SURVIVAL
Wigan boss Roberto Martinez is not taking any notice of speculation him to other clubs.

RODGERS BACKS CONNOR FOR WOLVES STAY
Swansea manager Brendan Rodgers believes Terry Connor deserves to stay at Wolves.

RIO WANTS SCHOLES TO PLAY ON
Rio Ferdinand is hoping Man United team-mate Paul Scholes plays on past the summer.

NO NEW CONTRACT FOR FLYNN
Wales age-grade boss Brian Flynn won't be offered a new contract when his current deal runs out next month.

PAULO SERGIO KEEN TO STAY
Hearts manager Paulo Sergio has confirmed his desire to remain at Tynecastle next season.

MALOUDA READY TO FIGHT FOR PLACE
Florent Malouda expects to stay at Chelsea but isn't happy as a substitute.

CELTIC DRAW NOT REDUCED - MATTHEWS
Adam Matthews believes Celtic would still attract quality players even without Old Firm games.

BREST DISMISS DUPONT
Brest have sacked coach Alex Dupont ahead of Sunday's crunch Ligue 1 encounter at bottom side Auxerre.

SHIELS TO PUT FAITH IN YOUTH
Kilmarnock manager Kenny Shiels will take a novel approach to contract talks with his chairman.

EL-HADJI DIOUF KEEN ON LEEDS MOVE
Doncaster forward El-Hadji Diouf has admitted he would love to join Leeds this summer.

BOWYER SET FOR IPSWICH EXIT
Lee Bowyer will not be offered a new contract by Ipswich and will be released in the summer.

DANTE HEADING TO BAYERN
Bayern Munich will sign Dante from Borussia Monchengladbach in the summer.

INVERNESS LOAN OUT MORRISON
Inverness have allowed midfielder Gavin Morrison to join Icelandic top-flight club Grindavik.

PALACE START TO SOW SEEDS
Crystal Palace starlet Ghassimu Sow has signed a three-year contract.

PAUL JONES SNUBS POSH OFFER
Peterborough goalkeeper Paul Jones has rejected the club's offer of a new contract.

DERBY EYE JACOBS AND ROBINSON
Derby have admitted their interest in Michael Jacobs and Jack Robinson.

GRIGA AND HIPP GET SLOVAKIA REINS
Stanislav Griga and Michal Hipp have been appointed joint-coaches of Slovakia.

APPLETON WANTS PICK OF PLAYERS
Michael Appleton hopes Portsmouth's stature as "big fish" will help him lure players to Fratton Park.

VILLA BOARD HAVE FAITH IN McLEISH
Aston Villa chairman Randy Lerner and chief executive Paul Faulkner back Alex McLeish.

BENDTNER COY ON SUNDERLAND FUTURE
Nicklas Bendtner said he may not stay at Sunderland even if he is offered the opportunity.

REDKNAPP: SPURS WILL STAY TOGETHER
Harry Redknapp insists there will be no Tottenham exodus if they miss out on the top four.

AVRAM GRANT: STICK WITH DI MATTEO
Avram Grant has told Chelsea to give Roberto Di Matteo another year in the job.

CONNOR WANTS TO PUT WOLVES FIRST
Interim manager Terry Connor wants Wolves to put the future of the club ahead of his own.

DAVIS PENS NEW WOLVES CONTRACT
Wolves midfielder David Davis has signed a new three-year contract, the club have confirmed.

CHAMPIONSHIP CLAMPS DOWN ON CLUB DEBT
Championship clubs could be hit with fines if they fail to adhere to new financial fair play rules.

EVANS PLEASED WITH PROGRESS
Jonny Evans admits he was too honest earlier this season in believing he would leave Man United.

ABERDEEN RELEASE SIX PLAYERS
Aberdeen have told six players they do not have a future at the club after this season.

KLOPP WARNS BAYERN OFF LEWANDOWSKI
Jurgen Klopp has told Bayern Munich not to bid for Borussia Dortmund's Robert Lewandowski.

IAN HARTE TO SIGN NEW READING DEAL
Veteran full-back Ian Harte is set to sign a new contract with Reading.


TEVEZ PART OF MANCINI'S PLANS
Roberto Mancini has suggested Carlos Tevez will be at Manchester City next season.

MORRIS SIGNS NEW SHOTS DEAL
Aldershot utility player Aaron Morris has signed a new one-year contract, keeping him at the club until the summer of 2013.

NANI EYES NEW DEAL
Manchester United winger Nani has confirmed that he is in talks over a new long-term deal.

O'NEILL RELIEVED TO BE OUT OF DROP SCRAP
Martin O'Neill is happy to be watching the fight for Premier League survival from afar.

SCHAEFER KEEPS FAITH DESPITE HEAVY DEFEAT
Cologne coach Frank Schaefer is remaining optimistic about his side's future.

REHHAGEL TO KEEP FIGHTING
Hertha Berlin coach Otto Rehhagel refused to throw in the towel after the 4-0 defeat to Schalke.

BENAGLIO COMMITS TO WOLFSBURG
Diego Benaglio has penned a new five-year contract with Wolfsburg.

TISDALE LAUDS GRECIANS SPIRIT
Exeter manager Paul Tisdale was in philosophical mood after seeing his side condemned to relegation by a 4-1 defeat at Carlisle.

WHELAN: MARTINEZ CAN LEAVE
Wigan chairman Dave Whelan will not stand in Roberto Martinez's way this summer.

SHERIDAN ASHAMED OF SPIREITES
John Sheridan was downcast after a 3-2 defeat at Yeovil sent Chesterfield back to League Two a year after they were crowned champions.

HORTON HITS BACK AT BOO BOYS
Brian Horton had words for the fans who had tried to storm the directors' box after Macclesfield were relegated from the Football League.

WILSON SLAMS STALEMATE SLUMP
Danny Wilson is virtually resigned to being involved in the League One play-offs after Sheffield United were held 2-2 at home to Stevenage.

TURNER PROUD TO REPEAT HISTORY
Graham Turner was delighted to bridge a 33-year gap after Shrewsbury achieved promotion to League One with a 1-0 win over Dagenham.

JONES LAUDS OWLS AFTER VICTORY
Sheffield Wednesday boss Dave Jones said his side's 2-1 win at Brentford was just reward for the positive way they approached the game.

DI CANIO HAILS 'BEST' SUCCESS
Paolo Di Canio said Swindon winning the League Two title was the best moment of his career after his side defeated Port Vale 5-0.

CURLE HAILS 'SPECIAL' MAGPIES
Keith Curle praised Notts County's special performance as they edged Wycombe 4-3 to keep their play-off hopes alive and relegate the hosts.

DI MATTEO WOULD CONSIDER JOINT BID
Chelsea would consider joining forces with Bayern Munich to try to overturn their yellow-card bans.

PLAY-ACTING IS IN FASHION - DERRY
Shaun Derry believes play-acting has become par for the course in the Premier League.

REDKNAPP NOT SURE MODRIC WILL STAY
Harry Redknapp admits Luka Modric may quit Tottenham this summer.

GARCIA STRIKE DENIES VILLARREAL
Osasuna remained firmly in the hunt for a European place as they drew 1-1 at Villarreal.
babe of the day
http://pbbb.playboygirls.com/pic0083/pics/10524RM_9.jpg
we are west ham's claret and blue army win babe
http://wopb.playboygirls.com/pic00138/p ... 56KM_7.jpg