Filed: Wednesday, 13th December 2017
By: Staff Writer
The LLDC have admitted that the Olympic Stadium loses a small fortune every time West Ham United play a match there.
The shocking revelation was just one of many made at a London Assembly Budget Monitoring Sub-Committee meeting this afternoon, chaired by Gareth Bacon, leader of the LA Conservatives.


The London Assembly met to discuss the latest developments with the OS
Bacon, 45, took the London Legacy Development Corporation to task on several accounts regarding their relationship with West Ham - with the corporation's Gerry Murphy bearing the brunt of the questioning and criticism.
In addition to the huge losses encountered every match day, Murphy revealed that the LLDC has refused to sanction an increased capacity until West Ham agreed to increase their contribution to the stadium costs.
Currently capped at 57,000, the club have seen bids to raise capacity to 60,000 and 66,000 rejected as a result of the LLDC's stance - and Murphy confirmed that further legal action would be necessary in order to determine the outcome.
"The concession agreement talks about minimum seating," she said. "There are more seats available in the stadium, however in order to activate those seats it would cost E20 additional operating costs.
"There is a dispute with West Ham about what the contract says in terms of capacity. West Ham have said they absolutely want to increase capacity to 60,000, and further increase the capaity to 66,000.
"LLDC and E20 disagrees with their interpretation of the contract. We feel that if West Ham want to enjoy more seats then they should commensurately pay more - and that's the gist of the disagreement between us which is subject to legal proceedings.
"We have had a number of discussion with West Ham about capacity. Of course it would be good for us to have higher capacity, if we would get a share of that revenue - but that is not what West Ham propose."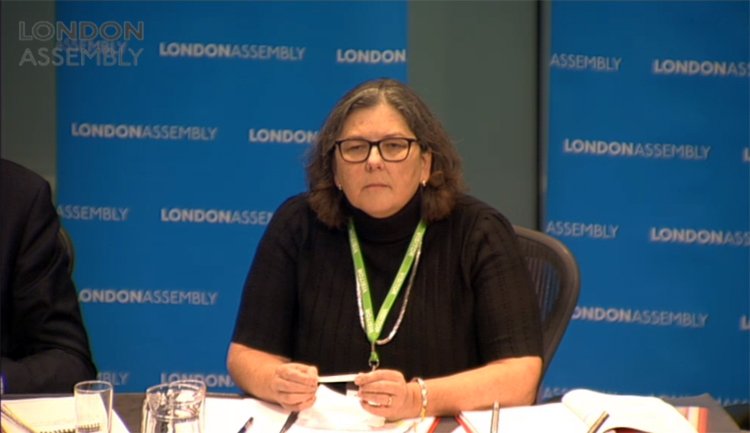 The LLDC's Gerry Murphy faced a barrage of questions regarding the loss-making arena
Murphy, who insisted that "West Ham have a great deal" also revealed that the cost of moving seats from to and from football mode, initially budgeted at £50,000 per annum was in the region of £12million last year, largely as a result of the stadium hosting the World Athletics Championships.
"We have been looking at the overall efficacy of the seating system and there are a number of proposals for replacing elements of the seating," she added. "They are in concept design at the moment.
"We expect to see some proposals come forward in the first quarter of next year which may also allow us to reduce the seat move costs. I think we've gone some way already with configurations and some minor amendments of the existing system and there is also a review of the seating system and to see whether there are other things we can do to substantially improve."
And asked by Bacon why the LLDC hadn't entered discussion with West Ham with regard to making the stadium more profitable, Murphy insisted that the club would be heavily involved with their future plans.
"We will be talking to West Ham about all those things, "she replied. "We talk to West Ham all of the time. We are developing a commercial strategy and West Ham will be part of that development."
To which Bacon replied: "It doesn't feel like a partnership arrangement from what I'm hearing today. Partners who are supposed to be working together don't sue each other."
---
66,000 by next season
[12th Dec 2018]
In brief - Thursday's news round-up
[18th Oct 2018]
Brady at the London Assembly [video]
[17th Oct 2018]
Hackney site closed by lethal odour
[16th Oct 2018]
LLDC announce reduced stadium losses
[27th Sep 2018]
The lady's not for turning, Brady tells LLDC
[11th Sep 2018]
Retract or else, warn LLDC as war of words escalates
[10th Sep 2018]
LLDC demand £300,000 PER YEAR for track cover [audio]
[6th Sep 2018]
No inherent issues with stadium, says LLDC chief
[6th Sep 2018]
LLDC blame West Ham for stadium losses
[6th Sep 2018]
---
Your Comments

Please note that this section is for comments relating to the above news item only. Any off-topic or abusive posts will be removed. Posts including either links and/or foul language are automatically filtered and will not be published. To engage in further discussion on any of our news stories, visit the KUMB Forums.
Not a member of the KUMB Forums? You may register for free membership here.


comments powered by

Disqus
---
---
---
One Year Ago
The knives are out for Arsene Wenger following his team's inability to brea...
more
Three Years Ago
Get the very latest West Ham news in one place, with our new daily media round-up!...
more
Five Years Ago
David Sullivan has admitted that Andy Carroll would not have been a West Ham player had the club kno...
more
---