by Staff Writer
Tuesday, 23rd November 2021
A blue plaque has been erected in honour of Canning Town-born Jack Leslie.
Leslie, who was born in east London 120 years ago would have been the first black player to represent his country after being chosen to play in 1925 - until he was dropped by selectors because of his skin colour.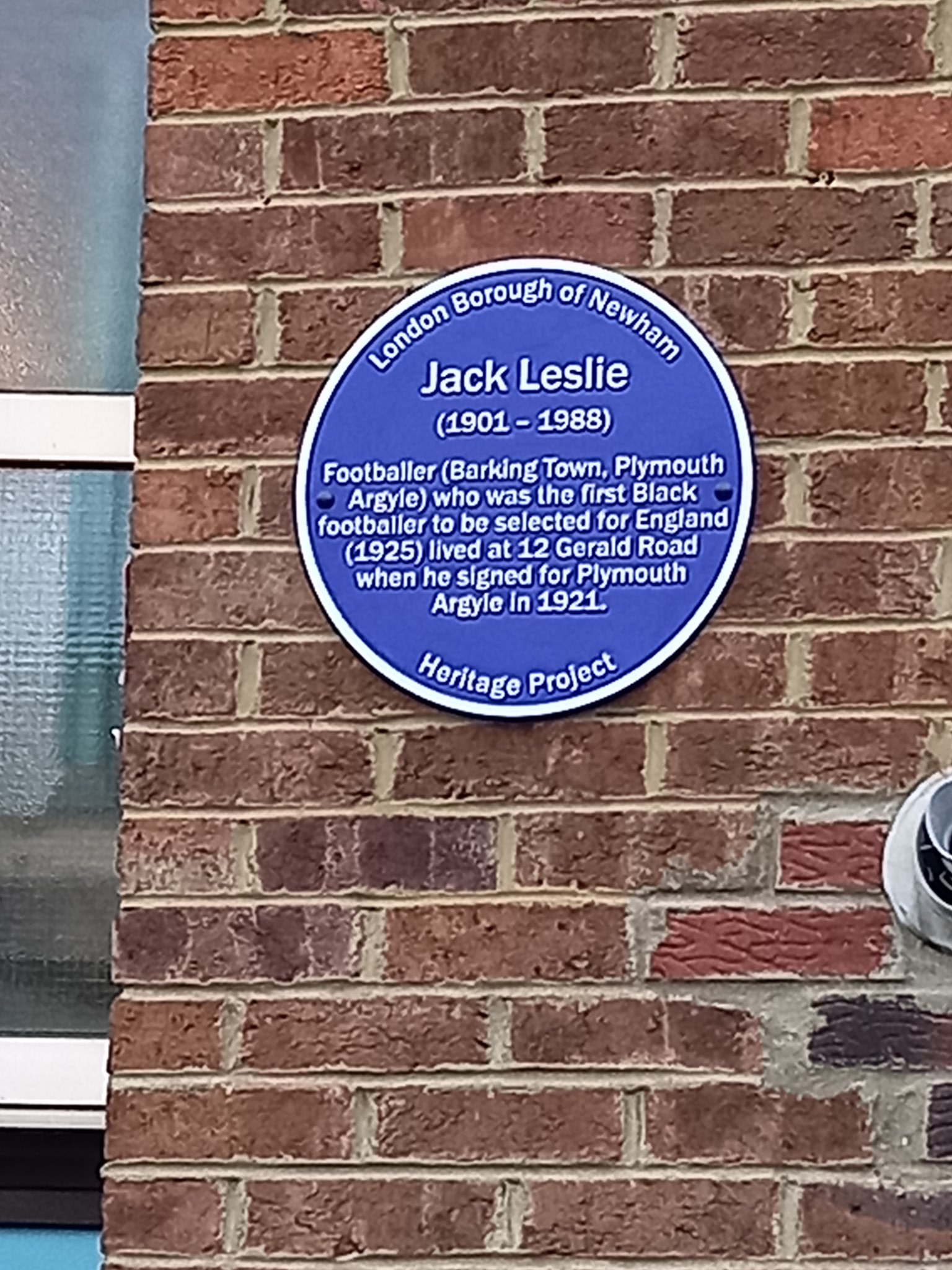 The former Plymouth Argyle striker, whose career spanned more than 400 first team games was in line to feature in a home international against Ireland before being mysteriously dropped days ahead of the fixture despite having been included on the team sheet by the press.
Last year The Jack Leslie Campaign was created with view to raise £100,000 in order to build a permanent statue in honour of the Eastender; the target was reached shortly after the campaign commenced after more than 2,000 donations were received.
And earlier this week, a plaque in his honour was unveiled by Leslie's granddaughters Lesley, Lyn and Jillian, who were joined at the ceremony by great-grandson Michael and great-great nephew George.
"Speaking on behalf of our family, I would like to thank Newham Council for allowing us to erect this plaque," said Lesley.
"This is where Grandad lived and where he signed his contract to sign for Plymouth Argyle. Coincidentally, it was on 19 November 1921, exactly 100 years ago, that he made his debut for Plymouth, which makes this date even more special.
"Our heartfelt thanks go to Neandra, Matt and Greg, as without them Jack's story would never have been told.
"The Campaign has raised over £130,000 for a statue to be placed outside Home Park and to educate children to help make them more aware of equality and diversity and the injustice that can happen because of racism.
"Our Grandad would have been delighted to have his name associated with such a brilliant cause.
"Grandad was immensely proud of his East End roots and in 1938 he, his wife Win and daughter Evelyn moved to Wakefield Street in East Ham, our family home where us three girls grew up. It was a happy, loving home.
"Grandad worked in the docks as a boilermaker and, as a left-handed riveter he was in great demand, until his retirement. However, he soon got bored and was longing for something to do.
"His daughter suggested he contact West Ham United about a part-time job. Ron Greenwood had heard of Jack Leslie and gave him the responsibility of looking after the football boots. Grandad took the job very seriously and I doubt there was a club anywhere whose players had better cared for boots!
"He loved his time at West Ham, was there for about 15 years and only moved away when his daughter moved to Kent and Grandad and Nan went with them."
* Something to say about this story? Please visit the KUMB Forum to leave a comment.
More News
Tuesday, 7th December 2021
Tuesday, 7th December 2021
Tuesday, 7th December 2021
Tuesday, 7th December 2021
Tuesday, 7th December 2021
Tuesday, 7th December 2021