by Staff Writer
Thursday, 25th November 2021
Rapid Vienna's interim head coach says his team are hoping to produce a major surprise by beating West Ham in tonight's Europa League meeting.
David Moyes' side go into the game as hot favourites against Group H's bottom club, who they beat 2-0 at the London Olympic Stadium, while knowing that a win in Austria would see the Hammers win the group and secure passage to the last 16 of the competition.
However Steffen Hofmann - who is in temporary charge of the team following the recent dismissal of Dietmar Kühbauer - says his players are planning what would amount to a major upset by securing all three points - albeit in an empty stadium, with the game being played during Austria's latest lockdown period.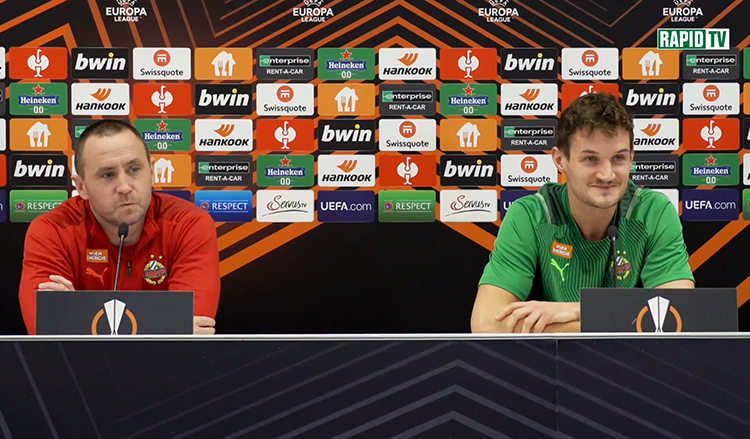 Hofmann and Hofmann
"Europa League nights are always beautiful, it's the same for every player," said the former winger. "That's how we want to play tonight.
"Of course it's sad not to have fans as we really need them in a game which is as important as this one, but we'll go out and play the same way we always play.
"Against Altach [last weekend] we played very offensively; obviously it'll be different against West Ham. It's a completely different challenge as they're a really good Premier League team - but we can still show what we can do.
"We can be brave, we can play out from the back and we'll give it everything. I'm very positive that we can succeed tomorrow.
"It's a long season, but we'll send a team out that we think can be successful on this particular occasion against this particular team. It's be the same against Ried [in the Bundesliga] on Sunday, we'll play the best team for that situation.
"We have a great squad and even though they've played a lot of games, I'm not worried. We have to believe in ourselves and even though it's a tough challenge, we intend to go our there and show everyone what we are capable of."
Meanwhile Rapid centre half Maximilian Hofmann - no relation to the current manager - also insisted his team can produce a shock and follow up their 1-0 defeat of ten-man Altach last weekend, which came courtesy of a 47th minute Filip Stojkovic strike, with another win.
And he believes the empty stadium will prove to be equally difficult for both teams - as
intimated earlier in the day
by Hammers boss David Moyes.

Highlight's of Rapid's recent win against Altach
"It's going to be very difficult for us but it's the same situation for both teams," said Hofmann.
"It's a very depressing situation - and that this should happen just before this very important game. We've already had some very good Europa League games here with our fans but we can't change the way it is.
"As for West Ham, it will be a totally different game than Altach [last weekend]. We are strong when we have the ball - and that's what we want to show tonight."
* Something to say about this story? Please visit the KUMB Forum to leave a comment.
More News
Wednesday, 8th December 2021
Wednesday, 8th December 2021
Wednesday, 8th December 2021
Tuesday, 7th December 2021
Tuesday, 7th December 2021
Tuesday, 7th December 2021