Filed: Tuesday, 10th March 2015
It's late October, and West Ham have just produced another amazing performance to win their third consecutive game, and beat the current champions 2-1 at The Boleyn Ground. The win propels them to fourth in the table, just a solitary point behind their defeated opposition.
The next run of fixtures sees the mighty Hammers avoid defeat in all but one of their next nine games, sitting pretty in fourth place with 29 points after defeating Leicester City 2-0 at The Boleyn Ground. It's a position that West Ham fans can only dream of, and European football in our last season in Upton Park is a real possibility.
Expectations are high and there is a real buzz about the place. No matter who we play, we feel confident we are able to get a result – we fear nobody.
This isn't the West Ham we are used to. It's a different beast altogether. But alas, this is West Ham after all, and as sure as eggs are eggs, we will soon come crashing down to earth with an almighty bump. Won't we?
Too right we will. Fast forward to today. 10th March 2015.
Eleven games on from the win over Leicester that saw us sitting pretty in fourth at Christmas. A progression of a measly ten points, and sitting in tenth place – a solitary victory over Hull City almost two months ago being the only three points we can celebrate. Five defeats in the league, which included a rather humbling defeat against Palace.
Knocked out of The FA Cup without putting up a fight. Fines from FIFA for playing Sakho. In typical West Ham fashion, it's all gone pretty wonky of late.
Who do we point the finger at? Granted, it hasn't helped having players disappear to ACON, or having some of our more influential players go off of the boil of late. But even so, it's a dramatic downturn by anyone's standards. Even ours!
It could be down to a multitude of factors as let's face it, the footballing gods have never been kind to us. To me, it largely boils down to one thing - our beloved owners.
We were in a position in December to actually challenge towards the top of the table going in to the January transfer window, and all the squad needed was one or two – three, tops - squad fillers to give it a right old go.
After all, that's what we are in it for – to do the best we can. But as always, so typical West Ham, we did nothing. Zilch. The board missed the perfect opportunity (and only opportunity) to show us they are ambitious.
Who can forget David Gold's synonymous tweet of 'Don't go to bed' on deadline day? I didn't go to bed, waiting for the news of an imminent signing. Then the penny dropped were dealing with Daniel Levy, and I sort of guessed what the outcome on that would be.
As the excitement of deadline day drifted away like a fart in a gale, more tweets followed, claiming we were after eight players, but none materialised. That smacks to me of falling in a barrel of boobies only to end up sucking your own thumb. Pretty shambolic all in all.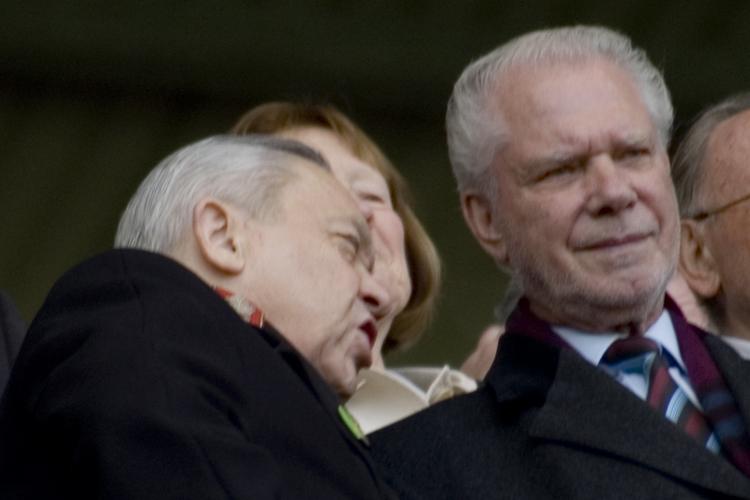 Sullivan and Gold are repeating the mistakes of the past, says Nick
January showed just where we are as a club right now – which is a very good first team when they are all firing on all cylinders, but pretty threadbare past that. I didn't want to see Messi or Ronaldo come in – I wanted a fourth centre back, I wanted a bit of competition for Downing, another left back to push Cresswell.
Add in Carroll's expected injury, our annual centre back crisis (we all knew it was coming) and here we are, sitting in tenth place behind stoke and Swansea wondering what could have been if only the board had been a bit more adventurous in the transfer window.
Of course, it's not entirely the fault of Mr Gold and Mr Sullivan. The gutless performances against Palace in the league and West Brom in the cup can be put firmly at the door of the players.
The so called 'surrender at The Bridge' by the manager, the baffling substitutions have all played their part. The loss of leads, the failure to see out games from winning positions, dodgy refereeing decisions have all contributed to the dramatic slide. One win in twelve. That's relegation form, no matter what excuses you want to make.
So, as we head into the run-in with what is arguably the easiest run-in of anyone in the division, let's hope some of the early season form is recaptured and we give it a go and pick up some more points – otherwise the season will end up epitomising the words to our famous song; it will 'fade and die'.
* Like to share your thoughts on this article? Please visit the KUMB Forum to leave a comment.
* Disclaimer: The views and opinions expressed in this article are those of the highlighted author/s and do not necessarily represent or reflect the official policy or position of KUMB.com.
More Opinion
Saturday, 6th August 2022
Thursday, 4th August 2022