Filed: Tuesday, 14th August 2018
By: Paul Walker

OK, everyone finished? I do hope we have seen the end of the ritual blood letting that has followed Sunday's miserable defeat at Anfield, the ground where they have an offside law all of their own.
I always find that it's best to go home, watch the TV rerun and then make a proper judgement on what has happened, before shouting my mouth off.

Blimey, what did you all expect? But it's probably good we have seen the flaws early on in a game that was nothing more than a 'free hit'... anything from it was a bonus.

Manuel Pellegrini would have hoped by now to have raised cash from sales, but only £12m plus loan fees has materialised, and we have seven players out on loan now when he would have wanted to sell a few.

So we saw the obvious. We do not have a proper defensive midfielder, Pellegrini did not have the money for what he wanted.

Embed from Getty Images


And the new boss tried to play a high line, just like he did at Manchester City. But there he had better defenders, quicker and brighter, and he had better, younger, quicker pressing midfielders there. Somehow he now has to come to terms with all this, because Liverpool's pace and movement tore us apart.

That all said, let's move on to Bournemouth and try to work out what to do now the window has closed.

Liverpool, though, was a good day out as long as you were not bogged down with misplaced expectation. I mean, us challenging the top six. Let's be a bit realistic for a moment.

As I said, it was good day. I love visiting Liverpool, good pubs, no bouncers, cheap beer and both sets of fans mingling in the same boozers.

I had taken advantage of my 'massive' priority points tally and bought a seat - even if you can't see properly from the disgraceful Anfield Road end away enclosure - and upset those newbie fans from the posh Essex suburbs who think they are more entitled to that ticket than me. (I will come back to this.)

It's fair to say we were poor, in the end. We started OK, concentrated, worked hard to stay in shape and then we were overrun by one of the best sides in Europe, who have dwarfed our summer spending - it's something like £400m in two seasons for Jurgen Klopp's frenetically brilliant side - so why are you all so surprised? Even Fulham and Leicester spent more than us in the window eventually.

Only once in 55 years have we won a league game at Anfield. Why should it have been any different this time? Frankly I was amazed by the pre-match hysteria from our lot, with folk betting on whether we will finish top four, fifth, sixth or whatever. Some people just have not been paying attention.

Embed from Getty Images


The Mersey city have a new shopping complex right next to the wonderful Beatles museum on the waterfront, it's called Liverpool One. Trouble is when we go there it's renamed Liverpool Four. Boom, boom, I'm here all week.

Maybe our Beatles theme tune, as far as the defence is concerned, should be 'I Saw Him Standing There'. Or even 'A Hard Days Night', or just 'Help'. OK, I'll stop now, showing my age a bit there.

The point I am making is obvious. The Premier League is so much a rigged cartel for the mega-rich, that all the rest of us can do is try to keep up. It is no longer really competitive and when we spend around £100m, it's just all about catching up. Just how many of our team would get into Liverpool's squad?

Liverpool are all about the modern criteria of pace, pressing, possession and power. It's how Jurgen's teams always play. We just don't seem to have caught on.

They swarmed all over Jack Wilshere, kicked him a bit, and they dragged our midfield all over the place with movement, pace and sublime skill. You don't compete with that, you just survive, hope a third goal is not awarded when three yards offside and try to nick a goal from a set-piece.

They make it up as they go along at Anfield, and even their fan club on Sky suggested it was our own fault that goal was allowed because we had a high line and caught three players offside. But you see, we gave the referee the chance to get it wrong. The twisted logic just lost me, maybe Sky should try to find a balanced, not blindly bigoted, commentary team.

I liked Dennis Wise on Sky, he got it right. I have always rated him; a nasty piece of work, kicks when he has to but can play a bit. He said that the third goal changed the game, it killed us. If it had been disallowed we could have gone down the other end and nicked a goal from a set piece, that would have changed the game.

Liverpool would have had to concentrate a bit more on defending, we would have been on the up and may have stolen something, however unjust. It was offside and should not have stood. Their second was not offside and I can't be bothered to explain 'second phase' to anyone who has not been keeping up these past few years. Yes, it's a rubbish interpretation, but it's there in the laws so get on with it.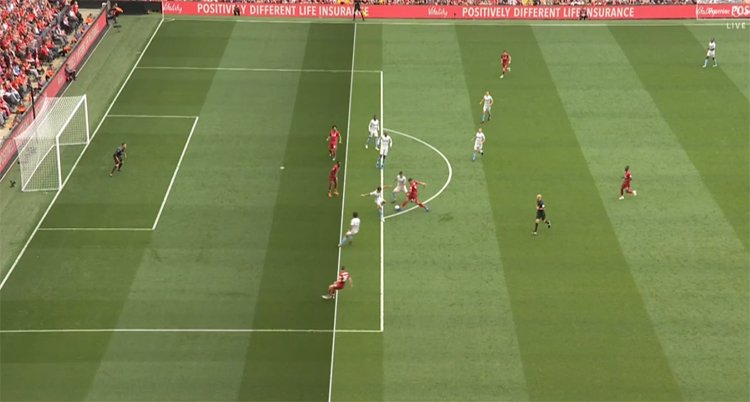 Not offside at Anfield
BBC were better. I find Jermaine Jenas sometimes smug and sneering, but he got his Sunday night stuff just right. He actually defended Mark Noble by suggesting he was the only one in our midfield sticking to his role and was left covering for the wanderings of others.
And that brings me to Declan Rice. Last season when we were rubbish he was the only bright light, the boy doing a mans' job. He was magnificent. But it has given him delusions above his station to be frank. He wants £40 or 50,000 a week.
Now I have never really seen him as a holding, defensive, midfielder. He looks better to me with the game in front of him as a bright, brave centre back. The Republic of Ireland think differently, and Pellegrini does too, but only, I reckon, because he has been unable to sign a proper specialist for that role.
So Rice had the gig on Sunday. It lasted until half-time. The youngster will improve, his game will mature, but at the moment he does not have the peripheral vision to see what he going on behind his back. It's an acquired art to see 360 degrees vision, but it's what the truly great, defensive midfielders have. Rice is not that yet, and may find himself watching Carlos Sanchez from the bench soon.
His plight reminded me of Reece Oxford's debut. He did superbly in a man marking role against Arsenal a few seasons back, but the following game at home to Leicester - who would eventually be champions that season - he was cruelly exposed and hounded in possession, costing us two goals. He was hooked by Slav at the break, never to be the same player again.
Rice has more about him than that, but he has to learn a bit more about the Premier League before we lash out on the massive contract his big-time, worldwide new agency think he's worth.
I want to give Carlos Sanchez a chance. A lot is made of his disastrous spell at Aston Villa, while it's a bit rich to slag him off for handball on the line and a red card in the World Cup. At Villa he was thrust into a shambolic side heading for relegation. Not a pretty sight or the right place for an innocent abroad.
He probably wouldn't be here anyway if Pellegrini had eventually had enough money to bring in the top defensive midfielder we need. Instead he had to sell Cheikhou Kouyate. Still a decision I do not understand, considering he needed to block Pedro Obiang's move to Sampdoria because it would have left him without any sort of cover in that area.
We tried Wilshere in a deeper role in the second-half, might as well experiment with the game lost, and he did OK with more possession and less hounding. But I still expect Sanchez to play on Saturday.
Oh, yes, the priority points issue. I have long felt I should keep out of this because I have a vested interest. I do a lot of away games and feel that I am some sort of endangered species, certainly an oppressed minority, being blamed for all the ills of a system that was designed for us, not by us.
It came about when a little old family club who used to play in Green Street decided that it would reward its loyal band of travelling fans who trek all over the country, wind, rain or shine at frequently immense cost.
Embed from Getty Images
If you went to the away games more than the next man, you deserved priority. No system is perfect, but what is happening now is a bit like rock fans queuing overnight for concert tickets only to find the organisers walk to the back of the queue when the sale starts and hand 300 tickets to the back markers.
That's immoral, how ever you look at it. If the club want to sort out secondary selling, maybe they should look at how there are tickets for sale on eBay and folk organising coach and mini-bus trips with guaranteed tickets, when only Bondholders and the away season tickets have been issued and long before I get my slot to claim one of the maximum 1,700 tickets left for the priority points holders.
And I am pretty offended by seeing on social media new boy 'Harvey the banker from Shenstone' who has only had a season ticket for two seasons (I have changed the name to protect the innocent), demanding that he has the chance of an away ticket, oh, and he wants to take young Sebastian with him so he can 'do a match' and experience the atmosphere.
When you have done Sunderland, Middlesbrough, Everton in midweek and gone to Sunday games in |Manchester and Liverpool knowing there is no train back to the smoke, as well as the obligatory Stoke on a wet Tuesday, then you may be further up the queue.
And no, I don't count away games when you only have to hop on the District Line or home Mickey Mouse Cup ties that seem to get the same point as the guy who goes to Andorra in the UEFA Cup. OK, rant over. Bring on Bournemouth, let's get the season started now.

Please note that the opinions expressed in this article are those of the author and do not necessarily represent the views of, nor should be attributed to, KUMB.com.
---
Your Comments
comments powered by

Disqus