Filed: Wednesday, 29th September 2021
It's a European night - and heaven help us Preview Percy is speaking German as Rapid Vienna come to town. The more observant of you will note that he bottled doing something similar with Croatian the other week and we shudder to even think of him giving Flemish a go in a few week's time...
Guten abend und wilkommen meine dammen und herren. It's another European night as we play host to Rapid Vien or, as they are often known, Rapid Vienna in Game Two of the Thursday Night League. Kick-off this Thursday is 8pm so don't forget to get a late pass from Matron before you leave.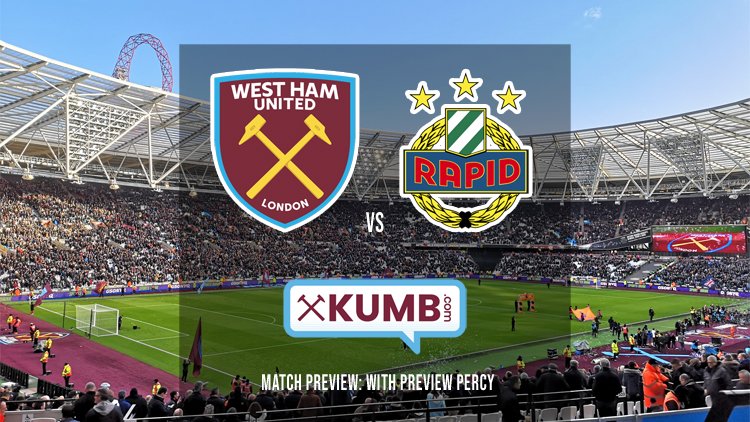 Rapid then. They are arguably Austria's most successful teams having won their Bundesliga on no fewer than 32 occasions. They even have a German league title and Cup win to their name – though we shouldn't dwell on the politics of that given that it took place in the early 1940s when, for an obvious reason, there was no such country as Austria.
They are one of those old school European names that we have all heard of despite their relative lack of success on the European front, a pair of losing appearances in the old Cup Winners Cup during the 1980s being the best they have done to date.
Daisy, the personal assistant with the beautiful smile from whom I no longer have to remain socially distanced tells me that it's been a bit of a tortuous route to the group stage for them this season. They started off in the 2nd Qualifying Round of the So-Called Champions League, having qualified by virtue of their having finished runners-up in the league to Fizzy Drink Salzburg last season. Facing our feeder club Sparta Prague they took a 2-1 lead into the second leg in Prague. However a late second goal for Sparta saw the Czechs go through 3-2 on aggregate.
That sent the Austrians into the Thursday Night league at the 3rd Qualifying Round stage where they happened across Cypriot side Anorthosis. They went through despite a second-leg 2-1 defeat in Cyprus, having taken the first leg 3-0. They finally got through to the group stage by virtue of a 6-2 aggregate win over Zorya Luhansk of the Ukraine.
Their first game of the group section saw them go down at home to a stoppage time winner against Genk. Which leaves them in 3rd place in the table having conceded one goal fewer than Dinamo Zagreb.
On the domestic front it's not been a brilliant start. They currently sit in 11th place – in a 12-team league – having won two, drawn two and lost five of their nine games played so far. Those defeats include the last three in a row, including a 3-0 home defeat to Sturm Graz this weekend. So not much form then.
With a start like that it remains to be seen for how long current head coach Dietmar Kuhbauer will remain in post. Kuhbauer, known for some unknown reason as "Don Didi" is a former Rapid player, spending five years with them between 1992-97. His departure for Real Sociedad was one tinged with genuine tragedy prompted as it was by the death of his wife in a car crash, with Kuhbauer deciding that a fresh start was required. I've said it before and I'll say it again: Shankly was an idiot.
Maybe the quality of their squad can be gauged by the fact that only two of the six arrivals during the summer window actually cost them anything. There were three free transfers – including Stoke City defender Kevin Wimmer and, because it seems to be some sort of legal obligation, there was the obligatory loan in from Chelsea in the form of 19-year-old striker Thierno Ballo. He's not featured too much this term, getting one run-out in the Cup.
One of the new arrivals was top scorer Marco Grull who came in from SV Reid – no relation to Winston but I haven't checked Peter - on one of the frees. He has three in the League, two in the Cup and another three in Europe this season. One behind him on seven is Greek international Taxiarchis Fountas. He's been about a bit having started out with AEK Athens.
It's not his first spell in Austria. He was on the books at Fizzy Drinks Salzburg for a few years, though his spell there was spent largely on loan at various Austrian lower league sides or back in Greece. Clearly there was something in the water in Austria that appealed to the striker as he made his way back via Germany and the Austrian 2nd division to Rapid, for whom he has netted 32 times in 58 league appearances.
Enough of them. Let's move on to the Wild And Wacky World Of Association Football. Well Tottenham are the present that keeps on giving aren't they? Apparently members of their Supporters' Trust has demanded a meeting with Daniel Levy asking him, amongst other things how he intends to "Regain Tottenham's DNA". Hey guys I have some news for you. That IS Tottenham's DNA – that is what you are like. Hope that helps.
Meanwhile there was good news for those amongst their number still deluded enough to think they were worthy of a place in the hilariously mis-named "Super" League as UEFA, having fined some of the six British Clubs involved about £2.50 – between them – have actually stopped collecting the money, which, in an attempt to avoid upsetting the Scum Six (to use the adjective de jour), they have described as "goodwill payments".
It wouldn't surprise me if that simpering description allowed them to write it off against tax as a charitable donation. Meanwhile, UEFA's reason for letting them off – at least temporarily – is due to the legal difficulties they are having in taking legal action against other clubs involved. Until that's resolved they won't be taking the money. I wouldn't bet against the clubs involved end up actually getting compensated for their whole tawdry enterprise.
And so to us. Another good win in a match that was a splendid spectacle for the watching supporter. Both sides gave it a go and in the end we just looked stronger in the latter stages of the game – and it's a rarity that we've been able to say that in league matches over the years. Michael Antonio became the pantomime villain for the rather dim home support over the disallowed Soucek goal. Now I have no problem with the goal being disallowed – it was a foul fair enough. However, the subsequent booking left a nasty taste in the mouth.
Friend, having viewed the incident on the pitchside monitor, gave the foul and clearly thought that was enough. Then the incident was replayed on the big screen, causing faux consternation amongst the home support who chanted for the player's dismissal, one would hope more in hope than expectation. Friend, showing all the backbone of a shoal of Portuguese Men Of War, fell for it and changed his mind issuing a completely unwarranted yellow card.
I'm no fan of PGMOL
(really? – sarcastic Ed)
and I have long had doubts as to the competence of many of their employees to referee professional football matches. However, one change I hadn't envisaged was the shift of responsibilities from the referee to the home support – I thought the long-running Anfield experiment had proven conclusively that that sort of thing only provides bent results.
Incidentally, I wonder what the home side's reaction would have been had Friend applied the same logic throughout the match? I guess that we can both be relieved that the same punishment wasn't dished out to Junior for an equally-as-innocent coming together with Benhrama in the first half given that his dismissal would have meant he wasn't present to score our equaliser for us.
Meanwhile the match should have convinced Leeds' supporters that Kalvin Phillips isn't to be mentioned in the same breath as Declan Rice. Don't feel bad, Leeds supporters – Phillips only has to be better than Jordan Henderson and let's face it, that's hardly the sternest of tasks. To put it into some form of perspective, if gossip is to be believed Man Utd have worked out that they are unlikely to be able to afford Rice – but Phillips is a different kettle of financial fish.
At the time of writing we have just the one injury, Fredericks' groin – which sounds like a medical complaint all of its own. Or maybe a long-forgotten battle against the Chinese as part of the Opium Wars – is still troublesome following his tumble down the bank at Old Trafford and he's unlikely to be available. Other than that we have a full squad to pick from.
I would expect the starting line up to be not too dissimilar from that which started in Zagreb with Coufal in for Fredericks. This would mean starts for Vlasic and Lanzini with rests for Bowen and Benhrama. Bowen in particular has earned a spell with his feet up – the running he has put in over the past few games has been exemplary. Particularly since he had to adapt his role slightly during the games that Antonio missed due to suspension and rest.
Whatever flavour of European side we put out I would expect us to have too much for a side who are second bottom of the Austrian League and somehow muddled their way through to qualification for this league despite picking up a defeat in Cyprus. For that reason my prediction will be a positive one again. Let's throw caution to the wind shall we and blow the whole £2.50 that was going to go on a thimbleful of petrol for the Avram Grant Olympic Rest Home For The Bewildered's Happy Bus once I get to the front of the queue on a comfortable 3-0 home win. Make it so Mr Winstone.
Enjoy the game!
When last we met at The Boleyn/The Olympic
We have yet to encounter the Viennese in our European Campaigns
Referee: Tobias Stieler (GER)
German lawyer who is on FIFA's elite list. That means a little bit more than being on PGMOL's elite list, which simply means you are either know where Mike Riley buried the bodies or you helped him bury them in the first place. Unlikely to dish out random yellow cards simply because the crowd asks for him to do do.
Danger Man: Marco Grull
We'll go for him as top scorer, though the Greek lad has a decent long-term record for the Austrians
Percy's Poser
Last week's offering was this from t' Yorkshire Post:
Man due in court charged with XXXXXXXXXX XXXXXXXX off the Scarborough Coast
Well done to Mrs Davinia Herpes-Simplex from Vange who correctly identified the missing words as "disturbing dolphins" – presumably the perpetrator was swimming amongst them dissing Flipper as a "third-rate wet Skippy",
This week we return to our popular
(it isn't – Ed)
game of "What's That Useful European Phrase" as we ask you what the following means in English:
Ich würde gerne zu Ihrer Party kommen, da ich keine Artischocken geliefert habe
Best of luck!
* Like to share your thoughts on this article? Please visit the KUMB Forum to leave a comment.
* Disclaimer: The views and opinions expressed in this article are those of the highlighted author/s and do not necessarily represent or reflect the official policy or position of KUMB.com.
More Opinion
Tuesday, 4th October 2022
Friday, 30th September 2022
Monday, 26th September 2022
Thursday, 22nd September 2022