Filed: Friday, 15th October 2021
Preview Percy on Everton, England and the meaning of "fit and proper". It's better than watching Strictly Come Dancing we suppose...
Next we head up to the north west to Liverpool where Everton will be our hosts. Kick-off on Sunday is at 2pm for the benefit of Sky. If the Eyes up Mother Brown guys can muster enough people not going to the match to watch it on the box for you they'll be on as well. If you're travelling up on the day from Essex have a look at your trains. I am advised that there are engineering works in the general Chelmsford and Ingatestone areas. Check as ever before you leave.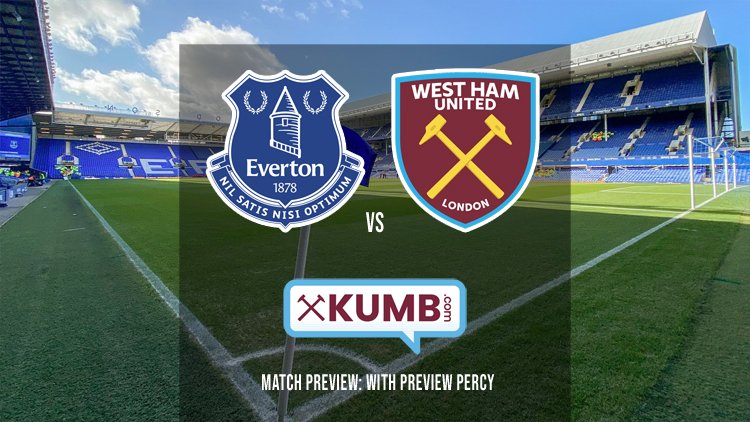 Everton then. Under new management so to speak with Rafa Benitez taking the helm after a spell with Chinese outfit Dalian Professional, with whom he ended up after his departure from Newcastle, of whom more later. It wasn't a universally-welcomed appointment, his history with the divers up the road counting against him in certain quarters.
Still it's not been the worst starts to their season, though their current 5th place does perhaps owe a little to a friendly fixture list. They have won all three at home, beating Southampton 3-1, Burnley, also 3-1 and Norwich 2-0. On the road their best result was the 2-0 defeat of Brighton whilst they have picked up draws at Leeds (2-2) and Man Utd (1-1). Their sole defeat came at Aston Villa where they were on the wrong end of a 3-0 drubbing. The 14 points gained from these results is three more than our 11 and is sufficient to give them a four place gap over us.
The arrival of a new manager often coincides with some investment in the playing squad from the owners. However, although a number of new players arrived, Daisy, the personal assistant with the beautiful smile from whom I no longer have to remain socially distanced, informs me that only one of those actually commanded a fee.
Demari Gray arrived from Bayer Leverkusen for what these days is a cut-price £1.7m. Gray was part of the Leicester squad that won the title a few years back but found game time impossible to find having been told by Brendan "David Brent" Foster that he was no longer in his plans. So off he went to Germany. To say that he didn't settle out there is something of an understatement. He made 10 league appearances in the six months he was out there scoring just the once in the process. The summer window couldn't come quickly enough for either party, Bayer taking a £1m hit on their investment.
Andros Townsend was a free transfer signing, prompted by the expiry of his contract with Palace. The five years at Selhurst was the longest he has spent in one place during his career. He was on Spurs' books for seven years but during that spell he went out on loan to no fewer than nine different clubs. His next move, like Grays' ill-fated German interlude, lasted all of six months. Townsend's departure coincided with the Magpies' relegation that term and the player's release clause "somehow" became available to Palace who snapped up the player who thus had to spend five years in Croydon. So a free transfer is the least he was due.
The signing of Salamon Rondon represents one of those cases where a player follows a manager around. Rondon first crossed paths with Benitez when he spent a season on loan at St James's Park, picking up their player of the year award in the process. At the end of the loan spell both player and manager ended up at the aforementioned Dalian Professional and, although Rondon's spell was punctuated by a loan spell at CSKA Moscow, when Benitez pitched up at Goodison he undertook his own Venezuelan/Chinese takeaway and brought the much-capped striker to Merseyside.
They also brought in two keepers as back-up for England custodian Pickford. Asmir Begovic arrived on a free from Bournemouth. The keeper – holder of the world record for the longest goal ever scored apparently – had an odd couple of loan spells during his latter years with the Cherries. His 2019-20 season was spent in Azerbaijan with Qarabag and latterly AC Milan. He returned to Bournemouth for their first season back in the second tier, his contract presumably containing some sort of relegation-based salary reduction clause. As a kid he ended up in Canada, his family having relocated due to civil war. This resulted in him being capped at U20 level by Canada. However, once the dust had settled in what was once known as Yugoslavia, his native Bosnia-Herzegovina came knocking and Begovic now has over 60 caps for his "new" country.
The other 'keeper to arrive was Andy Lonergan. Lonergan seems to have made a late career of turning up at clubs as cover without ever playing too much. His last season of full employment was 2015-16 when he made 29 appearances for Fulham. The following season he made 11 appearances for Wolves but in the four years since then his league appearances total 14 spread over spells with Leeds, Middlesbrough, Rochdale, Liverpool, Stoke and West Brom. Nice work if you can get it.
On the injury front Calert-Lewin and Richarlison are major doubts though Mina managed a full runout at international level in midweek. Digne should be clear of the thigh problem he has been struggling with along with former Hornchurch schoolboy Iwobi. Delph will miss out however with a long term Shoulder problem.
Next we pay our usual visit to the Wild And Wacky World Of Association Football™. The big story is of course that of Newcastle who have managed somehow to find an owner with an even worse human rights record than Sports Direct. The long running saga of the takeover was finally resolved this week when the Premier League received assurances that the Saudi state Public Investment Fund is not in fact Saudi Arabia.
This is despite the fact that the Chairman of the board is the Crown Prince Mohamad bin Salman, the board is comprised principally of Saudi Government ministers, the fund is controlled by a Saudi Government department and is formed with the stated aim of enabling progressing of the Saudi economy. No matter, the assurances that the Fund has nothing to do with Saudi Arabia are apparently "legally binding". Now I dunno about you but I'm not sure a regime that thinks nothing of murdering critical journalists when they pop into the embassy for a visa is going to be too put out by those "legal assurances".
Of course totally by coincidence the Saudi State – that's the one whose officials just happen to be on the board of PIF – have decided to settle their TV piracy issues and start paying the Qataris for their tv football. Which suggests that either the PL is exceedingly gullible or they really don't care who runs its clubs as long as they pay their Sky Sports subscription.
Perhaps we shouldn't be too hard on the Geordies for celebrating the departure of Ashley. After all it's hardly their fault that the PL's "fit and proper" test is neither fit nor proper for its intended purpose and they would be justified in citing Man City and Chelsea as prime examples. Three wrongs don't make a right it's true but it's hard to justify treating Newcastle differently to everyone else however distasteful the result.
In midweek England laboured to a 1-1 draw against Hungary whose supporters proved that FIFA's fining system is about as effective as the PL's "fit and proper" test. There were some odd substitutions on the England side. The withdrawal of Grealish who had hitherto looked the most likely to break the deadlock, was baffling. I suppose at least Sako had, in theory, some similar potential. However, the introduction of Henderson can only have been greeted by smiles from the Hungarians and the Liverpool Echo whose bizarre campaign to get the journeyman more England caps than he deserves succeeded about 60 caps ago.
And so to us. Last time out we were out of sorts in the first 45. You can add to that the fact that we were done up like a kipper by a Brentford side that spotted a rookie ref a mile away and played him like a bar room piano. They spotted the fact that Bankes had interpreted the general instruction to "let the game flow" as meaning "don't bother dealing with fouls and misconduct" and cynically embarked on a path that meant that by the time Bankes finally found where he had hid his yellow cards they had pretty much gotten away with it.
The cynicism didn't stop there. The time-wasting got so silly it was taking nearly a minute for them to take a goal kick not to mention the feigning of injury every few minutes. So Bankes' adding of a mere three minutes was further proof that he was out of his depth. Brentford in the meantime are benefiting from "Bournemouth Syndrome" which sees officials so blinded by the "plucky underdog" aura that surrounds them they ignore crimes and misdemeanours that would normally be punished.
Of course none of this stopped apologists for our current owners from deciding that the fault for the defeat lay firmly with those who protested against the current regime pre-match. There were some hilarious encounters on various social media channels where the legitimacy of such an argument was challenged. Watching the GSB defenders squirm and shift their stance was one of the bright spots of the week. The premise was that the pre-match protests had caused what one bright spark with a short memory described as our worst start in two years. Now that's a bold statement in itself given that that timescale contained a relegation battle. Still it was pointed out that, although few had been there at the time the team bus had passed, those who were there would have applauded the team through.
So the argument shifted again. It wasn't the protestors, you see, it was the banners they were carrying that proved so upsetting for the players. When it was pointed out that, even during lockdown, the banners had made their way to most matches last season, during which you might recall we actually won a few games, the argument shifted to, well I guess that they must still be working on it as they didn't seem to have a response to that. Meanwhile I would be a little concerned if I were GSB at the calibre of the sort of person who is carrying a flag for them at the moment – we cannot be far away from the point at which they start actively boasting that at least GSB haven't actually tortured or murdered anyone.
On the injury front we appear to have survived the break with no further worries other than any aches and pains Fornals might have picked up forcing himself into an EasyJet seat rather than using a private jet. Coufal took a break from international duty to have his groin rested whilst Fredericks is likely to be available if needed.
So the prediction then. We haven't got the greatest of records up there it has to be said though on paper the squads are well-matched. One would hope that we might provide a sterner test up there than Southampton, Burnley and Norwich have so far this season but on the whole I reckon that a point here will have been well-earned. So the £2.50 that would have gone on the purchase of a fit and proper certificate (I believe that's the going rate) will instead go on a draw. Make it 2-2 please Mr Winstone.
Enjoy the game!
When last we met at Goodison Park Won 1-0 Premier League
File under "not a classic". We had the majority of the chances before Soucek turned in a deflected Cresswell effort with 5 minutes to go.
Referee: Stuart Atwell
If we lived in olden times in which nicknames abounded, he would have gone down in history books as "Atwell The Perpetually Confused". In fact that's what he is probably called at PGMOL now.
Danger Man: Salamon Rondon
Has been known to score against us before and will probably get a runout if Calvert-Lewin is absent.
Percy's Poser
Last time we nicked the following from the Hounslow Chronicle:
Grandmother, 78, vows to defend allotment from Duke – armed with XXXXX XXXXXXX
Well done to Mrs Margaret Ting of Margaretting who spotted the missing words as "Giant Rhubarb".
This week we look at what is officially the worst local newspaper in the land, the Liverpool Echo. Half the sories in it seem to be about the City's drugs problem. Despite appearances to the contrary, our missing words headlie round actually isnt:
Village streets blanketed in XXXXX XXXXXX
Good luck everyone!
* Like to share your thoughts on this article? Please visit the KUMB Forum to leave a comment.
* Disclaimer: The views and opinions expressed in this article are those of the highlighted author/s and do not necessarily represent or reflect the official policy or position of KUMB.com.
More Opinion
Monday, 26th September 2022
Thursday, 22nd September 2022
Thursday, 22nd September 2022
Thursday, 22nd September 2022
Friday, 16th September 2022
Thursday, 15th September 2022