Filed: Thursday, 21st October 2021
It's time for another Preview Percy European Special as we play host to Belgians Genk. When we say "special"..., er,...
Next we return to Thursday Night League action as we play host to Belgians Genk. Kick off on Thursday night is 8pm so you may need a pass from the other half.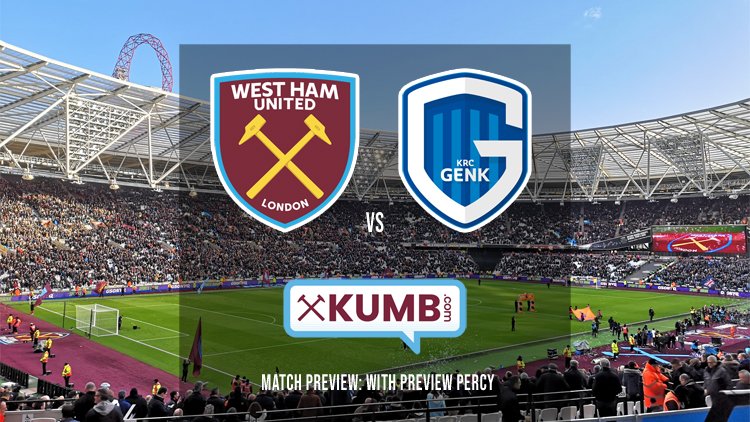 So Genk then. They were formed officially back in 1988 as part of a merger that included KFC Winterslag, a name that conjours up a vision of a Croydon single mum at her favourite "restaurant". Their blue kit has seen them gain the nickname "The Smurfs" alongside the slightly less imaginative "Blau-Wit" "Racing" and "KRC".
Their route to this one was a bit weird to be honest. Belgium has a playoff system to decide their title. Due to Covid this round of games was curtailed to involve only four teams and, unlike our knockout system used for promotion from the lower leagues, it's played out on a league basis. The teams enter the league with half the points gained during the regular season. Nobody knows why.
Genk finished the regular season with 56 points, some 20 points behind leaders Brugge. This translated to a 10-point gap come playoff time. Brugge had a bit of a 'mare, winning one and drawing three of their six matches. Genk on the other hand won five and drew one leaving them level on points with Brugge. Despite a much better play-off goal difference, Genk found themselves winning only runners up medals, the clubs' positions in the regular season being the determining factor. Which sort of made the whole playoff thing academic really.
So, having finished in second that put them through to the third qualifying round of the So Called Champions League, which trumped the Playoff Round of the Thursday Night League that they had qualified for by virtue of their picking up the Belgian Cup last season. Their stay in the more senior competition didn't last long, a 4-2 aggregate defeat to Shaktar Donetsk parachuting them straight into the group stage of the Thursday Night League. So at least they avoided the playoff round that they had already qualified for.
Their form in the current season of the Belgian League is somewhat indifferent. They currently have 17 points from 11 played, winning 5 drawing 2 and losing 4. Tellingly, three of those four defeats have come over the course of their last 5 matches, the latest reverse coming at Charleroi on Sunday where they went down 2-0. All of which has left them in 6th place. This is good enough for a second level playoff spot. Whilst the top four play off for little things like the title and the so-called Champions League spots, the last European place is contested by the teams finishing in 5th-8th place. Incidentally the team finishing second bottom also goes into a promotion/relegation playoff with a team from the second tier at the end of the season, just like we used to do. They like a playoff.
So far they have won one and lost one of their two Thursday Night League matches this term. A late winner saw then beat Rapid Vienna before they came a cropper against Dinamo Zagreb, losing 3-0 at home.
Daisy, the personal assistant with the beautiful smile from whom I no longer have to stay socially-distanced, has, as ever, been beavering away for information. They are managed by a chap by the name of John Van Den Brom, who, if his mates don't call him West for short they damn well ought to. VDB had a decent enough career as a player with spells at Vitesse (twice), Ajax, Istanbulspor and De Graafschap encompassing an 18-year career in which he also won a brace of Dutch caps.
Top scorer so far this season is Nigerian Paul Onuachu, who has nine to his name. It seems that the name of Danish outfit Midtjylland is never far from one of these reports lately, with all roads leading back to Jutland. A bit like six degrees of Kevin Bacon only the Bacon is Danish. This time the connection is that Onuachu started out in Nigeria at FC Ebedei, the Danes' African feeder club. They brought him back to Denmark where he scored 51 times in 134 games. Since his arrival in Belgium in 2019 he has matched that total, though it took him only 68 games to do so.
There is a familiar surname in the squad in the form of Joseph Paintsil. Further investigation suggests that, although he does have a brother, Seth, who plays professionally in Austria for Admira Wacker, he is no relation to John, our former player whose surname differed in spelling depending on whether you were looking at his signature or the back of his shirt. Joseph won't be about as he's been sent out on loan to Ankaragucu whilst John is currently on the coaching staff at Kaiser Chiefs, the South African side not the mediocre band whose reputation far outstrips any actual talent on their part.
First choice 'keeper is Maarten Vandervoort. He picked up the MOTM plaudits in that win in Vienna. He is remarkably young for a custodian, having turned 19 in February. Indeed he is apparently the youngest 'keeper in so-called Champions League history, playing at the age of 17 for the Genk side that went down 4-0 to Napoli a couple of years back. Unusually he seems to play in every game, Genk apparently eschewing the modern trend back-up players a chance between the sticks in cup competition.
Lovers of odd football club names – which, lets face it, is everyone – will delight in the fact that US-capped defender Mark McKenzie can count a spell at Bethlehem Steel on his CV. Local derbies against Bethlehem Gold, Frankincense and Myrrh apparently are not a thing. Steel are the nursery club for MSL's Philadelphia Union, for whom McKenzie went on to play in the top flight before signing a three-year deal to come to Belgium in the last winter window.
Shall we move on to the Wild And Wacky World Of Association Football™? Yes let's. The rumblings over the Newcastle takeover rumble on. The fans seem happy enough overall, turning up wearing tea towels as a nod to the Saudi Owners who aren't owning Newcastle at all honest guv. I guess there is at least some nod to geographical accuracy this time. One recalls them marking the signing of Brazilian Mirandinha with them sporting that most Mexican of millinery, the sombrero.
Such is the state of the club up there that they managed to lose to Spurs, a result that suggests that the Saudi Arabia, who do not actually own the club, may have to spend more of those petrodollars than they thought. Good job the price of unleaded is creeping up. Meanwhile one pundit suggested that Mark Hughes, would be the ideal replacement for Bruce. Of course the fact that the pundit in question was Richard Keys instantly sees all credibility out of the window. Even before you consider the fact that Keys' current gig is working for the Qataris who aren't exactly best pals with the Saudis, so it's not a comment to take too seriously.
Meanwhile one avenue of finance will, temporarily at least, no longer be available to the Geordies as Premier League clubs voted to ban sponsorship deals from owner-connected businesses. This move is designed to stop clubs, well Newcastle, from getting round FFP rules in the same way as Manchester City have been doing for years.
The way it works is thus: let's say you are a multi billionaire owner of a football club who happens to rule a country. You have pumped in all the millions that FFP allows but you want to put in more. So you get your airline, that you own to pay squillions to stick their name on the shirt. Maybe your national oil company, that you own, will pay a fat wadge to sponsor the training ground. You get the picture. At one point one of Man City's sponsors was ordered to pay them their FA Cup Winner's sponsor bonus even though they had lost to Wigan. The one month ban stops the Saudis, from putting sponsor money in until the idea is discussed in more detail. I suspect an 18-2 vote when they get round to it.
And so to us. I was pleasantly surprised at the way we played on Sunday. There had been signs of a lack of ideas in the first half against Brentford but we came out of the traps like Ballyreagan Bob up at Goodison. Actually talking about Brentford how funny was it to see them complaining about timewasting as Chelsea held on last week. I mean at least Chelsea left it to the second half.
Meanwhile up on Merseyside the only concern was that we might somehow throw all that good work away against an Everton side, whose pre-match 5th position did, as suggested, owe much to their having had slightly kinder opposition at home up to that point. Johnson did well filling in for Coufal on the right – I haven't had Daisy check the stat yet but I believe I read somewhere that we have yet to concede with him in the side.
Souceck was as hard as nails – whether Rondon's stamp was deliberate or not (it looks different from different angles) there's a pair of boots that he will have to ditch such was the damage Souceck inflicted on them.
Ogbonna looked back to his best – even without the goal and as for Rice, well even Everton supporters were seen doffing their virtual caps to the extent that the Liverpool Echo may have had to give the lad a positive score.
And so to this match. Well there will be changes again, of course. Dawson and Diop were preferred in the middle of defence against Rapid whilst Noble came in to partner Rice in midfield, something rendered more likely by the needlework across Soucek's face. This might be a game more up Yarmolenko's street as well so look out for a similar line-up to that which started against Rapid.
For the prediction I will have to go for a win. They have little in the way of squad depth which means that, although they have internationals a plenty in the squad, the chances of them having had much of a break will be low. They will also be without their right-back Munoz who picked up a red against Dinamo Zagreb in the last round. So the £2.50 that I was told I didn't have by a junior member of the bank staff only to be told by their boss that I did have those funds after all will be going on a 3-0 win to us. Make it so Mr Winstone.
Enjoy the game!
When last we met…….
We haven't. Sorry about that.
Referee: Donatas Rumsas (Lithuania)
Not shy of issuing a yellow or two. In a so-called Champions League qualifier earlier this season between Anorthosis and Beersheeva he issued 12 yellows and 2 reds and in his three subsequent matches he has shown 14 yellows.
Danger Man: Paul Onuachu
Apparently we made a discreet enquiry last summer. We disappeared at the words "£20m"
Percy's Poser
Last week we nicked the following from the Liverpool Echo
Village streets blanketed in XXXXX XXXXXX
Well done to Mrs Wilma Wilberforce of Pitsea who correctly identified the missing words as "white powder". Apparently they never did discover what it was. Allegedly.
As it's Europe it's time for "What's that helpful European Phrase?" Now in Genk they speak Flemish, a language regarded as an offshoot of Dutch. Which is a lot easier to translate than Flemish so here goes in Dutch…..
"Stuur me alsjeblieft naar de paraplu reparatiewerkplaats"
Best of luck!
* Like to share your thoughts on this article? Please visit the KUMB Forum to leave a comment.
* Disclaimer: The views and opinions expressed in this article are those of the highlighted author/s and do not necessarily represent or reflect the official policy or position of KUMB.com.
More Opinion
Monday, 26th September 2022
Thursday, 22nd September 2022
Thursday, 22nd September 2022
Thursday, 22nd September 2022
Friday, 16th September 2022
Thursday, 15th September 2022