Filed: Wednesday, 27th October 2021
We have built up quality selection of writers on the site. So why not come and visit our superstars. But first here's Preview Percy on Manchester City...
Next up we play host to Manchester City in the League Cup 3rd round. Kick-off is at 7:45pm and, should it be necessary, the tie will be decided by kicks from the penalty mark should the scores remain level after 90 minutes – no extra time. I believe that the tie is not on the usual live channels in the UK.
The EuMB guys may put something together
if the boss can rustle up enough of them not actually at the game.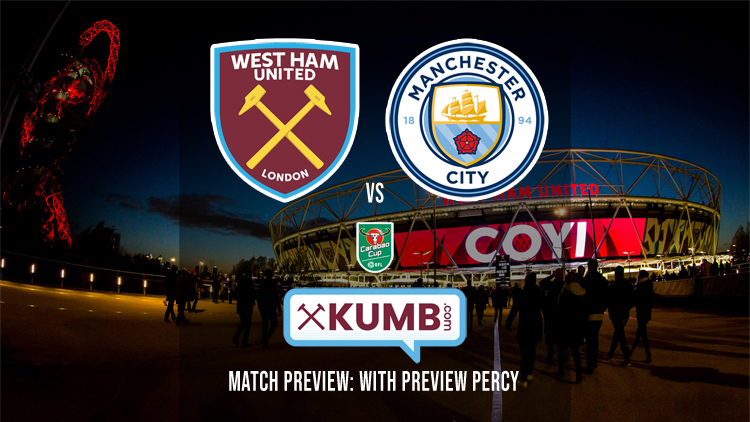 So City then. Or "City's superstars" as our marketing team notoriously referred to them a few years back in one of those PR gaffes that they love to write out of history. They are of course the current holders of the League Cup having won it for the past four seasons. Remember four seasons ago? It was about the time that Guardiola was proudly sporting some sort of ribbon in support of Catalan independence, a major point of conflict in Spain. The political gesture cost him a £20k fine but he continued to speak out on the subject until a bright journalist asked him his views on human rights abuses in the Middle East at which point he decided that politics were not for him after all.
This season started quietly for the Citizens (the proper non-trademark spelling of their nickname) – on the opening day they somehow contrived to get beaten 1-0 by Spurs at the toilet bowl, a result made more surprising by the added stat that they have yet to actually score in four visits to the publicly funded NFL stadium. Since then they have got back on track with successive 5-0 wins over Norwich and Arsenal (both at home), 1-0 away wins over Leicester and Chelsea, a 2-0 home win over Burnley and a 4-1 away win Brighton.
There's a pair of draws to recount as well, a 0-0 at home to Southampton was notable for a penalty and red card both being rescinded on review, saving City a likely goal and Walker a likely suspension. The other draw was a 2-2 affair at Anfield. All of this has got them tucked in at third place behind top two Chelsea and Liverpool and, with 20 points, three points and a place better off than ourselves.
None of which will be of any relevance to the League Cup, the 4th round of which they qualified for by virtue of a 6-1 defeat of Wycombe Wanderers. Six of that starting line-up were academy players, with DeBruyne, Sterling, Foden. Mahrez and Torres adding some first XI gloss to the side. Daisy, the personal assistant with the beautiful smile from whom I no longer have to remain socially distanced, has clearly had too much time on her hands of late, pointing out that the high number of Academy players in the side lead them to have an average shirt number of 49.7 in their starting XI. With three players in that side with numbers in the 90s we cannot be far away from the day when three figures appears on the back of someone or other.
Daisy says the they brought in three first teamers in the window. Goalkeeping cover in the form of Scott Carson was, in fact, already there, having been on loan from Derby County since August 2019, much, one suspects, to the relief of Derby's bank manager. The deal was made permanent on the expiry of Carson's contract with the Rams this summer.
Slightly more expensive at £100m was Jack Grealish. Grealish has talent a-plenty but is always going to be remembered around these parts for the ludicrous and embarrassing dives he insisted on performing. One of the funnier moments of recent times was watching Grealish go down after an innocuous challenge and screaming like he was a teenage virgin in a straight to DVD horror movie. Fredericks moved in to apologise only to be blocked off by Coufal who sent Grealish on his way with a flea in his ear. It's fair to say that Vlad had the measure of Grealish in their encounters last term, though it remains to be seen if either will feature in this one.
The third player to arrive has yet to make any real impression on the first XI. Kayky, an 18 year-old striker, arrived in the summer from Fluminese. His arrival was ahead of schedule, with an agreement for the deal to go through next January having originally been agreed. However, a last minute change of mind saw City pay £8m for the player this summer instead. Added to the first team squad – his shirt number is "only" 37 one might have expected him to play some part in the League Cup but to date he has yet to see any first team action.
Of course the big news in the summer was the transfer than never happened. £120m was the rumoured offer for Harry Kane, a move which Spurs supremo Levy turned down apparently. I say apparently, as those of us were present at the Olympic at the weekend could have been forgiven for thinking Kane had left in the close season, such was his lack of impact.
They will be without Torres who has a metatarsal injury – does anyone remember when metatarsals were the trendy injury to have? Youngster Liam "My Dad Has A Long Throw" Delap is a long term absentee with an ankle issue, whilst Sterling has a back problem which makes him an unlikely starter. Benjamin Mendy won't be playing for the foreseeable future being incarcerated as he is on charges of rape and indecent assault. He has had three attempts to obtain bail knocked back and is due in court on November 15 with a full trial due to take place in January.
I think we will move on to the Wild and Wacky World Of Association Football™ at this point. In Europe, Barcelona, Real Madrid and Juventus are still clinging on to the hope of setting up a breakaway "Super" League. Leaked documents suggest that the idea, which was clearly doomed from the minute the words "Tottenham Hotspur" were mentioned, is about to be relaunched.
Clearly labouring under the misapprehension that the opposition to the whole tawdry, money-grabbing enterprise arose from clubs cheesed off that they weren't invited, they have now scrapped the "permanent members" idea and decided to add a second division to the whole scheme. I'm willing to bet that there wouldn't be many members of the original group in that second division, which they are proud to boast, will be selected on merit based on teams' domestic performances. A Spurs' spokesman refused to comment until there had been official comment on the possibility of a third division being set up.
Meanwhile the usual media people were going into hyperbole over Liverpool's demolition of a Man Utd team so dreadful they too will be looking closely for the "Super" League Division 3 plans to come out. I say "team" – they were anything but. Even when they thought they had scored there didn't seem to be too much of an attempt to celebrate – yes there were 5-0 down at the time but you rather get the impression that Ronaldo isn't the most popular of team-mates. However, hats off to Gary Neville for what I presume was a brilliant but inadvertent commentator cock-up. Referring to the Pogba challenge that earned Veggie-Boots his red card, Neville offered the theory that Pogba "didn't have a leg to stand on". Keita probably begs to differ!
And so to us. Another day another three points. The reaction from the Spurs management was almost as deluded as that of their supporters, apparently we parked the bus, they controlled the game etc etc. There's a world of difference between sitting back on a deckchair with the Sunday papers and glass of orange juice, feet up whilst an opposition bereft of any intelligence or creative spark tries to work out how many combinations of players can be involved in manoeuvring the ball from touchline to touchline on the halfway line; and being battered by a side with a constantly varying attack. It was definitely the former we played on Sunday.
The latest Antonio goal celebration was a re-enactment from the overrated sci-fi movie the Matrix in which our striker seemed to be mimicking wooden actor Keanu Reeves' dodging of a bullet, presumably the same one Man City dodged when Kane didn't sign.
It is of course always sweet to win though I often feel a bit guilty about laughing too much at them. I mean pointing at Spurs supporters and laughing is a little bit like those Victorian freak shows where you would pay a penny to go and point at some poor hideously disfigured soul cowering in the corner having been conned by the circus owner that they will soon be rich. I'd like to think that we have moved on since those times. There again it's only Tottenham so laugh away.
For Wednesday night the big question for both sides is one of what sort of side the teams will put out. We will be missing Coufal and Kral their groin and Covid status ruling them out of contention. Other than that it's a full squad. We put out a fairly strong XI against their Salford neighbours the other week and I'd expect something similar or stronger this time around. They of course can make a number of changes and still field a side that might well be playing a league match a few weeks later. However the noises coming out of their camp suggest a similar split between academy and first XI this time around as they did against Wycombe.
They clearly like this Cup having made efforts to retain it for all those years. On the other hand these runs have to come to an end some time or another and over the last 12 months we have given them a decent game or two. For that reason I am in bullish mood and have decided to go all optimistic and place the £2.50 that was going to be given to some Victorian Freak Show owner on a home win instead. Make that 2-1 to us Mr Winstone – though I may have a cheeky side bet on it going to penalties.
Enjoy the game!
When last we met at the Olympic: Drew 1-1 (Premier League October 2020)
Antonio opened the scoring with a marvellous overhead kick and ought to have had a penalty which VAR looked at and inexplicably turned down. Foden levelled the scores early in the second half but Fabianski was equal to anything thrown at him.
Referee: Jonathon Moss
The referee whose existence is proof that the age-old question "who ate all the pies?" is not rhetorical.
Danger Man: Phil Foden
He may not even play of course but central casting's Manchester street kid is in a decent vein of form of late.
Percy's Poser
The Haringey local news section of the web was the source for the following missing words headline:
Visitors spooked by weird XXXX in Alexandra Palace
The missing word was of course "bird" – I think I met her once. Well done to Mrs Theresa McFisheries-Bathmat of Stansted Mountfitchet who was first out of the digital hat with the correct response.
This week we look at the Manchester Evening News from which the following headline was nicked:
Woman pays just 70p for XXXX XXXX XXXXXX XX XXXXXX
Best of luck!
* Like to share your thoughts on this article? Please visit the KUMB Forum to leave a comment.
* Disclaimer: The views and opinions expressed in this article are those of the highlighted author/s and do not necessarily represent or reflect the official policy or position of KUMB.com.
More Opinion
Monday, 26th September 2022
Thursday, 22nd September 2022
Thursday, 22nd September 2022
Thursday, 22nd September 2022
Friday, 16th September 2022
Thursday, 15th September 2022