Filed: Friday, 29th October 2021
Preview Percy is smugly reminding anyone who will listen that he predicted us to go through on Wednesday night. So that's smug AND irritating. Here is his smug and irritating look at this weekend's trip to Aston Villa...
Next up we trek up to the West Midlands where we will be hosted by Aston Villa. Kick off on Sunday is 4:30pm with coverage from Sky so you can pay to hear that bloke go "and it's live" as if people might complain if he didn't do it. Trains are all over the place in Essex with Ingatestone, Grays, Leigh on Sea being just three engineering work locations of note. Check before you leave etc.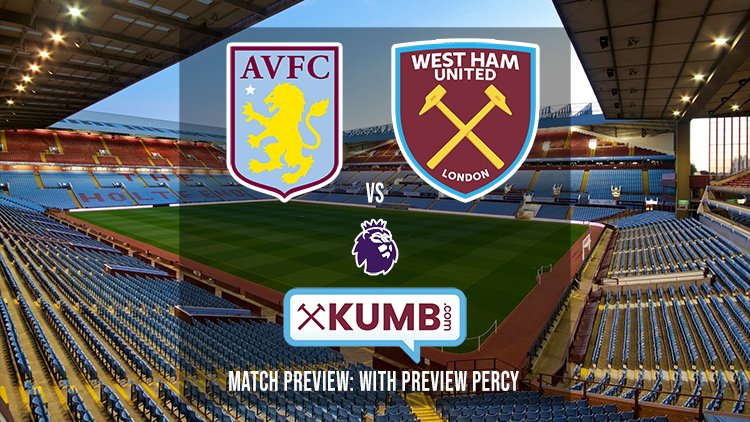 So Villa then. Well it's not been the most scintillating of seasons post-Grealish. Two late goals at Vicarage Road on the opening day couldn't disguise the fact that they had let in three to Watford. Since then they have won just the three: 2-0 at home to Newcastle, 3-0 at home to Everton and 1-0 at Old Trafford. In the middle of that lot there was a 1-1 home draw with Brentford and a 3-0 defeat at Chelsea and their last three have also ended up pointless, losing as they did 2-1 at Spurs, 3-2 at home to Wolves and 3-1 away at Arsenal. The defeat to Wolves must have been particularly galling, given that they were 2-0 up with ten minutes left to play. This has left them with ten points from nine played leaving them in 13th place, nine places and seven points behind us. They are also six points clear of the drop zone.
Daisy, the personal assistant with the beautiful smile from whom I no longer have to remain socially distanced, informs me that she was expecting to be rather busy for this week, given that our opponents went into the window with £100m stuffed in their pockets as a result of the sale of Jack Grealish to Man City. So what did Dean Smith spend the wonga on? Well the biggest fee was the £33m spent on Argentinian Emiliano Buendia.
The 24 year-old midfielder, who has reached U19 level with Spain and U20 level with Argentina was Norwich's player of the year last season and Arsenal were also said to be interested in securing the player's signature. Villa prevailed but his form has given cause for concern since his arrival. Regular readers will be aware of this column's penchant for highlighting the more unusually-named football clubs around the world and, it is with this in mind I highlight the fact that, whilst on the books at Getafe he spent time on loan at Cultural Lonesea.
Next most expensive arrival was Jamaican winger Leon Bailey. Bailey came in from Bayer Leverkusen having been in Europe since the age of 13, his adoptive Dad dragging him and his brother across the Atlantic in search of a club. After a lot of "nearly" signings, most of which seem to have been scuppered by the FIFA rules on transporting minors half way across the world he went through youth systems in Austria and Slovakia he ended up at Genk, one of the clubs he had nearly signed for when he first arrived from Kingston. He did well enough there to get the Belgian young player of the year award, catching the eye of Bayer Leverkusen, who shelled out €20m for his services.
His Jamaican debut was somewhat delayed, the plyer refusing to join up with a squad until standards improved. The then Jamaican coach put the blame on Bailey's Dad, claiming that he had put the block on everything. It look like relations had thawed enough by October 2018 for him to finally make his international bow. However he then refused to join the squad unless his brother, then playing in the second tier in Austria, was also included. Which makes you wonder if, perhaps, say Jordan Henderson is related to someone good. He finally got his first cap in 2019 and has been a fixture in the squad ever since.
A quarter of the Grealish bounty went on bringing Danny Ings in from Southampton. It seemed a surprising transfer – there was an air of "here to stay" about his arrival at St Mary's, not least because Southampton was his home town and most of his family are there or thereabouts. However, £25m was enough to test Southampton's resolve. I was surprised to see Daisy's note that the player is only 29-years-old – he seems to have been around forever. However, much of that time was spent at Liverpool, recovering from a serious knee injury.
Ashley Young returned to his former club on a free transfer from Inter Milan with whom he spent a season and a half following a cheap transfer from Man Utd. His first spell with Villa started with a transfer from Watford, him reportedly turning down a bid from ourselves as we were in the middle of a relegation fight. In the past he has had a reputation for being a bit of a diver, so at least Villa have replaced Grealish in one respect.
They picked up one loan signing in the form of England U21 central defender Alex Tuanzebe, who arrived on a season long deal from Man Utd. Wikipedia occasionally comes up with a fact that is clearly the result of someone editing the page for a laugh. However, there is genuine, verifiable photo evidence that Tuanzebe did in fact hold the world record for clearing Hungry Hungry Hippos. No I don't have a clue as to what the record was. Or indeed what the hell Hungry Hungry Hippos is/are. I just present the information Daisy gives me ok?
Let us move on to the Wild and Wacky World Of Association Football ™ shall we? And the revised "Super" League plans continue apace. Following Manchester United and Tottenham's example Bayern Munich were humiliated, going down 5-0 to Borussia Monchengladbach in the cup. With Barcelona and Juventus also suffering embarrassing reverses, the 3rd division of the proposed, well, competition isn't the word, will have more teams in it than the top flight. Wouldn't it be hilarious if whoever is in that top flight then stopped promotion, you know, like the organisers are planning anyway.
Elsewhere I was brought a news clipping referring to Ryan Reynolds and Rob McElhenny's plans for Wrexham. After reading through all the "Premier League? Why not?" stuff I can confirm the following: I've heard of Wrexham but have no idea who their owners are.
And so to us. In the past we have often been "sequence busters" for teams or players on bad runs. So it's most pleasant to report that we broke another sequence, that being Manchester City's five-year unbeaten run in the League Cup.
The Opposition View this week
was a mixture of Tottenham-style delusion and reasonable response. Those who used either of the phrases "parked the bus" or "playing for penalties" score particularly well on the "never mind the facts let's rationalise the hell out of this until it makes sense to us-ometer".
Yeah we got men behind the ball when they were in possession but there again had Vlasic and Soucek had their shooting boots on we could have had three goals or more of our own. As for "playing for penalties", oh purlease! It would take a rationale on a par with some of the more out there reaches of quantum physics to be able to translate the triple substitution introducing Benhrama, Fornals and Bowen – the best three attacking options available on the night – into an attempt to shut up shop and hope for spot kicks. They'll be moaning that Areola tried to save the penalties next.
Talking of whom, the 'keeper had a splendid game. Not just in terms of shot stopping – which has looked sound throughout – but also in terms of confidence, decisiveness and decision making. Whereas he had hitherto looked a little uncertain in some situations, he commanded his box superbly, coming for and getting crosses where appropriate and staying at home when that was required. Some of the takes, whilst looking routine, were harder than they might have looked and the effect that they had in taking the sting out of things cannot be overestimated.
Young Johnson also had a fine game – still no goals conceded with him in the side – but there again he usually does against those opponents. However overall you cannot help but note the strength of that performance as a team. When you play City you need all eleven to play as a unit. As soon as someone goes off-piste they will overrun you so the fact that we remained organised throughout was particularly impressive.
The late introduction of Coufal means that we are down to Alex Kral on the sick list. Hopefully he isn't feeling nearly as lousy as I did after my flu jab earlier this week. One would expect Rice, Antonio and Fabianski to return – yes we beat Man City without those three- and the form of Johnson has given Mr Moyes a nice problem to think about at right back now that Coufal is fit again. Oh Mr Johnson – if you're reading this Man City are missing one Raheem Sterling and would be grateful for any information you can give as to his whereabouts.
So we move on to the prediction then. On the one hand we have a side testing positive for confidence with a team spirit second to none. On the other, we have a team on a three match losing streak. This has all the hallmarks of one of those sequence busters I mentioned earlier. But not this time. There will be occasions where our confidence and optimism will need to be reined in a little, but I don't think this is one of those occasions. The £2.50 that was going to be spent on beer duty down at the Swan and Superinjunction will instead go on a wager on an away win. Make that 3-1 to us then Mr Winstone.
Enjoy the game!
When last we met at Villa Park: Won 3-1 (Premier League February 2021)
A brace from Lingard capped a fine debut, the opener coming from Souceck. I wonder if Lingard is rueing his decision not to better himself in the close season?
Referee: Chris Kavanagh
Notorious for his baffling decision to dismiss Balbuena last season against Chelsea, The red card was rightly overturned – the sixth out of 8 at that time that we had had overturned.
Danger Man: Danny Ings
Has been known to score against us…..
Percy's Poser
Last week we looked at the Manchester Evening News from which the following headline was nicked:
Woman pays just 70p for XXXX XXXX XXXXXXX XX XXXXXX
Well done to Mrs Gwendoline Tin-Bath of Fambridge for spotting that the missing words were "Five Star Holiday To Turkey" No jokes about her being overcharged please.
This week the Birmingham Evening Mail gives us this excruciatingly awful headline to play with:
Corporation Street tram line is XXXX XX XXXXX
Best of luck!
* Like to share your thoughts on this article? Please visit the KUMB Forum to leave a comment.
* Disclaimer: The views and opinions expressed in this article are those of the highlighted author/s and do not necessarily represent or reflect the official policy or position of KUMB.com.
More Opinion
Monday, 26th September 2022
Thursday, 22nd September 2022
Thursday, 22nd September 2022
Thursday, 22nd September 2022
Friday, 16th September 2022
Thursday, 15th September 2022