Filed: Friday, 5th November 2021
Fourth in the league. Through to the knockout stages in Europe. Quarter final of the League Cup. All nice. So let's bring the mood down with Preview Percy and this weekend's visit of Liverpool...
Next we return to Sunday action where we will be at home to Liverpool. Kick off will be 4:30pm and Liverpool's own in-house broadcaster, otherwise known as Sky Sports will be on duty for televisual purposes.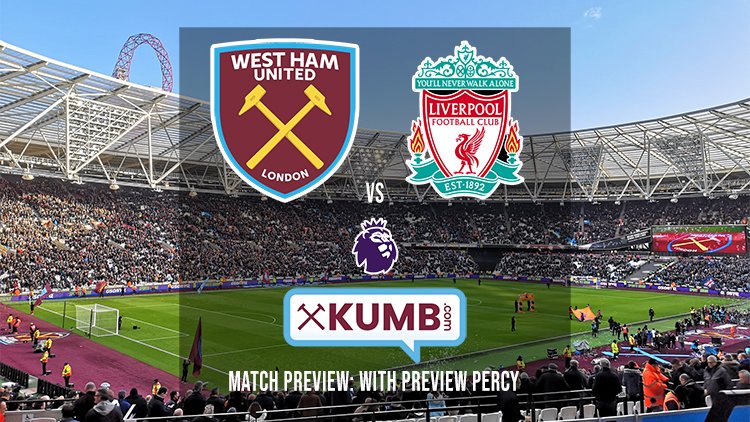 So Liverpool. Another one of the so-called "Super League" clubs who wanted to leg it for an alternative reality in which even more of the cash ended up in the hands of the favoured few. We shouldn't be surprised really – they have previous.
They were instrumental in the change in rules that took place in the 1980s that brought to an end the almost 100 year-old practice whereby gate receipts were shared between clubs, something that was one of the founding principles of the Football League. Such was the stink over the "super" league affair that even their supporters – who have a history of turning blind eyes to some of the dodgier practices the club has gotten away with over the years – were up in arms. Indeed Bill Shankly's grandson was heard to muse on the subject suggesting that Anfield was possibly no longer a suitable venue for his Grandad's statue.
Having performed a 180 on the subject they have returned to Premier League having had a ridiculously tiny fine for breaching three or four serious rules and are currently second in the league they don't want to be in, having won six and drawn four of the 10 played so far. It was a nice friendly start to the season with wins against Norwich and Burnley filed under "routine". They dropped two points at home to Chelsea who were 1-0 up and looking the better side until James scooped a ball off the line with his arm giving Liverpool both an equaliser and a one-man advantage in the second half, an advantage they failed to turn into a win.
Leeds and Palace were dispatched 3-0 apiece but more points were dropped against Brentford (3-3) and at home to Man City (2-2). A couple of 5-0 wins against Watford and Man Utd was followed up with a 2-2 draw against Brighton, the Seagulls being a bit unlucky not to take all three points from Anfield despite being 2-0 down.
All of that has left them in second place, three points behind Chelsea and two ahead of us.
Daisy, the personal assistant with the beautiful smile from whom I no longer have to remain socially distanced tells me that they only had the one transfer in during the summer window. £36m was the fee paid to fizzy drink Leipzig for defender Ibrahim Konate. He's been used sparingly so far with just the three starts to date, the most recent being the 5-0 at Old Trafford when he might have well have brought an improving book to read. A Parisian by birth he has been capped at every level bar full by
Les Grenouilles
though the Mali of his antecedents are said to be keeping a close eye on things should his international progress in France stall at its current level.
One of the funniest things to encounter in the summer was the Liverpool Echo campaign, for that's what it was, to have Declan Rice replaced in the England team by, wait for it, Jordan Henderson. Never a paper to upset its target audience by bothering it with little matters like the truth, the constant references to "Southgate's biggest mistake" have at least been toned down a bit since thoughts of replacing their clapped-out Vauxhall Vectra Henderson with a Rolls Rice started to occur to them.
Now if all you want is a player to keep finding touch, whether by design or accident, then Henderson is your man, that seeming to have been his role in the England team. Personally I prefer some quality in an England side as opposed to players who wouldn't have gotten a sniff of a cap had they been at any other club.
Of course it's not just the Liverpool Echo that seem in thrall to a club whose league title count since the back-pass law changed is the same as Leicester's. The latest piece of nonsense is the touting of Salah as the best player in the world by the BBC. This apparently is a title you get when you look good against Norwich and Palace. It's a far cry from the likes of Pele, Cruyff and the like none of whom were noted for their ability to throw themselves to the floor.
On we go to The Wild And Wacky World Of Association Football™. Spurs carry on providing the source of much mirth, going to all the effort of looking up the Spanish for "welcome" in announcing the arrival of new boss Conte. That's the decidedly Italian Conte. Perhaps they are just going to try a new language every week? Conte at least didn't seem too upset unlike Harry Kane who had such difficulty with the club's "welcome back from the Euros" tweet earlier this year that he tried to leave the club, the main problem being that the tweet was in English.
And so to us. Well you know that cliché about games of two halves? Well, that. In the reverse fixture Genk had shown some early promise by playing balls into the channels and letting their players test our defence for pace. It was a lesson forgotten as the lively Paintsil (as opposed to the unlively version who played for us) gave Diop a torrid time.
It was not Diop's finest 90 minutes for us, his laboured jog in pursuit of Paintsil's actual sprint setting the tone for what is probably the worst half of football we have played this season. Thankfully Areola was as on form as the rest of the team, with the possible exception of Benhrama, wasn't. That and the fact Onuacha was suffering from Peter Crouch syndrome (surprisingly poor in the air for someone so tall) meant that we were relieved to go in at half-time with only a one-goal deficit.
We had showed some promise towards the closing stages of the first half and that carried forward into the second spell. Benhrama had shown that the Genk defence didn't enjoy having someone running at them and it was he who both started and finished the move for the equaliser. His second goal was a marvellous solo effort, catching a Genk defender back on his heels in a manner that suggested that Diop had been giving tuition during the interval.
We were as good in the second half as we had been awful in the first so it was frustrating to give away the late equaliser in such an awful fashion, as Soucek channelled his inner Iain Dowie to power his header past the helpless Areola. Especially as we had some good chances in the minutes that remained to put us straight through to the last 16. As it is we are at least in the last 32 and, if we can pick up three points in Vienna that will be enough to give us a couple of extra Thursdays off.
At the time of writing we have no further injury concerns according to the usual sources, so look out for what is a fairly settled first XI to take the field on Sunday, the Coufal-Johnson conundrum being the key area of consideration.
Prediction? Well a win shouldn't be out of the question as long as we can avoid the self-inflicted harm of paying them far too much respect, which was our downfall against them last term. Of course you have to factor in the elephant in the room of the incredibly dubious refereeing that they seem to get.
They salvaged a point against Athletico Madrid a couple of weeks ago when the ref overturned a blatant penalty on the grounds that the Liverpool defender only used both hands in pushing the attacker to the floor. That's the sort of thing that referees love to give them. We will also be treated, and I use that word quite incorrectly, to the twenty yard corridor where the cynicism of the tactic of giving away consistent if innocuous fouls in order to break up play ten yards either side of the half way line, will be matched only by the officials' reluctance to actually punish anyone for doing it.
So with that in mind I am going to plump for a draw. Mr Winstone, please can I put the £2.50 that I was going to use to buy an Italian phrase book to send to Spurs on a score of 2-2.
Enjoy the game!
When last we met at the Olympic Lost 1-3 (Premier League January 2021)
Salah conned Moss a couple of times early on meaning that defenders were terrified to go anywhere near him lest he throw himself to the ground. The result was that he scored twice with Wijnaldum adding a third before Dawson's late consolation. We played the reputation not the rather ordinary team we actually faced. With predictable results.
Referee: Craig Pawson
Notoriously gullible which against these opponents does not bode well. Still at least he is not Mike Dean, which may be the nicest thing anyone has ever said about him.
Danger Man: Mo Salah
Football's Dennis Waterman – he dives for the penalty, he wins the penalty and scores the penalty.
Percy's Poser
In midweek we had another round of our popular
(It really isn't – Ed)
game "What's that helpful European Phrase?"
We gave you the following Dutch phrase to translate:
Ik volg Spurs - kun je me naar het kampioenschap verwijzen?
Well done to Mrs Juliette Sporano-Ukulele of Brightlingsea for spotting that the useful phrase was "I follow Spurs. Please can you direct me to the Championship".
Back to the league and it's back to our usual missing words round. This week we manage to combine the two sections of the Liverpool Echo that seem to be respnsible for 90% of the paper, namely football and crime. Find the missing words from this headline:
Former Liverpool FC youngster found with £578 XXXX XX XXXXXXXXXX
Good luck everyone!
* Like to share your thoughts on this article? Please visit the KUMB Forum to leave a comment.
* Disclaimer: The views and opinions expressed in this article are those of the highlighted author/s and do not necessarily represent or reflect the official policy or position of KUMB.com.
More Opinion
Monday, 26th September 2022
Thursday, 22nd September 2022
Thursday, 22nd September 2022
Thursday, 22nd September 2022
Friday, 16th September 2022
Thursday, 15th September 2022