Filed: Friday, 19th November 2021
He's had an international break so Preview Percy should be all refreshed for his return to preview action for this weekend's trip to Wolverhampton Wanderers. He probably isn't though...
We return to league action with a trip to Molineux where we will be hosted by Wolverhampton Wanderers. It's a rare Saturday 3pm kick off. Engineering work between Shoeburyness and Leigh so make sure you leave in time for the trip to Euston. Also, if you were planning of using the tram network up there, forget it. All services on the West Midlands Metro have been suspended following the discovery that the wheels had more cracks in them than metal. Check before you leave as ever.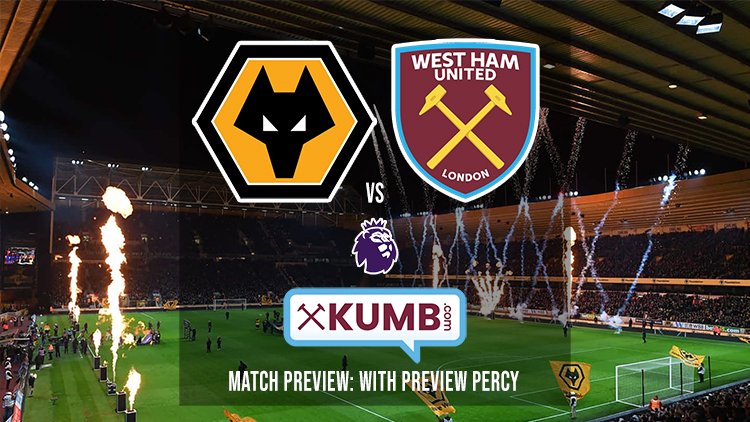 Wolves then. No doubt they will be paying tribute to the late Ron Flowers who, despite the "1950's-ish" name was actually part of England's 1966 World Cup squad albeit unused. Hat duly doffed.
Wolves are of course under new management. Nuno Spirito Santo left in the summer to take Spurs to the promised land of the top ten and is now having a rest having achieved that aim. Wolves continued with the Portuguese theme by bringing in former Benfica coach Bruno Lage. Lage's management career has been spent largely in the backrooms of European football, either with youth teams, "B" teams or as assistant to first XI coaches. Such was his role at Sheffield Wednesday and Swansea with whom his previous three year spell in English (and Welsh) football was spent.
After leaving Swansea he went back to Portugal to work with the Benfica B team, having run the youth teams there previously. A mere six months into the role he found himself donning one of those brown overcoats as caretaker manager for the first XI after a bad run saw Rui Vitoria given the boot. Lage not only got things on an even keel, he actually won the title, winning numerous Lisbon derbies and thrashing Portugal's equivalent of Spurs 10-0 in the process. The brown overcoat was promptly handed back as the word "caretaker" was removed from the job title plate on his office doors. However, despite taking the Portuguese Super Cup at the start of the season, he stood aside for his own assistant following a bad run and was finally sacked in July 2020.
Following his arrival at Molineux they had a start best described as "lousy". They lost their first three matches 1-0, those being away at Leicester and at home to basket cases Spurs and Man Utd. They then won five of their next eight, with a defeat at home to Brentford and a draw at Leeds being the only blips in a run that finally came to an end with a 2-0 defeat at Crystal Palace just before the break. This has left them with 16 points from 11 games, good enough to keep them in 8th place over the overachieving Spurs in 9th on goal difference.
Daisy, the personal assistant with the beautiful smile from whom I no longer have to remain socially distanced, tells me that four first team players arrived during the summer window. Colombian central defender Yerson Mosquera for an undisclosed fee said to be about £4.5m. Only 20 he has yet to be capped at full international level and the fact that his sole appearance to date has come in the League Cup suggests he's on the "one for the future" list, particularly since he arrived after only 16 first team appearances for Athletico Nacional.
Left back Rayan Ait-Nouri's signing is in fact the making permanent of a loan deal agreed back in October 2020. He made 21 League appearances last season, prompting Wolves to exercise the option for £9.8m.
They have a new first choice custodian of the onion bag on board. Jose Sa replaced Rui Patricio who left for Italy in the close season. The Portuguese (of course) keeper came in for €8m (around £7m give or take) from Olympiakos and has been capped at every level up to and including Under 23 level and has started all 11 league matches this term.
Hungarian right back Bendeguz Bolla probably hasn't seen Wolverhampton yet, having immediately been sent out to Grasshoppers on loan, so we wont dwell on him. However the two loan signings that arrived are of more interest.
Portuguese (of course) winger Francisco Trincao is on a season's loan with an option from Barcelona, who paid his previous employers Braga €31m (around £27m) for him back in 2018, slapping in a £500m buy-out clause in for good measure. I rather suspect that if/when Wolves make the deal permanent the actual fee will be a bit less than that. Just call it intuition.
The other loan arrival was striker Hwang Hee-chan, who is on a season long loan from Fizzy Drinks Leipzig. He is nicknamed "Bull" by his South Korean compatriots. The nickname has nothing to do with the former Molineux favourite of that name but is said to be an amusing pun on his name in Korean. Those wacky Koreans eh? He is their top scorer – though such is the number of times you hear his name being mentioned in reports I had it in my head that he had considerably more than the four goals he has to his name. I should pay more attention I suppose.
And so on we go to the Wild and Wacky World Of Association Football ™. It's been World Cup Qualification time of course. South Africa have asked for their qualifier against Ghana to be replayed following a string of questionable decisions by the referee. The authorities here are looking on nervously, worried that it will take until the year 3000 to clear the backlog of replays if they had to undertake a similar review of PGMOL's output.
The international break finished up with England qualifying for the World Cup, Spurs fans hailing Harry Kane as "world class" for his four goals against San Marino. I'm not sure where that leaves me given that I once scored six goals for Midland Bank FC in a Southern Amateur League match in 1986 against Barclays. I know it wasn't a World Cup match but it was still a double hat-trick against a team comprised of bank officials so on that logic...
In the League Norwich didn't appoint Frank Lampard Junior as their boss, Lampard presumably having worked out that the fact that he hasn't been a very good manager to date might just be exposed in the harsh reality of a likely East Anglian relegation. Dean Smith has taken on the job so look forward to players rolling around the pitch as they beat their inevitable path back to the second division.
And so to us. Well the win was highly deserved against a Liverpool side that came with their usual sense of entitlement based solely on the fact that that they have been cheating referees for so long they can't believe it when they still don't get a decision. The so-called foul on Allison which two weeks later he is still lying through his teeth about wasn't a foul. The dive from Salah was pure and simple cheating, something that the world knows that is a trademark of both Salah and his club. Indeed the late chance that would have brought them a totally undeserved equaliser came as a result of another illegally-gained free-kick.
PGMOL made great play of announcing that from this season they would actually apply the laws of the game as always intended with regard to simulation as they always were supposed to be applied, rather than the interpretation that teams like Liverpool have been peddling to cover up the fact that they have got the art of cheating down to a fine art. No more will players be able to go down under the slightest bit of contact, they proudly announced. Well 24 hours before our game Newcastle gave away a penalty to Brighton where, although there had been contact, the striker went down only as an afterthought after seeing that he would not get to the ball. When I saw that one I feared that we would be on the receiving end of one of those against the specialists. I wasn't wrong, was I?
The win – for which six points ought to have been awarded given we faced 12 men – sees us in third place – off second only on goal difference. The win serves to highlight the difference between us and certain supporters from North London. Whilst they would be full of talk about winning the league (no really) and the So-Called Champions League, we are full of self-deprecating humour about being "massive" and how another 17 points should see us safe from relegation. As I said this time last year it's by far and away the best attitude to take – enjoy the ride, don't have too much in the way of expectation and see where we end up.
On the injury front Rice should have recovered from the flu – hey Liverpool Echo funny how Rice bossed that game whilst ill isn't it? Ogbonna's knee will keep him out for a while, Jota's assault, disgusting though it was, not being too long term an issue. Expect Dawson to step in alongside Zouma. Both Yarmolenko and Vlasic are said to have had minor knocks keeping them out of contention in recent weeks but they ought to be there or thereabouts.
Prediction. Well old school West Ham would follow a win against high flyers with a defeat to someone less exalted. But as I mentioned in a recent treatise on our old habit of "sequence busting" those days seem to have gone. Although the home side can on their day give many teams a game I reckon that this will be one for us. Let's spend the £2.50 that would have gone on a condolence card for the poor hard done by supporters of Liverpool on a win – make it 2-1 to us Mr Winstone – with the usual rule about this weekend's referee applying.
Enjoy the game!
When last we met at Molineux: Won 3-2 (Premier League April 2021)
Lingard Fornals and Bowen sent us 3-0 up in the first 40 mins though a Dendoncker header just before the interval gave the home side a bit of hope. Silva pulled another back with 20 minutes to go but we saw out the closing stages relatively comfortably despite being without Ogbonna and Rice and losing Antonio early on.
Referee: Mike Dean
I guess we did well to avoid him for this long this season. Appears to reach into a hat to decide which laws of the game he will apply for any given match, tossing a coin to decide whether the interpretation will be "sane" od "Dean". It's then down to the players to work it out. The good news is that Winstone The Turf Accountants automatically refund bets where the result has been affected by his dishonest behaviour, something that has saved me thousands over the years. Refereeing standards in this country will improve by millions of percent the day he retires. They will still be poor though.
Danger Man: Hwang Hee-Chan
Hasn't scored as many as I thought but still their top scorer so far.
Percy's Poser
A couple of weeks ago we asked you to complete the following headline:
Former Liverpool FC youngster found with £578 XXXX XX XXXXXXXXXX
Well done to Mrs Sarah Obvious-Dive for spotting that the missing words were "Cash In Underpants"
This week we look at the Wolverhampton Express & Star from which the following tale of woe and violence was taken:
Customers hit each other with XXXXX XXXXX during scrambe for food at Wolverhampton Asda
Good luck everyone!
* Like to share your thoughts on this article? Please visit the KUMB Forum to leave a comment.
* Disclaimer: The views and opinions expressed in this article are those of the highlighted author/s and do not necessarily represent or reflect the official policy or position of KUMB.com.
More Opinion
Monday, 26th September 2022
Thursday, 22nd September 2022
Thursday, 22nd September 2022
Thursday, 22nd September 2022
Friday, 16th September 2022
Thursday, 15th September 2022