Filed: Saturday, 27th November 2021
Preview Percy is off away for a break soon. We did call the UK Borders Agency to see if they would consider not letting him back into the country but they told us to go away. Here's his look at the weekend's trip to Man City...
Next up we venture to Manchester where our hosts will be the current reigning champions Manchester City. Kick-off on Sunday will be at 2pm. The match doesn't appear to be on the coverage list for any of the usual broadcasters in the UK so you'll have to do some fiddling about if you're not going to the game. Or catch up with the guys at Eyes Up Mother Brown who, if they spot an opponent diving will at least mention it, unlike some commentary teams.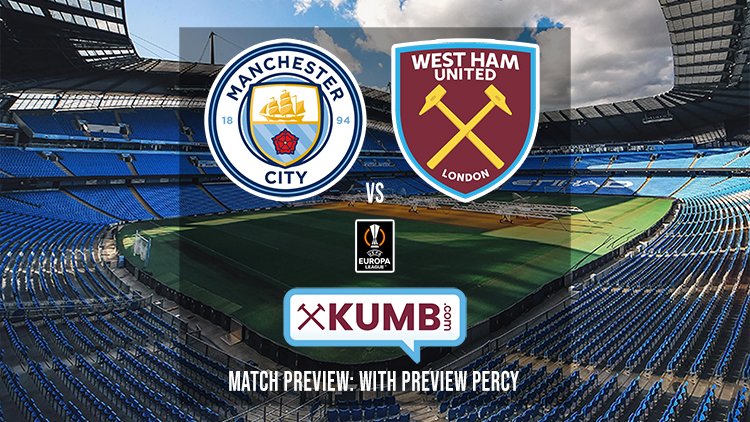 On the trains, whilst there will be a full service between Euston and Manchester there is a vague note about trains leaving "slightly earlier than usual" whatever that means. Check before you leave and all that.
So Manchester City then. Since we last met they have played three in the league. They rather surprisingly went down 2-0 at home to Palace, two sucker punches against a team who were time wasting 20 minutes into the game and playing with ten men for the second half doing for them. They followed this with a 2-0 win at Old Trafford that was so comfortable it appeared that City had declared at two, the home side seemingly being so aware of the fact that they were unlikely to score that they didn't waste valuable energy in trying.
Their last outing in the league was a comfortable 3-0 win over Everton which left them in 2nd place 3 points behind Chelsea who have 29 points. City's 26 points are three more than we have got and are good enough to give them a two place advantage over ourselves.
Daisy, the personal assistant with the beautiful smile, is rather grateful that we have already played them this season, as it means all the leg work – and lovely legs they are – on the new signings that they brought in over the summer has already been done. This means that, in the rush to get these previews written before we depart these shores for a well-earned break we have one fewer bunch to deal with. So what follows may seem familiar. Look on it as less of a cut and paste job and more of an
aide memoire
and we'll all get on fine.
They brought in three first teamers in the window. However, one of those - goalkeeping cover in the form of Scott Carson - was, in fact, already there, Carson having been on loan from Derby County since August 2019, much, one suspects, to the relief of Derby's bank manager. The deal was made permanent on the expiry of Carson's contract with the Rams this summer.
Slightly more expensive at £100m was Jack Grealish. Grealish has talent a-plenty but is always going to be remembered around these parts for the ludicrous and embarrassing dives he insisted on performing. One of the funnier moments of recent times was watching Grealish go down after an innocuous challenge and screaming like he was a teenage virgin in a straight to DVD horror movie. Fredericks moved in to apologise only to be blocked off by Coufal who sent Grealish on his way with a flea in his ear. It's fair to say that Vlad had the measure of Grealish in their encounters last term, though Johnson has made himself first choice on that side.
The third player to arrive hadn't made any real impression on the first XI when we played them in the League Cup and that hasn't changed in the intervening weeks. Kayky, an 18 year-old striker, arrived in the summer from Fluminese. His arrival was ahead of schedule, with an agreement for the deal to go through next January having originally been agreed. However, a last-minute change of mind saw City pay £8m for the player this summer instead. Added to the first team squad – his shirt number is "only" 37 one might have expected him to play some part in the League Cup but to date he has yet to see any first team action.
On the injury front, a broken metatarsal will keep Torres out for some time. Jack Grealish picked up a knock on one of his diving muscles whilst away on international duty but is said to be likely to be fit to pretend to be injured by the time Sunday comes around.
Arguably the most high profile absentee will be Benjamin Mendy. Since we last looked at Man City further charges have been added to the very serious charges he already faced and he remains on remand. Although he has not (as far as I am aware) been charged with impersonating a Chelsea goalkeeper that didn't stop some news agencies using photos of Edouard Mendy in reporting the case. At best one would call that lazy.
And so to the Wild & Wacky World Of Association Football™. And, with the wheels having come off with Ole at the wheel Manchester United they have appointed former Hammer Michael Carrick to run the shop until they get an interim replacement. Or a full time one. It seems the powers that be behind the scenes aren't quite sure what they want.
It has been reported that permission has been denied to them to speak with Mr Moyes. When I saw the headlines to that effect my first thought was this was one of those faux denials that come out from time to time. You know like when I announce my retirement from international football or issue a denial that there is any romantic link between me and the wonderful Victoria Coren Mitchell. However, reading the article itself it does suggest that a request for a chat was made and rebuffed in pretty short order. Whatever the truth I'd like to confirm that, whilst Henderson continues to be picked, I'll be available for England selection.
At this point I would normally move onto us. There would follow a few words about our last match an update on any injury issues and a possible line or two on the subject of team selection. However that's not going to be possible due to travel commitments requiring me to write this so far in advance Declan Rice hasn't been born yet, Probably.
So I will move swiftly on to the matter of the prediction, which I will base on the premise that a) there won't be any freak weather preventing the game from going ahead, b) we have, Ogbonna excepted, a full 1st XI squad will be available to choose from and c) Declan Rice's Mum will have dropped by then.
City are good - with all that money it would be nigh on impossible not to be. However, they are not infallible as a team as bang average as Palace proved a few weeks ago. Also, our last few matches have shown that we can give them a game. Even if you count the League Cup win as a draw they have not had the easiest of times against us – indeed Guardiola is on record as saying as much.
Much will depend on how we react to the Wolves off day and how much is taken out of the side by the trip to Vienna. I'm going for us to react positively. While a win shouldn't be out of the question I think we need to be a bit more realistic though so I am going to put the £2.50 I was going to spend on an "It's A Boy" card for Mr & Mrs Rice on a creditable and battling draw. Make it 2-2 please Mr Winstone.
Enjoy the game!
When last we met at the Ethiad: Lost 2-1 (Premier League February 2021)
Ruben Diaz converted De Bruyne's teasing cross as he got between the defenders and Randolph, a stand in for Fabianski who had had someone stand on his arm during training. We weren't overwhelmed though and Antonio hit the post before getting on the end of a fine move to level the scores before the interval. Stones restored the lead with 20 minutes left and Diop only had to get his late header on target to bring their 20 game winning streak to an end. Unfortunately he didn't
Referee: Michael Oliver
If ever the words "vastly overrated" were appropriate it is with this official who seems to miss one hellova lot for a top flight referee. Frequently referred to by commentator Alan Green as "the league's best referee" which tells you a lot about both individuals, putting one in mind of the time that Robert Mugabe was awarded a peace prize by the Chinese.
Danger Man: Bernardo Silva
With De Bruyne not being quite the player we know he can be Silva has quietly become more and more influential as the season has progressed.
Percy's Poser
In midweek we played "What's that helpful European Phrase?"
Bitte kann ich einen Shellsuit, etwas Schuppenshampoo und eine Adele-CD haben. Ja, ich unterstütze Spurs.
Well done to Mrs Myrtle Aluminium-Pluviometer for spotting that the English translation of that was *please can I buy a shell-suit, some dandruff shampoo and an Adele CD? Yes I support Spurs"
It's back to missing words as we ask you to pick the bones out of the following:
Area to miss out on roads cash but councillor insists XXXXXX XXXX XXXX X XXXX"

Good luck everyone!

* Like to share your thoughts on this article? Please visit the KUMB Forum to leave a comment.

* Disclaimer: The views and opinions expressed in this article are those of the highlighted author/s and do not necessarily represent or reflect the official policy or position of KUMB.com.



More Opinion
Monday, 24th January 2022
Monday, 24th January 2022
Sunday, 23rd January 2022
Saturday, 22nd January 2022
Friday, 21st January 2022
Friday, 21st January 2022