Filed: Tuesday, 21st December 2021
When last Preview Percy put pen to paper PGMOL's finest had had a bad week even by their poor standards. However it seems that they were just warming up for last week's catalogue of disasters. All of which are reflected in his look at the forthcoming League Cup QF visit to Tottenham...
Next up it's Spurs away in the quarter final of the League Cup. Kick-off at the Toilet Bowl on Wednesday is 7:45pm. If the scores are level at full time it will, as has been the case all the way through this season, mean that we go straight to penalties without extra-time. This is the last stage of the competition to which this applies incidentally.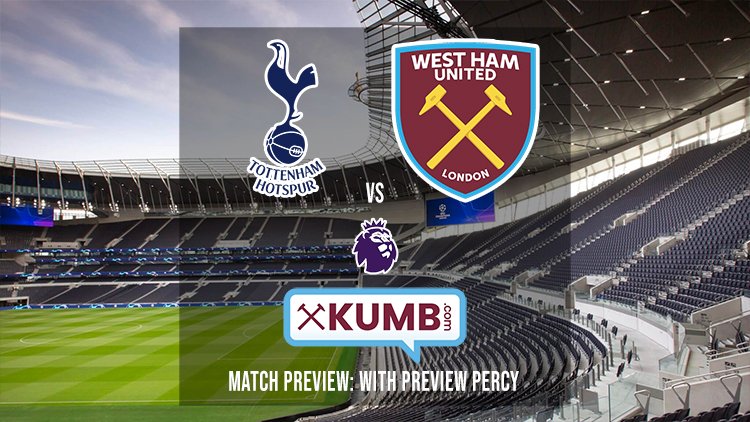 If you are going make sure that your Covid documentation is all up to date. Although this was supposed to be checked at Arsenal, not one person challenged me on the way in. Given the state of play at the moment with talk of further lockdowns, circuit breakers etc I suspect that these things will be taken a bit more seriously this time around. Get there in good time to have the paperwork looked at and make sure you wear a mask – after all you will be at Tottenham and who knows what you might pick up from there.
Well they have improved a little since we last met when, despite having got them into the top half of the table Nuno Espirito Santo was sacked, presumably of the assumption that since they were one of the so-called super league six they ought to be higher. No really. Antonio Conte has arrived since and they have hit upon the novel idea of going weeks unbeaten mainly by virtue of not playing any matches in the first place. What they would probably think of as a "light dusting" of snow up in Burnley (ie anything under 6ft) put paid to that match. Then an outbreak of positive covid tests put paid to away matches at Brighton and Leicester as well as the European Isthmian League group Decider against Rennes.
"Oh we really want to play it" was the mantra that kept coming out of N17. However, with a non-extendable deadline of 31 December looming Rennes were awarded the game 3-0 which is the usual result when teams don't fulfil fixtures in UEFA competitions. For all the apparent whining over how unfair it all was one can't help but think that the tears are a little bit crocodile in nature, the decision allowing them to claim their elimination from the Poundland version of European football was down to an administrative decision rather than, as was actually the case, their failure to get so much as a point in that match against Slovenia's 5th best football team the other week.
In the League Cup they blew a 2-0 lead up at Wolves before eventually scraping through on penalties. Then they notched a 1-0 win up at a snow-free Turf Moor in what was Nuno Espirito Santo's penultimate match, the defeat to Man Utd a few days later finally sealing the Portuguese boss's fate.
Daisy did all the stuff about the signings a few weeks back so we will have a look at their last match in detail. Well there is a coffin in which any thought of defending the complete and utter shambles that is English refereeing should be buried. There is no room for any more nails for the lid. The Spurs v Liverpool game contained the worst refereeing display since, well last Wednesday (more of which later). That itself was the worst display since the preceding Saturday which… and so on ad infinitum.
Kane should be looking at a three-match Christmas break after a challenge that Robertson was lucky to survive. The tackle saw the repetition of the phrase "he's not that type of player" in connection with Kane. I'd say that by its very repetition the use of that phrase so many times proves the complete opposite.
Ref Tierney's explanation for not giving Liverpool a penalty seemed to be describing a completely different incident. However, it's still difficult to feel any sympathy for Liverpool. As Klopp put it they "have no problem with any other referees" – largely because the others give that sort of decision week in week out in favour of the scousers. However, whilst Klopp's cynical bunch of diving cheats get away with murder pretty much all season the fact that they got one going the other way for once doesn't even start to even things up.
It was slightly refreshing to hear Alan Shearer calling out Mike Riley for his inaction in doing anything about the appalling standards that PGMOL seem to think are acceptable. MIke Dean for example is now so untouchable that he can get away with endangering the safety of players as a matter of course. What we need now is for the FA to get off their backsides and undertake a proper review of refereeing – and unlike previous reviews which suggested that monitoring be taken out of the hands of PGMOL – if there are any useful proposals coming out of the review they should actually be implemented and not hidden in the shed at the bottom of the garden alongside the recent internal review into the PFA.
I realise that that little rant pretty much covers The Wild And Wacky World Of Association Football so I will move on to us – warning I may mention referees here too. With Norwich all poorly we go back to the last match against Arsenal. Well as poor as we were we were still in with a chance right up until the point at which Anthony Taylor was appointed. Faced with a side whose principal tactic seemed to be to feign injury at every conceivable point Taylor fell for every dive, every clutch of the face, every writhing in agony going.
It seems that finding themselves bottom Arsenal gave up playing football and went the full Pulis. Clutching faces for imaginary elbows, sly feet left in off the ball and surrounding the ref at the slightest excuse. Which is fine if you are ignorant enough to like that sort of thing but pretty disgusting to proper football supporters. In Taylor they had a more than willing accomplice who has worked out that if he issues a straight red to a Hammer there is a better than average chance that it will be rescinded, but if he issues two dreadful yellows he can't be touched.
VAR again highlights that, instead of being used to correct poor decisions it is being used to shield poor officials from the consequences of their errors. At the end of the season PGMOL will come up with a whole raft of statistics which will show how VAR backed up their members decision making. What those figures will hide is the number of times VAR got it wrong. We have seen PGMOL lying time and time again to protect its position – witness the other weekend's "we couldn't find a decent camera angle" debacle that was disproved within a nano-second.
The usual apologists have been spouting their rubbish of late, suggesting that there should be no criticism of referees whatsoever and jumping on every comment on a mistake as if it were some sort of heresy. Which is precisely why we have got to the position where we are. Overweight and unfit officials who struggle with the basic laws of the game because every time they get it badly wrong they brush it under the carpet. If Taylor had been picked up on his performance years ago instead of being told how brilliant he was all the time maybe we would have had a competent official on display at the Emirates – though in Taylor's case the useful phrase about silk purses and sows' ears leaps to mind.
As for Arsenal, well the feigning of injury was so bad that Arteta had to remind Martinelli that, if he was going to waste time by pretending to be injured he would have to go back on to the pitch, something that he promptly did. This would have been Martinelli's third yellow if Taylor had punished any of the other two occasions he impeded Fabianski in clearing before remembering what the laws said. I guess it must be difficult keeping track with real fouls when you are bent on dishing out cards for stuff that never happened.
Coufal who might have been expected to play in this one will now be missing thanks to Taylor's incompetence. If I were Coufal I would be tempted to stick a painful yellow card challenge on Lacazette in the next game just to show him what it feels like when he is actually fouled – though I believe Lacazette is still rolling about as we speak,.
I think that, given the injuries and the fraudulent suspension meted out to Coufal, the team will practically pick itself. The position with Cresswell is of some concern. The last few matches has seen us "hopeful of a return" only for him to not even make the squad. He has been much missed and one would hope he has used the extra time afforded by the Norwich postponement to complete his recovery.
At time of writing we have a number of unspecified staff on the Covid-positive list. It's not been confirmed whether any players are on this list.
Prediction? Well we are not at our best and they seem to be over the moon at getting a referee-inspired point against the scousers at the weekend. However, we ought to be angry. This is a game for which we ought to be walking out with the intention of making somebody suffer big time.I am going to be a bit specific on this one and take us to go through on penalties. So the £2.50 I was going to put towards the search for an honest referee in PGMOL (Lets face it none of us have got that long) and ask Mr Winstone to put it on a 1-1 draw plus us to go through.
Enjoy the game!
When last we met at the Toilet Bowl: Drew 3-3 (Premier League October 2020
So somehow we managed to look the better side whilst being 3-0 down with 10 mins left. Balbuena and a Sanchez own goal set up a last ditch equalizer from Lanzini that has gone down in history as one of the great let's all laugh at Tottenham moments of all time.
Referee: Chris Kavanagh
Complicit in the disgusting events at this ground at the weekend from the safety of Stockley Park. If there were any genuine commitment to improvement by PGMOL he would be undergoing a suspension together with a course in refereeing which he would be required to pass before being allowed anywhere near professional football. Instead PGMOL award him a League Cup Quarter Final. Says it all really.
Danger Man: Harry Kane
Not that sort of player apparently.
Percy's Poser
Last week the Islington Gazette had some good news:
Gourmet XXX XXXXXXX to open on York Way
Well done to Mrs Harriet McLemming-Hovercraft of Stanford Le Hope who worked out that the missing words were "Off Licence"
This week we look at the big club in Haringey, namely Haringey Borough whose match report following their recent 5-0 defeat at Folkestone Invicta read tus:
"There's nothing XX XXXXXX, XXX'X XXXX XX XX XXX XXXX XXXX"
Best of luck!
* Like to share your thoughts on this article? Please visit the KUMB Forum to leave a comment.
* Disclaimer: The views and opinions expressed in this article are those of the highlighted author/s and do not necessarily represent or reflect the official policy or position of KUMB.com.
More Opinion
Tuesday, 18th January 2022
Monday, 17th January 2022
Sunday, 16th January 2022
Saturday, 15th January 2022
Saturday, 15th January 2022
Friday, 14th January 2022