Filed: Friday, 24th December 2021
Peace and goodwill unto all. Just one of the many seasonal messages of peace and hope that do not appear in Preview Percy's look at the festive visit of Southampton...
Next we play the first ever Boxing Day match at the Olympic where we will play host to Southampton. Kick off on what I am assured is Sunday is 3pm. Travel will be a bit iffy. Stratford has no TfL or Greater Anglia service though the Central Line will be running. Check before you leave.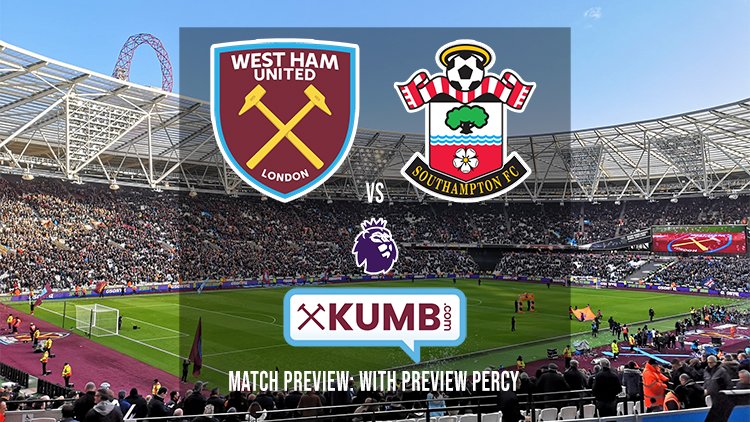 So Southampton then. They don't exactly blow hot and cold, more lukewarm and tepid really. Their last couple of wins came on 30 October away at Watford, followed by a Guy Fawkes Night defeat of Villa at St Mary's. Since then they have lost away at Norwich, Liverpool and Stoke, er, I mean Arsenal, and drawn at home with Leicester and Brighton and away at Palace. All this has contributed to a record of won three, drawn eight and lost six giving them 17 points placing them in 15th place. For context that's six points clear of the trapdoor slot currently occupied by Burnley, though the Clarets have two games in hand. So we are in possible stirrings of "slight concern" territory rather than the full-blown Lance-Corporal Jones "Don't Panic" mode.
Goals have been their problem this season. Their -10 goal difference owes much to the fact that they have scored but 16 goals in the 17 matches played to date. Their top scorer is Chelsea loanee Armando Broja who has weighed in with 4 in 6 starts and 7 sub appearances in the league. Meanwhile up the other end of the pitch they have had big problems between the sticks. Alex McCarthy was first choice for the first 15 League matches but picked up a thigh injury. Fraser Forster would have been the usual replacement but his groin has been playing up. So the had to hit the box marked "in case of emergency break glass", behind which sat the 40 year-old Wally Caballero.
A free agent, Caballero signed on a one month deal and was dropped straight into the side to play Arsenal. That game was a tale of two 'keepers – Ramsdale had a stormer, Caballero, well less so. Before she went down to see her Mum for Christmas, Daisy told me that Caballero's career in English football has been spent largely as the "man on the bench". In eight years with the Citizens and Pensioners he made just 34 league starts, his main first XI time coming in the League Cup, particularly at Man City who have only lost the one League Cup match in five years. I forget where. Caballero apparently improved a bit in the Palace match last weekend. However, they will still be keeping their fingers crossed for an earlier than anticipated return for either of their first two choices – McCarthy won'tbe about until early January but there's a slightly better chance for Forster for Sunday.
They have a couple of other injury issues. Che Adams is said to have returned to training following a thigh injury so may take part in proceedings. Stuart Armstrong is in a similar boat however his namesake Adam is likely to miss out.
Bit short on time this week so we'll move on for a quick look at the Wild and Wacky World Of Association Football. Chaos reigns up at Oldham where they have started to ban fans from matches if they have the temerity to criticise the ownership. I guess that the muppet in charge of that decision at Boundary Park took a look at the owners of Man City and Newcastle and borrowed a tactic or two, though admittedly those two owners only apply that sort of tactic to the folks back home.
It is to be hoped that Oldham owner Abdullah Lemsagam doesn't take things further down that route – abducting supporters and killing them or wiring their private parts into the national grid are practices generally frowned upon in most territories. Things are in such a state there that the Football League (to give it its proper name) offered to pay for former Wigan Chief Exec Jonathan Jackson to come in and help sort things out. This offer was declined, Lemsagam presumably thinking it is quite normal to employ nine managers in three years, to pay players' wages late, to be operating almost continually under a transfer embargo and to be staring at either or both of administration and relegation out of the League.
And so to us. Well we were a bit unlucky up there the other night. Tottenham bless them celebrated their victory against a second string side courtesy of an offside goal like the giant killing it was. Another day VAR is switched on and we go on to win that game but hey you can't begrudge these small clubs their moment in the limelight as they go off into the distance to be slaughtered in the next round. We have a long history of gong out to lower class opposition in the cup so we'll file that in that file and move on.
I see that PGMOL have confessed that Anthony Taylor was wrong against Arsenal. This has caused a lot of consternation in the twittersphere amongst those who like to defend referees at all costs. Those stupid people defending those stupid people were spouting "Clearly a foul", it being cheaper than having the word "moron" tattooed on their forehead. They have gone a bit quiet since the shambles responsible have confirmed it was nothing of the sort.
None of which helps us out of course. Coufal was still suspended and the points were handed to Arsenal on a plate. I suspect that PGMOL now have these apologies on a standard template and just fill in the date, the match and the referees' name. If only they would put some effort in trying to improve standards, you know, like what they are supposed to do, maybe they wouldn't have to play around with Microsoft Word templates. Though obviously slinging out a few hundred apologies every season is much cheaper than stopping the errors in the first place.
Injuries? Antonio missed out on his regulation goal against cannon fodder on Wednesday thanks to a positive Covid test. He feels ok apparently but it's touch and go as to whether he will make Boxing Day – the rules on self-isolation changed the other day and much depends on the date he tested positive and his ability to provide two negative tests in days 5 and 6 of the quarantine period. Having said that, if he has been locked away as the rules suggest that will mean a lack of training and match fitness – and I'm always concerned about his hamstrings.
Zouma and Ogbonna are obviously long-term issues and the Cresswell thing is becoming a worry. He hit that goalpost so hard the goalpost was subsequently put down. He has supposedly been close to a return for several matches but the last comments were more concerning "I can't tell you when he will be back" being the latest update.
Prediction? Well we played well up to the final third – that last ball being the thing that let us down going forward. We have a few more options in defence with Fredericks and Johnson both returning to the squad and Coufal having served his fraudulent suspension. Talking of which, a booking for Rice in either this game or at Watford will give him a one match ban. Southampton don't travel particularly well it has to be said and, despite our recent dip in form which is largely injury-inspired I still think we will have a bit to much for them. So I will take the £2.50 which I wasn't going to donate to some charitable cause or other and instead place it on a home win. Make it 2-1 to us Mr Winstone!
Enjoy the game – oh and the editor has sent me a message saying some stuff about wishing you all a happy Christmas or something. I can't be bothered to read it so lets just assume I've done it already, shall we.
When last we met at the Olympic: Won 3-0 (Premier League May 2021)
Southampton had an early chance or two but a Fornals brace – tripling his tally for the season – and a late one from Rice gave a final score that did not flatter us in the end.
Referee/VAR: Kevin Friend/Robert Jones
With VAR seemingly being misused to protect Mike Riley's hefty six figure salary I figured it was only fair that we start naming the official in charge of coming up with creative ways of trying to justify the latest cock-up from the man on the pitch. Spilling coffee over the Stockley Park keyboard this week is Robert Jones who is a relative top-flight rookie having been appointed to the increasingly hilariously-named "select" group last season. It hasn't been a confident start so quite how he will handle the pressure of correcting a more senior official's errors – and being Friend there will no doubt be a few – who knows. Actually everyone knows. They won't correct the error and come out with some cock and bull story to prove Friend right.
Danger Man: James Ward-Prowse
Scored a superb free-kick at Palace an it won't have been lot on them that the free kick came from a dive in dangerous territory
Percy's Poser
Last week the Islington Gazette had some good news:
Gourmet XXX XXXXXXX to open on York Way
Well done to Mrs Harriet McLemming-Hovercraft of Stanford Le Hope who worked out that the missing words were "Off Licence"
In midweek we looked at the big club in Haringey, namely Haringey Borough whose match report following their recent 5-0 defeat at Folkestone Invicta read tus:
"There's nothing XX XXXXXX, XXX'X XXXX XX XX XXX XXXX XXXX"
Well done to Mrs Siobhan O'Neil-McZappa of Holland On Sea who pointed out that the full report read:
"There's nothing to report. Let's move on to the next game"
This week we see the following ringing endorement from the Southern Daily Echo:
XXXXXX XXXXXX XXXXXXX turning down offers to live in Hampshire
Best of luck!
* Like to share your thoughts on this article? Please visit the KUMB Forum to leave a comment.
* Disclaimer: The views and opinions expressed in this article are those of the highlighted author/s and do not necessarily represent or reflect the official policy or position of KUMB.com.
More Opinion
Tuesday, 18th January 2022
Monday, 17th January 2022
Sunday, 16th January 2022
Saturday, 15th January 2022
Saturday, 15th January 2022
Friday, 14th January 2022