Filed: Friday, 31st December 2021
We gave him a day off for the Watford match. We won. We invited Preview Percy to repeat the experiment for our opening game of 2022 away at Crystal Palace. Sadly he declined and this is the result...
Next up we trek over to the worryingly unsafe away section of Selhurst Park where we will be hosted by Crystal Palace. Kick off on 1 January, which I am reliably informed is New Year's Day, is at 5:30pm for the benefit of Sky. I'd advise checking before you leave even more so than usual for your train times, particularly if you are heading for Selhurst or Norwood Junction from Victoria as Southern Railway are not running anything in and out of the terminus.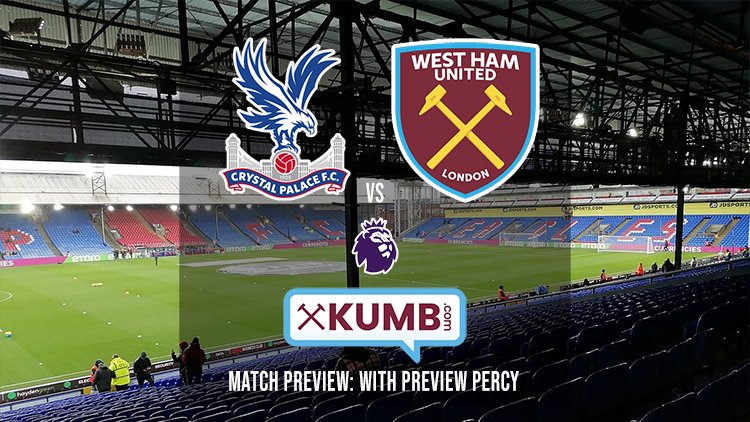 So Palace then. They are, as regular readers will be aware, from Croydon, the club name being a deliberate attempt by the original owners to distance themselves from the bankrupt eyesore that has been responsible for such crimes against humanity as the output from the Brit school and the former Mrs Percy.
The council's financial problems seem to have been exacerbated by the payoffs given to senior employees responsible for the council's financial problems. It seems that this has extended over the years to Selhurst Park which, based on past visits, has been an accident waiting to happen. It remains to be seen what sort of state the place is in since our last visit. Whatever the state I don't suppose whoever is left working for the council had the bottle to think seriously about the ground's safety certificate.
On the pitch, I was slightly surprised to see their current form stats when Daisy brought them through as I thought they had been doing better than they actually were. They started December much as they ended November, consecutive away defeats at Leeds and Man Utd making it three in a row. The slide was arrested with a 3-1 home win over Everton and a 2-2 draw at home to Southampton. Covid put paid to their trip to Watford before they went down 3-0 to Spurs at the toilet bowl. The other day they picked up the statutory three points in a 3-0 win over Norwich. All of which has left them in 11th place with 23 points from 19 games. This is a point behind made up rivals Brighton who also have a game in hand.
Their star man this season has been Conor Gallagher who is having a season on loan there from Chelsea. He has six goals in the league this season. Gallagher was rested for the Norwich match, which says a hell of a lot for how people are treating Norwich these days – especially when you consider that Zaha was missing through suspension following a typically petulant display at Spurs. Norwich clearly are now treated as an extension of the League Cup these days. Gallagher it was who was on target in the 2-2 draw at the Olympic earlier this season.
Summer signing Odsonne Edouard was on target against the Canaries the other day. He's not been over prolific since his deadline day arrival from Celtic, the Norwich goal being his first since October. I'm sure he won't be the last to discover that the gap between Scottish football and the game south of the border is more of a chasm. The fact that he has a conviction for shooting a passer-by from his car with an air rifle suggests something of the nutter about him – especially since the €24,000 fine still hasn't been paid according to some sources.
Manager Patrick Viera may be absent from the ground on Saturday, a positive Covid test preventing him from coming within spitting distance of anyone for a week or so. Welshman Osian Roberts will be at the helm within the ground at the weekend if Viera doesn't track down a Lateral Flow Test in time, though no doubt there will be some sort of techy solution – presumably those new-fangled telephone devices provided by the GPO will be available.
On the injury front they will be without Joachim Andersen (hamstring), James McArthur (ditto), Eberechi Ezi (Covid), Michael Olis (unspecified illness), Nathaniel Clyne (another unspecified issue).
Let's move on shall we to the Wild and Wacky World of Association Football. And we pay a rare visit to the People's Republic of China where the Government have taken time out from gently reminding its citizens that democracy is not for them to issue an edict that bans professional footballers from the national team from getting tattoos. Furthermore, they have recommended that players have the ones that they may already have should have them removed. Over here I have often wondered who the was last professional footballer in England was not to have a tattoo. I reckon that particular landmark occurred roughly the same time as the last goalkeeper to play without gloves.
Meanwhile, John Terry has been appointed as a consultant to the youth set up at Chelsea. That ping you just heard was the snapping of the words "role model" beyond their breaking point.
And on to us. We had a bit of a shocker against Southampton didn't we? Good to See Antonio back on the scoresheet mind but there was precious little to take out of that one. Perhaps, if we are clutching at straws for something good one might argue that Rice's yellow came at the right time, his 5 card suspension meaning that he missed out only on Watford away rather than anything more testing.
Talking about Watford that was much, much better, despite giving them an early lead when Dawson felt like a little sit-down after three minutes. Soucek's goal was a consequence of his being released for a more advanced role in the absence of Rice. Noble had a good game and, although he wasn't on the scoresheet and he had to cope with a total lack of protection from the officials Antonio caused the Watford defence problems all day. The bonkers decision to award Watford a free-kick when Antonio was pushed by one Watford player into another would have been hilarious but for the attacking position the home side found themselves in as a result.
We are down to four on the injury list. Ogbonna and Zouma are long term absences – Zouma is looking at mid-January for his comeback. Cresswell's chipped bone in hs back is not something that anyone would want to see rushed for fear of permanent damage, whilst Fornals is also desperately seeking a lateral flow test being the latest player to test positive for Covid. I have two tests here by the way – make me an offer.
So let's move on to the prediction. As their league position suggests they are a bang average team who have an irritating habit of sometimes being a bit hard to beat. However, there were signs of a relocated Mojo in the Antonio area and they are also the sort of side that he loves playing against. On that basis, I shall be placing the £2.50 that I was going to invest in a tattoo removal business on an away win. Please Mr Winstone let us call it a tight 2-1 to us.
Enjoy the game!
When last we met at the Death Trap: Won 3-2 (Premier League January 2021)
Zaha took time out from diving and whining at the ref to give the home side an early lead. However a brace from Soucek gave us the lead before the interval. It could have been more – Antonio finding the metalwork twice. Dawson headed home from a corner with 25 minutes left before sub Batshuayi added a consolation goal in stoppage time to give the score a look that didn't really reflect our dominance.
Referee/VAR: Michael Oliver/Chris Kavanagh
I've seen some hilarious exchanges with some of the defend referees at all costs brigade in recent weeks. Amazingly, despite his own admission that he cocked-up, Anthony Taylor is still being defended by one particular prize specimen who opined that when a red card is rescinded it doesn't mean the sending off was wrong. Meanwhile we have Michael Oliver who is the Zaha of referees in that he isn't half as good as either he or his supporters think. On the video we have Kavanagh who imagines offsides and ignores real ones.
Danger Man: Conor Gallagher
Decent player who is wasted on them really.
Percy's Poser
Last time the following ringing endorement came from the Southern Daily Echo:
XXXXXX XXXXXX XXXXXXX turning down offers to live in Hampshire
Well done to Mrs Juliette Symphony-Orchestra of Tolleshunt D'arcy who spotted that the missing words were "Afghan Asylum Seekers". Presumably they hadn't been offered Croydon first.
The Crodon Advertise/My London website has the following somewhat stomach churning headline:
Mum living in constant fear that 4-year-old son will eat XXXXX XXX

Best of luck!

* Like to share your thoughts on this article? Please visit the KUMB Forum to leave a comment.

* Disclaimer: The views and opinions expressed in this article are those of the highlighted author/s and do not necessarily represent or reflect the official policy or position of KUMB.com.



More Opinion
Tuesday, 18th January 2022
Monday, 17th January 2022
Sunday, 16th January 2022
Saturday, 15th January 2022
Saturday, 15th January 2022
Friday, 14th January 2022