Filed: Saturday, 15th January 2022
Preview Percy was delighted when he found out he'd have to do yet another Leeds United preview. And by delighted, we mean pretty annoyed...
Next up we face Leeds United in the league this time. Kick-off on Sunday is at 2pm. Trains between Liverpool Street and Shenfield will be running to an altered – for which read "made up as they go along" – timetable due to engineering works with trains leaving later than planned and crawling slowly to their destination. Much the same as ever then.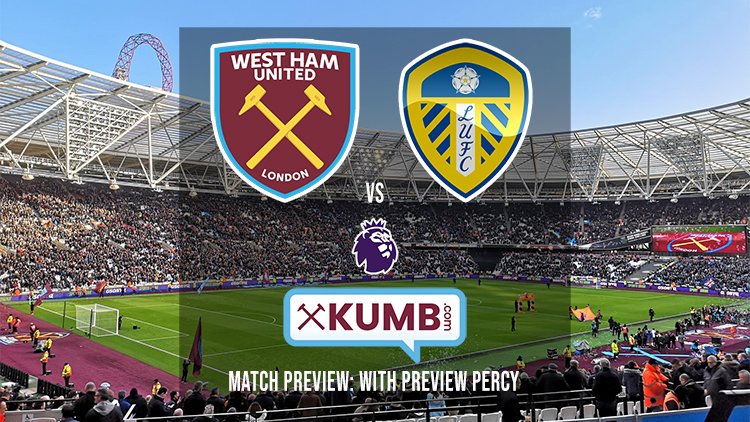 So Leeds then. Usually when you get the same team in close order there's a week or two between previews. In that time the opposition will have played a game, maybe two. There may be a signing or two to consider. In short something will have happened to throw the poor beleaguered purveyor of previews with a blank computer screen a bone. Not this week. I feel a bit like the BBC announcer in April 1930 who had to announce that there was no news. I would play some light piano music at this point before returning you to a performance of Wagner's Parsifal but I fear copyright issues might preclude that.
They are still in 16th spot with 19 points from the 19 played so far. That's still six points clear of Watford and eight clear of Burnley who occupy the top of the trapdoor places ahead of Newcastle and Norwich. The gap between them and Burnley won't get any narrower this weekend with the Clarets having Covid issues at present. With the Geordies and Watford playing eachother any positive result for them would be a bonus.
They are hoping for a return from injury for a quartet. Patrick Bamford's recovery from a thigh problem has been further delayed by a hip problem. Junior Firpo actually played in the Cup match but a bang on the noggin saw him leave the field with suspected concussion. He seems ok but will need to have passed all the concussion protocols before he is allowed out.
Rodrigo's calf and Strujik's ankle are both under treatment and late fitness tests will be required if they are to feature at any stage. Even allowing for those four the injury list up there is still reasonably lengthy, with Cooper, Philips, Roberts Gelhardt, Shackleton and Cresswell (C) are all definitely out with Roberts suffering the twin ignominies of being both injured and suspended. Llorente is also out suspended.
Well I've pretty much run out of things to say about them that I didn't say last week so let us move on to the Wild and Wacky World of Association Football. Fun and games in the African Cuppasoup this week as the refereeing went quite bonkers...
Picture the scene: Malawi are 1-0 up against Tunisia with five minutes left to play. Then the final whistle goes. After a conflab with the 4th official, the referee realises that it's only the 85th minute and resumes the game, finding time to send off a Malawi player in the few moments that remain. Which, as it turns out are somewhat fewer than they ought to be.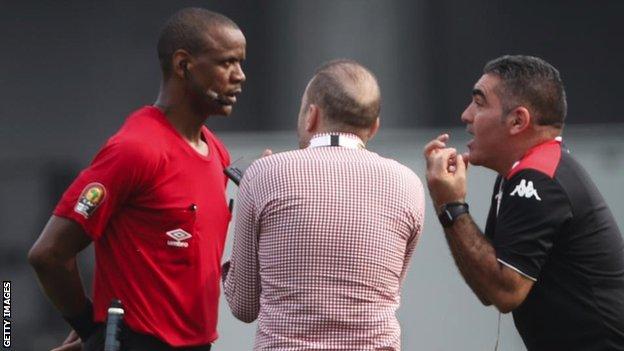 With 13 seconds left on the clock and having no regard for such niceties as the several minutes of stoppage time due to be played the referee blew for full time again. Chaos ensued as the referee went down the tunnel, allegedly in the direction of the nearest infirmary where he was treated for sunstroke. The 4th official attempted to restart the game 20 minutes later but found the Tunisians unwilling to come out to play, sitting as they were in their ice baths. Tunisia's appeal was dismissed whilst a hack of Mike Riley's browser history shows numerous searches along the lines of "sunstroke – use of as excuse for VAR".
And so to us. Well comfortable as the win over Norwich was it was only 1-0 for a hellofa long time and it would have only taken one freak goal to make things interesting in a not good way. As it happened Fabianski pulled off a save from a shot out of the blue which was remarkable for a) it's excellent quality and b) the fact that he had the square root of very little to do in the rest of the match. Up the other end we ought to have had a hatful against a Canaries side that lacked any sort of conviction in their own abilities.
It was good to see Cresswell back to add some much-needed stability to the defence. It was like he'd never been away.
We were without Soucek the other night, him becoming the latest twin-liner. His usual replacement would have been Noble but the skipper has a knee problem and is likely to be absent from the squad along with Fredericks, Ogbonna and Zouma, the latter of whom is getting closer to a return by the minute. If Soucek is absent I'd expect a starting XI similar if not identical to that which started against Norwich.
Which brings us on to the subject of the prediction. We have not been firing on all cylinders of late but doing well enough to win through against opposition beneath us in the league. If we can carry on creating chances at the level we did the other night we will have a day when more of them go in than stay out. Having said that Leeds will be a tougher nut to crack than Norwich – let's face it 1940s France would have put up more of a fight than the Canaries did. But for all that I still see us taking all three points. So the £2.50 that I was going to send to the African Cuppasoup to buy a new digital watch will instead be going on a 3-1 home win if you please Mr Winstone.
Enjoy the game!
When last we met at the Olympic: Won 2-0 (FA Cup January 2022)
Oh come on. You really need a reminder?
Referee/VAR: Mike Dean/Craig Pawson
It should be a monument of lasting shame to this country that this official has managed to get as far as 548 games without any meaningful suspension occurring on any of the numerous occasions he has deliberately affected the results of matches under his charge. Bald so will probably be first in line to use the "sunstroke" excuse as soon as it gets official PGMOL approval. Pairing him with Pawson suggests training for a remake of "Dumb and Dumber.
Danger Man: Rapinha
Still Tricky and skilful. A close eye will be required.
Percy's Poser
In midweek the missing words were:
XXXXX spotted taking a stroll along road in Trowse
Well done to Mrs Briony Pulmonary-Artery of Hockley for spotting that the missing word was "otter".
This week the missing words come from a roadsign in Hull, to which a few words were added thus:
Welcome To Hull. We know we aren't perfect but at least XX XXXX'X XXXXX
Best of luck!
* Like to share your thoughts on this article? Please visit the KUMB Forum to leave a comment.
* Disclaimer: The views and opinions expressed in this article are those of the highlighted author/s and do not necessarily represent or reflect the official policy or position of KUMB.com.
More Opinion