Filed: Friday, 21st January 2022
We called the Premier League to ask if we could postpone this week's piece from Prieview Percy on the grounds that Daisy, his full time personal assistant with the beautiful smile, had recently had covid. However, they told us to go away and that if we called again they would seek an injunction. So here's the grumpy one's look at this weekend's visit to Old Trafford...
Next up it's to Old Trafford we go where we will be hosted by Manchester United on Saturday at 3pm. Yes Saturday. Yes 3pm. Engineering works at Euston mean that trains are being retimed all over the place. Look it up.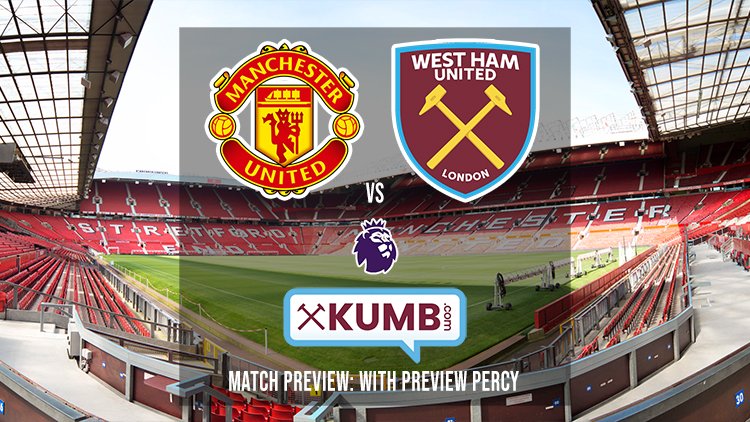 So Manchester United then. One of the so called "super" six, a nickname that started off as laughable has become more and more risible with each passing day, You will recall that the membership form for the tournament simply asked club owners to complete the following sentence: "I think we should be allowed in the "Super" League because…….." Whatever was written the bar can't have been set that high – merely being able to write something, or in Tottenham's case having someone to write something for you, seems to have been good enough to let people in at the time. Having been punished by the Premier League with a fine so heavy they sent a cloakroom attendant along to pay it and clam it back through expenses they returned to find more ways of making themselves look daft.
This they have largely achieved with their performances on the pitch. The nadir of these was their defeat in November away at Watford. Yes, THAT, Watford. That was enough to enable Solskjaer to disappear in the general direction of Norway. His only other English League experience came with an uninspiring eight-month spell at Cardiff. Two of those 8 months were close season which just goes to show how mediocre his spell by the Taff must have been. They then raided Lokomotiv Moscow for Ralf Rangnick who was appointed as "Interim Manager" until the end of the season whereupon his contract provides for him to become director of football for a couple of years.
The role of a fixed-term interim manager always sems to me to be an exercise in self-administering gunshot wounds to the metatarsals. With a fixed term agreement the club are unlikely to back the boss in the winter window. I mean it's logical enough. Why spend £100m on players who might be out of favour when the new chap comes in in July? The interim arrangement will also surely hamper their search for a new boss at the end of the season. They will be limiting their options to managers who are happy to work under Rangnick for the next two years. There will be a lot of potential targets who would want to work their own way.
And then there's the relationship between Rangnick and the players. They don't look a happy bunch at the moment. Depending on who you believe, Martial either refused to play or didn't refuse to play a few days ago. Whatever the reason he didn't play. Marcus Rashford looked so depressed on the pitch the other day that I am genuinely concerned for his mental well-being.
Daisy tells me that they have yet to stick a toe in the water this transfer window. They did lay out £85m in the summer for Jadon Sancho but he has failed to set the world alight since arriving from Borussia Dortmund. He was omitted from the squad that played Brentford on Wednesday.
Talking of players we have the Lingard question. Clearly he will be leaving Old Trafford, it just being a question of when. They are unwilling to let him go in this window to us lest we beat them to a top four spot or to Spurs lest they have to try and make do with the Thursday Night Isthmian League. Newcastle are interested but the player might not be so keen to risk second-tier football next season – or even a relegation battle in this. It is said a loan deal to Tyneside was mooted but rejected on Old Trafford. All the while the player can go where he wants for free if he stays put until the summer. If we could get a deal done he'd be a good signing in this window if only for the mental boost he would give to the squad.
The results since Rangnick arrived have been ok-ish I suppose. They have won 4 drawn two and lost just the once of the six games played before Wednesday's trip to West London. However, the performances have been less than inspiring to say the least. For example, they were by far and away second best to Aston Villa in both the FA Cup and League matches that they played recently. In the league, even at 2-0 up they looked far from convincing and, even though they came back from 2-0 down Villa were probably kicking themselves that all three points didn't come their way. The 3-1 win at Brentford was, by all accounts, very flattering and had the Bees taken their chances at 0-0 it would have been a much different story.
Let's move on to the Wild and Wacky World Of Association Football. Covid continues to dominate proceedings with some clubs taking full advantage of the fact that the Premier League's covid rules appear to have been drafted by the office junior after a particularly good party, sorry "work event". Arsenal were the latest to take the proverbial, citing one player whose housekeeper's cousin might have had a positive test but they dropped the test cartridge down the bog thus blurring the pink lines but it's better to be safe than sorry. Plus some players at the African Cuppasoup oh and a suspension. And some other injuries.
Now if the Premier League are stupid enough to draft stupid rules – and I think we can take it as read that they are – then nobody should be surprised when said rules get bent out of shape. Of course any well-run organisation might have foreseen this coming and drafted something more robust than bring a note from the player's mum to say he's excused games. However, you rarely see the words "well-run" and "Premier League" in the same sentence unless that sentence also includes the words "about as" and "England batting line-up".
And so to us. A game too far really. A combination of excellent pressing from Leeds and a back four that had a Diop-inspired collective off day conspired to chuck away a match that, despite our not being the full monty on the day we could still have got something out of – Bowen's miss at the end being the moment that screamed "not your day lads". Souceck was very much missed. Lanzini's lack of defensive nous meant that Declan was effectively performing two roles.
On the injury front Zouma is close to a return but may have to wait for a clear covid test. If fit expect Diop to be benched. Souceck should be clear, leaving Noble and Ogbonna in the treatment room and Benrhama out in Africa at the time of writing.
So the prediction. Well I'm more optimistic than I probably should be. We were incredibly unlucky to lose in the league fixture and deserved winners up there in the League Cup. A win oughtn't be out of the question but factoring in the fact that referees traditionally give them the rub of the green on their patch I will temper such optimism and go for a draw. The £2.50 that was going to be spent on a massive party, sorry legitimate work event, here at the Avram Grant Olympic Rest Home For The Bewildered will instead be going on a 2-2 draw. Make it so please Mr Winstone.
Enjoy the game!
When last we met at the "Theatre Of Tacky Marketing Slogans" Won 2-0 (League Cup September 2021)
Lanzini's 10th minute effort after some excellent work from Fredericks was enough to secure the first half of a League Cup Salford-Manchester double. We could have had four or five as Noble, Bowen and Yarmolenko all passed up good chances.
Referee/VAR: Jon Moss/Paul Tierney
The chant of "you're not fit to referee" could have double meaning for Moss, whose somewhat portly stature sees him struggling to keep up with play. He's probably looking at making of a career as a VAR specialist to save him having to pass those pesky fitness tests each summer. Tierney on VAR had such a nightmare in the Spurs v Liverpool game before Christmas, videos of the match are being used on the continent to instruct young referees how not to run a match.
Danger Man:
Unliked by his teammates allegedly but loved by Man Utd's accountants for the number of replica kits sold to the gullible of Croydon. Still got a trick or two up his sleeve.
Percy's Poser
Last week's missing words came from a roadsign in Hull, to which a few words were added thus:
Welcome To Hull. We know we aren't perfect but at least XX XXXX'X XXXXX
Well done to Mrs Betty Gas-Stove of Frinton On Sea for spotting that the missing words were "we aren't Leeds".
This week the Manchester Evening News is our source for the following tale of country life:
Police warn armed poachers are not "XXXXXX XXXXXXXXXX" characters after a XXXXXX for XXX XXX
Best of luck!
* Like to share your thoughts on this article? Please visit the KUMB Forum to leave a comment.
* Disclaimer: The views and opinions expressed in this article are those of the highlighted author/s and do not necessarily represent or reflect the official policy or position of KUMB.com.
More Opinion