Filed: Saturday, 23rd April 2022
We enquired about getting Preview Percy sanctioned but apparently enjoying an occasional vodka isn't sufficient reason. So here's his look at the trip to Chelsea this weekend...
Next up we take a trip to the strange world of Chelsea. Kick off on Sunday is at 2pm. C2C services are all going to Fenchurch Street rather than Liverpool Street and the top right hand corner of the Central Line is shut. Check before you leave etc etc.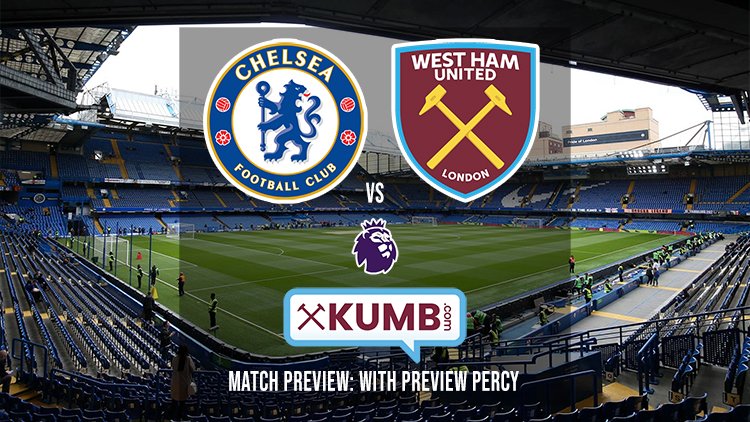 So Chelsea then. It's all a bit like the scene in Casablanca where the Nazi officer instructs Captain Renault to shut down Rick's Café Americain after they all sing the Marsellaise: "I am shocked, shocked to find that gambling is going on in here" says Claude Rains just before the waiter approaches and hands him his winnings. When Abrahamovic came on board a few hours before the banks were about to pull the plug on Chelsea, who had hitherto been owned by Ken Bates it was widely acknowledged that the Russian's money was a bit iffy in origin. Indeed, he already had a prison sentence on his CV for theft of government property.
However, despite his involvement in the aluminium wars, his admission in court that his riches were obtained through years of bribery and even the withdrawal of his UK visa by the Home Office the football authorities seemed happy that their increasingly laughable "fit and proper" tests continued to be satisfied. It was only when the Government hit him with sanctions following the Russian invasion of Ukraine that the football authorities were "shocked, shocked" to discover that Abrahamovic was not the saint he appeared to be if you didn't actually look at any evidence.
The sanctions would have meant that Chelsea's activities were suspended completely. However, they have been operating under a "special licence" over the past few months which has seen them functioning in a limited manner. Whilst season ticket holders can attend matches, general sales are banned. Away supporters can attend matches though the money from all those thirty-quids goes straight to the Premier League for distribution to Ukrainian-benefiting charities.
Abrahamovic, having failed to sell the club before the sanctions kicked in, is now looking at a number of bids including one involving Serena Williams and Lewis Hamilton. I have no idea where the former Formula 1 World Champion's football allegiances lie (if anywhere) but I look forward to Serena Williams telling everyone how she stood on the Shed all those years ago and telling us how much she admires John Terry's commitment to diversity. Meanwhile thousands of Chelsea fans are wondering where they left those Man Utd scarves they back in 2003 and wondering if they will pass for Liverpool scarves in the event of the proposed sales going pear-shaped.
On the pitch the sanctions have caused or coincided with a spell of inconsistency. There are a number of players coming to the end of contracts this season and the sanctions have meant that they have been unable to enter into negotiations for new ones, which may have had some effect on proceedings. Their fixture list in the league has been fairly friendly to them since January with them facing Palace, Burnley, Norwich and Newcastle one after the other. However, they were simply awful against Brentford who turned them over 4-1 on their own turf.
Although they bounced back from that by beating Southampton 6-0 it should be pointed out that since going out of the cup Southampton's form has been awful. Then in midweek they were all bad against against Arsenal, a defeat that saw skipper Azpilcueta arguing with the crowd after the match and manager Thomas Teuchel complaining about the pitch. Clearly not a happy ship at present. Despite all that they have built up a sufficient cushion over the season to keep them in third spot with 62 points from the 31 games they have played so far. That's 5 points clear of both Spurs and Arsenal over whom the Pensioners also have a game in hand.
Daisy tells me that they only made minor signings over the winter window with kids being signed and loaned back to lower league clubs. So the spotlight must turn to their biggest signing of the summer window, a certain Romelu Lukaku. Now over the years he has been a bit of a pain in the backside for us, somehow managing to score almost every time no matter how much better we were than the team he played for. This was particularly annoying when he was at Everton who we always seemed to play off the park only to lose 3-2 to a 97th minute winner. However, his current spell at Stamford Bridge has been less than stellar. He's appeared in about half of their league games so far netting just the five times in the process.
He does seem to be carrying a bit of timber since his last spell in the Premier League – twice the size but half the player one might say. It's been an expensive failure for the Pensioners, having shelled out over £97m for the striker. It should also be remembered that this is his second spell on Fulham Broadway – they signed him for just £10m from Anderlecht back in 2011 – though his time was spent largely on loan at West Brom and at Everton who eventually signed him for £28m in 2014. He's not been a regular starter though he did commence the game against Arsenal – so they've been told. His anonymity was such that he barely lasted the hour before coming ashore. Let's hope Teuchel hasn't been told about his record against us with poor form like that he would be bound to score.
One of the soon to be out of contract players is Azpilcueta. As mentioned he got into a bit of a contratemps with a Chelsea supporter after the Arsenal game. It's quite a funny watch actually. Clearly the supporter had given it large not expecting the player to come over. However a clearly angry Azpilcueta marches over and gives the supporter both barrels. The supporter tries to smooth it all over, smiling and giving it all the thumbs up but the player wasn't having any of it, eventually storming off in disgust despite the applause from the supporter.
Lets move on to the Wild and Wacky World of Association Football. And for once we ourselves are the subject of discussion. Or rather what passes for our ticketing systems are. Thursday saw the deadlines for those of us displaced from our season ticket seats. That was painless enough – though the section where you have to zoom into the stadium diagram never seems to quite work seamlessly.
The problems came when season ticket holders and members tried to get additional tickets or just tickets. There were numerous tales of people getting to the checkout page only for the whole thing to crash and send them back to number 14,000 in the queue. A lot of people missed out purely due to the IT not being up to the job. At the time of writing I haven't seen anything by way of apology from the club or its IT partners relating to the problems – even though this is far from the first time the systems have been found wanting. The Club did, however, find time to warn supporters that should any tickets turn up on the black market they would be tracked down and face all sorts of sanctions. Of course there was no mention of the tickets held back by the club for its "Commercial Partners" who seem to be knocking them out for anywhere between £400-£2,000. Not good enough.
Us? Well the slightly disappointing result last weekend against Burnley was less of a result of "Thursday night/Sunday lunch" syndrome and more a function of our profligacy in front of goal. Or to be more accurate a function our profligacy combined with the excellence of Nick Pope in the opposition goal. There have been rumours linking us with a bid for the England custodian in the next window and there would definitely be no complaints around here were that to be the case.
The game was a bit of an oddity. We were all over them until the horrific injury to Westwood happened. That seemed to affect us more than Burnley who, after the lengthy stoppage, took the lead. Vlasic appeared particularly distraught and, whilst I am no expert on the matter, one does question whether a player that distraught was really fit to carry on. Not all injuries are physical. Either way we wish Westwood well.
Of course the match finished with the news that Issa Diop had become the latest back four participant to pick up an injury. Like Zouma it could well be his season done. I know there is a general problem with the lack of investment/transfer activity ,meaning that we have squad that is light on numbers. However, losing three out of four potential first choice central defender would be a tough ask for even the biggest squads in the land.
There have been mutterings to the effect that given that Harry Maguire plays for England, Craig Dawson should be a shoo-in for the squad, what with him being a much better player and all that. Whilst that has a certain logic and I would never deny a player the opportunity to play for his country I'm kind of hoping that Southgate won't have taken his Liverpool and Palace specs off to actually look at decent players elsewhere - we have just the one central defender left and I have no desire to see him hobbling back from Wembley on crutches. Incidentally, whilst we are talking transfers, my attention was directed towards an hilarious puff piece in something called the "Daily Star". No. Me neither. In it the writer heaped praise by the bucket load on our current owners and claimed that this summer we would be "shopping in a different market. Let's hope they turn up when it's open then.
As mentioned, Diop joins Zouma and Ogbonna in the infirmary with none of those looking too likely to make a contribution to the last knockings of the season. There are options of course. Declan can play in there and Cresswell has been known to play as part of a three which begs the question as to who joins him alongside Dawson if that happens. If we go to a three there is an option to bring in Masuaku as a wing back. Whatever happens at least Diop's absence was apparent early enough in the week to give Moyes time to formulate and work on the alternatives.
Which brings us on to the prediction. Well the defensive absences are a worry to be sure but I have an odd feeling that this is going to be one of those odd days. You know like a couple of years back when we were reduced to picking what was nominally a third-choice 'keeper in the form of David Martin after Roberto had turned out to be half man half jellyfish rather than the goalkeeper we had signed at that particular market. We won and deservedly so.
We will need to be quick and sharp on the break and we will need to finish those chances as they occur (yes you Mr Antonio). On the whole I think that the defensive injury issues may well prove too much of an issue for the win to be high on the probability stakes – though given their own defensive frailties it shouldn't be ruled out completely. However, I will go for us to battle out a draw on this occasion. So the £2.50 I was going to spend on an entry into the "Find Abrahamovic's Yachts" competition will instead be going on a 2-2 scoreline if that's ok with you Mr Winstone.
Enjoy the game!
When last we met at Stamford Bridge: Lost 3-0 (Premier League December 2020
An odd game insofar as we were pretty much the better side until we reached their box, the absence of Antonio proving once more that Haller plays better with someone alongside. At 1-0 down we were denied a perfectly good equaliser thanks to a defender's dive, Chelsea having proved that ref Kavanagh was on the higher end of the gullibility scale -the clutching of heads after aerial challenges was very much to the fore in that one. Two late goals from Abrhahams gave the score a totally unrealistic air.
Referee/VAR: Michael Oliver/Paul Tierney
Oliver struts around with the smug air of the sort of person who hasn't worked out that the phrase "PGMOL's best" is actually an insult rather than a compliment. Tierney takes charge of the VHS machine at Stockley Park, probably thankful that the lack of cameras on him means we can't see him frantically reading through his copy of the laws of the game whilst simultaneously trying to work out how to do a frame by frame rewind using the Sony manual that was translated from what was originally written in some dialect that is dying out in Kazakhstan.
Danger Man: Romelu Lukaku
May not start and he has been pretty awful at club level this season. All of which should be a worry to any Hammer.
Percy's Poser
This week's Lancashire Telegraph brings us the following:
Councillors told "tackle our area's XXXX, our XXX XXXX, and XXXXXXX
Well done to Mrs Patricia Light-Programme of West Mersea who pointed out that the missing words were "rats, dog pooh and rubbish" – though apparently nobody saw fit to point out that if the residents didn't allow their dogs to foul the pavement and drop their rubbish all over the place maybe the place wouldn't be that attractive to the local rodent population. Just a thought.
For this week we visit the Kensington and Chelsea section of the My London website. There are dozens of headlines like this one there but we picked this one in particular due to the involvement of one of the potential investors in this weekend's opponents:
Lewis Hamilton wants to trim XXXX at £18m manson that leaves neighbour's garden XXXXXXX XX XXXXXX XXX
Good luck!
* Like to share your thoughts on this article? Please visit the KUMB Forum to leave a comment.
* Disclaimer: The views and opinions expressed in this article are those of the highlighted author/s and do not necessarily represent or reflect the official policy or position of KUMB.com.
More Opinion