Filed: Sunday, 1st May 2022
History is made as, for the first time ever, Preview Percy refuses to make a matchday prediction. The clue is in his opening sentence by the way...
Next up we face Mike Dean at home on Sunday – it's the later 4:30pm game for once which will at least mean a decent hangover lie-in on a Sunday for once. Don't stay in bed too long if you use C2C services though. Loads of engineering works in those parts so check before you leave.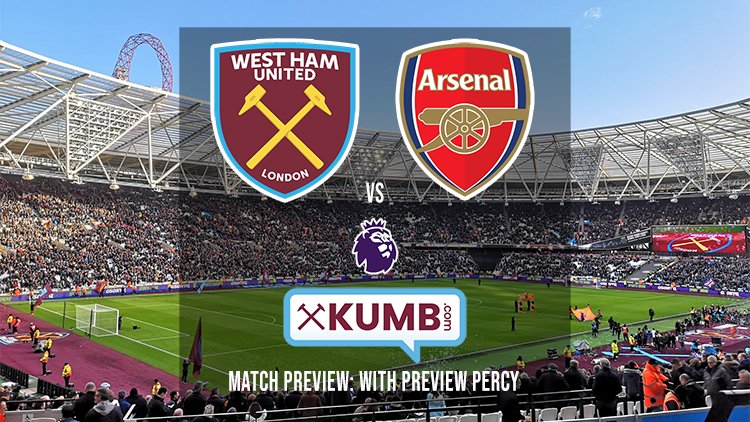 So Arsenal – who nominally at least are our opponents - then. Well they have won their last two games but those were against a woeful Chelsea and an even more woeful Man Utd. A quick look at the previous three saw them get walloped 3-0 at Palace, beaten 2-1 at home by Brighton and 1-0 away at Southampton. So all a bit Jekyll and Hyde you might say.
The two recent wins have seen them get into 4th spot at the time of writing with 60 points from 33 games, two clear of Spurs. In their efforts they have been assisted by being unencumbered by having had a European campaign and the fact that they were able to disguise a shortage of players due to injury and African Cuppasoup absences as resulting from Covid. Tellingly, when it was realised that the proverbial was being taken, the authorities tightened up the rules but only well after the horse was well out of sight from that particular stable door.
They started out the season with a spell in bottom place. Clearly action was necessary and, if our game at the Haemorrhoid earlier this season is anything to go by, Arteta has gone to the Pulis/Warnock guide to association football. Diving that would make even Liverpool blush, face clutching and the general feigning of injury all seem to be the order of the day. All of which is a worry given the bent official we have in charge this weekend more of which later.
It was another relatively easy week for Daisy as they weren't over active in the transfer window this winter. However it would be amiss of me not to mention the arrival of American Under 23 defender Auston Levi-Jesiah Trusty. Not because he will feature in this match – they loaned him straight back to Colorado Rapids – but because he has a splendid name and also has a spell with the equally splendidly-named Bethlehem Steel under his belt. Presumably they have a management committee of three wise men rather than a single head coach.
On the injury front Bukayo Saka will be available following a thigh injury. However defender Kieran Tierney will be out with a genuine knee injury that will require surgery. Whilst out he should reflect on his position and maybe think on it as some form of retribution from the footballing gods for his face clutching antics designed to get a fellow professional sent off. I wouldn't hold your breath though.
The most interesting thing to happen to them this season is the departure of Aubameyang following the stripping of the captaincy for "disciplinary" reasons. Perhaps Aubameyang got as bored with them as I have, which is why I'm moving on early to the Wild and Wacky World of Association Football. Even Hartlepool are more interesting than Arsenal this week. Mark Shelton will be missing from their side this weekend. Why? I hear you ask. Hamstring? Knee ligaments? Trendy metatarsal? Nope. The lad got a cotton bud lodged in his ear affecting his balance organs causing dizziness. The BBC's report on the injury is really helpful, showing a picture of an ear and a cotton bud in case we couldn't visualise the position. That's worth the licence fee alone.
Meanwhile the Football Writers' Association have decided that credibility is overrated. A couple of seasons ago the Liverpool supporters amongst their membership decided that, although Kevin de Bruyne was having the sort of season that arguably made him the best player in Europe if not the world, they would give their annual Footballer Of The Year award to the talent free mediocrity that is Jordan Henderson. This year they have gone the full monty and given it to diving cheat Salah. Next time you see an article that bemoans diving, if you get a chance ask the writer who they voted for.
On to us then. Well we didn't play to our best on Thursday that's for sure. But we also had next to zero luck as well. In the build up to their second there were a number of half blocks that fell very kindly to the visitors and that seemed to happen all the way through. We did seem tactically wrong though. Johnson appeared to be playing as a wing back but had little interest in getting the ball down the line in the channels for Bowen to attack. It seemed to come back or inside every time which slowed down the attack and, cruicially, kept Bowen out of the game for long spells. Still it's only half time and we were 2-1 down against them last time as I recall – the omens are stacking up nicely. More on them during the week.
Dawson will be missing of course and it's likely to be a team with a number of rested players in advance of Thursday night's showdown. Thankfully Zouma is back, increasing the number of central defenders available to us by 100%. Maybe we will put Johnson back in the middle where he acquitted himself so well against Chelsea.
Predictions are superfluous – we have Mike Dean as referee so the score will be whatever he wants it to be and I refuse to waste £2.50 on any match in which he takes part on the grounds that the result is unlikely to be a fair and honest reflection of the two sides taking part. After all these years it would be nice to think that one of his corrupt decisions would actually benefit us for once but you just know it won't. So Mr Winstone my money is staying in my pocket and you dear reader will have to make your own mind up as the result, unless you are Mike Dean in which case you already know.
Enjoy the game!
When last we met at the Olympic: Drew 3-3 (Premier League March 2021)
Lingard, Bowen and Soucek sent us 3-0 up but not before VAR had tried every angle to prove a clearly onside Soucek wasn't. The pulled one back before the interval by virtue of Soucek deflecting a touchline-bound shot past Fabianski. We sat back and invited them on in the second half but it still took an amazing intervention from unfit to referee in mind and body Jon Moss to get them back into the game.
Breaking away from goal Bowen was pushed to the floor. For reasons nobody can fathom – least of all Moss I suspect – the free-kick was awarded to Arsenal who took it quickly ending up with Dawson turning a cross into his own net. Where was the VAR that had tried to deny us a goal that was valid to the naked eye earlier on? Search me. We had our chances to put the game to bed – notably with Antonio hitting the post from close range but having set his stall out Moss was always going to ensure it ended level and Lacazette's late equaliser gave them a point we gave away.
Referee and Danger Man: Mike Dean
My first memory of the worst referee ever were from an Arsenal match at Highbury in which he handed them three goals and a sending off with decisions that should have had him investigated and suspended. Just think, if all those years ago a competent refereeing authority had told him that he was to enforce the laws of the game rather than use them as an optional extra for whatever personal agenda he had the game would have been so much better. Instead they covered for him to the extent that the Premier League is now a fertile breeding ground for match-fixing and corruption.
Not to say that it goes on at all but if someone did want to manipulate a match, we are in a position where it would be possible to do so thanks to the fact that referees can make match-changing decisions without fear of investigation or sanction. After all, if Dean sends someone off incorrectly – as he has done time and time again – who would notice one more bent decision in a sea of thousands. The good news is that there is every possibility we may never see him again after this one. May he rot in hell.
Percy's Poser Phrase
Last time at Chelsea the poser was:
Lewis Hamilton wants to trim XXXX at £18m mansion that leaves neighbour's garden XXXXXXX XX XXXXXX XXX
Well done to Mrs Genevieve Radiator-Cap of Havering Atte Bowe for spotting the missing words as "tree", and "covered in pigeon poo".
This week's effort comes from the Islington Gazette:
XXXXX XX X XXX – billboard campaign calls for more storage
Good luck!
* Like to share your thoughts on this article? Please visit the KUMB Forum to leave a comment.
* Disclaimer: The views and opinions expressed in this article are those of the highlighted author/s and do not necessarily represent or reflect the official policy or position of KUMB.com.
More Opinion