Filed: Sunday, 8th May 2022
Only three Preview Percy efforts to go for the season. Here he bids au revoir" to Norwich...
Next up we pay our last visit for a bit to Carrow Road where we will be hosted by Norwich City. 2pm kick off. Trains up there seem to be ok but as ever check first.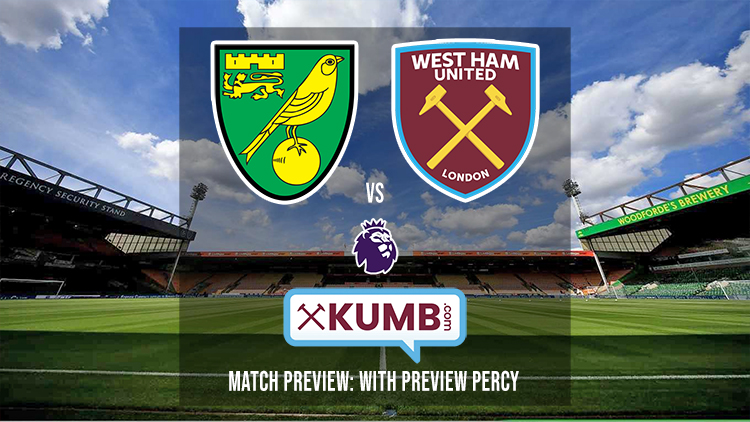 Norwich are of course down as per the contract they have with Fulham where they treat the Premier League slot as some sort of timeshare arrangement, with the Canaries playing in the top flight when the season ends in an even-numbered year and Fulham getting the slot in the odds.
It's been a wretched season for them really. There again it usually is at this level. They have won just the five all season, their last coming in April where they beat Burnley 2-0 at home. The week before that they drew 0-0 with Brighton but other than that it's been pretty much defeat after defeat, leaving them bottom of the pile with 21 points from 34 played.
It is said that one of the definitions of madness is the constant repetition of the same mistake time and time again in the expectation that somehow the results will be different. Each time they go down the parachute cash is pocketed with precious little of it being reinvested into the squad so that whilst they have the players to escape the second tier, those tend to be not good enough for the Premier League and whilst Daisy is pleased that they signed nobody during the window, such matters shouldn't be uppermost in the minds of anyone owning a club with designs of actually sticking around.
It's not simply a lack of signings that has cost them, It's more a case of quality. In the summer window they were shopping at the likes of Ipswich and Werder Bremen and whilst I suppose its not beyond the bounds of possibility that the odd gem might emerge from such sources once in a while, it's not something you'd want to rely on to be honest. Having failed to get much out of such meagre rations Daniel Farke was rather harshly sacked in November and replaced by Dean Smith, it seemingly not having occurred to Delia and co that the particular sow's ear that are providing as the raw material may not actually be suitable for conversion onto a silk purse. Irrespective of whom is given the task of completing the job.
Top scorer is Finnish striker Teemu Pukki. The much capped striker is now in his thirties and his 10 goals across all competitions is six more than anyone else has mustered, something that tells its own story contributing to a -49 goal difference.
As a prime example of the "wrong player" type of signing, their second top scorer is Josh Sargent. The American international striker has 4 this season . However two of those came in the League Cup and they had to wait until January for his first two league goals – and even those were against Watford so probably don't really count. He picked up a number of injuries and is out for the rest of the season – possibly to his own relief.
One of the bigger debates over the season has been the form of Chelsea loan asset Billy Gilmour. Look back 12 months and there was a player being touted as a major player in the making. A full international – albeit only for Scotland and a rosy -looking future. However his form was poor in the early part of the season leading to Farke benching the player. Once Smith's appointment had set about making cosmetic changes to the Titanic's external seating arrangements his fortunes improved to the extent that he was at least getting selected but the season will end with neither player nor club having enhanced their reputation.
You know writing about them is all very depressing – and I don't even support them so we'll move on to the Wild and Wacky World of Association Football.
There were some interesting stats going on in the Championship where, with two games to play, Bournemouth found themselves in the odd position where two points from their last two games would definitely see them up but three points might not have been enough. The anomaly arose from the fact that their rivals were also one of their opponents in the form of Nottingham Forest that match becoming a "six pointer". As it happened Bournemouth beat Forest to give us another seaside trip next season. No doubt the computer will put that down for a wet Wednesday in February.
The other one for the stattos was that Brighton's 4-0 demolition of Man Utd contained exactly 25% of the 16 goals they have scored at home this season. Ok maybe not that interesting, but amusing nonetheless.
And so to us. Well it was one game too many in the end for a squad that everyone knew back in July would need proper strengthening with a European campaign on the calendar.
Cresswell is getting major grief from some quarters which is unjustified. It ignores the small matter of the fact that the Eintracht player was fouling as much as he was fouled – look at his left arm – and that his dive had about as much to do with any contact there may have been as Sepp Blatter has to do with honesty. The fall is completely in the opposite direction to that which would have occurred had the contact been responsible.
That's where we are in the world today: Cresswell tried to stay on his feet when touched. The Eintracht player didn't and we are out. The really disappointing thing is that having had a chance to look at VAR the ref didn't actually look at the incident itself – merely to check for the inevitable red card. The decision was even more ludicrous in view of the actual fouls that weren't given in favour of Bowen and Antonio throughout the match. Very much a Homer.
Maybe if the BBC and Sky could take time out from their love affair with Liverpool for long enough to start calling out this sort of thing the world's attitude to cheating might change. Let's stop calling it mealy-mouthed stuff like "the dark arts". Let's stop saying "he had the right to go down there". Let's stop giving Footballer of the Year awards to cheats and let's call them cheats when they do it.
In an ideal world if it could be proven that clubs were profiting from blatant cheating there might be some way of arranging points deductions for this sort of behaviour bringing up the mouth-watering prospect of Liverpool having derbies against Everton in the Championship. Ah well one can dream can't we.
The trip to Frankfurt saw rumours a plenty of odd things happening with tickets going astray and some serious allegations being made over the distribution. This website and the guys at Hammers United are looking into things and the editor here would be grateful if anyone who paid for a genuine ticket didn't get in for any reason
could contact him
.
We have a club whose ticketing systems are found wanting enough again and again. It would be nice to hear that the club are going to have some sort of external review of what happened over both the home and away legs but I doubt that will happen. It would mean the wrong people asking uncomfortable questions.
For this one it's pretty much a full squad available, something that has been missing from league games of late thanks to the need to rest players for Europe. Dawson's back from his suspension so we will be at full strength bar Ogbonna. That squad needs to finish well – two wins from our last three should not be impossible as we strive to finish as high as possible. Which moves us nicely on to the prediction.
Often you see a bit of a bounce from a relegated side once the deed is mathematically confirmed. Not this time. Even allowing for the post-Europe thing that sees results dip after a trip to foreign climes I can't see us doing anything but win. So the £2.50 I would have spent on a Spanish phrase-book will instead be going on an away win. Make it 2-1 to us please Mr Winstone.
Enjoy the game!
When last we met at Carrow Road\; Won 0-4 (Premier League July 2020)
Antonio was on target twice in each half to send Norwich down officially and ease the last lingering thoughts of our own relegation. Norwich ended up a full 14 points adrift of safety. They are 13 points shy now which probably has some significance, statistically speaking. Damned if I know what it is though.
Referee: Rob Jones
Relative newcomer who we haven't encountered much. Looked out of his depth in matches against Fulham & Doncaster a couple of years back.
Danger Man: Teemu Pukki
More "Mild Peril" than "Danger" perhaps.
Percy's Poser Phrase
Last time, from the Islington Gazette:
XXXXX XX X XXX – billboard campaign calls for more storage
Well done to Mrs Kimberley Worm-Hole of Walton On The Naze for spotting the missing words as being "Bikes In A Bog"
This week, the Norwich Evening News is the source for this bit of filler:
Origami Lover puts XXXXXXX XXXX XXXX to water
Good luck!
* Like to share your thoughts on this article? Please visit the KUMB Forum to leave a comment.
* Disclaimer: The views and opinions expressed in this article are those of the highlighted author/s and do not necessarily represent or reflect the official policy or position of KUMB.com.
More Opinion