Filed: Saturday, 21st May 2022
Mark Noble will clock up 550 appearances if he gets on the pitch this weekend. We have no idea how many previews Preview Percy has churned out over the years but we asked him whether he was considering retirement anyway. We won't be making that mistake again. He did calm down enough eventually to provide the following look at the trip to Brighton along with a promise that he would "be back". Sorry...
It's time to bid a tearful farewell to 2021-22 as we make our way down to the seaside where we will be hosted by Brighton. Clearly there was some sort of glitch in the Atos computer when they pressed "send" because tradition dictates that whenever a team from the seaside is in the same division as West Ham the away fixture will always take place on a freezing cold Tuesday night in February at a time that ensures that the last train to London is missed by 20 minutes.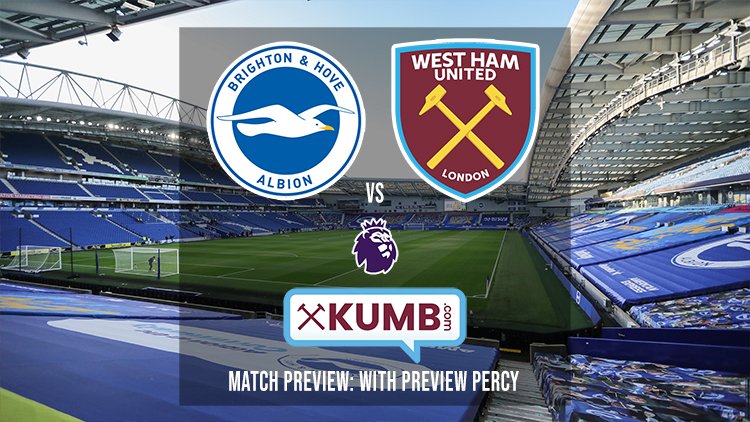 Having the match played on the weekend with statistically the best chance of us having decent weather was, like the invitation sent to Spurs to join the so-called Super League, clearly an administrative error that someone felt too embarrassed to rectify. Still as I speak it's hammering it down outside so maybe they had meteorological advice that kick-off at 4:30pm on Sunday would result in maximum drenchage for the visiting support.
So Brighton then. Like Palace, their hilariously manufactured rivals from the other end of the M23, they are a club that's simply there. Although very early on a win might have put them top of the league (they lost) they have ended up with what one might call an average season, never quite bothering the bunch challenging for continental football whilst never quite drifting into the "concerned that they might join Watford and Norwich" group either, though a run of five consecutive defeats over February and March probably qualified them for the "concerned that they might join the ranks of those concerned that they might join Watford and Norwich group" group.
However, since a mid-March 2-0 home defeat to Spurs they have won four, drawn three and lost just the once, though a 0-0 home draw with Norwich ought to be registered as a defeat. This has left them in mid-table 10th with an 11-15-11 record the symmetry of which is spoilt only by a -4 goal difference. A couple of more goals over the course of those wins or defeats would have given them the perfect average record.
After this weekend's match a win could see them go 9th whilst they could, theoretically, drop to 14th if Brentford, Newcastle, Palace and Villa were all to win. A point would be good enough to see them finish above Palace which is about all there really is to play for at the moment.
Daisy's ears pricked up when I said I thought there were some January signings for her to research and, indeed there were. However, her excitement turned to disappointment – not for the first time this season – when she discovered that, although midfielder Kacpar Kozlowski had commanded an £8m fee in signing from Polish outfit Pogon Szczecin, he had been immediately loaned out to Brighton's Belgian associate club Union SG (both the Seagulls and
Les Unionistes
are owned by Tony Bloom).
A similar fate befell their other winter window signing the German-Turk Deniz Undav though since he signed for £5m from Union in the first place he at least didn't have to go to the bother of packing a bag. Incidentally, is it me or does it always look a bit iffy when money is shifted around from one club in a "group" to another. It's all probably perfectly legit but it has an odd look to it. I guess we will have to see how many appearances Undav makes for Brighton in his career.
Time then I feel to move on the wild and wacky world of association football. And Liverpool supporters have expressed surprise that the rest of the world were condemning their scummy behaviour at the Cup Final. Their apologists described the booing of the National Anthem as "traditional" as if that somehow excuses the sort of behaviour that would have the media up in arms had it been perpetrated by supporters of any other club. The general gist of it all is that they suffered in the 1980's something that is somehow the fault of the Royal Family. I guess that none of those booing the other weekend will bother to take off a couple of days next month and will work their way through the bank holidays without extra pay? Nah thought not.
Just before kick-off I was in the Percymobile on my way to the venue where I was to watch the match listening to the Light Programme on the car's wireless. The commentators, as is
really
traditional paused their chatting to allow listeners, including those joining us from the World Service, to hear the anthem. One could hear the booing quite clearly. One awaited comment from the commentators once the anthem ended but, in accordance with the BBC policy that nothing in any way shape or form should imply criticism of anything to do with Liverpool, it simply didn't happen.
During the match a potential penalty and red card for a shove on a clean through Chelsea attacker were ignored with the sort of "nothing to see here" type haste that always suggest that actually there is a lot to see here whilst when a replay showed that a Mane tumble to the ground was a rather blatant dive the commentator had to dive well into their repertoire of euphemism. Having had the replay foisted on him by the director – who presumably is awaiting the result of a disciplinary board as we speak – the commentator could only bluster "Mane needed no encouragement to go over there" If anyone is serious about ridding football of this sort of thing they could do worse than apply the principles of a free press to football reporting. If it's a dive say so whoever they are playing for. Maybe our dumb officials might just apply the laws of the game as written rather than as some clubs would like them to be.
Elsewhere Frank Lampard Junior celebrated only almost relegating Everton by declaring their safety-clinching win against Palace as one of the best days of his career. Never mind maybe he will get a chance to complete the job once he gets a full season at it next term. If he actually gets a full season.
Then we have the nominations for the Premier League awards where Eddie Howe has somehow been nominated for the Manager Of The Year gong. The citation mentions his work in keeping Newcastle up since joining in November. Presumably that was despite only spending around £90-£100m in January. His record is sort of telling. In the period between signing on and the opening of the window the league the record reads LDWLLLD. After the following 7 reads DWWWDWW. Just coincidence I expect. Meanwhile a manager who got a threadbare squad into Europe for the second year running having only failed to win the damn thing due to a dodgy ref somehow got ignored. Funny that. Maybe we should get knocked out of the Cup by Cambridge next time.
That earlier mention of diving brings us nicely on to last week's draw with Man City. It is said that Grealish is, statistically, the most fouled player in the league. This is not true. While he may well be the player who has the most freekicks awarded to him, that depends on the stupidity of our officials and boy they don't come much dumber than Taylor.
City owed their equaliser to a free-kick from a dive that even the most damaged of single-cell organisms would have ignored. Not Taylor. The visitors had an opportunity to wrap up a thoroughly undeserved three points when a penalty was awarded. To award that penalty one would need to have missed or ignored a foul on Coufal in the middle – one that saw the player receiving treatment.
Now following the ball if we are charitable we could say Taylor might have missed it. However, it required both the VAR official and Taylor to actually and wilfully ignore the incident in order to give the spot kick. Taylor should have been made to stand up in front of the press to answer why one foul was picked up and another ignored. Incredibly this official who it is quite possible has never had a good game in his life – I've certainly never seen him have one – is being sent to the World Cup where his incompetence and dishonesty will at least have the excuse of being the result of sunstroke as the heat bears down on his stupid bald head.
Meanwhile Antonio may well want to know what he has to do to get a foul out of such refs. You know full well that had he gone down like Grealish he would have been booked. It reminds me of when we had Carlton Cole a few years ago and the now PGMOL-supremo Riley couldn't wait to book him every single time their paths crossed.
We did of course give Mark Noble a decent send off. Noble is the sort of person in football who stands for all those qualities Liverpool don't and his presence at the weekend was a refreshing reminder that not everything in the game stinks like the Mersey on a bad day.
Wasn't it fun to see Declan kicking a ball around with the kids like a benevolent uncle. One had to feel a little sorry for Yarmolenko whose own departure was somewhat – and rightly – overshadowed by that of the skipper. Yarmo is clearly a player who has had much talent but his time with us was interrupted with a couple of horrible injuries that meant we never quite saw the best of him. The stuff that he has had to deal with this year is of a nature that nobody should have to deal with. We wish him well wherever he ends up.
With 6th place still within the cross hairs I wouldn't expect Noble to start his last game – and he himself wouldn't have it any other way of course. On the injury front there was a slight doubt about Benrhama whilst this is hopefully the last game that Ogbonna and Diop will miss. Which brings us on to the last prediction of the season. The last six matches against this lot have seen them become a sort of bogey team. We have drawn all six, most recently in December when an iffy VAR call prevented us from taking all three points.
As we have seen they have drawn an inordinate number of matches and I guess the smart cash would go on this one to add to that list. However, I am going to be a bit more optimistic. Palace will be no walk in the park for the Salford lot and they will also have the incentive of finishing above Brighton to play for (that's the sort of ambition you get at small clubs like Palace). While we still have a chance of getting 6th and a Europa place I'd expect the players to take last week's splendid form into one last match to give us that last push – if we don't get 6th let it be because Man Utd beat Palace rather than because we didn't do our job should be the message.
So on that basis the £2.50 I was going to put towards buying Daisy a "kiss me quick" hat when we go down there this weekend (sharing a room for reasons of economy obviously) will instead go on an away win. Let us call it 2-1 to us please Mr Winstone.
Enjoy the game and have a good summer!
When Last we met in Falmer Drew 1-1 (Premier League May 2021)
We missed a number of chances and the game looked up when Welbeck put the home side 1-0 up on 84 minutes However Benrhama netted a superb equaliser with three left to play to give us mixed feelings. Happy at not losing but disappointed at not winning. The game marked Declan Rice's first since March following injury
Referee Kevin Friend
One of those who seems to have wandered in off the street because the match didn't have a ref and spends the next 90 minutes looking lost.
Danger Man Leandro Trossard
Always seems to at the heart of things when I see them on the television.
Percy's Poser
Last time, the Manchester Evening News had this important bit of information for us this week:
Playground made from recycled XXXXX XXXX XXXX opens in Manchester
Our final million pound jackpot winner of the season was Mrs Clarissa McFisheries-Clematis of West Mersea who spotted that the missing words wer Happy Meal Toys.
No poser this week obviously – go make your own up if you're that bothered.
* Like to share your thoughts on this article? Please visit the KUMB Forum to leave a comment.
* Disclaimer: The views and opinions expressed in this article are those of the highlighted author/s and do not necessarily represent or reflect the official policy or position of KUMB.com.
More Opinion