Filed: Friday, 5th August 2022
We did put in a bid for a top level overseas preview writer during the summer. We won't name names but a club from the Champions League were involved. Sadly we differed on valuations, mainly because they had one and we didn't. Oh well. Here's Preview Percy...(sigh)...
Good lord is that the time? Five past August? Well we open the season with a visit from the reigning champions in the form of Manchester City.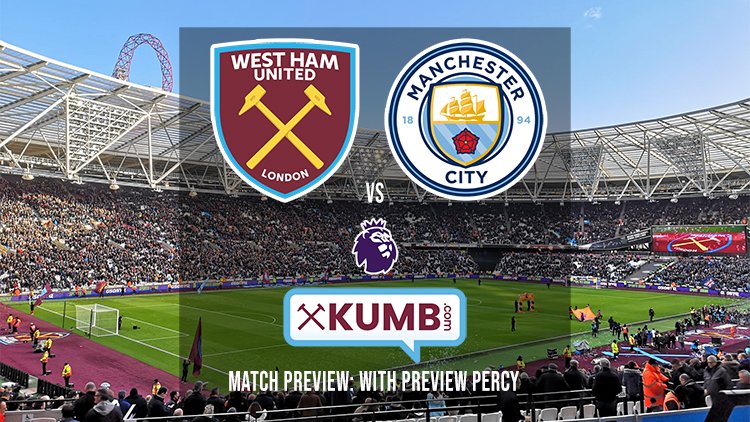 Kick off on Sunday is 4:30pm. Get used to the Sundays guys, by my reckoning, should we progress past the Thursday Night Conference play-off round we won't see a Saturday kick-off until November at the earliest. And even that would depend on the TV schedules. Meanwhile, the Elizabeth Line, the construction of which started 50 years before the invention of the railway itself, is now finally open. The bad news is that the middle bit is closed on Sundays – adding it to the C2C lines through Grays to the list of travel routes you can't use this weekend.
So the Citizens – and please note the correct spelling of the nickname they have had since some time before the Battle Of Hastings rather than the ghastly so-called "official" version spelt with a "Y", included presumably for copyright and marketing reasons. As one might expect from a club that is owned by a country – no matter how much they try to suggest otherwise – the money has been forthcoming as they endeavour to go for a third consecutive title – and with oil prices apparently reaching £100,000 per thimbleful of Castrol it's even more like small change to them.
Hilariously, Pep Guardiola was recently quoted as saying that the fact that they sold a few players this summer was indication of the "fact" that their business model was "sustainable". I'm sure my life would be more sustainable if someone primed the pumps with a couple of billion quid to start with.
All of which means that after, a winter window spent with her feet up having grapes fed to her one-by-one, Daisy my beautiful personal assistant, is now actually going to have to do some work. Her first point of interest was the £52m spent on Erling Haaland. The Norwegian striker was the first arrival of the new season coming as he did from Borussia Dortmund.
Haaland is the son of former Forest and Leeds defender Alf-Inge (Alfie) Haaland, a player possibly best known for his run-ins over the years with Roy Keane. Haaland junior was actually born in Leeds, a handicap he seems to have overcome with little difficulty. His goalscoring record in the Bundesliga is fairly astounding – 62 goals in 67 league appearances. At international level it's a similar story where he has netted 20 in 21 for Norway. There again he hasn't played against Craig Dawson yet. His bio seems to suggest that he is big on meditation. A lot of this appears to involve staring into distance whilst having absolutely no knowledge of what is going on all around you. Much like a Premier League referee then.
The next arrival bolstered the ranks of the custodians in the form of Stefan Ortega who arrived from German outfit Arminia Bielefeld on a free. Ortega, who owes his decidedly un-Teutonic surname to his Spanish dad, made over 180 league appearances for
Die Arminen
over two spells, the majority occurring on his return from a three year sojourn with our old friends at 1860 Munich.
His career seems to have consisted of quite a lot of "nearlies". As a youngster he was called up to the German Under 19 squad only to remain an unused substitute. For Euro 2020 he ended up on the standby list for the squad should any members of that 1930's music hall trio Neuer, Leno and Trapp have pulled up lame. Which they didn't. As if to underline the situation, the German magazine "Kicker" (which translates as "Kicker") voted Ortega as the Bundesliga's
second
best 'keeper in 2020.
At some point we were being linked with Kalvin Phillips. However, the £42m earned by all those pennies spent by people trying to spend a round sum at the petrol pumps last Tuesday was enough to seal the player's transfer to City. Add-ons could push that up to £45m, which will be covered by three minutes of petrol expenditure at Clacket Lane services on the M25. Philips' stock has improved over the years, particularly since people realised that he played well alongside Rice in the England set-up, finally reducing Henderson to the support act role that is still too much for him.
At the time of writing those are the only three first XI squad players to have arrived on the manor though who knows what will happen between the time this gets sent off to the boss and kick-off on Sunday. Haaland and his dodgy hair were on duty in the weekend's 3-1 Charity Shield defeat to Liverpool whose supporters once again booed the National Anthem before wandering off wondering why they are probably the most detested supporters in the country. City's goalscorer was Alvarez who, technically wasn't a new signing as such, having technically arrived in January, though he stayed with River Plate until the end of the season, scoring 6 times in a Copa Libertadores match at the end of May before crossing the Atlantic.
Time now to take our first look of the season at the Wild and Wacky World of Association Football. We really should start with a tip of the hat to the distaff side for their splendid victory in the Euros.
As I watched a capacity crowd at Wembley in common with some 17m others on the box I was reminded of a radio interview I did a few years back for the BBC. This involved me sitting in the commentary position at the Olympic where, for some unknown reason, my views on the teething problems we were enduring at the stadium were sought. The interview went out live which meant from time to time that the lead presenter – Jonathan Overend - paused to go to other sports and grounds for score updates.
As the score from Chelsea v Man City in the WSL came in that day's match commentator who I had the misfortune to be sat next to nudged me and said "Women's football? Nobody cares do they?" or words to that effect. Thankfully, the commentator – who was not much loved anywhere much outside his outsized clothing – is no longer employed by the BBC. I do wonder if he was watching on Sunday though.
At this time of the season most news centres around the incredibly boring world of the transfer window as so-called ITKs up and down the country claim to have spotted Lionel Messi filling up at the Clacket Lane services on the M25 en route from Gatwick to Gillingham. You know the sort of thing. So I am indebted to the Swiss courts for their comedy decision that Sepp Blatter and Michel Platini are gentlemen of the highest order and that an unauthorized payment of £1.35m received by Platini was simply pay he was due – despite any evidence to back up that assertion. Thank heaven for FIFA eh?
And so to us. Well we have four new first XI signings on board at the time of writing (five if and when Maxwel Cornet is signed). Technically speaking. I'm not going to count Areola though since he was here already. So "Bienvenue" to Nayef Aguerd a £30m arrival from Rennes. And au revoir to same, the player having succumbed to the curse of Webster and Hall by getting injured in the friendly up at Rangers. He has had surgery and we are looking at somewhere near November before we see him. Maybe he will finally make his debut in our first Saturday game?
Our next arrival was Flynn Downes who came in from Swansea for an undisclosed fee which Daisy says was something like £12m. Downes, a Hammer, arrived after one season in South Wales having arrived from Ipswich Town with whom he spent the previous four years, including a spell on loan with Luton. He's a former pupil of Brentwood school whose alumni include the late great Douglas Adams (good) and Frank Lampard Junior, who is apparently going to manage Everton for the next few months (bad). I will be very disappointed in the modern footballer if Downes isn't nicknamed "Erroll" by his teammates.
Now sit down. I have some important information to impart. We signed a striker. Yes a forward. A player who plays up front. For a living. This astounding tactical concept occurred with the arrival of Gianluca Scamacca from Sassuolo the Italian Football Club named after a Phil Collins single. Daisy says that the fee was somewhere in the region of £30.5m excluding add-ons.
Scamacca has spent much of his career distancing himself from the actions of his Dad who does things like smashing up cars parked at the Roma training ground. As you do. Scamacca went to great pains to point out that he shared only a surname with Pop who seems to have been off the plot for many years. Put it this way if Scamacca senior asks for any complimentary tickets from his son he'll probably find his mobile switched off. On the pitch Scamacca has been capped on seven occasions by the Italians, who cleverly avoided potential sunstroke by failing to qualify for the World Cup. He'll be able to give it a good go for the first few months safe in the knowledge that he will have a nice break in December.
We have been linked with a number of others but there's little point in my commenting until stuff materialises. There are areas where we need strengthening and many of those linked with us would strengthen those areas. Let's wait and see.
Injuries? Well apart from Aguerd there is a doubt about Diop who is recovering from an unspecified knock but is expected to form part of the squad for Sunday. Which brings me on to the prediction.
Over the last 12 months we have improved to the level where Man City no longer turn up and look at this fixture as an easy three points. In fact last season we drew two and just lost the one against them – and one of those draws was a win on penalties. So much will depend on whether we can maintain this upward trend. If we can go into this match with the same attitude as we did in the corresponding fixture just a few weeks ago I see us getting something out of it. I will suggest a draw so the traditional £2.50 that would have been spent on Platini's leaving gift will instead be transferred to the accounts of Winstone's Digital Turf Accountants and placed on a 2-2 draw.
Enjoy the game!
When last we met at the Olympic: Drew 2-2 (Premier League May 2022)
Superbly entertaining match which marked Noble's last home game. A Bowen brace saw us take a deserved lead into the interval. A deflected Grealish effort reduced the arrears before Antonio found himself clean through on goal after being put through by a woeful Fernandinho back pass. He missed. A Coufal og levelled the scores before village idiot Taylor gave a penalty. It was a penalty – but only if you ignored the challenge in the middle on Rice a second earlier. Fabianski saved Mahrez's effort to give us the draw which was the least we deserved. Man City went on to win the league by that point which, coupled with our win over the Anfield whingers meant that we decided the title.
Referee/VAR: Michael Oliver/Mike Dean
In the title-deciding match between Man City and Villa last season Oliver managed to "forget" to add on any time for a reasonably lengthy injury that occurred in stoppage time. And that, ladies and gentlemen, is the calibre of idiot who claims to be the best in the country. Meanwhile given the glorious opportunity to rid themselves once and for all of the loathsome Mike Dean they elected instead to give him a VAR role which of course will in no way give him a conflict of interest as he looks for stuff to fill space in his newspaper column.
Danger Man: Erling Haaland
After what was a bit of a damp squib in the Charity Shield he will be keen to make more of an impression when it really counts.
Percy & Daisy's True or False
Frankly the missing headlines were becoming a pain in the proverbial. I mean you try reading the Liverpool Echo four times a season to find a light-hearted story that doesn't mention drug dealing. So instead, Daisy and I put our heads together and came up with our new game. Each week we will come up with a "fact" about the club we are playing, or the town or city from which they come. All you have to do is decide whether the "fact" is true or false. So simple a Spurs fan could understand it. If you explain it to them. Very Slowly.
This week's fact: The name Manchester originates from the Roman word for breasts. True or false?
Good luck everyone!
* Like to share your thoughts on this article? Please visit the KUMB Forum to leave a comment.
* Disclaimer: The views and opinions expressed in this article are those of the highlighted author/s and do not necessarily represent or reflect the official policy or position of KUMB.com.
More Opinion
Saturday, 6th August 2022
Thursday, 4th August 2022