Filed: Friday, 12th August 2022
Preview Percy muses on Elgar, the price of a pint at the London Stadium and smartphones. Oh and Forest away...
Next up we pay our first visit of the season to the home of a promoted side as we visit the City Ground where we will be hosted by Nottingham Forest. Kick-off on Sunday is 2pm.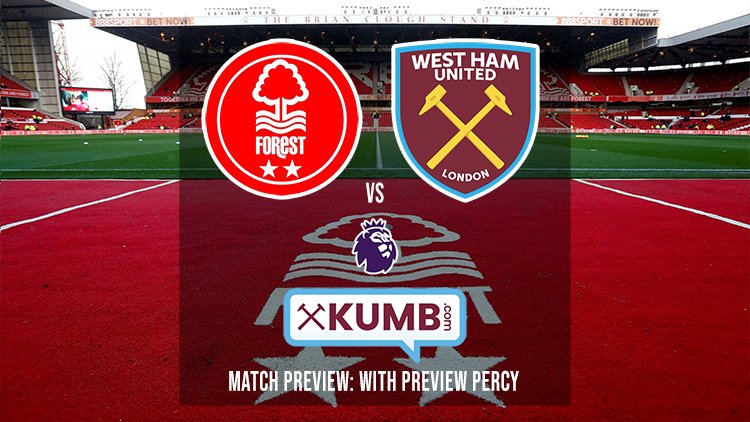 Travel by train has the potential to be "interesting" shall we say. There is some early morning engineering on the lines out of St Pancras which should be clear by about half-eight. However, it is not unusual for these things to overrun. There is also a rail strike on the Saturday and recent experience of these things suggests that the first trains in the morning on the day after tend to run a bit later than usual. Trains into and out of Fenchurch Street have their usual replacement buses in the Grays area if that's your route into town. Check before you leave – and probably while you are travelling as well.
So Forest then. As I have mentioned in the past they were the most hated team of the 1970s purely because their name happens to fit the opening line of "Land Of Hope And Glory". We are of course a long way from the days when they won the European Cup two seasons running – arguably the greatest achievement ever in club football. Consider this. They went from Division 2 (The Championship these days) to Champions to European Champions in successive seasons. Even back then it was astonishing – Brian Clough may not have been the most likeable of coves but nobody could deny his achievements.
Of course – and I think even the most die-hard of Forest fans might concede this point – although they have just been promoted via the playoffs the chances of a repeat run of similar stature are on a par with those of winning the Euro Lottery three weeks in a row without actually having bought a ticket. As if to reinforce the point their opening game defeat up on Tyneside probably brought them back down to earth a bit. I understand that they failed to muster a single effort on goal at Newcastle which, even at this stage of the season, must be a slight concern.
On getting promoted there seems to be two schools of thought as to how one should behave. Either spend big or make do safe in the knowledge that a parachute payment will soften the blow. Forest have chosen the former route, giving Daisy a lot of research to get through.
The first arrival was Nigerian international striker Taiwo Awoniyi whose undisclosed fee of £17m paid to Union Berlin is a club record. The 24 year-old striker has a rather odd history. He signed as an 18 year-old for Liverpool, staying on their books for six years without creating an awful lot of work for the guy who prints the names on the back of the first team shirts.
Pretty much all of that time was spent on loan at various European clubs, with a UK work permit being apparently more difficult to obtain than those of Germany, Belgium and the Netherlands. The last of his 7 loan spells saw him pitch up at Union Berlin who were sufficiently enamoured of the player to pay £6.5m for his services on a permanent deal, thus making a £11.5m profit on the player. However a million of that went to Liverpool who had put in a sell-on clause. Awoniyi came on in the second half at Newcastle.
Unlike Giulian Biancone, a £5m capture from French outfit Troyes. Biancone came up through the ranks at Monaco but made only three first team league appearances in the Principality spending most of his time on loan at Cercle Brugge before joining Troyes for whom he made 33 appearances before hitting the East Midlands.
They did a lot of shopping in Germany. Apart from Awoniyi they brought in Moussa Niakhate from Mainz (£8.5m + add-ons), Omar Richards from Bayern (around £8m) and Oriel Mangala from Stuttgart (£12.7m). Of those, Richards has the most interesting history. A Lewisham lad he started out on the books at Fulham before the late Eamonn Dolan brought him over to play for Reading. After nearly 100 matches for the Biscuitmen it was announced that he would join Bayern on the expiry of his contract. Amazing to think that their scouting network includes the backwoods of the Thames Valley. Richards' tenure in Bavaria didn't last that long and after 12 league matches for Bayern He arrived at the City Ground.
They had a free transfer in the form of Jesse Lingard, a face well-known to us of course. Now there have been noises out of the East Midlands suggesting that his wages at Forest are actually less than what he would have received at the Olympic. I have no idea whether that's the case or not though persons more learned than I have suggested that the figures quoted only work if you exclude items from the Forest salary that were included in the West Ham figures.
I have long since learned to distrust quoted figures on footballers' wages – especially when the "information" released is designed to prove a point – in this case suggesting Lingard's choice was purely for footballing reasons. The fact that he was willing to commit to them for one whole season is of course ample evidence of that.
In goal they brought in Dean Henderson on loan from Man Utd. In a tale that will be eerily familiar to followers of the Lingard saga, Henderson spoke of broken promises regarding first team action and of having wasted the last 12 months at Old Trafford as a result. Indeed Henderson stated that he deliberately avoided incoming manager Erik Ten Hag and sorted out the Forest deal before he arrived so as not to be conned into staying put a second time.
On we go to the Wild And Wacky World Of Association Football. Most bonkers example of moving from the sublime to the ridiculous. Step forward Ismael Saar whose first half effort for Watford at West Brom was one of the best goals you will ever see. Shame then that he wasn't quite as accurate from the 12-yard spot when his second half penalty was so weak 'keeper Button had time to finish the crossword he had been doing when the first goal had been scored.
Meanwhile up at Everton whilst supporters may be celebrating the arrival of one time Hammers target Amadou Onana for £33m, some analysts have expressed concern. Given that at one point recently Everton's wage bill was said to be £98 for each £100 of income, something that the Premier League are said to be keeping an eye on, they will need to be particularly careful over the coming months. Especially if they have to pay off their loathsome manager at some stage.
And so to us. A few housekeeping points from last week. Firstly, the smartphone-based entry system. Now I turned up on Sunday around 45 minutes before kick-off but still only managed to get in just before the start. The problem was that, from what I saw in my queue anyway, something like one in five people were having issues.
Now that may or may not seem a high number – I know little of these matters. However, what I can say is that every person who has an issue causes a delay which increases exponentially for every person whose phone doesn't work. I appreciate that many of these entry failures are user-inspired but if the smartphone system is to become the default mode of entry it really needs to be fool proof. It wasn't great last season and the old card system worked pretty well by and large so if it ain't broke…..
Secondly, I have been sent photographs of the new wall that accompanies the new seating, dividing the home and away support. I do not know how much input the club has into the design of that section but I'd suggest that they don't really get football. Maybe they are the same people who think £7.50 is a decent price for a pint. I believe that the price of a beer is supposed to be linked to the average price of a pint at other London stadia. If that is the case all I can say is that the local pubs must be rubbing their hands with glee.
And to the match: Tactically they passed us to death. Usually when a team knocks the ball around for a dozen or so passes there is a self-inflicted pressure to do something with the ball – a pressure often magnified by the crowd. Eventually someone will try an ill-advised cross or pass and possession is lost. What Man City have done is eradicated that pressure. If they make 12 passes and haven't gotten anywhere they are quite happy to do 12 more if necessary without a second thought.
This transfers any pressure on to their opponents who, having not touched the ball for a few minutes feel under pressure to do something different to win it back. Defensive shape gets lost and bang in goes a goal. The trick to dealing with such tactics is partly one of attitude and partly one of discipline. Sadly we looked overawed and paid them too much respect, the lessons of last season having been forgotten.
On the performance side it was largely a day to forget. When you have so little possession it is important that if your pressure release valve involves your front man he needs to hold up the ball long enough so that he can be joined by midfielders to whom the ball can be laid off. Unfortunately, Antonio had one of those days where the ball seemed to rebound off him at pace rather than stick. Things improved in that area with the introduction of Scamacca who showed glimpses of potential class, winning stuff in the air and bringing one good save out of the keeper, albeit from an offside position. Promising. However, Rice apart, it was not a match that anyone will be remembering their performance with any fondness.
Of course, things weren't helped by having to operate with one proper central defender. Some rum goings-on in that department. Amid rumours of some discontent Dawson is said to have a "knock". Aguerd we know about whilst Ogbonna needs a few more weeks to get back to action. Then there's the strange affair of Issa Diop.
Diop, we were told "did not put himself forward" for selection, according to David Moyes. Now that's a phrase with which I'm not comfortable. Unless I'm much mistaken and the terms of the HMRC Employment Status Manual have changed significantly since I last looked, Diop was an employee of the club. As such he was duty bound to play if and when selected. The idea of "not putting oneself forward for selection" is something you'd expect from early season matches for your Sunday league XI where Darren is off to Ibiza for a couple of weeks.
I know this isn't the first time this has happened – remember Benrhami's mystery injury that healed up just after the window shut with nobody having bought him? However, it's mightily depressing that players can do such a thing – especially in an area where we are short on numbers. With Diop now at Fulham I hope they added a few million to the fee. the transfer fee for every game missed.
This week we will still be sans Ogbonna and Aguerd obviously. Dawson is also a doubt. However, having had a week for his signature to dry, Cornet should be available for some involvement in the squad. Fabianski is the other doubt – a dead leg curtailing his involvement at the weekend. Which brings me on to one of my musings.
This season sees the introduction of substitution windows – you can bring a player on no more than three occasions during the playing time of a match – plus at half time. The well-meaning intention of this rule is to stop time-wasting by repeated substitutions - you can imagine someone making five changes to protect a 1-0 lead in stoppage time.
This does have a potential downside though. Fabianski's injury happened early enough for him to be the first change of the day. What if it had happened after we had used our third window? We might have two subs available but not have any way of replacing a crocked 'keeper. Maybe there should be an exemption for 'keepers – they are rarely replaced for tactical reasons after all. Just a thought.
So prediction time then. Well it's their first home game of the season and they will be thinking that "the season starts here" in the knowledge that they won't be playing a side with the vast oil resources of a country behind them. Whereas we will be looking at our first away game – and thinking exactly the same.
We need to re-install the attitude we had last season and take the game to them. On a normal day one would fancy us to win but the "first day of term" effect of a newly promoted side at home can't be fully discounted. Nevertheless I still fancy us to win this one. So the £2.50 I was going to put down as a deposit for a mortgage on a pint at the Olympic will instead be deposited with Winstone the Digital Turf Accountant as a wager for an away win. Make it 2-1 to us.
Enjoy the game!
When last we met at the City Ground: Lost 5-0 (FA Cup January 2014)
There were plenty of low points during the Allardyce reign but this was a particular doozie. Allardyce decided to make a point by sacrificing all notions of a cup run by packing the side full of kids. The result and score were inevitable.
Referee/VAR: Robert Jones/Mike Salisbury
Jones was last seen taking charge of our 4-0 win up at Norwich. Still a relative newbie. Salisbury is even more inexperienced having just had a smattering of top flight games.
Danger Man: Jesse Lingard
Law of the ex and all that.
Percy & Daisy's True or False
Last week's fact was : The name Manchester originates from the Roman word for breasts.
Congratulations to Mrs Sarah Dodecahedron of Tolleshunt D'Arcy who correctly guessed that the fact was in fact true. Something about the Romans noticing the shape of the hills outside the city rather than the tits up that way.
This week we ask you about Nottingham. Daisy tells me it was formerly known as Snottingham. True or false?
Good luck everyone!
* Like to share your thoughts on this article? Please visit the KUMB Forum to leave a comment.
* Disclaimer: The views and opinions expressed in this article are those of the highlighted author/s and do not necessarily represent or reflect the official policy or position of KUMB.com.
More Opinion
Monday, 26th September 2022
Thursday, 22nd September 2022
Thursday, 22nd September 2022
Thursday, 22nd September 2022
Friday, 16th September 2022
Thursday, 15th September 2022