Filed: Tuesday, 16th August 2022
Greece, Sierra Leone and East Midlands Railway. No it's not a Michael Palin documentary it's a Preview Percy international style preview. May also contain some relevant stuff about our opponents Viborg. But don't bet on it...
Next up we return to European action as we face Danish outfit Viborg. Kick-off for the home leg is 7:45pm but beware. It's a rail strike day so good luck getting there. Details for the away leg are TBC at present.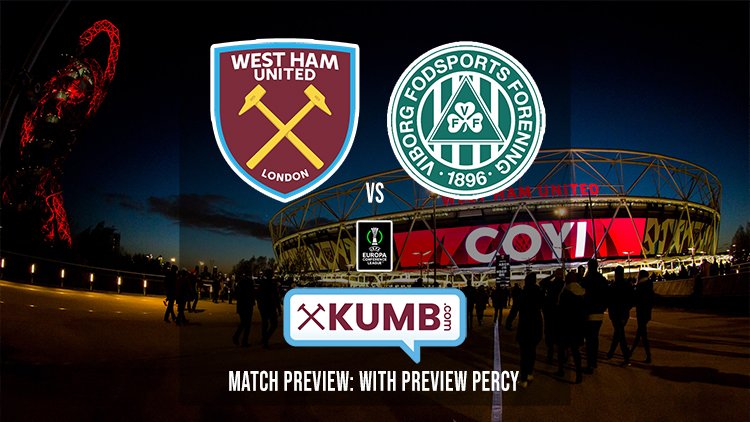 So Viborg then. They've been going nearly as long as we have (or a few years longer depending on how you view Thames Ironworks) having been formed in 1896. Back in those days they didn't have "focus groups" or "marketing guys" so their nickname of "The Greens" is genuine – if slightly unimaginative. But all the better for it.
In that time they have won just the one proper trophy taking the Danish Cup in 2000. They qualified for this tournament by finishing seventh in the Danish Superliga last time out. That was their first time back in the top flight since relegation in 2017. A look at their recent history shows that they tend to have a year or two here and there in the Superliga interspersed with a few years in the first division.
Their league season started back in July and with five played and having won three and lost two they sit in 4th spot. Their journey to this stage of the competition saw them travel to Estonia beating Suduva 1-0 in both legs, and to the Faroe Islands where they beat B36 3-0 at home and 2-1 away to set up this tie.
Now normally I would go into some details of our opponents, using the research undertaken, as ever, by the wonderful Daisy. However, I understand that a full blown stat attack is going to be published elsewhere on this website and not being ones to duplicate efforts unnecessarily we will let others do the hard work on this one.
This is handy as we have decided to sacrifice the next couple of weeks in undertaking some first-hand European research on the off chance that we qualify for the group stage of the Thursday Night Conference League. Three Greek teams entered the competition and, whilst none of them survived to this stage, we decided that Rhodes would be the perfect place from which to conduct our research. Especially since our usual footballing plans for this part of the season were thrown into disarray by FIFA's forgetting to contact me about the dates for the World Cup so I could arrange our holiday, er, I mean research trip, accordingly.
On to the wild and wacky world of association football then. And eyebrows have been raised in Sierra Leone where Gulf FC qualified for the so-called "Super 10" phase of the Sierran second tier league by beating Koquima Lebanon 3-1 whilst closest challengers Rangers (not that one) wend down 1-0 to Lumbebu United. So far so mundane. Except that these two fixtures were replays, the previous matches having raised some suspicion amongst the more observant onlooker. Gulf had triumphed over Lebanon 91-1 in the previous attempt to play the match. Interestingly, with 35 minutes left to play Gulf were "only" 10-1 up meaning that they were rattling in two goals a minute in the latter stages.
Rangers (not that one) , for their part, kept a clean sheet on that particular day in a 95-0 win over Lumbebu. All four teams were suspended for some reason but the suspension was lifted following the findings of the regional FA which, at time of writing, still have yet to be made public. Other enquiries are taking place and CAF and FIFA are involved. Expect FIFA to take a year looking at the footage and proudly announce that further enquiries should follow on the grounds that Gulf's 87th goal was clearly offside.
We also noticed some disquiet when the news pages of this very website announced the impending nuptials of Chairman David Sullivan to somebody whose name eludes me but who is probably already a director of the club. The event is said to be a double wedding involving serial scouse disaster area Kerry Katona and somebody else whose name also eludes me.
Now the whole thing may be a joke or a publicity stunt or something but just to be on the safe side I'd like to point out that I have a chiropodist's appointment that day whenever it is. Seriously though Mr Sullivan weddings are expensive things – especially when it involves persons of such taste and refinement as this one does. You don't want to stint on these things but times are hard and you wouldn't want to run out of cava. A thought occurs – might this not be a good time to liquidate a few assets, for example, ooh I don't know, say your shares in a football club?
And so to us. I won't talk too much about the match – I'll save that for the Brighton game. However, I can't let the opportunity pass without having a few words about East Midlands Railway.
Nottingham Central, Sunday lunchtime
Unfortunately I am not allowed to use the few words I would like to. Travel to Nottingham on Sunday morning was a complete shambles. The 9am train was ten coaches long. However this consisted of two individual trains of five coaches with no connection between the two. This arrangement requires a second "Train Manager" to sit in the second set of coaches. And, we were told, due to a "mix-up" a second train manager was something someone had "forgotten" or otherwise failed to book. This meant that we had 10 carriages' worth of people crammed into five coaches. With no air con.
The train was delayed further whilst sufficient numbers sacrificed themselves by taking a later train. The promise of a second train manager at Kettering just added to the hot air that we were having to breathe as he or she decided to give it a swerve. And guess who got the blame for the delay? Yup it was us the football supporters. "This train has been delayed by overcrowding caused by a football match" was the official line rather than "this train has been delayed by our inability to run so much as a whelk stall never mind a railway" which should have been the actual explanation. The railway company have been asked for comment though nothing has been received at the time of writing.
On the pitch for this one we will have changes enforced upon us. Cresswell is suspended for one match following the ludicrous red received against Eintracht last season whilst Rice is also suspended for both legs for having informed the referee in no uncertain terms just how ludicrous said decision was. The manager will also be banished to the stands for kicking a ball at a ballboy.
So prediction then. Well it's a game we ought to win, obviously, but we have yet to hit the ground running this season which should instil a note of caution. As ever these matches are as much a matter of attitude as anything else. However, there was enough evidence on Saturday to suggest that goals are there with just a minor change in luck and I think that there will be enough on show for us to progress to the group stages. So the £2.50 which, no doubt will be the extent of my refund from East Midlands railway will instead go on us to win 3-1 at home and 2-1 away.
Enjoy the game!
When last we met
We haven't. Unless you are reading this in connection with the second leg in which case it was last Thursday and you should pay a bit more attention.
Referee 1st Leg Marco Di Bello (ITA) 2nd leg TBA
Italian top level official who has yet to issue a red card this calendar year. Was probably too busy laughing to bother when he took charge of Ireland 3 Scotland 0 back in June.
Danger Man: Clint Leemans
Arrived last summer from Zwolle in the Netherlands. His Dutch Caps dried up at U21 level. He's their current top scorer with three.
Percy & Daisy's True or False
Last time out we asked you whether Nottingham had previously been called "Snottingham". Well done to Mrs Rosemary Bunsen-Burner for correctly identifying the fact as "true". Nothing to do with the gunge one has up one's nose. It's simply derived from the fact that the land once belonged to a chap called Snotta.
This week we look at our opponents home town: True or false: Viborg was named after Lars Viborg, the 8th century brewer who invented the inverted firkin.
Good luck everyone!
* Like to share your thoughts on this article? Please visit the KUMB Forum to leave a comment.
* Disclaimer: The views and opinions expressed in this article are those of the highlighted author/s and do not necessarily represent or reflect the official policy or position of KUMB.com.
More Opinion
Monday, 26th September 2022
Thursday, 22nd September 2022
Thursday, 22nd September 2022
Thursday, 22nd September 2022
Friday, 16th September 2022
Thursday, 15th September 2022