It takes something for Dermot Gallagher to become an irrelevance, such has become the total condemnation of the scandal of Chelsea, VAR and all that sail in the discredited system solely set-up to deny West Ham goals.
However angry I get at refereeing failures, and even if I haven't calmed down by Mondays, Sky's former Premier League referee usually manages - with some difficulty - to explain what was going through the brains of the Stockley Park airheads.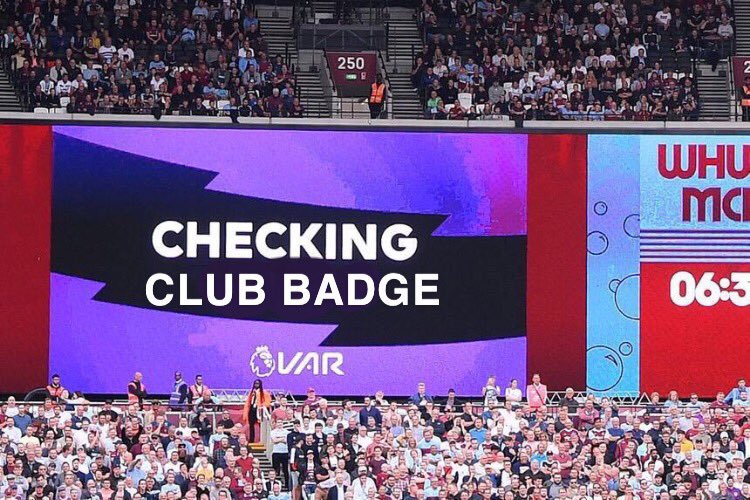 But this time around the football world, barring the equally brain-dead Chelsea contingent from their disingenuous manager to their nutjob fans, had made their minds up. West Ham (and Newcastle) had been robbed.
For that we can thank our manager David Moyes for throwing caution to the wind and calling it like it is. "Rotten", "scandalous", he got it right. Unquestionable the Premier League's most experienced manager got it right. Brave enough to put the boot in, come hell or FA anger.
That officialdom is going to leave it there is a good thing, the can do without any more days of justifiable condemnation, thank you.
The dust won't settle on this one, a line in the sand has been drawn. Professionals and fans alike have had enough.
Gallagher didn't try to sugar coat things in his Monday ref's watch. Maxwel Cornet's scrubbed off late equaliser should have stood, we should have had a 2-2 draw.
And he carefully turned the screw on cheating, faking Chelsea 'keeper Edouand Mendy, he of the rolling around, clutching his chest in agony after being felled by the fresh air created by Jarrod Bowen's foot.
Moyes had already launched into Mendy, as had a few more. But Gallagher's view, having clearly spoken to the clown inside VAR's circus, was that they were more concerned about what looked like a serious injury to the Chelsea 'keeper who has some previous for this sort of thing.
It was the only mitigating circumstance he could come up with and why the VAR man for the game, Jarred Gillett, the heavily over-promoted import from the A League in Australia, contrived such a ridiculous interpretation of the laws of the game. A referee with very little top level experience who has been parachuted into the Premier League for reasons I fail to understand. Out of his depth, clearly.
Since then, and with PGMOL admitting they got it wrong while agreeing to the Premier League's demands for a full review, the real damage to the integrity of the game has been obvious from social media and twitter.
Gallagher emphasised that there will be talks this week between the referees and the PL, to make sure this nonsense does not happen again. But we've heard this all before, haven't we?
It always seems to be us, even if it's not. A year ago Moyes ventured to be more than shocked that five of our eight red cards since 2015/16, had been rescinded. This season, as Declan Rice pointed out, we have had two goals ruled out in four games.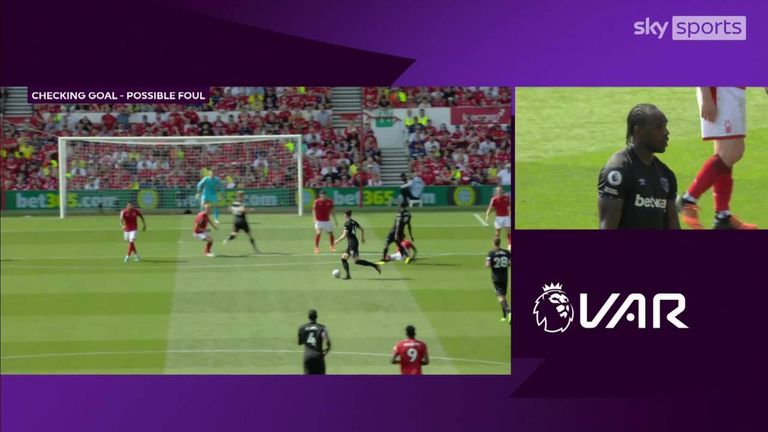 The previous one was an equally nonsensical decision when Michail Antonio was considered to have fouled a Nottingham Forest player yards away from the action when in fact the player stepped in front of Antonio's decoy run at the last minute. And no, I have no intention of discussing this further with Forest's irritating fans.
But I think we can forget fanciful ideas of points being awarded or games replayed. There is no precedent for any of that, any move down those routes would open a whole can of worms. Every club could find a reason for retrospective action by the authorities.
It's going to be an "ongoing assessment" which will be of no good to Moyes, who has now lost four of our first six league games and we face equally aggrieved Newcastle on Sunday. Some irony there, the two clubs closest to gatecrashing the top six you could say and the two clubs to be complaining most about suffering from "big club bias".
And that's the real issue for the Premier League now. VAR will not be abandoned, even if there are grounds that it should be. There's too much money involved in it now. But it is ripe for being refined.
Let's stick to goal line technology and offsides, not subjective opinions on seemingly everything else. There is nothing wrong with the VAR technology, it's the referees working it and the increasing demands it seems to get them involved in all manner of other issues.
The bottom line though is that the Premier League need to win back the belief and trust of fans who seem to think there is a wholesale level of corruption in place to favour the big clubs.
I don't want to believe that exisists, I consider it down to incompetence and very poor management. Still many fans are convinced that the game is bent in favour of the status quo, the big clubs who were hell-bent of joining a European Super League and who do not want to see upstarts like ourselves in the past two seasons and now Newcastle, with their Saudi oil money, crashing into their private little cartel.
One theory I keep seeing on social media is that those big clubs are being pacified after the ESL disaster, by getting decisions going their way.
The word 'corruption' continually spews from social media in increasing regularity. I don't want to believe it but when you witness the allegations of corruption in politics, why would football be any different in this day and age? You can see how fans, conditioned by modern society's excesses, can see life that way.
So the best we can get is an apology. The same as the one Newcastle will get, no doubt. So what happens on Sunday if there is any controversy? It's a terrible situation that any referee should not have to work under, but VAR's constant mistakes just makes the general public doubt the integrity of the authorities even more.
And let's be honest: Moyes did us all a favour by two-footing everyone in sight over the weekend. But his team were denied a deserved point, and he knows we need to correct our poor start to the season quickly. VAR's disaster just makes that a little more difficult.
* Like to share your thoughts on this article? Please visit the KUMB Forum to leave a comment.
* Disclaimer: The views and opinions expressed in this article are those of the highlighted author/s and do not necessarily represent or reflect the official policy or position of KUMB.com.
More Opinion
Monday, 26th September 2022
Thursday, 22nd September 2022
Thursday, 22nd September 2022
Thursday, 22nd September 2022
Friday, 16th September 2022
Thursday, 15th September 2022