Filed: Wednesday, 7th September 2022
Preview Percy is back from his European research trip to discover that everyone is now saying about referees what he has been saying for the last 20 years. Is he smugly telling everyone "I told you so"? Of course he is, unfortunately. So much so that we're surprised he had time to pause to put together his preview of Thursday's visit of FCSB...
Next up we return to European action as we face Romanian outfit FCSB in the home tie of the Thursday Night Conference group stage. Kick-off is at 8pm should you have worked your way past the club's incredibly unreliable ticketing system. No train strikes this time out but if the system left you ticketless BT have got the rights to this one.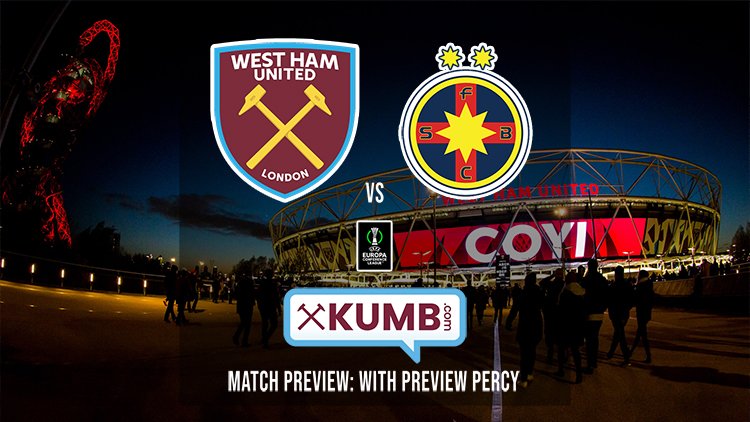 So FCSB then. Not a final hand of Scrabble which sees you desperately scanning the board for an unencumbered vowel but the result of lots of lucrative overtime for the Romanian legal profession over the rightful ownership of the name "Steaua Bucharest".
In the beginning there was CS Steaua Bucharest which was the Sports Club of the Romanian Army. They plodded on happily enough, becoming in 1986 the first Eastern European outfit to win the European Cup, spending 120 minutes playing for penalties before beating Terry Venables' Barcelona 2-0 in the shoot-out with the Steaua 'keeper saving all four spot kicks faced.
Then in 1989 stuff happened. Non-football stuff. Nominally a "Socialist Republic" as is the usual case with these things the "public" had little say in what went on in Romania other than to scream loudly while the secret police turned up the voltage. However, the rest of Eastern Europe had, by then, ditched the Marxist/Leninist/Communist/Whateverist set up that had existed since the end of WWII. Romania was the last country to fall and, whilst most countries managed to change relatively peacefully, Mr & Mrs Ceausescu who were effective dictators at the time found their leadership terminated by firing squad on Christmas Day.
Although in the grand scheme of things there were more urgent priorities than football for the Romanian public at the time, when the dust settled the Army effectively "owned" a football club which didn't sit well with the new regime which was privatising left right and centre. An opportunity was spotted and the football club was hived off from the rest of the Sports Club and placed in private hands. Eventually the Ministry of Defence piped up and claimed ownership of the name and honours, particularly since they wanted to set up their own club to preplace the one that left. Which is why they are FCSB. They held onto the UEFA coefficient points though which is nice work if you can get it.
The Romanian League is one of those leagues which has a regular and a post-season. The top six qualify for a 10-match league, carrying forwards half the points they had at the end of the regular season. Nobody knows why. FCSB finished 14 points behind Cluj in the regular season but when the post-season finished they were but a single point shy of them. This was enough to qualify FCSB for the second qualifying round of the Thursday Night Conference league. This they negotiated by beating Saburtalo Tiblisi 4-2 at home having lost the first leg in Georgia 1-0. Slovakians DAC were dispatched 1-0 in both legs in the next round.
In the play-off round they overturned a 2-1 deficit from the first leg against Viking Stavanger, winning 3-1 to get through to the Group Stage. All of which will have been a welcome distraction from their domestic start where their one win in seven has seen them languishing in 13th spot – fourth from bottom. So all in all a far cry from the Steaua side that we played in the past and a long long way from the top table at Europe.
Captain and, so far, top scorer, is winger Florinel Coman. He has been capped at full level by the Romanian national side – though with five caps in three years he's not been what you'd really call a regular. Daisy tells me he has a bit of pace and is usually employed on the left. Daisy also tells me that his Facebook page compares him to Kylian Mpappe though that might be just a bit of optimism on the part of the writer.
They like us have picked up an Italian striker this summer though the pedigree of Andrea Compagno suggests a difference in class in favour of our Scamacca. A list of clubs for whom Compagno has played in Italy includes the sort of place whose inhabitants are probably unaware that they had a football club in the first place. Even at that level he didn't make much of an impression, only hitting double figures in a season once he had popped over the border with San Marino scoring 33 goals with Tre Fiori.
This brought him to the attention of Craiova for whom he scored 24 league goals in 57 games. He made the move to Bucharest this close season for €1.5m – the addition of an interest fee of 10% suggesting that the Romanian league isn't exactly awash with funds. He has one goal this season.
And so to the Wild and Wacky World of Association Football. I will deal with the dreadful state of refereeing in this country (yet again) in more detail in my look at the visit of the Geordies later on this week. However all I will say this time out is "I told you so".
Putting the referees in charge of referees was always the worst idea ever. In 21 years the group has served only to protect the ever growing numbers of incompetent officials in this country from the consequences of their actions. Now I hear that the Premier League have summoned PGMOL to explain its members' decisions this weekend. A welcome move if, perhaps 21 years late. PGMOL has said that in intends to "fully co-operate" with the enquiry – as if they are doing us a favour. The sooner PGMOL is scrapped and replaced by an FA run body with proper assessment of officials the better.
And on to us. I'll comment more on our league results in the appropriate place and move on to the injuries. Augerd and Johnson are definite non-starters. The status of Dawson who we are happy to see stay is less certain but he may be a bit nearer a return to the squad. Scamacca will hopefully have recovered from that which ails him – a definite plus point if he is fit as European nights are made for him in my opinion. Cresswell is nearer to a return than he was on Saturday whilst Rice has now completed his suspension for a breach of the official secrets acts.
I will be erring on the side of optimism for this one. They are not nearly the strength of their predecessor club as evidence by their average gates of around 10,000 which rattle around a 50,000 plus stadium. European matches can sometimes be a bit of a lottery on the referee front but it is a measure of how bad things have got in this country when you consider that it will be no more a lottery in European matches this season than it will be domestically.
For those reasons I will be going for a home win to get us three points on the board and will therefore be sending the £2.50 which I was going to send in to double the PGMOL development budget down the digital hotline to Mr Winstone for it to be placed on a 3-1 win to us.
Enjoy the game!
When last we met at home: Drew 0-0 (UEFA Cup November 1999)
Technically we haven't played this version of the club but hey go complain to Offpreview or someone if it means that much to you. We laid siege to the Steaua goal but their keeper had a fine game as the visitors successfully defended a 2-0 lead from the first leg. If memory serves me right we played in our white change kit that night for some reason.
Referee: Benoit Bastien (FRA)
I saw a photo of this official and thought "he looks an old school no-nonsense type". Then Daisy brought in his stats. At the start of the season he dished out five red cards in four days; two in the league match between Lyon and Ajaccio and a further three in the qualifier for the So-Called Champions League between Dinamo Zagreb and Ludogrets. He added six yellows to each of those matches for good measure.
Danger Man: Florinel Coman
Well why not?
Percy & Daisy's True or False
Last time out we asked you whether Viborg was named after Lars Viborg, the 8th century brewer who invented the inverted firkin. Well done to Mrs Harriet Flux-Capacitor of Romford, who correctly pointed out that Wat Dabney was the inventor of the inverted firkin in the film Jabberwocky and thus had no connection with Viborg
This week we ask you true or false: The group BUG Mafia is one of the leading lights in Bucharest's burgeoning gangsta rap (A type of music beloved of youngsters I believe) scene.
Good luck everyone!
* Like to share your thoughts on this article? Please visit the KUMB Forum to leave a comment.
* Disclaimer: The views and opinions expressed in this article are those of the highlighted author/s and do not necessarily represent or reflect the official policy or position of KUMB.com.
More Opinion
Monday, 26th September 2022
Thursday, 22nd September 2022
Thursday, 22nd September 2022
Thursday, 22nd September 2022
Friday, 16th September 2022
Thursday, 15th September 2022