Filed: Thursday, 15th September 2022
Preview Percy spent two weeks in Rhodes to research European football, the sum total of his efforts being that, having been relegated to the third tier of Greek football the local side wouldn't be bothering UEFA any time soon. Since he discovered that on day one of his trip, lord alone knows what he and Daisy got up to on the other 14 days. It certainly didn't help his look at this week's visit to Silkeborg...
Next up after this weekend's sad hiatus we go straight back to European action as we hop across the North Sea where we will be hosted by Silkeborg. Kickoff at Jyske Park will be 8pm BST with BT having the broadcast rights.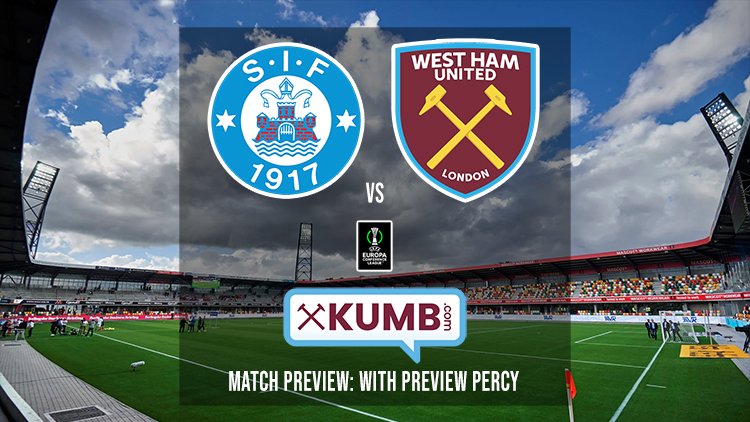 So Silkeborg then. Unlike FCSB they have had a relatively uncomplicated history – much to the relief of this particular preview writer. They were founded in 1917 and plodded along at various lower levels until the 1980s when they decided to reorganise themselves in advance of a proper stab at the Danish big time. At this point a limited company was set up to put things on a more professional footing.
This paid dividends in 1993-94 when, having topped the table in the "regular season" (yes it's one of those leagues) they emerged from the autumn play-offs holding the Champions' trophy for the first – and so far only time. Since then they have finished second once and third three times though there have been three relegations as well with them returning to the top flight in 2019. They have a Danish Cup to their name and were one of the numerous winners if the Intertoto Cup back in the day.
Their qualification for this stage of the Thursday Night Conference thingy was fairly straightforward. Last season they finished third after the playoffs, having improved from the 6th spot they achieved in the "regular" season. This put them through to the playoff round for the Thursday Night League. HJK Helsinki beat them 2-1 on aggregate winning 1-0 in Helsinki and drawing 1-1 in Silkeborg. The result saw them parachuted straight into the group stage of the Conference where, after all the messing about, they ended up in our group, So far they have lost 1-0 to Anderlecht in Brussels in the group.
Domestically it's been a bit of a mixed bag. A two-match winning run came to a halt when they came up against our chums Viborg who beat them 2-0 at home. Which may or may not be a pointer as to their relative standard at present. Their win at home to Aarhus at the weekend put an end to a two-match losing streak and pushed them up to third in the table after seven matches with 13 points on the board.
Daisy tells me that they are managed by former Villa defender Kent Nielsen. Nielsen arrived at Silkeborg three years ago, his previous two clubs being OB and AaB, Denmark being the only country where what football team you support is governed by your blood group.
As a player he was a member of the remarkable Danish squad that won Euro 1992. The final of that tournament took place on 26 June which was all the more remarkable given that the Danes didn't actually qualify until 31 May, replacing what was left of Yugoslavia which was in the middle of a pretty messy breakup at the time. The oft-repeated line about coming straight off the beach to play may be a bit of an exaggeration but not by much.
Top scorer thus far this season is Niklas Helenius. He has four in nine league appearances so far though, like most stats that might be a little misleading as an indicator of form. He started off like a greyhound out of the traps netting twice on the opening day of the season in a 2-2 draw at Lyngby. He followed that up with one in each of the next two matches in wins over Midtjylland and Brondby since when he has drawn a blank. Bear in mind that the Danish season starts early which means he hasn't found the back of the net since 31 July.
Next on the goalscorer list is Tonni Adamsen who, with a name like that and, in the land of Carlsberg, you probably would think twice from accepting a lift from. He has three in six league matches, though he has been a sub in all but one of those appearances. Most of the player rating stats Daisy has dug out from lord knows where give him a decent score so he may be one to watch – even if he is an impact sub.
And so to us. We garnered plaudits for our spontaneous singing of the National Anthem against FCSB the other night. It was a genuinely moving moment which got all sorts of nice comments from supporters of other clubs – much appreciated gentlemen.
Meanwhile at Anfield the spin machine went into overdrive, describing a silence that lasted less than one second before one moron ruined it as being "impeccably" observed before the ref gave up some 25 seconds later. Clearly my dictionary is somewhat out of date with regard to the use of the word "impeccable". Classy as ever.
On the pitch there seemed to be a hangover from the day's events – actually the same applied off the pitch where the atmosphere was – understandably – subdued. Although we dominated the ball we were ponderous in possession, taking an extra touch on far too many occasions for my liking when a first time pass would have split them open.
Scamacca looked for all the world like a good player who had been ill for a couple of weeks and, whilst under normal circumstances he would have been worth a start in hindsight it was a gamble that didn't pay off. I still think he'll be a major asset on Euro nights but let him get well first.
The substitutions were all well made at the interval but it took a penalty of the softer variety to light the spark. My thought on goalkeeper challenges is to ask the question "had that been a defender outside the box would a free-kick have been given". The best I could get to was "maybe". It is unusual for us to be on the right end of a decision – maybe the ref had watched the shambles at Stamford Bridge and figured we were owed one. Grateful as I am for the decision that doesn't make it right and I'm not going to go all Tuchel now and say what a clear penalty it was.
After the spot kick had been put away with no little emphasis by Bowen – and if he can do that regularly he can have the job for my money – it was all one way traffic and we played some scintillating stuff. One move from the back was begging for Antonio to bury it for what would have been a goal of the season contender, such was the quality of the slick passing move that preceded it.
Sadly, Antonio's air shot denied us the watching of a move that would have been replayed for years. He did make amends though, his turn and power for the third showing him at his unplayable best. So not the perfect performance but once we got going quality shone through. As an aside I was particularly impressed by Downes who had the air of a young Noble about his play.
On the injury front Augerd and Johnson are the two long term absentees. I'm writing this before the press conference so I haven't had updates on Cresswell and Soucek whilst there have been conflicting reports on Cornet who has variously been struggling or has returned to full training depending on source.
So for the prediction. As I may have hinted earlier in this preview we can probably gain some insight into the strength of our opponents from the fact that they went down 2-0 to Viborg who we comfortably dispatched a few weeks ago . We do have one slight fly in the ointment, that being the fact that the match is being played on some form of artificial surface.
I appreciate that we have moved a long way from the days when an over-enthusiastic clearance from a goalkeeper at Loftus Road could end up bouncing over the goal at the other end but even the umpteenth generation stuff that we have these days can take some getting used to. Having said that one would expect Mr Moyes to have had them training on something similar and of course they will be allowed some time at the ground itself to acclimatise, all of which should minimise any levelling factor that the pitch may have.
So the £2.50 I was going to spend on a new dictionary will instead be sent digitally down the line to Mr Winstone and placed on an away win – say 2-0 to us then. Enjoy the game!
When last we met: N/A
This is our first meeting.
Referee: Fabio Verissimo (POR)
His surname looks like it should mean "truth" but my Portuguese is about as good as Harry Kane's English so I wouldn't bank on it. In four games so far he's dished out 27 yellow cards (an average of 6.75 a game) and two reds. Could be an interesting night.
Danger Man: Tonni Adamsen
Only one behind the top scorer and seems to have had more recent form
Percy & Daisy's True or False
Last time we suggested that the group BUG Mafia is one of the leading lights in Bucharest's burgeoning gangsta rap scene. Well done to Mrs Philomena Wasp-Repellent of Ingatestone whose finger on the pulse of these things allowed het to confirm that this is in fact true. Either that or she guessed – it's a 50-50 chance after all
We stay with music for this week's question, as we remember the mighty Slade who bestrode the charts like a loud stompy behemoth back in the 1970s'. Even if that Christmas song did get a bit tiresome in the end they made up for it by creating "How Does it Feel?" one of the finest songs ever written ever. However we ask you "true or false: one quarter of the classic 1970's line up of Holder, Lea, Hill and Powell now resides in Silkeborg"
Good luck everyone!
* Like to share your thoughts on this article? Please visit the KUMB Forum to leave a comment.
* Disclaimer: The views and opinions expressed in this article are those of the highlighted author/s and do not necessarily represent or reflect the official policy or position of KUMB.com.
More Opinion
Monday, 26th September 2022
Thursday, 22nd September 2022
Thursday, 22nd September 2022
Thursday, 22nd September 2022
Friday, 16th September 2022
Thursday, 15th September 2022