Filed: Friday, 30th September 2022
Preview Percy takes a week off and the value of the pound plummets through the floor. Coincidence? Yes. Here's his look at the visit of Wolves anyway...
Next up we play host to Wolverhampton Wanderers. Kick-off on Saturday is at 5:30 pm for the benefit of Sky. The early evening start may just be useful for once as Saturday is one of the days on which there is a rail strike. C2C will be running some form of limited service whilst Greater Anglia are suggesting that they will be running virtually nothing. Check before you leave and leave early I'd say.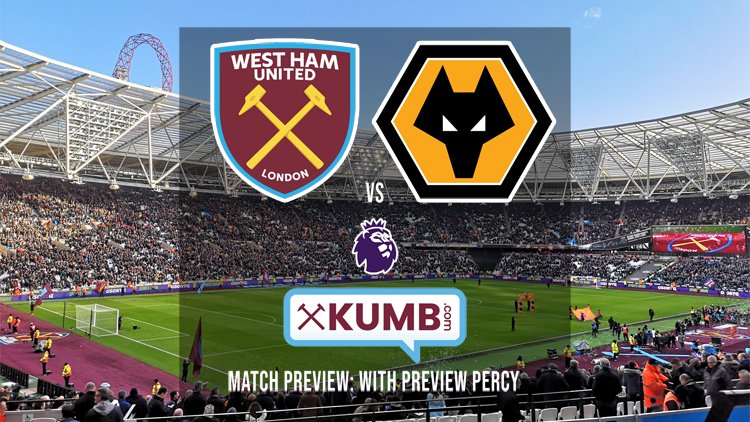 So Wolves then. They currently sit one place and two points above us with six points from the seven played so far. They have won just the once (1-0 at home to Southampton), drawn three (0-0 at home to Fulham and away at Bournemouth and 1-1 at Newcastle) and lost three (2-1 at Leeds, 1-0 at Spurs and 3-0 at home to Man City). So not particularly inspiring but slightly better than our start then.
Boss Bruno Lage brought in five first teamers to keep Daisy busy – though she refused to comment much on South Korean striker Hwang Hee-Chan's move from Fizzy Drink Salzburg on the grounds that he was there all along last season and simply activating a clause in an existing loan deal wasn't a proper transfer worthy of her investigative skills. And frankly I was too scared to argue with her.
One new signing we definitely won't be seeing this weekend is Irish defender Nathan Collins. Collins was imported from the ashes of relegated Burnley for £20.5m which Daisy informs me is a record for an Irishman. Collins starts a three-match ban this weekend. Whilst generally new medical techniques are welcomed, Collins' experimental technique in trying to give Grealish an anaesthetic-free vasectomy the other week did not find favour with the referee whose straight red card was fully merited.
No Wolves transfer window would be complete without a Portuguese arrival and this summer was no exception. £27.5m was the fee paid to Valencia for Goncalo Guedes. Guedes came through the Benfica youth system before breaking through to the first team in 2014.
In January 2017 he made a €30m switch to PSG but after only eight league appearances in the eight months or so that followed it was clear that he wasn't exactly first choice over there and in September of that year he headed off back south to Valencia, an initial loan spell being made permanent at the start of 2018-19. PSG weren't that unhappy – the €40m fee received was a nice return on a player who was with them for such a short time. Indeed, unspecified add-ons could have added a further €17m to the deal. Guedes functions primarily on the left.
Another Portuguese international in the form of Brazilian-born Matheus Nunes. Nunes arrived from Sporting for a club-record €45m which, at the time was £38m but could easily be double that by now – every time I try to look up the exchange rate the display whirrs round like the far right of the clock in a 100 metres sprint so lord knows how much that is now.
£15m was the fee paid to VFB Stuttgart for Austrian striker Sasa Kaladjzic. Unfortunately for the player he managed to prove that it's not just us who sign players who get injured shortly after arrival. His debut came in the 1-0 win over Southampton but the player lasted only until the interval, it subsequently being discovered that he had sustained an anterior cruciate ligament tear. Although he has had surgery it's likely to keep the player sidelined for the rest of the season.
Kalajdzic's misfortune left them short of numbers up front, prompting the signing of Diego Costa who was available as a free agent. He will be remembered for scoring a late and undeserved winner against us after being allowed to stay on the pitch after an X-rated challenge on Adrian. The challenge was worthy of an instant red card but, since the player played for Chelsea he was spared even the second yellow that would have seen him sent off.
This happened in the heady days before we got two idiots for the price of one running games with the introduction of VAR and it will be interesting to see whether referees both on pitch and off will start to pick up on some of his more unsavoury moves now he doesn't play for one of the so-called big five or Tottenham.
Costa signed too soon to be involved in the Man City defeat but with Chiquinho and Jiminez both unavailable through injury one would expect him to feature at some stage.
And so to the Wild & Wacky World of Association Football. And England were finally relegated from the top tier of the Nations League. The relegation itself was met with mass indifference unlike the nature of the performances involved which caused a lot of disquiet with a lot of ire aimed at players called Harry. One did his usual trick of giving the ball away pretty much every time he touched it. The other avoided such issues by only playing the ball when it was placed on that nice round spot for him 12 yards out.
The last half hour of the Germany game was, I suppose, entertaining in a somewhat perverse way, watching two teams try to outdo each other in the "just how poor can we play" stakes. It doesn't bode well for Qatar, particularly since, as indicated by his late presence in the Germany game, Henderson is considered by Southgate to be good enough to be part of an international squad. He might have a point if that squad had two fewer lions on its shirts I suppose.
Talking of shirts, am I the only one who longs to see a plain white England shirt unsullied by splashes of other colours or gimmicks? Even as I write this my attention has been drawn to the Danish kit for Qatar which, due to the kit manufacturer's desire to disassociate itself with the host nation's less than enlightened attitude to human rights, carries minimal branding and, as a result is all the better for it.
And so to us. Everton was a complete and utter shambles right from the start when, during the minute's silence, the Scousers proved they can be obnoxious irrespective of the colour of shirt they support. I found our approach reminiscent of the bad old days of Allardyce when avoiding defeat was the main priority. It's been a while since I saw us so bereft of attacking intent until we went 1-0 down.
Too many players are operating at sub-par levels at the moment into which mix we have thrown new players who haven't been able to get up to the pace of the Premier League. A recipe for disaster. The international break is a bit of a two-edged sword really. It provided players with a welcome break from the daily grind I suppose but with so many players away on representative duty time would be limited to work on what needs sorting out.
At the time of writing as players make their way back from international duty we have but the two on the injury list. Aguerd is progressing much as expected though it'll probably be after the World Cup before he is available. Johnson's hamstring is healing up but I would expect another two weeks would be prudent in his case.
So prediction then. Two sides with few goals between them probably has 0-0 stamped all over it. However, I reckon that, if Mr Moyes has had a chance to sit the squad down in front of the DVD of that performance there will be enough of a reaction to spark a reaction.
It's probably not going to be pretty but at the moment I still haven't had the last of the optimism drained from me even though the nights are drawing in and the TV schedules are full of offerings for the hard of thinking – another advantage of the 5:30 kick off will be the avoiding of having to put up with Daisy watching loads of people she hasn't heard of in Strictly Come Bloody Dancing, the biggest argument for scrapping the licence fee ever. However, if we don't start picking up points soon my usually equitable and glass half full demeanour may well start to unravel.
So I am going for a home win. The £2.50 that was going to go on a euro. or half a euro depending on how long it takes to read this, will be going on us to pick up points in a nervy 2-1 win. Sort it out for me please Mr Winstone.
Enjoy the game!
When last we met at the Olympic Won 1-0 (Premier League February 2022)
You'll have to forgive me for not remembering this one coming as it did 24 hours after my Dad passed away. Soucek scored the only goal of the game apparently.
Referee/VAR: Paul Tierney/Peter Bankes
Tierney has proved that he hasn't a clue when working VAR. So if he gets a dozen replays and still gets the most basic stuff wrong what chance have we got with him in real time?
Danger Man: Diego Costa
Both from a goalscoring perspective and from a health and safety point of view.
Percy & Daisy's True or False
Last time we asked whether present Goodison Park is the closest ground to the River Mersey.
Well done to Mrs Brenda Marsupial-Rupture of Ingatestone for knowing that, perhaps counter intuitively, Stockport's Edgely Park is the closest ground to the Mersey.
This week it's to the world of rock and roll we return. Wolverhampton has connections with many noted rock musicians over the years so we ask you: True or False: The hit single "We Built this City" was written in celebration of the city of Wolverhampton and its rock heritage.
Good luck everyone!
* Like to share your thoughts on this article? Please visit the KUMB Forum to leave a comment.
* Disclaimer: The views and opinions expressed in this article are those of the highlighted author/s and do not necessarily represent or reflect the official policy or position of KUMB.com.
More Opinion
Friday, 2nd December 2022
Wednesday, 30th November 2022
Tuesday, 29th November 2022
Tuesday, 15th November 2022
Tuesday, 15th November 2022
Saturday, 12th November 2022