Filed: Wednesday, 19th October 2022
Five hours to get home from Southampton? No wonder Preview Percy is grumpier than usual as he looks at this week's visit to Anfield...
Next up we visit the Home of The Damn-Awful Eurovision Song Contest and traipse off to Anfield where we will face Liverpool. Coverage is on Amazon Prime which means that the advertised 7:30 kick-off time will be anywhere between six and 10, depending on the driver.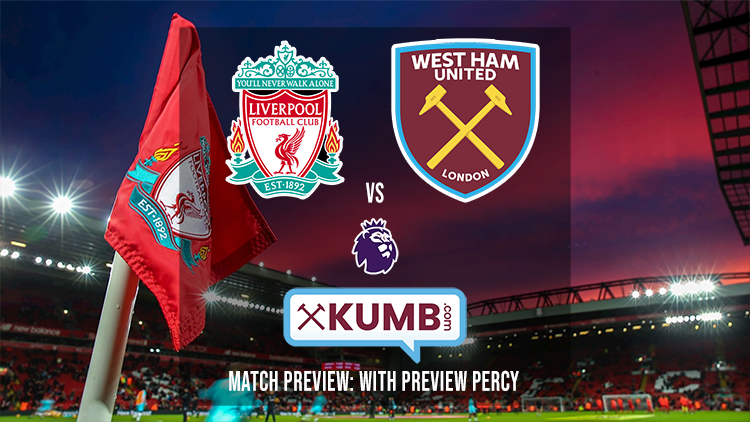 So Liverpool then. Their cheerleaders amongst the BBC will no doubt be grateful that they beat Man City last weekend. Mainly because it no longer means they have to bang the drum for their beloved club based on their having put seven past the second-best team in a league ranked somewhere between that of Cyprus and that sandbank that appears in the North Sea every so often for just long enough to play a cricket match on.
That win took them to the dizzy heights of eighth, level on points with Brentford and Bournemouth, and was a bit of an ill-tempered affair with Guardiola going all radio over the disallowed goal. Although his post-match comments on the refereeing at Anfield were valid enough when taken generally, when applied to Sunday's match they lost effect as the decision to disallow the goal was correct. A more relevant query might have involved speculation as to whether the decision would have been the same had the incident occurred up the other end. Right war wrong battle Pep.
Meanwhile Klopp, who suffers from Wenger Syndrome with regard to his players, has been brought up before the beak for doing his nut at referee Taylor. Since he has until Friday to comment on his charge he will be allowed to continue his pressurising of officials from the touchline before (spoiler alert) receiving a slap on wrist fine and one match touchline ban with a warning as to his future conduct if that's ok with him.
There was almost as much going on off the pitch as there was going on it. Liverpool were quick to threaten bans to anyone caught lobbing coins at Guardiola. They were also quick to condemn offensive chants from the visiting support. However, they appear to have been less vocal on the offensive chanting from their own support and on their disgusting behaviour whenever the National Anthem is played and during commemorative silences for the Queen.
The usual spin was applied by the local paper of course. Using gloss that Russia Today might have blushed at the Echo praised their support for the respect shown to the late monarch without once mentioning the fact that it had to be cut short due to the noise from the crowd. Much of that consisted of supporters berating those making noise but to portray the event as "Liverpool shows the true meaning of respect" is pushing it one hellofa lot.
Daisy says there were three arrivals in the summer. Darwin Nunez came in for £65m from Benfica. This fee has the potential to rise to nearly £90m. He is cut from similar cloth to his compatriot Luis Suarez insofar as whilst there is undoubted talent, there is a lot of the so-called "Dark Arts" about him and he has already served a three-match ban for headbutting Palace's Anderson earlier this season.
He arrived with a reputation for unsteadiness whenever an opponent comes near – you didn't need much of a degree in lip reading to get Arsenal's Tierney's opinion of the player in that regard. This will only have endeared him to both club and supporters who have condoned that sort of thing since time immemorial. They haven't started printing the "supportive t-shirts" just yet – presumably they are saving those for whenever we find out what Henderson said against Arsenal.
Fabio Carvalho arrived from Fulham for £5m. Although born in Portugal his family moved to London when he was 11. There can't be many players whose youth CV lists Benfica followed by Balham, but that's what Carvalho's reads exchanging as he did The Stadium Of Light for the Gateway To The South. He has England caps up to Under 18 level but threw in his lot with Portugal for whom has now has Under 21 caps.
The third signing was Aberdeen defender Calvin Ramsey. At 19 he has yet to make an appearance and is probably a purchase with one eye on the future.
Let's move on to the wild and wacky world of Association Football. And it was good to see Seb Haller turning up at the Ballon Dawson awards the other night. Haller presented the Yashin award for best 'keeper to Real Madrid's Thibault Courtois. He was quoted as saying "everything is fine, everything is ok and going as well as it can" with reference to his ongoing treatment for cancer. Fingers crossed for the striker.
Elsewhere Leeds and Arsenal were forced to pause their match when a power failure hit Elland Road. This meant that no access to VAR was available meaning that the officials only had one opportunity to mess things up instead of two. As it happened VAR made a couple of interventions, though the downgrading of Gabriele's red to a yellow was questionable as Arsenal rode their luck.
And so to us. Another poor refereeing performance from both Bankes and VAR. Bankes's positioning on field was poor throughout the match and it was inevitable that he would block off someone at some stage. It was just a matter of who he would get in the way of and of course it was Bowen. The non-penalty was a joke of course – it's a good job Klopp isn't our manager. He would never be out of the stand.
The first half was a bit scrappy from our point of view but there was only going to be one winner in the second half. We do need to be more clinical in front of goal though and make this sort of pressure count. What was it 14 corners? Without Dawson and Zouma there is little threat from that sort of set piece, especially with Soucek being marshalled/wrestled throughout.
The big surprise is that Hasselhoff is still in a job I suppose. The pre-match brass band's version of "When The Saints Go Marching In" sounded like a funeral dirge, the effect not helped by the on screen silhouette of the club badge pulsing to a heartbeat, which suddenly stopped. Odd choice of motivational material.
I understand that travel for those of you who went by train may have had a nightmare getting home, with three out of four replacement buses being cancelled. I'd get those delay repay claims into Southwestern Railway pronto. If it's any consolation, driving the Avram Grant Olympic Rest Home For The Bewildered's Happy Bus home wasn't exactly a bed of roses. Getting out of the place is slow at the best of times. Then the visibility on the M3 `was bad. Throw in two accidents on the M25 and it was the thick end of five hours before I got back. And being the designated driver there was no beer for me. I suffered you know.
We still have problems at centre back. Johnson and Kehrer did well enough but either or both of Dawson and Zouma would be preferable. Ogbonna was on the bench at the weekend suggesting his hamstring issue isn't the most serious, but hamstrings being what they are safety first is probably the best policy.
Prediction. Well given a level playing field our form would suggest a decent point is up for grabs here – not withstanding them raising their game in their Cup Final at the weekend. However, the rub of the green is not something PGMOL like to donate to away sides at Anfield and, with a weakened defence less used to the route one stuff that they like to play from time to time I can't see us getting much here. So the £2.50 that would have gone to the Justice For Henderson fund will instead go on a 3-1 home win with assists going to Stuart Atwell.
Enjoy the game!
When last we met at Anfield: Lost 0-1 (Premier League March 2022)
Don't take your chances you don't get anything out of games. A point would have been fair reward with Fornals and Lanzini both missing gilt-edged chances to equalise Mane's 27th minute effort.
Referee/VAR Stuart Atwell/Craig Pawson
Giving Atwell a game at Anfield is an exercise in plausible deniability – who's going to notice any more blunders from the world's most accident-prone official?
Darwin Nunez
If he doesn't score he has a habit of going to ground in dangerous areas for their dead ball specialists to take over.
Percy & Daisy's True or False
Last time we asked whether it werelegal to eat a New Forest pony that you may find by the side of the road as long as it wasn't your car that ran it over.
Well done to Mrs Beatrice Fringe-Haircut of Billericay who knew that no such law exists, though whether this was the result of personal experience Mrs Fringe-Haircut declined to answer.
This week we ask you true or false: People with hotel bookings in Liverpool for next May have had their bookings cancelled due to "administrative error" only to find the same rooms re-advertised at thousands of pounds a night due to the city being awarded the damned awful Eurovision Song Contest.
Good luck everyone!
* Like to share your thoughts on this article? Please visit the KUMB Forum to leave a comment.
* Disclaimer: The views and opinions expressed in this article are those of the highlighted author/s and do not necessarily represent or reflect the official policy or position of KUMB.com.
More Opinion
Wednesday, 1st February 2023
Wednesday, 1st February 2023
Wednesday, 1st February 2023
Monday, 30th January 2023
Friday, 27th January 2023
Thursday, 26th January 2023