Filed: Thursday, 3rd November 2022
It's another mini-European preview from Preview Percy as we conclude our European Group efforts against FCSB. Mercifully short one might say...
Another short one this week as we venture forth out to Romania where we will be hosted by FCSB, the artist formerly known as Steaua Bucharest. Kick-off on Thursday is at 8pm and it's on BT or, if your assistant with the beautiful smile and torn ankle ligaments is inconsiderate enough to have a birthday, it's on your mobile phone, surreptitiously observed under the table of an Italian restaurant.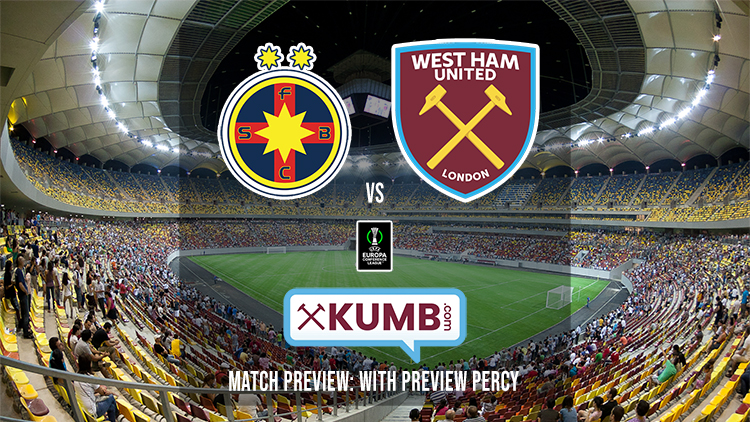 Our hosts are likely to go into this match without a manager. Nicolae Dica, who took over in July, resigned on Monday after a 2-1 defeat at Cluj left them in sixth place with 20 points from the 14 games played so far. Although this is just within the playoff sector, it does leave them a massive 17 points off the top slot.
Their Thursday Night Conference results have been surprisingly poor. Their two points have come from drawing home and away with Anderlecht 0-0 at home and 2-2 away. They got hit with back-to-back 5-0 defeats by Silkeborg. Throw in our 3-1 win over them at the Olympic and they sit bottom of the group with no chance of qualification, with anything other than a win condemning them to bottom place.
So not a happy place to be at present. They have three long-term knee injuries to contend with in the form of Messrs. Christea, Pantiru and Popescu. Their top scorer is Andrei Cordea though with his grand total of the season being three that's not much of an achievement. He did score against us in the reverse fixture though so may be worth keeping an eye on.
The main business to be settled in the group is who goes through with us. Obviously it is the wish of every right-minded soul that Silkeborg should progress at the expense of Anderlecht. A draw will be enough for the Danes – though of course a win will be all the sweeter for every right-minded soul.
A very brief visit to the wild and wacky world of association football this week. And after recent comments from the Foreign Secretary on the subject of how LGBT supporters should behave in Qatar, Gareth Southgate has waded in as if to prove that politicians don't have a monopoly on talking twaddle.
Southgate has opined that the workers of Qatar are "united" in wanting the World Cup there. Well those that are still alive perhaps Gareth. To be fair it's possible that Southgate was basing his opinion on David Beckham who, in taking the odd petrodollar or so from the Qataris for telling the world what a jolly good spot Qatar would make for a football tournament, probably qualifies as a Qatari worker.
And us. I'll talk properly about the Man Utd match in my look at the weekend visit of Crystal Palace but I would like to point out the return of an old favourite tradition in matches between the two sides, namely the reintroduction of the moveable touchline.
Did anyone else notice the number of times the pitch got narrower every time we got near it? And how it mysteriously got wider every time they took the ball over the line. A miracle of modern stadium engineering. Oh and if, as some reports suggest, Spain won't be taking De Gea to Qatar, his replacement had better be good for their manager's sake.
We are likely to put out a much-changed side. Anyone with any sort of knock will be rested Mr Moyes has confirmed that some of the youngsters will start this time around. We have earned the right to do that. We are likely to see another start for Aguerd, for whom this is likely to be treated as another training match.
One of the big questions is the goalkeeping slot. Fabianski had an awkward landing in the first half last weekend. Whilst he wouldn't normally have been selected, it may be that Mr Moyes would prefer Areola to be kept back for Sunday lest Fabianski not be available at the weekend. Randolph may be on standby.
So to the prediction then. Well without clearer indication of who will be starting I will presume that we will be fielding a weakened starting XI. However, I still feel that whatever side we put out we will be capable of getting a result.
No club has secured a 100% record in the Thursday Night Conference since its inception and I think that that might be incentive enough. So the £2.50 that I was going to spend on an "I heart Qatar" t-shirt will instead be going on an away win – make it 2-0 to us Mr Winstone please.
Enjoy the game!
When last we met at in Bucharest Lost 2-0 UEFA Cup October 1999
A couple of defensive lapses either side of the interval – one from the usually reliable Steve Potts -gave our host's predecessor club Steaua a 2-0 lead in an otherwise fairly even match. A 0-0 draw at the Boleyn saw us exit the cup, this being the days before group stages and the like,
Referee: Sascha Stegmann (GER)
Usually German officials have a reputation for being fairly reliable. However he caused a bit of a kerfuffle last weekend by refusing to award Eintracht a penalty in their match against Dortmund which even Dortmund players were admitting ought to have been given. For some reason VAR refused to join in. Make of that what you will.
Danger Man: Andrei Cordea
Nobody has been exactly what you might called prolific for them this season, but he did score against us...
Percy & Daisy's True or False
Last time we asked whether it were true that, until 2019 the city of Manchester contained only one statue of a woman?
Well done to Mrs Dymphna McRentokil-Harris of Gidea Park who correctly adjudged that snippet to be true. I did have a suitably witty comment to add here but you should see the look I am getting from Daisy at this moment so I'll move on.
This week we look at the city of Bucharest. True or false: Often nicknamed Little Paris, the city has a small replica of the Eiffel Tour located just outside the Palace Of Parliament.
Good luck everyone!
* Like to share your thoughts on this article? Please visit the KUMB Forum to leave a comment.
* Disclaimer: The views and opinions expressed in this article are those of the highlighted author/s and do not necessarily represent or reflect the official policy or position of KUMB.com.
More Opinion
Friday, 2nd December 2022
Wednesday, 30th November 2022
Tuesday, 29th November 2022
Tuesday, 15th November 2022
Tuesday, 15th November 2022
Saturday, 12th November 2022