Filed: Saturday, 5th November 2022
Preview Percy had a big smile on his face as the youngsters did the club proud in midweek. Then we pointed out that young Scarles was young enough to be the old one's grandson. Or possibly his great grandson. While he was coming to terms with all that he had time to have a look at this weekend's visit of Crystal Palace...
Next up we play host to Crystal Palace. Kick-off is at 2pm on Sunday. No live tv in the UK as this is slated for Sunday following our efforts
sur le continent
. As for travel, there are engineering works on the C2C network. The rail strikes that were due to take place the day before have apparently been cancelled. However, the cancellation of the strikes are set to cause as much disruption as the strikes themselves would have done so
really
check before you leave.3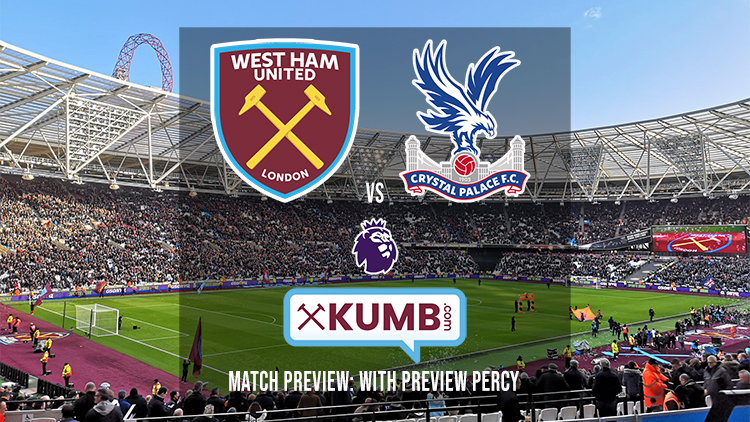 So Palace then. From Croydon in case you forgot. You know, the place that puts itself up for City status every time it's up for grabs in the hope nobody will notice it went bankrupt in 2020. Or in the hope that nobody will realise it's Croydon. Palace played six in the league in October, winning three, losing two and drawing one of what was a fairly friendly run of fixtures.
The wins, against Leeds (2-1), Wolves ((2-1) and Southampton (1-0) all came at home. The defeats were at home to Chelsea (1-2) and away at Everton (3-0) whilst the draw was a scoreless effort up at Leicester. All of that leaves them in 10th place with a 4-4-4 record with 16 points from their 12 played so far. That's three places and two points above us at the moment.
Daisy took time out from whinging about her dodgy ankle ligaments to inform me that they brought in four first teamers during the window. Or at least three plus a back up 'keeper, to be precise. The first arrival was 19 year-old Malcolm Ebiowei who arrived on a "compensation to be decided" deal from Derby.
Ebiowei has been about a bit and had spells in the youth set-ups at Chelsea, Arsenal and Rangers before ending up at Derby, with whom he made his pro debut last season. It's a similar story at international level where he has already swapped allegiance from the Netherlands, for whom he has a pair of Dutch caps at Under 15 level, to England who he has represented at Under 16 and Under 20 level. He also qualifies for Nigeria so expect him to turn up there in a few years. His three appearances have all been made from the bench this season.
Sam Johnstone arrived as back-up to number one choice custodian Guaita. He arrived as a free agent from West Brom, his contract having expired in June. That last season with the Baggies cost them around £10m, that being the value of the rejected bid we allegedly put in before the start of last season. Johnstone's sole appearance this term came in the 2-0 League Cup win over Oxford.
They did actually spend some money. £21m was the fee paid to Lens for Malian midfielder Ceick Doucoure. He has been capped seven times by Mali though those appearances have been spread over the past 4 years with him starting just the four times over that period, suggesting that he's not a first-choice starter at international level. He missed the 3-0 defeat at Everton through a five-yellow suspension and has been suffering some unspecified injuries which have him rated as 75% likely to be fit on Sunday.
Doucoure at least has a chance of appearing on Sunday, unlike their fourth arrival of the summer Chris Richards. The Birmingham-born (Alabama rather than West Midlands) central defender was a €12m arrival from Bayern Munich during the summer.
Richards pitched up in Bavaria as part of a deal between FC Dallas and the Germans whereby the Texans sent useful looking players across the Atlantic on trial. Bayern liked the look of the central defender and took him on loan, eventually buying the player for $1.5m. However, he made but five first XI appearances for Bayern. He saw more action during two loan spells with Hoffenheim. He's made four appearances for the Glaziers, but picked up a thigh injury whilst on international duty which has kept him out for a while.
Before we move on we should note a youngster they signed in the form of Nigerian Kelvin Agho. Not because we will see him this weekend – he was sent on loan to a Slovakian side almost immediately. No he is noteworthy because they signed hum from a Nigerian outfit revelling in the splendid name of Hypebuzz Academy. Anyone else hearing an American voice proclaiming "To Lagos And Beyond!" No? Just me then.
Let's move on to the wild and wacky world of association football. And there was a major surprise today as the FA suddenly developed a bit of backbone for once in its dealings with Liverpool.
Eyebrows were raised at the fine given to Klopp for his sending off the other week which came without the usual touchline ban that one would normally expect to accompany such sanctions. Having received the disciplinary commission's written report on the incident the FA has decided to appeal.
One hopes that the appeal will be lodged with the intention of increasing the punishment – after all given the FA's past track record of turning a blind eye to their somewhat cavalier attitude to transfer regulations for example, one wouldn't put it past them to overturn the fine and award them a dozen points for their trouble.
Meanwhile FIFA have written to all 32 nations due to compete in the World Cup and warned them to to "focus on football" in advance of the tournament. I say FIFA the letter might as well have been dictated by the Qatari government such was its tone. Rather a shame really that FIFA's focus was more on the brown envelopes than football when it came to the time to allocate the tournament.
On to us. Two matches to comment on this week. I thought we were excellent in the second half of the Man Utd game last week. Only great goalkeeping and some bad luck prevented us from taking a point home. If only we hadn't given an average team too much respect in the first half. Something to work on there.
Now if you didn't come away from the FCSB match with a warm glow about you, you either have no soul or you are one of the UEFA jobsworths who decided Divin Mubama's effort was in fact an own goal. Haven't they got something better to mess up?
Yeah you could be churlish and point out that FCSB were rubbish etc but nevermind that. It was good to see the likes of Scarles acquit themselves so well. Yes there will be more difficult challenges for the boys – not least coming down to earth as they go back to the age group sides. But the whole club will get a buzz out of that win. The only downside to the evening was Silkeborg's sad failure to get the point they needed to go through with us. Genuinely gutted for them.
On to this weekend and the injury doubts revolve around Lukasz Fabianski, Maxwel Cornet and Lucas Paqueta. The former two are rated as highly doubtful whilst more encouraging noises are being made on the subject of the latter.
Nayef Aguerd came through what was effectively another training match with no ill effects, looking cool and assured over his first full 90 minutes since he did his ankle – note to Daisy: I bet he didn't whinge as much about HIS ankle. Having said that I would expect to see him continue his rehab on Wednesday night rather than being thrown in to this one.
So prediction, then. I think that the performance of the youngsters in midweek will give a buzz about the place that will filter through the first choice starting line-up. They are not the greatest of travellers – no wins on the road this season – and their wins have largely come against the weaker teams in the league.
Some of all those shots will start to go in sooner or later so I will be placing the £2.50 that I was going to spend on a bribe to get those muppet UEFA officials to change their mind about Mubama's goal will instead be placed on a home win. Could you make that 2-0 to us please Mr Winstone.
Enjoy the game!
When last we met at the Olympic: Drew 2-2 (Premier League August 2021)
Defensive lapses cost us as twice we surrendered a lead, Fornals and Antonio's efforts being cancelled out by Gallagher on each occasion. He didn't hang about long did he?
Referee/VAR: Paul Tierney/Michael Salisbury
Had a quiet game when the same combination handled the 2-0 win over Wolves. It happens occasionally.
Danger Man: Wilfried Zaha
Notorious for diving, much will depend on whether Tierney is in one of his gullible moods.
Percy & Daisy's True or False
Last week we looked at the city of Bucharest and suggested that the city has a small replica of the Eiffel Tour located just outside the Palace Of Parliament.
Well done to Mrs Harriet Piltdown-Mann of Chadwell St Mary who saw through our little ruse and correctly stated that the relevant tribute is, in fact, a mini Arc De Triomphe.
This week we ask: True or False: The Croydon Advertiser states that Croydon is one of the most exciting places in the world to live in because it is the burial place for no fewer than six Archbishops of Canterbury.
Good luck everyone!
* Like to share your thoughts on this article? Please visit the KUMB Forum to leave a comment.
* Disclaimer: The views and opinions expressed in this article are those of the highlighted author/s and do not necessarily represent or reflect the official policy or position of KUMB.com.
More Opinion
Friday, 2nd December 2022
Wednesday, 30th November 2022
Tuesday, 29th November 2022
Tuesday, 15th November 2022
Tuesday, 15th November 2022
Saturday, 12th November 2022