Amidst all the anger, venom and abuse that besmirched that dreadful day on Sunday when fans turned on David Moyes in their droves, one thing stuck with me.
It's taken me a few days to assimilate what we all experienced during the depressing defeat by Crystal Palace and we all have our own views on the future of Moyes. But what isn't in doubt in my mind is the disgraceful treatment of Tomas Soucek, jeered off by much of the London Stadium crowd.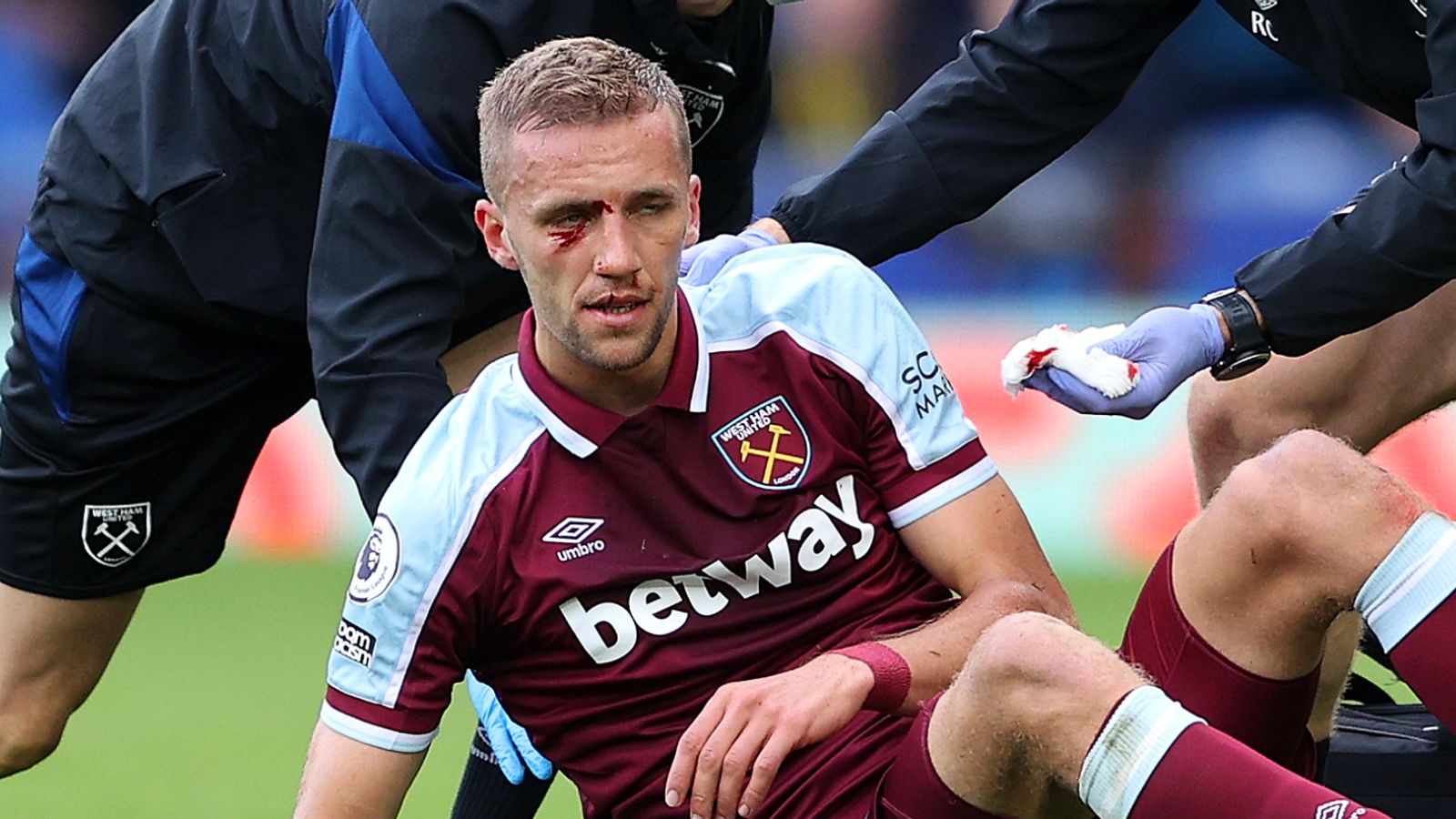 When did we ever treat our players like that? Especially one who has given blood, sweat and toil for the cause and never, ever giving less than 100 per cent commitment.
It was an insult to the name of West Ham and, if you were part of it, you should be ashamed of yourself. And in the context of the hero worship of Said Benrahma, I found that hard to witness.
People forget so quickly. Tomas arrived when we were a mess in January 2020.
100 league games later - 124 in all - with 21 goals he's been pilloried this season for a lack of form and poor passing, but the job he has at West Ham is rarely obvious. He's asked to do all the dirty work, running, covering and he has the third best record in the Premier League for tackles won. Nowhere near our worst player this term.
But once the Hammers twitterati get their knives into you, there's no stopping them. As countryman Vladimir Coufal has discovered.
Now I've got a soft spot for Tomas. I've never met him but am told he's a really nice lad. He's also made a point of discovering our history and integrating himself into the club. I like that approach.
He's kept his part of the bargain. He was well paid by Czech standards, but his £19m transfer to east London gave him the chance of financial stability beyond his wildest dreams. He's got married since arriving and I noticed last month the couple now have two young children.
So for much of this season he's had a pregnant wife and a toddler to cope with. I recall how demanding that can be, me and the misses had our two sons 20 months apart. Concentrating on work was never easy.
So maybe some understanding from our fans is due. You don't jeer when a player who gives everything is substituted. We don't do that. If you think that's OK, you are not West Ham in my view. That's never acceptable.
Now there are a few on social media claiming it was all aimed at Moyes. Yes, of course it was. No doubt from the same folk who think Benrahma is a genius. Yes, I know the next bit won't impress some , maybe a lot of you, but it seems his failings seem to be overlooked a lot quicker than Soucek's.
It's all very well doing a double spin at Manchester United, glorified on our club's website, but did it produce anything? Seconds later he wasted possession. And that's his problem, he gives the ball away with such regularity it causes the team problems. He has to be more than just a showboater.
On Sunday Aaron Cresswell spent the entire match shouting at Benrahma to do his covering work in front of him. He has assists and goals, but you don't get away with ignoring the rest of your job and this is what enrages Moyes and is constantly overlooked by fans who have always disliked the manager and want any opportunity to have a go at him.
And the bit that really annoys me is that Benrahma has started to milk this situation because he knows the crowd will react. There's a TV clip doing the round of Benrahma standing in the middle of the pitch watching Moyes explain the role substitute Pablo Fornals is being asked to take on - and Benni is shaking his head.
He does not have the right to do that. Not only is it openly disrespectful of his manager, but also Fornals. Then there is the slow exit from the pitch. Nobody appreciates a player who doesn't understand there is no 'I' in team.
Of course some fans will disagree with me. That's OK, all opinions are welcome. But it now looks as if Moyes will 'die on the hill that is Benrahma', a player it is alleged he didn't want initially, preferring Eberechi Eze instead. The irony was that Eze was one of the players who pulled our team apart on Sunday, now he's at Palace.
Benni has great talent, scored a fine goal on Sunday, but did precious little else if anything afterwards and deserved to be hooked. People saying he was Man of the Match are deluded.
The treatment of Soucek and the blind adoration of Benrahma left a nasty feeling in the mouth after Sunday, when the trains were partially back for me and the lad from up north, although there was still almost nine hours of travelling and the delights of a bus replacement from Hackney Wick to Highbury. It was not our best journey home.
But we may well have witnessed a watershed moment, one from which there is never an escape, just a slow procession towards the inevitable. History will tell you that when twitter abuse turns into growing crowd unrest there is only ever one consequence. Be it six weeks, six months or a year, there will be a change.
My views on Moyes were expressed clearly in last week's article, he is our best manager since John Lyall and deserves the chance to turn this season around. And there also seems no appetite from our board to make any moves in the near future. Let's face it, they can't afford the cost and the hassle, and the list of foreign and domestic candidates who could take over is laughably thin.
I'd put money on GSB avoiding any decision until the new owner is in place. They will have their money and leave all the messy business to the incoming regime. Only if there is a catastrophic collapse will they be forced into action.
They have European football in March to look forward to and the optimistic view is West Ham are six games from a European final. Moyes has won 14 of his 21 European games with the club, so further progress is a reasonable prediction.
That won't please the baying mob, particularly after last weekend's debacle. But it's worth pointing out that regardless of his set-up and tactics, so much was out of his control.
Craig Dawson's dreadful pass and then letting Wilfred Zaha brush him aside, Thilo Kehrer's poor control and then the wicked deflection off Cresswell for the winner. And of course what possessed Michail Antonio to get the line and then chip the ball into the Palace 'keeper's hands with 30 seconds left? It took 17 seconds to put the ball into our net from that piece of nonsense.
Since then Moyes has been under the cosh. It seems fans can abuse him online and from their seats, but when he bites back with that "too many experts" comment that is seemingly not acceptable. Sorry, if you dish it out you have to be able to take it too.
Now we have a situation where serious debate and blaming player incompetence go out of the window and the club seems to be run like the wild west from the BML and other fuming areas.
A Carabao Cup win over Blackburn and a victory against Leicester on Saturday may dampen down the uproar ahead of the World Cup break. But you have to think that in the current fibril atmosphere, these things have a predictable path now.
* Like to share your thoughts on this article? Please visit the KUMB Forum to leave a comment.
* Disclaimer: The views and opinions expressed in this article are those of the highlighted author/s and do not necessarily represent or reflect the official policy or position of KUMB.com.
More Opinion
Friday, 2nd December 2022
Wednesday, 30th November 2022
Tuesday, 29th November 2022
Tuesday, 15th November 2022
Tuesday, 15th November 2022
Saturday, 12th November 2022