Filed: Wednesday, 9th November 2022
Remember last week when Preview Percy had a big smile on his face as the youngsters did the club proud in Bucharest? I think it's fair to say that the smile disappeared sometime around Sunday afternoon. Here's his look at Wednesday's visit of Blackburn in the League Cup...
Next up we play host to Blackburn Rovers in the League Cup – as usual I will apply my usual rule on sponsored cups. I refuse to name the sponsor unless they send me product but, in case anyone is watching from the sponsors don't worry. My blood pressure is high enough at the moment without shoving some form of rocket fuel down my neck.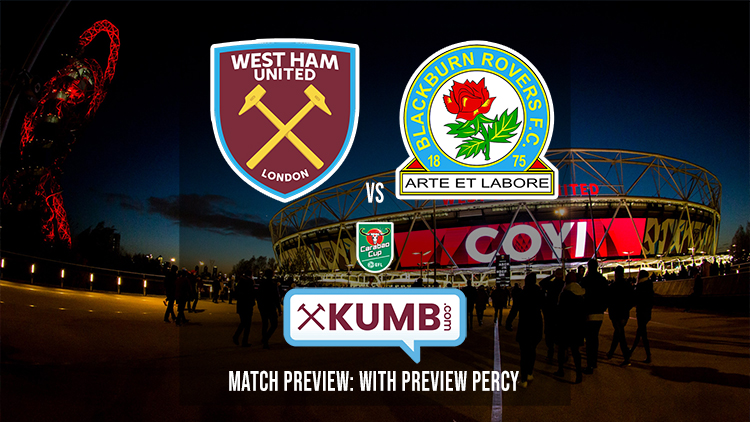 Kick-off is at 7:45pm. There's no extra time if the scores are level at 90 minutes – straight to spot-kicks. There's no VAR either – I believe both extra time and VAR don't kick in until the semi final stage.
So Blackburn then. Well although it's a long long way from the days when they were owned by a supporter who actually had some sort of idea of what he was doing in the late Jack Walker they're not having a bad time of it at present, sitting as they do in second place in the Championship with 36 points from the 20 games played so far. Which is two points behind East Lancs rivals Burnley.
Daisy informs me that they are something of a statistical anomaly this season. They are the only team in the four professional divisions not to have drawn a game this season. Their record reads played 20, won 12, lost eight. I think Daisy mentioned the word "interesting" in there somewhere but my eyes glazed over well before that point.
This season is their fifth since returning from the depths of the third tier. In that time they have hardly been over-inspiring but they have shown improvement having finished 15th, 11th, !5th and 8th in the league. It's looking ok so far but they may need to start converting some of those defeats into draws if their promotion challenge is to be maintained.
Their challenge has been inspired to a certain degree by the arrival of Danish manager Joh Dahl Tomasson. Now here's a funny thing. I remember Tomasson playing for Newcastle in the late 1990s. However, when Daisy looked up his record there it transpired that he played just the one season on Tyneside making just the 23 league appearances. Odd isn't how someone should play so few games yet stick in the mind more than players who spent a lot longer on these shores.
Anyhow Tomasson replaced the less than inspiring – and missing Chuckle Brother – Tony Mowbray and set about bringing in Callum Brittain to fill a berth at right back, Scotsman Dominic Hyam at centre back and Colchester-born Sammie Szmodics to fill in at midfield and pick up a few extra points at Scrabble.
Although an Essex lad by birth, Szmodics has an Irish grandmother and was called up to the full Irish squad last year following some injury drop-outs. Sadly for the player he himself picked up an injury and was unable to make his debut. Since when he has failed to make an appearance internationally speaking.
Top scorer – and a familiar name in the "who will West Ham sign this summer" gossip columns is Ben Brereton Diaz. Although he is a Chilean international he does in fact hail from the exotic South American climes of, er, Stoke On Trent and his international experience up to full level was with England Under 19 and Under 20 level.
At club level he started out with the Man Utd, Stoke and eventually Nottingham Forest youth set-ups. He turned pro at the City Ground before signing for Blackburn in 2018 – originally on loan. He seems to have found his feet at Ewood Park averaging one in three in the league since his deal was made permanent.
Just time for a quick visit to the Wild and Wacky World of Association Football. Sepp Blatter, disgraced and corrupt former FIFA trough-snouter has announced that the awarding of the World Cup to Qatar was "a mistake", presumably the brown envelope didn't go as far as it once might have done in the current economic climate.
Meanwhile in other news, the Pope has announced that he does not adhere to the Protestant religion, the Prime Minister of Luxembourg has announced that, after a geographical survey, it has been discovered that his country's land mass is less extensive than most other nations and some bears have admitted that if you go down to the woods today and step in something smelly they may have been responsible.
Ok, on to us. That was as bad a performance as I have seen us put in all season. I'm not going to lay into Mr Moyes as so many have done this week but blimey, weren't we so one dimensional? We couldn't adapt to what the opposition were doing and it was a complete reversal from the freedom with which the Euro-squad played in midweek.
On the substitution of Benrahma which got roundly booed, I can see both sides of the story. Mr Moyes cited a knock as being behind his decision and suggested that, apart from the goal Benny had contributed little to the game. On the other hand that goal was a bit special and not long before being hooked he had gone on a dangerous run, something that may have coloured the crowd reaction somewhat.
The passing was awful while Antonio's contribution at the end was akin to that which cost us two points against the same opponents away a few years back. We may not have deserved the win, but it's all the more annoying when you realise you should have done so.
Word is that a strong squad will be put out for this one. Having said that, I'd expect the starting XI to be more akin to the Euro first XI than the league side with the youngsters relegated in the general direction of the bench. If it were me I'd send out the side that started against Palace – as much as a punishment and to give them an opportunity to atone for Sunday's debacle, but that's just me.
So prediction, then. As well as they are playing in the league at the moment, Blackburn are likely to indulge in some heavy squad rotation of their own. Apart from anything else they face a short but testing trip up the road on Sunday to Burnley which will qualify as one of those cliché six-pointers they always write about.
So with one eye on that, we can probably expect a weakened squad coming down the M6. On that basis I would expect our second squad to be better than theirs. With that in mind I will be placing the £2.50 I was going to chip in to help poor old Blatter since his ill-gotten gains depreciated in value on a home win. Let's call it 2-1 to us Mr Winstone, if you will.
Enjoy the game!
When last we met at the Boleyn: Drew 1-1 (Premier League May 2011)
Time was just about called on our stay in the top flight as a draw left us bottom with two games left to play. Roberts – one of those journeymen who always seem to score against us – gave them the lead early on. A Hitzlesperger piledriver from 20 yards equalised with 12 minutes left. On loan Robbie Keane mist a sitter in stoppage time as Avram Grant started to spend his spare time looking at the situations vacant ads.
Referee: Thomas Bramall
Relative newcomer to the top flight. Worryingly with that name he hails from Sheffield and we know how honest that lot are.
Danger Man: Ben Brereton Diaz
Top scorer with whom we were linked no numerous occasions this summer.
Percy & Daisy's True or False
Last time we asked True or False: The Croydon Advertiser states that Croydon is one of the most exciting places in the world to live in because it is the burial place for no fewer than six Archbishops of Canterbury.
Well done to Mrs Charlotte Canada-Dry of Corringham who spotted that fact was, depressingly, true.
This week we are going to take a diversion and play a round of Only Connect and ask what connects the following: World Champion Motorcyclist (and Blackburn Fan) Carl Fogerty, Totally unfunny even for a Scouser comedian and former Liverpool FC apprentice Stan Boardman, one of this website's deputy editors and Irish boxing champion and Celtic supporter Steve Collins.
Good luck everyone!
* Like to share your thoughts on this article? Please visit the KUMB Forum to leave a comment.
* Disclaimer: The views and opinions expressed in this article are those of the highlighted author/s and do not necessarily represent or reflect the official policy or position of KUMB.com.
More Opinion
Friday, 2nd December 2022
Wednesday, 30th November 2022
Tuesday, 29th November 2022
Tuesday, 15th November 2022
Tuesday, 15th November 2022
Saturday, 12th November 2022