Filed: Saturday, 12th November 2022
It's the last Preview Percy before the World Cup break. Unfortunately, he will be back before Boxing Day as long as someone remembers to retrieve the cardboard box full of straw that he hibernates in. Here's his look at the visit of Leicester City...
Next Up we play host to Leicester City at the wonderful time of 3pm Saturday. No trains between Liverpool Street and Shenfield, lots of buses around and expect the Central Line to be rammed. Check before you leave etc.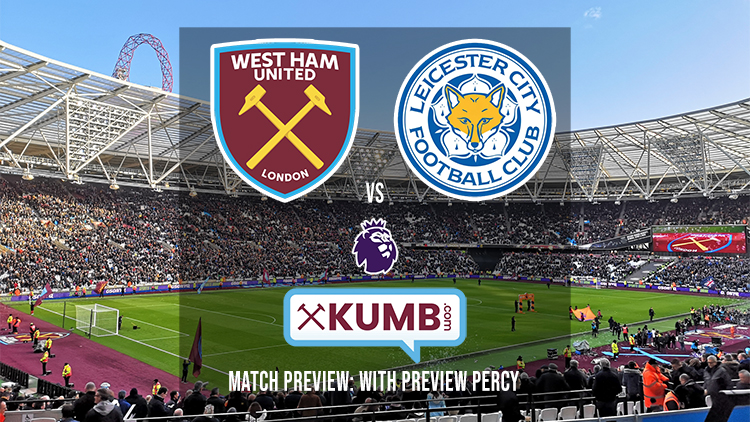 So Leicester then. Well they had a lousy start to the season, losing six of their first seven having drawn the opener at home to Brentford. Then at the start of October they happened across Nottingham Forest, thumping them 4-0 despite, or more likely because of, the inclusion of Lingard. Since then they have won three, drawn one and lost two of their last six.
I caught their last outing against Everton and they looked a whole new side from the one that conceded 11 goals in two matches earlier this season. All of that has left them in 14th place with 14 points from a 4-2-8 record which is identical to ours save for the fact that we have an inferior goal difference to the tune of one.
Daisy was delighted to see that they only brought in two players during the summer, something that gives her all the more time to moan about her damn ankle ligaments. That woman has no consideration you know – it takes her so long to hobble from the kitchen at the moment my coffee is cold by the time she gets back.
Anyhow, the departure of Schmeichel during the window got them looking to boost the goalkeeping department and they picked up Alex Smithie on a free from Cardiff. We have a soft spot for Smithie in these parts, with him having scored what turned out to be the winning spot-kick in the 2012 League One Play-off Final against con artists and hypocrites Sheffield United.
The other player to arrive was Belgian central defender Wout Faes. He arrived for a fee of around £15m from Reims. He had a baptism of fire with his debut coming in the 6-2 defeat to Spurs. However, they have kept five clean sheets in the seven played since that particular debacle so he seems to have had some steadying effect since his arrival. He has made the Belgian squad for the World Cup, along with team-mates Castagne and Tielemans, the latter of whom has been scoring spectacular goals for fun oof late.
Whilst we are on the subject of the World Cup. The in-form James Maddison has been included in the England squad. Confusingly he has been listed as a forward when, in fact, he has been putting in decent performances in what is very obviously a midfield role. Still labelling him as a forward enables Southgate to include Henderson in midfield, which, with the selection of Alexander-Arnold, just goes to prove that not being good enough for England need be no handicap to one's international ambitions as long as you play for Liverpool.
I mentioned the departure of Schmeichel earlier. His place has been taken by Danny Ward who looked a bit shaky during the earlier matches this season. Shame, then that we have stopped being good at set pieces then isn't it. He will be part of the Welsh squad in Qatar, though it is to be hoped that he has slightly more luck on his travels than he did a few years ago when trying to get to China with the Welsh. The Chinese managed to lose his passport when it was sent in for a visa and he never did get a chance to compete for the coveted (it says here) China Cup.
They will be missing the hitherto ever-present James Justin at the back. Justin has ruptured his Achilles – something with which I can sympathise having done that myself in the past. Mind you I'd bet that if he were in plaster and on crutches he wouldn't be forced to stand by a trainload of ignorant Mancs as happened to me that time.
And so on to the Wild And Wacky World of Association Football. The FA's appeal against the lenient sentence given to Klopp for his sending-off has been heard. Any hopes that an example might have been made went out of the window with a massive touchline ban of one whole match being handed out. Oh and the usual completely and utterly meaningless "warning as to his future conduct" which, as past history has shown us, simply means a timid voice saying "don't do it again".
I fear the results of stem cell research into the growing of spines will come far too late for the likes of the FA, the independent disciplinary committee and referees to be of any use in my lifetime.
Elsewhere the Premier League clubs voted to open discussions with the Football League as to a restructuring of the money that flows through to the Championship and below. This would see changes to the parachute payment system and enable monies to be distributed more widely. Six clubs voted against the proposals. I don't think you need to be too clever to work out who they were.
And so to us. Another disappointing evening. We started off as if we wanted to hand them the match on a plate such was the preponderance of misplaced passes in defence. Having, said that it was one-way traffic for most of the rest of the match, the problem being that it was very slow one-way traffic.
It was notable that our best moments came when we attacked with pace rather than at the end of something more ponderous. We deserved both equaliser and lead but years of watching us prompted me to believe that the score wouldn't finish 2-1. My decision therefore to cash out my wager seconds before the equaliser went in at least sweetened the pill of having to go to penalties.
We seem to have forgotten how to break with pace and nobody seems keen to take on opponents. Bowen, bless him, plays it safe far too often by cutting in from his flank instead of getting down the line or bearing down on goal in the manner that saw him given a tantalising glimpse of a potential World Cup place. As we break away we take so long over it that by the time anything meaningful happens I need a shave.
It's all a far cry from last year – just see the highlights of this fixture last season to see the difference.
Cornet is still out and there is a big doubt over Emerson whose nose got remodelled after contact with a Blackburn forward rather than the expensive showbiz plastic surgeons one normally associates with the process. Other than that we have a full squad.
So prediction then. We are woefully out of form and coming up against a side that is on the up. A win to send us upwards before the break would be great but after the last couple of games I can't see it. I'm therefore going to elect to place the £2.50 which I was going to send to the big five clubs and Spurs because we are only here for their convenience on a wager on an away win – in the hope I am wrong. Make it 3-1 to them please Mr Winstone.
Enjoy the game!
When last we met at the Olympic: Won 4-1 (Premier League August 2021)
Fornals opened the scoring before Perez was dismissed for an absolute shocker of a challenge on the goalscorer. Benrhama doubled the lead before Tielemans pulled one back. A brace from Antonio gave the score a more realistic look as we topped the table after two games of excellent football. Those were the days eh?
Referee/VAR: Jarred Gillet/Chris Kavanagh
For some reason PGMOL has decided that we haven't got enough substandard officials in this country so they have imported Gillet from Australia. Mind you maybe some sort of exchange might be in order – we used to transport criminals down there didn't we?
|
Danger Man: James Maddison
Every time I've see him of late he has bossed the show. Deservedly selected for Qatar – unlike some.
Percy & Daisy's Poser-Type Thing
Last week we played "Only Connect" and asked you for the connection between World Champion Motorcyclist (and Blackburn Fan) Carl Fogerty, totally unfunny even for a Scouser comedian and former Liverpool FC apprentice Stan Boardman, one of this website's deputy editors and Irish boxing champion and Celtic supporter Steve Collins
Well done to Mrs Esme Crowfoot-Plummett of Vange who responded thusly:
"Dear Mr Percy. During the days of the departed and not very much lamented 'Zoo' magazine, they used to run a feature entitled 'You're The Gaffer' in which celebrities were asked what changes they would make at the football clubs they support given the job for the day. Fogarty, Boardman and Collins all featured during a particular four-week run as, inexplicably, did that nice Mr Thrower from your website, whose inclusion stretched the definition of the word 'celebrity' to an extent that even the makers of that Jungle programme would have blanched at. Still he was at least funnier than Boardman. But there again so is toothache."
Thanks and well done Esme!
This week we have a straightforward question for you. Presumably in an attempt to recoup some of those costs from that ludicrous court case with Rooney's missus, The Vardys have gone into the world of children's literature. Yes really. They have written about a young footballer called Cedric. Yes, really. To win this week's prize we ask you: what sort of animal is Cedric?
Good luck everyone!
* Like to share your thoughts on this article? Please visit the KUMB Forum to leave a comment.
* Disclaimer: The views and opinions expressed in this article are those of the highlighted author/s and do not necessarily represent or reflect the official policy or position of KUMB.com.
More Opinion
Friday, 2nd December 2022
Wednesday, 30th November 2022
Tuesday, 29th November 2022
Tuesday, 15th November 2022
Tuesday, 15th November 2022
Saturday, 12th November 2022