Filed: Friday, 30th December 2022
It's the time of year in which families up and down the country try to work out what to do with a load of dried out old meat that they are totally fed up with. Meanwhile, here's Preview Percy to have a look at Friday's visit of Brentford...
Next up we have our last game of the year on Friday 30th where we will play host to Brentford. Kick-off is at 7:45 pm but it's not on any of the usual tv channels. Trains? Damned if I know – it's virtually impossible to tell the difference between when they are running and when they are not around here.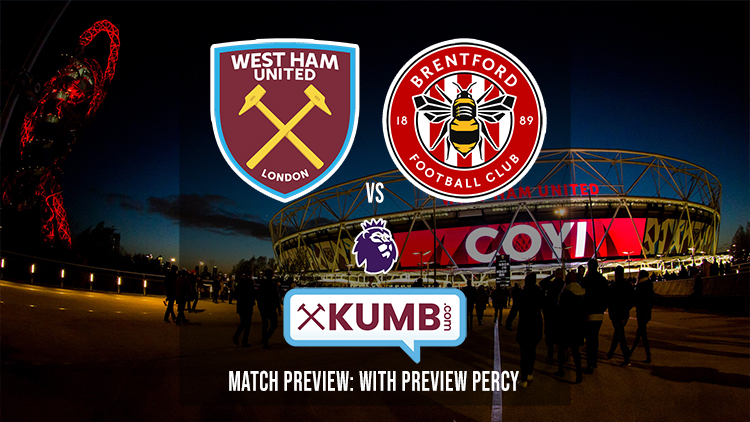 So Brentford then. They currently sit in 10th place having won four, drawn eight and lost four giving them 20 points. That's six more than us – we have won precisely the same number of games but they have six more draws than us. Their last outing saw them go 2-0 up against Spurs and sit back with their feet up only to hand the momentum to their visitors having thought the job was done. Sound familiar?
Daisy had her work cut out sorting the wheat from the chaff in the summer window. Until this summer they had no proper academy system, preferring to run a 'B' team outside the usual competition structure. A change in Premier League rules meant that they would no longer be able to operate under that structure and, although the B team still exists it runs alongside the more usual age group sides. Daisy's headache was to workout which of the 20 new arrivals were there to fill up the academy pool and which were first-team contenders.
It's fair to say if you spend £17m on a player it's likely to be a first teamer, and thus was the case with Aaron Hickey, a Scottish international – which means he didn't get to go anywhere warm with his compatriots this winter – he spent the last two years at Bologna having come through the youth system at Hearts. It was claimed that he rejected Bayern for Bologna who he joined for £1.5m He is usually employed at left-back but is likely to miss out through injury.
England Under 21 cap Keane Lewis-Potter came in from Hull. Listed as a striker but often employed on the left, he has yet to open his account for the Bees in the seven games in which he has featured as either a starter or sub in the league. They will no doubt be hoping for a bit more from a signing that cost them £16m...
...Which was £16m more than they paid for Lazio 'keeper Thomas Strakosha. I suppose in some respects they have had their money's worth out of the Greek-born Albanian international – he's played one League Cup game since his arrival, injury having curtailed his attempts to challenge current custodian David Raya for the number one slot. He is said to be close to a return and we may see him in the forthcoming Cup match.
Another freebie was the signing of central defender Ben Mee, the expiry of whose contract with Burnley happily coincided with their relegation. He actually spent dome time last term in the role of caretaker assistant manager at Turf Moor after Sean Dyche had found the door shut with a note and his P45 pinned to it having popped out for a packet of Tunes.
It would have been amusing to have seen him made manager and not offer himself a new contract. Still he'd have had to go some to better post-war striker Ivan "Ivor" Broadis who, as player manager for Carlisle, actually sold himself to Sunderland.
Danish winger Mikkel Damsgaard arrived from Sampdoria for another £16.7m or whatever the sterling equivalent of €15m Euros happened to be that day. He is safely ensconsed in the Danish international squad and spent much of the last month or so out in Qatar.
We should have a word about top scorer Ivan Toney. As I write this he is facing a few charges regarding his involvement in betting on matches. I say a few, at the moment the figure stands at 262, though the day is young and there may be more by the time I finish penning this column. There has been little official comment from Brentford other than to acknowledge the charges.
The player has until 4 January to respond and it seems that he will be using every second of the time given to him as Brentford try to maximise his game time before what is likely to be quite a hefty ban should the player be found guilty.
Enough of them as we move on to the Wild and Wacky World Of Association Football. And we were sad to hear of the demise of George Cohen of 1966 fame. By all accounts Cohen was a quiet chap, who put his strength down to the fact that he used to drink boiled cabbage water as a kid. He was ideal for the 1966 side – given his pace he was an integral part of Sir Alf Ramsey's plan to play without conventional wingers.
Possibly the funniest story associated with Cohen stems from the time he unwisely elected to kick Ramsey up in the air in a 5-a-side training match. Once Ramsey had picked himself up and counted his limbs he told Cohen "if I had another ****ing full-back you wouldn't be playing tomorrow". One suspects that Ramsey was only half-joking. Rest in peace sir.
And so to us. Off the pitch, as the deadline approaches for the club's sell-on clause to expire we are seeing all sorts of "silly season" stories about the owners and their intentions. One such tale has Sullivan flogging his share to persons unknown and returning to Cardiff who he tried to buy years ago only to pull out of the deal when the price went up just before the deal was due to be completed.
Interestingly it is said that the deposit he made in advance of the deal was converted to a loan which was repayable whenever Cardiff were able. History does not record whether that loan attracted interest and at what rate.
Talking of which, Mr Gold has updated his free autobiography,
describing supporters comments to the effect that he and Sullivan were robbing the club as "Irksome"
. He goes on to comment that the reason his – and Sullivan's - loans to the club were interest-bearing was that neither had Abrahamovic levels of their own money.
Now I can understand that, but it still begs the question as to why such high rates were charged to the club at a time when the Bank Of England Base Rate was at an all time low?
On the pitch and it was a familiar story of not having any Plan B when one were needed. Sitting back and inviting the opposition on to you will only get you so far – and even then only when your defence doesn't put a foot wrong. When, as happened on Boxing Day, there are goal-conceding errors to factor in, you need to be able to do something else. Instead we just carried on playing in the same way with sadly predictable results.
And didn't referee Michael Oliver have a shocker? Never one to shy away from lending a hand to the so-called big five plus Spurs, he reached a new low when awarding Arsenal a penalty for the offence of Cresswell heading the ball clear.
There were lots of other incidents as well. The yellow card couldn't come out quickly enough for the most innocuous of challenges when committed by a Hammer. Yet when Antonio was cynically hauled down with a decent looking break on cards, came there none. Appalling.
On the injury front, Kurt Zouma's knee is progressing well but it will be February before we see him again. Luca Scamaccca is much nearer to a return and will hopefully be able to give the attack something different. Nayef Aguerd is recovering from the virus and knocks he picked up in Qatar but is rated as only 50/50 for Friday.
Then there's Maxwel Cornet
. I do hope we haven't got another Dyer on our books. He is listed as "ruled out" despite everyone saying "not long now", ever since he got injured months ago.
This is difficult to predict. I saw Brentford's draw with Spurs on the box and there were definitely areas that we could exploit judging by the second half. It's just a matter of whether the players and management have the will to change things. One thing is for sure, we can't carry on like this.
So to the prediction. All day I have been thinking of a draw but, you know, I'm probably a bit naïve but I would hope that the lessons from Boxing Day will have been learnt. So for that reason I will be placing the £2.50 that I was never going to give to carol singers on a wager that we will win 2-1. All yours, Mr Winstone.
Enjoy the game!
When last we met at the Olympic: Lost 1-2 (Premier League October 2021)
You thought Arsenal were bad at feigning injury the other night? They had nothing on Brentford who played rookie ref Bankes like a bar room piano. Having gone 1-0 down in the first half we camped in their half in the second and it was only one of those games from the Brentford 'keeper that prevented a cricket score of England test proportions being registered. Bowen's late equaliser was the least we deserved.
Unfortunately, Bankes had other ideas and a free-kick awarded for a non-foul awarded after those nasty men shouted at him wasn't clear and the winner went in after the fourth of the three minutes of stoppage awarded despite goal kicks taking 90 seconds a time to take. Hilariously, the apologists for the current owners blamed a few people protesting outside the ground for the defeat. If you are that stupid it's probably better to keep quiet guys.
Referee: Darren England
Bravely did what he could to rein in the usual appalling excesses of the increasingly unreliable Oliver against Arsenal ("Er Michael – Cresswell headed that away – I know we are on Arsenal but should we not make it a bit less, well, obvious mate"). Let's see if he can keep a lid in the fake injury epidemic.
Danger Man: Ivan Toney
I wonder what the odds are on him scoring. Perhaps we should ask him.
Percy & Daisy's Poser-Type Thing
This week we ask: Is there a more embarrassing celebrity supporter than dodgy share dealing, phone tapping and Ronaldo rectal solar advocate Piers Morgan?
Well done to Mrs Moira McWindmill-Grollix of Coryton who answered: No. Adding – "I note from my TV guide the existence of a programme by the name of 'Killer Women with Piers Morgan'. Some might say that's a missed opportunity".
This week we ask: Whatever happened to Brentford Nylons?
Good luck everyone!
* Like to share your thoughts on this article? Please visit the KUMB Forum to leave a comment.
* Disclaimer: The views and opinions expressed in this article are those of the highlighted author/s and do not necessarily represent or reflect the official policy or position of KUMB.com.
More Opinion
Saturday, 4th February 2023
Saturday, 4th February 2023
Friday, 3rd February 2023
Friday, 3rd February 2023
Wednesday, 1st February 2023
Wednesday, 1st February 2023