Filed: Wednesday, 4th January 2023
Preview Percy would like to wish you all a Happy New Year. He won't say it himself of course. In fact what he did say before we edited this was quite unprintable. Here's his look at Wednesday's trip to Leeds...
Next up we face Leeds united. Kick-off is at 7:45pm up at Elland Road and don't get me started on the trains which, of course, are strikebound.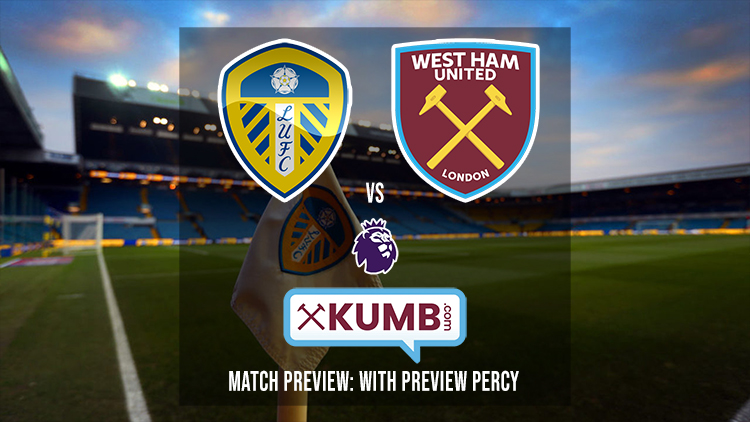 So Leeds then. They currently sit in 14th place with 16 points from as many games this season. That's three places, two points and three goals of goal difference above us in a league where the bottom seven places are covered by a mere five points at the time of writing. Of course there are games due to take place before this hits the press as It were so they may be a bit lower by time you see or hear this.
Leeds would be in a worse state but for a two match "streak" at the end of October/beginning of November which saw them win 2-1 at Liverpool and 4-3 at home to Bournemouth. However there's a lot of red ink on their ledger.
Since the Qatar Tourist Authority sponsored break they were beaten 3-1 at home by Man City and managed to salvage a point out of a one-sided 0-0 draw at Newcastle, where 'keeper Meslier put in a shift. They do have a game in hand over us so – hint to the manager and players in case it hasn't occurred – this would be a
really
good game to get something out of.
Thanks to the break we are now playing a team with signings from both transfer windows to look at – something that Daisy is really thrilled at as you can imagine. Boss Jesse March has spent a lot of his time in the employ of that Fizzy Drinks multinational corporation that owns clubs in New York, Salzburg and Leipzig so it may come as no surprise that no fewer than four players have been brought in from those sources over the two windows – so far.
Brenden Aaronson was the first arrival, coming in from Fizzy Drink Salzburg for a reported fee of £24.7m. He started out his career with a team called Bethlehem Steel who will disappoint me intensely when I discover that their home ground is not called "The Stable".
Aaronson was part of the US squad in Qatar, playing in all three group games including the snoozefest 0-0 draw against England.
Aaronson was joined by his erstwhile clubmate Rasmus Kristensen. Salzburg received £10m for the Danish right-back who, like his teammate spent part of December getting some sun on his back as the Danes crashed out in the group stage, amassing just the one point from their three games. Which was one more than Scotland I suppose.
The third arrival from Salzburg is clearing immigration and customs as we speak. They paid around £11m for Maximilian Wöber. Like Kristiensen, the Austrian international operates generally as a full-back, though with his signing being subject to work permit confirmation his arrival may have come too late for him to play a part on Wednesday.
The fourth player to arrive from the Fizzy Drinks stable was Tyler Adams. The midfielder came in from Leipzig having previously turned out for New York Fizzies. The Germans were £20m better off as a result of the deal for the American international who was the youngest to captain a side in Qatar. His bio lists him as having attended school at a place called Wappingers Falls which is surely one of those made up places they used to say lay the other side of the hills in 'The Waltons'.
They did shop outside the soda bar in the summer. Marc Roca came in from Bayern where, despite signing a five-year contract in 2020 he was rather on the outside of the squad, making just the 15 league appearances in the Bundesliga in his two year spell there. Starting out at Espanyol, Roca was capped at various age levels for Spain and also has one cap for the not very official Catalonian 'National' side. Roca operates in central midfield as a rule.
Feyenoord was their next port of call where they shelled out £21m on Colombian winger Luis Sinisterra. He managed 12 goals in 30 games in his last season in Rotterdam and has picked up two in nine since his arrival at Elland Road. However, injury is likely to preclude his appearance on Wednesday.
We should note that, amongst the youngsters signed this season and filed away in the "one for the future" box was a certain Sonny Perkins. The striker disappeared north having turned down a new contract offer from GSB. A compensation fee was due for the player but it is in the nature of these things that they rarely reflect a realistic value. Having said that, he hasn't made much of a dent on the first team up there and allegedly is a Tottenham supporter anyway.
I mean we may not be very good at the moment but there are some standards to be maintained, even so.
On now to our look at the wild and wacky world of Association Football and, sadly, for the second week running we must concentrate on the celestial departures lounge. Following the passing of George Cohen recently the whole world mourned the loss of Pele to cancer. With all the recent debate over whether Ronaldo or Messi merit a theoretical title of 'Greatest Of All Time' Pele's passing was a reminder that anyone who mentions either of them in the same breath as Edson Arantes Do Nascimento simply hasn't a clue. Youngsters simply look up some of his greatest moments on YouTube – look and learn.
From the sublime we move on to the ridiculous, that being Friday's defeat at home to Brentford. The first half we were so dominant that it beggared belief that we were actually 2-0 down at half time. Unfortunately, in the second half we were so obvious in everything that we did it turned into a comfortable evening for the visitors. It seemed not to occur to anyone either on or off the pitch that our better moments were coming as a result of players running directly at a backtracking defence and so we stopped doing it.
The three or five at the back didn't seem to achieve anything – the inclusion of Emerson at left wing-back seemed to have the sole purpose of getting in the way of anything quick that might happen down the left hand side and really he ought to have come ashore a lot earlier irrespective of his form – it was a system that wasn't working. As for our opponents, they proved that the cynicism they displayed in the corresponding match last season was no one-off.
They seem to have engaged a vocal coach to enable good use of the diaphragm in projecting the scream that seems
de riguer
every time there was a challenge. To be fair ref England didn't fall for many of their antics, though it was still a major surprise when Toney went down at the end of the match with what turned out to be a genuine injury, requiring a stretcher and buggy to get back to base. Still if the injury is serious it will at least be handily-timed, coinciding as it is likely to do with an expected hefty ban for those 262 betting charges.
On the bright side Nayef Aguerd is likely to be available to play some part in proceedings in a defence that is committing too many silly errors. If you're not scoring the last thing you need to do is go 2-0 down. Kurt Zouma and Maxwel Cornet are still out – the latter seemingly baffling medical science with this mystery calf injury for which the effects of each 'minor' setback seem to be measured in weeks and months rather than just days.
Then there's Michail Antonio. Now his introduction on Friday night was unique in that he actually didn't replace Luca Scamacca. For a moment it looked like we might have a combination of strikers that might cause Brentford difficulties. However, despite the early promise we returned to playing precisely the same way as we had done all through the match with one striker. Antonio has had a spot of the flu or covid or something and faces a late fitness test for this one.
Prediction? Well if ever there were a "must win" match this is it. A win reduces the impact of their game in hand and in terms of goal difference the effect of each goal is effectively doubled. We need to play like we did in the first half against Brentford with the exception of the stupid errors at the back. Crucially we need to get the first goal because our confidence when behind is shot to pieces.
We need to stop the rot – six defeats in a row is not something that bodes well for the manager. I think we will do that albeit in the least satisfactory manner, so the £2.50 that I was going to spend on another black armband for Liverpool's latest result will instead go on a wager for the match to be a score draw. Mr Winstone please stick me down for a 1-1 please.
Enjoy the game!
When last we met at Elland Road: Won 2-1 (Premier League September 2021)
Remember the days when going 1-0 down didn't guarantee a complete drainage of confidence? Lanzini and Antonio saw us take all three points after going 1-0 down.
Referee: David Coote
We've won the last two he's taken charge of – Bournemouth moaned at a possible handball he missed in the build up to our first. They may have had a point but for the fact that two seconds earlier there were penalty offences on Scamacca and Downes that also went ignored.
Danger Man: Rodrigo
Top scorer with nine in 15.
Percy & Daisy's Poser-Type Thing
Last time we asked you whatever happened to Brentford Nylons; Best answer came from Mrs Alanis Fluff-Freeman of Shenfield who said:
The official reasons have yet to be released but involve a critical build up of static electricity, and a misplaced crate of London Pride. Best not to reopen those wounds eh?
This week we ask you: Which novelist once described the city of Leeds as "Odious"?
Good luck everyone!
* Like to share your thoughts on this article? Please visit the KUMB Forum to leave a comment.
* Disclaimer: The views and opinions expressed in this article are those of the highlighted author/s and do not necessarily represent or reflect the official policy or position of KUMB.com.
More Opinion
Saturday, 4th February 2023
Saturday, 4th February 2023
Friday, 3rd February 2023
Friday, 3rd February 2023
Wednesday, 1st February 2023
Wednesday, 1st February 2023