Filed: Friday, 6th January 2023
Preview Percy takes a look at this weekend's visit to Brentford. Any resemblance to his look at the same opponents a week ago is probably the result of laziness on his part – though he insists on the word recycling...
Next we take a week off from the League to head over to the newish stadium which, since the last time I looked has attracted a sponsor who make the sort of electric cleaning devices of the sort that I bought Daisy for Christmas.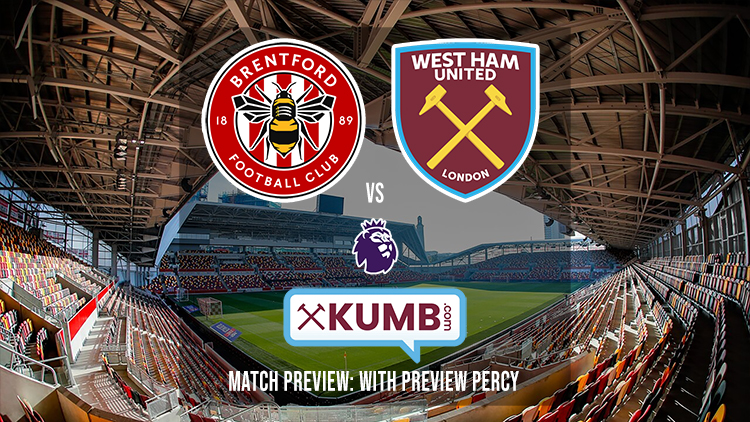 Since that realisation came too late for me to profit from it, I will apply my usual rule of not mentioning sponsors unless they pay for the privilege. Kick-off is at 5:30pm and this season has a return to the old rules whereby the match will go to a replay should the scores be level after 90 minutes.
So Brentford then. Well we only played them last week so all their new signings that Daisy so diligently researched for me should still be fresh in the brain. They have brought in a couple of new signings since the winter window opened but they fall into the category of "youngsters for the academy" so we needn't concern ourselves with them at this stage of their careers. Daisy perked up no end at the news that she could have the day off – she's been out of sorts since I bought her that vacuum for Christmas. Maybe I picked the wrong colour.
Since we last met they beat Liverpool 3-1 at the whatever stadium, a result which puts our recent defeat to them into some context – especially when you consider that we were the better side for much of the first half, unlike Liverpool.
Being a cup match it's difficult to judge what sort of team that they will put out. They will have a number of players on the sick list. Aaron Hickey, Shandon Baptiste and Kristoffer Ajer are all showing up as ruled out, though the pre-match comments before the recent league encounter suggested that a return in the cup match might be a realistic target for Ajer.
Frank Onyenka faces an injury test following a dose of hamstring. Then there's Ivan Toney whose knee problem turned out to be not a knee problem but a muscular injury. He has a chance of playing as he awaits a 'phone call from the FA.
Toney had until Wednesday to respond to the 262 charges of illegal betting on matches that he faces. What happens next will depend on how he responded earlier this week. If he put his hands up with a blanket "it's a fair cop guv but society is to blame" the powers that be can sort things out fairly quickly and slap him with a fine and lengthy ban – perhaps with a slight discount for the guilty plea.
On the other hand, if he pleaded not guilty to some or all of the charges things could get a bit messy. Given that there are so many charges which would need to be looked at individually It could take months. Toney's offspring might be in the Brentford first XI while a grey-haired committee member at FA HQ mutters, "next we move on to case no.135 on the Ivan Toney docket…"
And so to the wild and wacky world of Association football which, in recent weeks, has sadly turned into a football obituary column. The latest person to die was our own co-chairman David Gold.
Now there have been many comments over the past day or two but I think people need to take a dose of perspective here. Whatever you think of the guy we should never forget that someone has lost a father/grandfather/partner here, all of which seems to be the most important thing to consider. Bill Shankly's comments on the relationship between football/life and death are as stupid now as they were when he uttered them. Let him rest in peace.
And so to us on the pitch. I suppose we saw some green shoots – coming from behind is not something that we have looked like being able to do in recent weeks. Scamacca's goal was just the sort of thing we signed him for as well. Of course it wasn't all perfect – conceding goals from throw-ins is beginning to get a bit worrying for example.
Of course the final score might have been different had we not suffered a double-whammy thanks to an incredible piece of spinelessness from referee David Coote. The foul on Vladimir Coufal by Summerville was as blatant a red card offence as you will ever see. As a deliberate attempt to injure an opponent it was successful and we had to endure a defensive reshuffle for the closing minutes against a team that ought to have been reduced to 10 men.
Still it did put that awful run to an end and Villa's equaliser against Wolves kept us out of the relegation zone which, psychologically, is a good thing. The injury list is comprised of Zouma (knee), Cornet (lord knows) and the aforementioned Coufal, who is the only one of those three with any chance of making the squad.
As ever, the prediction is rather difficult in the absence of much idea as to who will be playing on either side. The European side has acquitted itself better than the league side so if changes are made along those lines maybe there is cause for optimism.
Given that there are no league places to worry about I am going to go all optimistic with no real basis in fact for the reason I will be going for an away win. So the £2.50 that I would have spent following up those tips that that nice Mr Toney sent me will instead go on a 2-1 victory to us. Let's have some decent odds please Mr Winstone.
Enjoy the game!
When last we met at the something or other stadium : Lost 2-0 (Premier League April 2022)
Two second half goals did for us in a performance so lacking in lustre you'd have thought the fixture had taken place midway between the two legs of a European Quarter Final. Which it did.
Referee: Andre Marriner
Last year Marriner attracted criticism from certain quarters for being too unfit to keep up with play. This year he has officiated in half the number of Premier League games that the busiest referees have so he will have had a good rest. If that isn't enough for him he will just have to blow up every time a Brentford player collapses with "injury" to give himself a breather.
Danger Man: Ivan Toney
He is rated as 50-50 for this game (insert your own gag about those odds). They are more likely to play him than not given that the FA will eventually get their backsides in gear to deal with those betting charges.
Percy & Daisy's Poser-Type Thing
Last time out we asked which novelist described the city of Leeds as "odious". Well done to Mrs Juliette Pirrip-Chuzzlewit of Rainham who correctly identified the writer as none other than Charles Dickens.
This week we ask: the removal of which local landmark from a building beside the elevated section of the M4 caused widespread fury in 2016?
Good luck everyone!
* Like to share your thoughts on this article? Please visit the KUMB Forum to leave a comment.
* Disclaimer: The views and opinions expressed in this article are those of the highlighted author/s and do not necessarily represent or reflect the official policy or position of KUMB.com.
More Opinion
Saturday, 4th February 2023
Saturday, 4th February 2023
Friday, 3rd February 2023
Friday, 3rd February 2023
Wednesday, 1st February 2023
Wednesday, 1st February 2023