Filed: Thursday, 12th January 2023
Preview Percy has a look at this weekend's trip to Wolves. We think you'll find this a welcome escape from all the stuff about the Royal Family at present. Well an escape anyway...
Next up it's up the M1 & M6 we go to Molineux where Wolves will be our hosts. It's a Saturday 3pm kick off. Enjoy them while you can.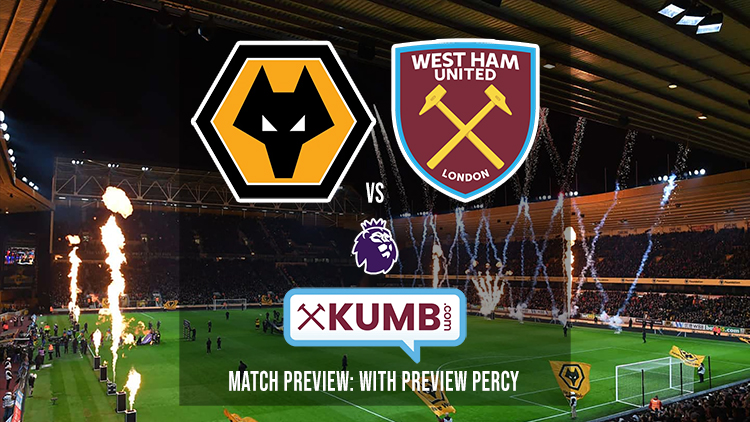 So Wolves then. Not in the greatest of form results-wise in the league. Their only win since October came up at Everton on Boxing Day. Three wins, five draws and 10 defeats have left them on 14 points and second from bottom over Southampton by two points. They are a point behind us though we have a decent goal difference advantage to the tune of +7. Their last two outings have been in the cups – a 2-2 draw up at Anfield in the FA Cup (more of which later) being followed by a penalties defeat to Forest on Wednesday.
Unless I'm much mistaken Wolves are the first team we will have played twice in the League, which comes as some relief to Daisy who therefore has just the one transfer window to consider. And since that window has been fairly quiet all round it should come as no surprise that they haven't brought in anyone so far, save for a couple of kids for the youth system.
They did bring in Diego Costa after the close of the last window. Indeed he made his Wolves' debut in the return fixture at the Olympic, coming on for the last 20 minutes of our 2-0 win.
When he was last on these shores with Chelsea between 2014 and 2017 he got a reputation for general thuggery – one remembers a particularly nasty studs up leg breaker of a challenge on Adrian which somehow evaded proper punishment. It seems that that old adage referencing the skin patterns of leopards is accurate in this case – Costa has already served a three-match ban for sticking the nut on a Brentford player.
The aforementioned win at the Olympic resulted in the issue of a P45 to then manager Bruno Large. After a short – and not particularly interesting – spell with Steve Davis at the helm in a caretaker capacity, they brought in former Sevilla manager Julen Lopetgui. It took a while to get him on board – his Dad's ill-health being an issue at the time of the original approach.
It was he who was in charge of the Spanish national team for the 2018 World Cup. For a bit. They had barely cleared immigration when it was announced that he would be taking over at Real Madrid for the following season. As you can imagine this went down with the Spanish FA like a royal autobiography who promptly announced his dismissal only seconds after he had unpacked his toiletries.
Their injury list is mainly comprised of long term absences – with Chiquinho, Neto, Kalajdzic and Boubacar Traore all ruled out completely and for some time. Lopetgui has been irked by the position, pointing out that the absences left him with just the one midfielder. Them's the breaks.
And on we go to the wild and wacky world of Association Football. This week we look at the events up at Anfield last weekend where our opponents were stitched up twice by the sort of refereeing performance that even embarrassed the home side – who let us remember have a long history of dishonesty. Salah was offside the second the ball was played forward to him – the defender's attempted clearance arising purely from Salah's gaining of an advantage in an offside position.
And the more one hears of the decision for the second goal, the more it stinks. It seems the linesman did not believe it was offside but was instructed by referee Andy Madley to put his flag up. Then we have the mysterious failure of the one VAR camera that would have cleared things up. Wolves are pressing for an explanation and I hope they get the most grovelling one possible.
Elsewhere the FA have announced that they are looking into suspicious betting patterns that emerged during the Oxford v Arsenal FA Cup tie the other night. The issue is said to involve the actions of a particular Oxford player it is said, though further details are sketchy at the time of writing. Meanwhile, maybe the FA might want to take a look at the betting on last weekend's match at Anfield as well.
On the brighter side, we hear that
Sebastien Haller has played in a friendly match for Dortmund
, his first outing since surgery and chemotherapy. Good news indeed and we continue to send our best from here at the Avram Grant Olympic Rest Home For The Bewildered.
And so to us. Well it wasn't the greatest of games, but good to get back to winning ways.
Off the pitch the highlight was the piss-taking of a couple of the home support who, emboldened by the fact that they had had their first shave decided to give it the big one, getting all upset when everyone just laughed at them. Best comment from one of the older brigade: "I won't even wait outside for you and give you a slapping – you've been beaten and you're not even going to get served in a pub".
On the pitch we produced little in the first half – though Lukasz Fabianski was rarely bothered. Second half we showed much more attacking promise and really should have been 1-0 up before we actually took the lead, Tomas Souceck spoiling an otherwise decent game by missing a sitter.
Then there was Said Benrahma. Now there has been a lot of debate as to his contribution to the team. Indeed the player was the subject of
an article by m'learned friend Mr Walker
this very week. He's one of those players who seem to be more effective off the bench. Like Mr Walker, I'm not totally convinced by Benny but there's no doubt that he made a difference at the weekend. Whenever we are trying to break down a defence we rarely seem equipped to run at defenders. This was Benrhama's major contribution to the match.
There was one particularly pleasing aspect to the goal - that being the splendid tackle from Rice that started the move. The Brentford player involved predictably went down clutching his leg in the style that has become their trademark since their arrival in the top flight. Maybe referees are beginning to wise up to their antics?
Being to one side of the goal, one did not fully appreciate the goalkeeping involved. Sure, Benny's shot had power - but it was only when watching the replay on MotD later on that one could appreciate how 'ordinary' a goalkeeping effort that was. Perhaps when the FA finish at Oxford and Anfield...
We had a few late additions to the injury list. Alphonse Areola did himself in training before Brentford whilst Gianluca Scamacca picked up a knock up at Leeds that will require a scan of his knee. Vladimir Coufal is a bit closer to a return following the red card worthy assault he suffered up at Leeds. There is also a slight doubt over Manuel Lanzini whose groin was playing up. Kurt Zouma will be a few weeks yet whilst Maxwel Cornet was last seen in Paris having an injection, the UK presumably having run out.
So to the prediction. Well with Southampton playing up at Everton this is definitely one we could do with getting something out of – and, you know, I think we will. I don't expect it to be a thing of beauty mind, but needs must and all that. So the £2.50 that I was going to spend on an overpayment of my TV Licence to avoid all the non-news arising out of Royal autobiographies will instead be placed on an away win. 1-0 to us please Mr Winstone – and not a word to the FA.
Enjoy the game!
When last we met at Molineux : Lost 1-0 (Premier League November 2021)
Everybody bar Fabianski had an off day as Wolves picked up the points in a win that was more comfortable than the score suggests.
Referee: Simon Hooper
First time we've had Hooper this season – he seems to be Spurs' pet referee. Has a tendency to forget that the advantage actually exists from time to time.
Danger Man: Daniel Podence
Like us they haven't been over prolific, but he has four of their 11 so far.
.
Percy & Daisy's Poser-Type Thing
Last time we asked : the removal of which local landmark from a building beside the elevated section of the M4 caused widespread fury in 2016?
Well done to Mrs Louise Aids-Recovery from Becontree for knowing that that particular piece of vandalism involved the neon-animated Lucozade sign much beloved of us who travelled along the M4 en route to and from Ireland. It was replaced by some god-awful digital thing but it wasn't the same.
This week we see the return of the (n)ever popular missing words round. All you have to do is complete the missing words from this BBC Headline:
Wolverhampton a magnet for XXXX XXXXXX XXXXXXXXXXXX
Good luck everyone!
* Like to share your thoughts on this article? Please visit the KUMB Forum to leave a comment.
* Disclaimer: The views and opinions expressed in this article are those of the highlighted author/s and do not necessarily represent or reflect the official policy or position of KUMB.com.
More Opinion
Wednesday, 8th February 2023
Wednesday, 8th February 2023
Wednesday, 8th February 2023
Saturday, 4th February 2023
Saturday, 4th February 2023
Friday, 3rd February 2023