Filed: Friday, 20th January 2023
Preview Percy would like to ask if anyone has seen his missing phone? It had an unusual ringtone apparently. Here's his look at this weekend's ever so slightly important visit of Everton...
Next up we face Everton at the Olympic. Kick off is 3pm on Saturday and there's no engineering works in the area I can see so just the usual standard rubbish to contend with then.
So the Toffees then. It's nice to be able to write about a club that is arguably in a worse state than we are at the moment.
Defeats and a load of draws meant that they didn't win a game until mid-September (have a guess who they beat). They followed that up with a win down at Southampton.
Since then it's been one win (against a hot and cold Palace), two draws (away at Fulham and at Man City) and eight defeats, with Man Utd, Spurs, Newcastle, Leicester, Bournemouth, Wolves, Brighton and Southampton all taking away three points from their encounters.
That last defeat – 2-1 at Goodison last week was particularly damaging given Southampton's own parlous state and it left them second bottom on 15 points, above the Saints and below us on goal difference. In our case we have conceded one fewer goal than them.
It continues to be a mystery as to why their manager is still in a job. Or even has one in the Premier League in the first place. His first managerial role saw him struggle to 6th place and beaten in the Championship Play-Off final. This was despite his being able to call on Chelsea's loan stock, including Declan Rice's mucker Mason Mount.
This failure was enough to persuade Chelsea to take Lampard Junior on board. He lasted a season and a half, much of which was spent having to talk to players through Petr Cech on the grounds that they refused to talk to him directly.
You'd have thought that that situation might have been enough to put future employers off – I mean having a squad all saying "tell the manager I'm not talking to him" like an excerpt from some family-based sitcom doesn't exactly inspire confidence. I mean you'd have to be a bit desperate to sign a manager with that on his CV wouldn't you.
Fortunately for Lampard, Everton
were
that desperate and after only a year at the JobCentre, he ended up at Goodison.
The first five months were far from plain sailing and it took a final day 3-2 win over hot and cold Palace to secure safety. They were in fact 2-0 down in that game and the fact that they relied upon the million-to-one shot of Dele Alli actually having a good half should have rung alarm bells somewhere.
Not with club owner Farhad Moshiri apparently though. He has been quoted as saying Lampard Junior's job is safe.
Daisy was much relieved to discover that there have been no new signings in the current window, unless you count the return of on-loan striker Ellis Simms from Sunderland. Which Daisy doesn't. It is possible that financial constraints may be an issue – every time there is an update on their new stadium being built in the docks it seems to involve a massive increase in costs which won't help things much.
They were in for some chap called Ings, of whom more later. He elected to go elsewhere though. Their local rag the Echo took time out from its daily routine of extoling the virtues of installing solar panels underneath Jurgen Klopp's backside to suggest that former Bournemouth striker Arnaut Danjuma might be on his way on loan from Villareal where he is said to be out of favour.
However, Daisy says that there is no confirmation of such a deal having taken place, even though it appears likely, indicating that the midday deadline for any sort of involvement this weekend has passed.
They have four players on the injury list, none of whom it appears have any chance of a game this weekend. Nathan Patterson – Benitez's last signing before receiving his P45 - has a knee problem. James 'Rockford' Garner and Andros Townsend are both out until next month with back and knee issues respectively. Michael Keane also has a knee problem with no return date in sight.
On we move then to the Wild and Wacky World Of Association Football. And we are hearing from the north that Sheffield United have been placed on a transfer embargo for failing to actually pay for a player or players purchased. Not the first time they have been caught breaking the rules, but as ever the hypocrites have gone all quiet at the prospect of the points deduction that they were so vociferous about a while ago. Funny that.
Meanwhile crisp salesman Gary Lineker found himself on Newsnight the other night as a strategically-hidden mobile phone went off on set playing sounds of a somewhat adult nature live during the BBC's coverage of Liverpool's anti-football win at Wolves in the cup. "If you'd told me that I'd be talking about a porn scandal I'd have been terrified" quipped Lineker. Don't worry Gary, that particular part of your past will catch up with you sooner or later.
And so to us. Last week's defeat was an identikit West Ham defeat wasn't it. A bright start, a silly goal – yet another one from our own corner and no idea how to break down a defence that has the slightest whiff of organisation about it. And on those rare occasions that we do manage to contrive an opening we don't finish it.
Honestly, I could prepare this bit of my previews on a template each week and save myself a bit of time in future.
Of course we have this week taken steps to rectify at least one of the issues bothering us at present, that being our failure to actually but the damn ball in the net. So welcome on board to the man with the apparently incomplete surname, Danny Ings.
Ings has a penchant for claret and blue, arriving as he does from Villa and having Burnley on his CV. His early career showed a lot in the way of international promise but all that stalled when he left Burnley for Liverpool.
After making his debut in our 3-0 win up at Anfield he managed to knacker his knee ligaments in what was his first training session under Klopp. Although he did come back, he had the misfortune to do something similar to the other knee and by the time he had recovered from surgery on that Liverpool had found lots of new divers.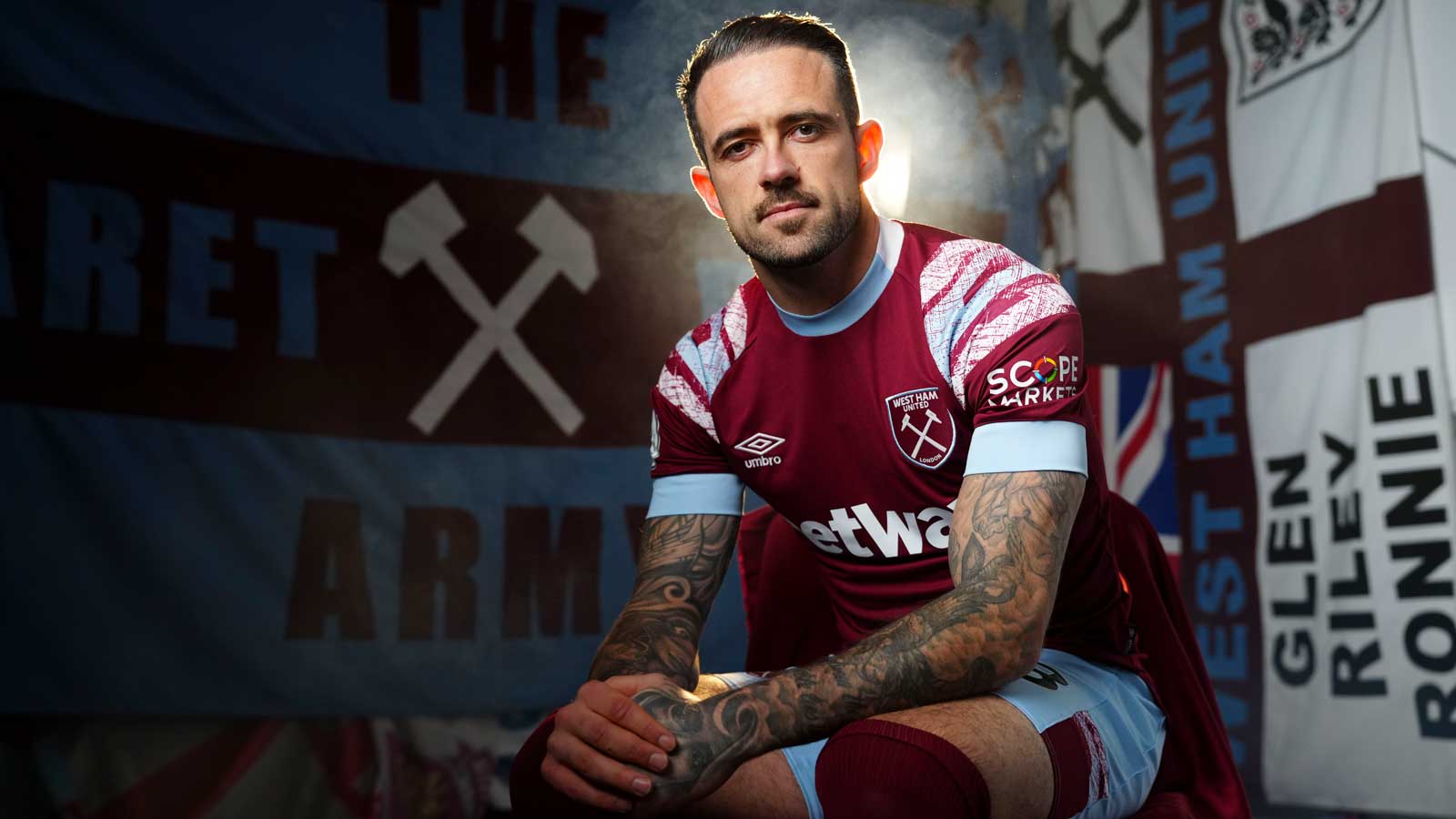 His departure to Southampton looked like a bit of a homecoming – he hailed from that part of the world so it was a bit of a surprise to see him move on to Villa in 2021. Daisy's research suggests that he has been known to take penalties from time to time scoring 13 out of 14 in his career. That gives us another option in an area that's been an issue for us in recent times.
He's also been involved in a charitable foundation that does sterling work in the field of disability sport. Welcome on board Danny – all we ask is that you be any good. No pressure, then.
On the injury front, it's down to three. There's a small chance of Alphonse Areola being on the bench following his groin strain. Gianluca Scamacca is out though with a knee issue. I hope I'm wrong but I always get concerned with players who pick up injuries shortly before the window closes following Valon Behrami's mysterious "knock" that kept him out at the start of the season only to heal itself mysteriously once the window had shut.
Then there's Maxwel Cornet, details of whom get more and more bizarre by the week. Last time we were told that he'd gone to Paris for an injection on his enigmatic calf. The latest info quotes Mr Moyes as saying: "I've not asked how his injection went and they haven't come and told me". That suggests an air of exasperation on the manager's part – and it also suggests that the club isn't in control over the player's treatment. Baffling, to be sure.
At the time of writing it appears that the mechanics are in progress to arrange the transfer of Craig Dawson to Wolves. The deal has yet to be completed and I will comment further in these pages if and when he goes.
So to the prediction. Well when you are in the position we are, any boost can have a massive effect on the side.
A couple of seasons ago the arrival of Jesse "Nobody Loves Me" Lingard gave a kick up the backside to push the side up the table. On the other hand Everton will be seeing one of their targets line up against them, with protests-a-plenty last week ensuring that directors stayed away following "credible threats" to their safety.
Whether Ings starts or not will be an interesting point. Normally, a new player signed with little more than 24 hours before kick-off would start on the bench - but we live in interesting times.
I'm going for us to be slightly less down in the dumps than them and for the gloom to be lifted for at least one week. Mr Winstone please put the £2.50 I was going to put towards replacing that mobile phone I lost up at Wolverhampton last week on a home win of 2-0 to us.
Enjoy the game!
When last we met at the Olympic: Won 2-1 (Premier League November 2021)
Cresswell opened the scoring on the half hour with a marvellous free-kick. (Remember when we did that? Open the scoring, I mean.) We had a number of chances to increase the lead but found ourselves pegged back when Holgate was somehow credited with a goal that probably would have bothered nobody but for a massive deflection off Fornals.
The lead lasted five minutes. Antonio should probably have made it 2-1 but Pickford's save fell nicely to Bowen who was making his first appearance following a broken foot. Everton never looked like coming back with 11 men on the pitch. So when Keane got set off for a second yellow after his umpteenth yellow card challenge on Antonio, it was thank you and goodnight. Lampard said they deserved a point. Lampard was talking rubbish.
Referee/VAR Stuart Atwell/Andre Marriner
Both are a bit like Lampard insofar as nobody is sure how they got the job in the first place and there is even greater incredulity as to why they continue to remain in employment in their current roles
Danger Man: Demari Gray
One of those not particularly useful players who suddenly turn into Pele when we play them.
Percy & Daisy's Poser-Type Thing
Last time we saw the return of the (n)ever popular missing words round. The BBC headline responsible was:
Wolverhampton a magnet for XXXX XXXXXX XXXXXXXXXXXX
Well done to Mrs Aida Hackney-Cab of Purfleet (or Purfleet-on-Thames if you must) for spotting that the missing words were "Taxi Driver Applications", the reason presumably being people don't want to risk the trains when trying to leave Wolverhampton.
This week we have a wee mathematical problem for you:
If 10 men armed with a fully charged electric fork-lift truck couldn't carry Lampard, how many men and fork lift trucks would it take to not carry him if he were clutching a termination payment in a large but lightweight holdall, assuming it were paid in banknotes and the maximum amount of £30,000 were payable under s401 ITEPA 2003 with regard to the deduction of tax?
* Like to share your thoughts on this article? Please visit the KUMB Forum to leave a comment.
* Disclaimer: The views and opinions expressed in this article are those of the highlighted author/s and do not necessarily represent or reflect the official policy or position of KUMB.com.
More Opinion
Friday, 27th January 2023
Thursday, 26th January 2023
Tuesday, 24th January 2023
Tuesday, 24th January 2023
Friday, 20th January 2023
Friday, 20th January 2023